Motherboard GIGABYTE GA-H81M-S2V: review and testing
At the time of this review the motherboard GIGABYTE GA-H81M-S2V is one of the most affordable microATX model for the processors Intel of Taiwanese producer. Having average cost of about $50 the product supports modern interfaces USB 3.0 and SATA 6 Gb/s, as well as a number of other improvements and proprietary technologies.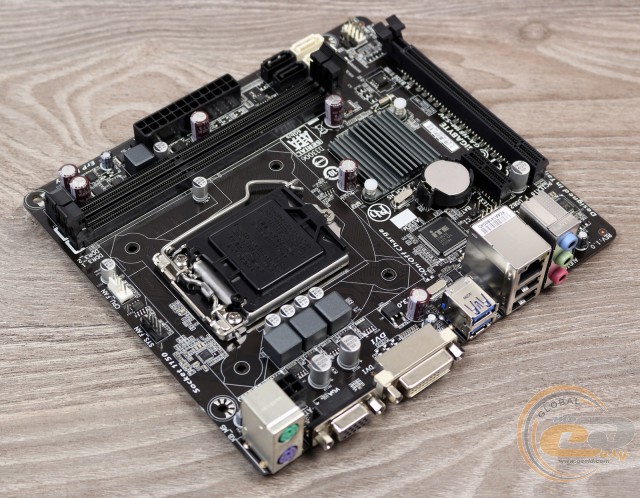 Taking into account its price positioning, it is obvious that the basis is the youngest chipset (Intel H81), making it possible to significantly reduce the final cost. Note that the chipset Intel H81 does not support CPU overclocking and has less features. The key advantage, besides the price, is the support of interfaces USB 3.0 and SATA 6 Gb/s, which is important for the modern user who wants to save money on the purchase of the motherboard, but not going to refuse high-speed of data transfer.
The specs:
Producer

GIGABYTE

Model

GA-H81M-S2V (rev 1.0)

Chipset

Intel H81

Processor socket

Socket LGA1150

Supported CPUs

Intel Core i7 / Core i5 / Core i3 / Pentium / Celeron 4th gen

Memory frequency

1600 / 1333 MHz

Memory support

2 x DDR3 DIMM-slots with memory support up to 16 GB

Expansion slots

1 x PCI Express 2.0 x16

1 x PCI Express 2.0 x1

Disk subsystem

Intel H81 chipset supports:

2 x SATA 6 Gb/s (white)

2 x SATA 3 Gb/s (black)

LAN

1 x Realtek 8111G (10/100/1000 Мb/s)

Sound subsystem

Codec Realtek ALC887

8-channel sound

Power

24-pin power socket ATX

4-pin power socket ATX12V

Fans

1 x CPU fan connector (4-pin)

1 x system fan connector (4-pin)

Cooling

Aluminum radiator on chipset

Extenral I/O

1 x DVI-D

1 x D-Sub

2 х PS/2

1 x LAN (RJ45)

2 x USB 3.0

2 x USB 2.0

3 x audio jacks

Internal I/O

2 x USB 2.0, with support of two USB 2.0

2 x SATA 6 Gb/s

2 x SATA 3 Gb/s

1 х CMOS

1 x connector of audio output to front panel

1 x set of front panel connectors

BIOS

AMI UEFI BIOS

1 x 32 Мb

PnP 1.0a, DMI 2.7, WfM 2.0, SM BIOS 2.7, ACPI 5.0

Packaging

user manual

warranty card

disk with drives and documents

2 x SATA cables

1 х interface panel plug

Form-factor, dimensions

microATX

190 х 170 mm

Producer website

GIGABYTE
Updated versions of BIOS and drives are available at support page
Package and content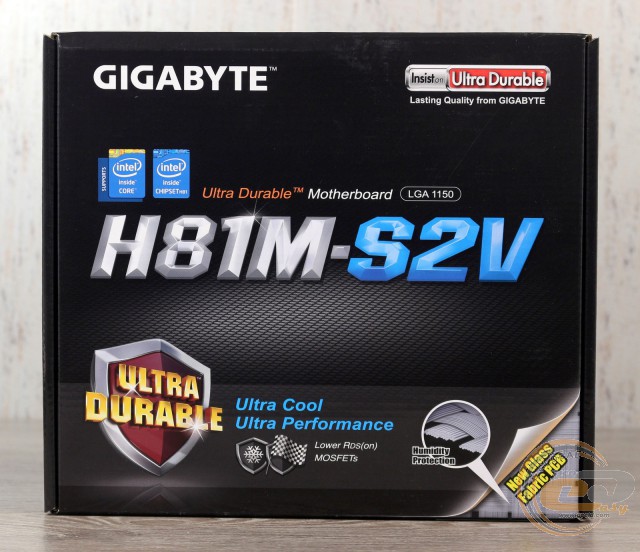 Package of new item is made of cardboard and decorated with dark colors printing. On the front side, besides the usual names of the manufacturer and model of the device, you can pay attention to the logo of branded concept Ultra Durable, which includes the following features:
Ultra Cool & Perfomance - the CPU power circuit uses high-performance field effect transistors with low on-resistance (Low RDS (on)) and long-life solid capacitors.
Ultra Safe - this model is equipped with an additional protection of ports USB and LAN ESD. Each LAN and USB port is paired with a special protective filter that is able to withstand severe electrostatic discharge, which protects the system against voltage surges, even during a storm. Also here is the presence of protective circuits, safeguard internal components from overvoltage, and an improved installation of fiberglass-based, thus reducing the negative impact of moisture.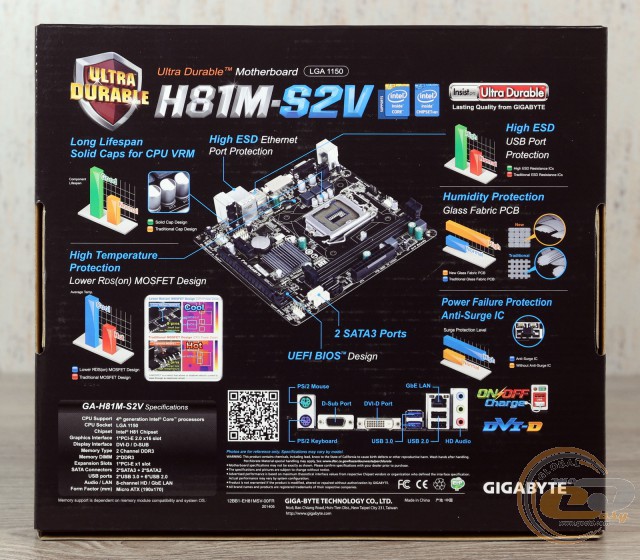 The reverse side contains a schematic view of the configuration of the motherboard and interface panel. Also here there is a short list of characteristics of the device.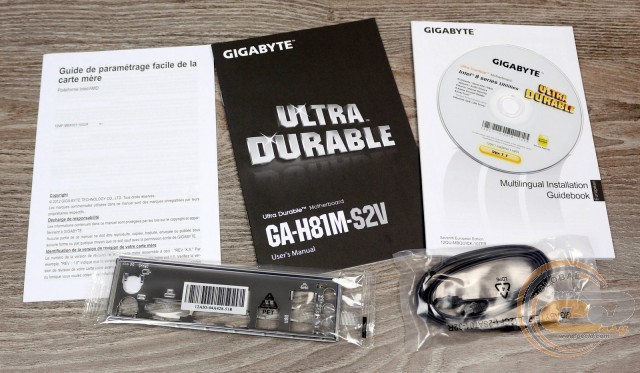 In the box with the test model, in addition to the disk with software and the interface panel plug, we found only two SATA cables.
Design and features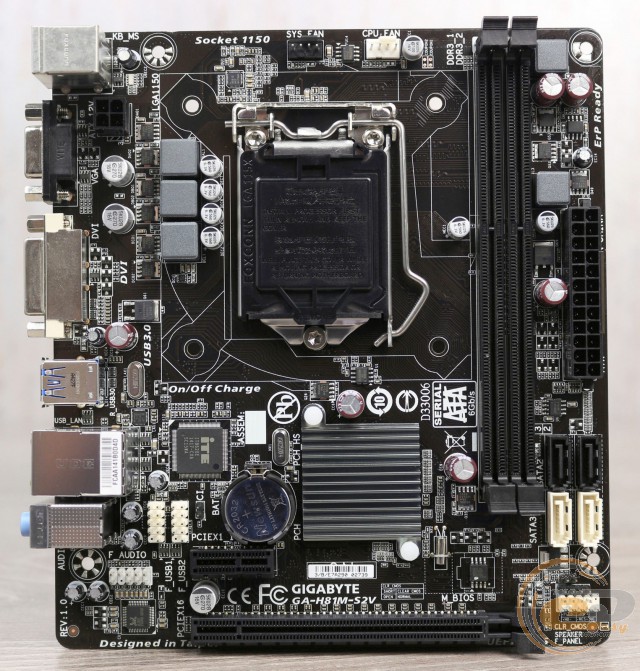 The test model is implemented on a dark brown printed circuit board in format microATX. It has not only dark colors, but also non-standard sizes (190 x 170 mm). In this regard, the layout of ports and connectors on the bottom is unusual for solutions of format microATX. For example, the USB 2.0 connection modules are located above the expansion slots, and slot PCI Express 2.0 x16 is soldered on the edge of the PCB. Thus this doesn't provide any inconvenience during building the system.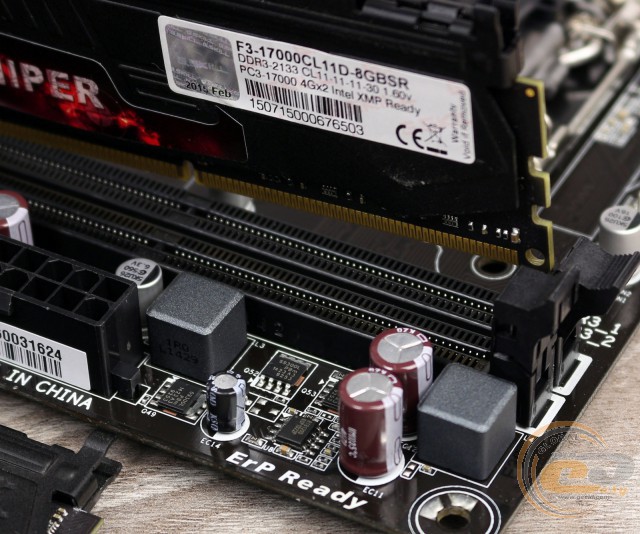 Perhaps the only worth mentioning is the use of electrolytic capacitors in some power circuits, while the CPU power circuit has installed more reliable and durable solid-state counterparts.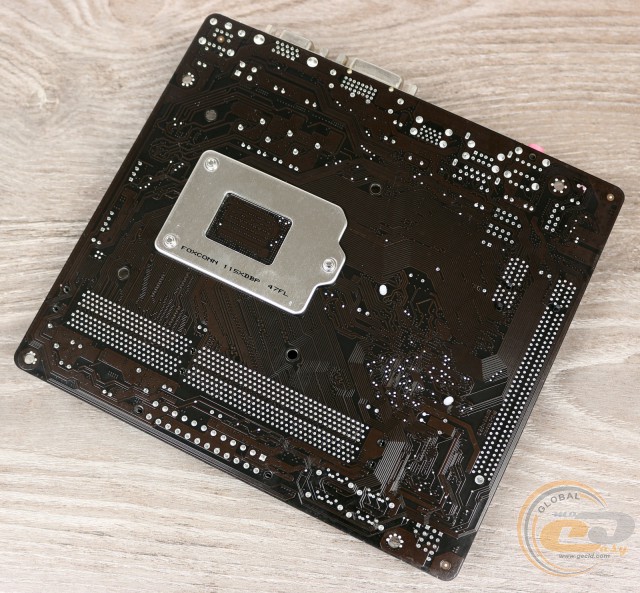 On the reverse side of the PCB you can draw attention to the standard base plate of the socket and the plastic clip for fastening single radiator.

At the bottom of the board there are the following connectors: front panel audio leading-in socket, CMOS, as well as front panel connection module. Also here are two modules for connection of additional interfaces USB 2.0. Total number of USB 2.0 sockets is six: four are internal and two on the interface panel. Also there are two external for USB 3.0. All ports operate due to chipset.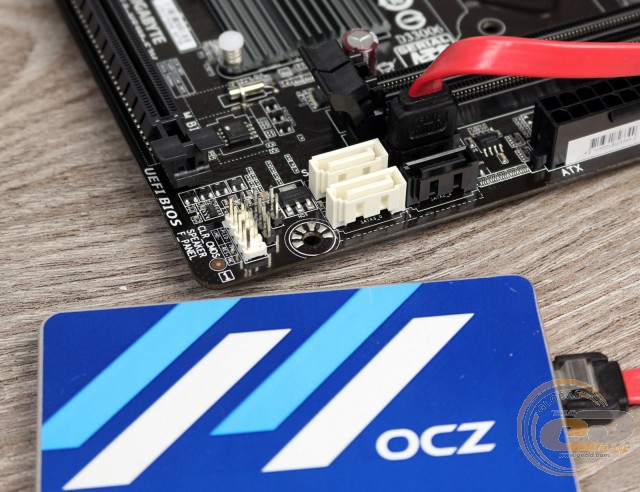 The possibility of organizing a disk subsystem is presented by two ports SATA 6 Gb/s (white) and two SATA 3 Gb/s (black). All of them operate due to chipset.

The tested model is equipped by two DIMM-slots for memory modules of DDR3 standard that are equipped with latches from both sides. Modules operating at frequencies from 1066 to 1600 MHz in the nominal mode are supported. The maximum amount is 16 GB that is more than enough for compact and inexpensive system.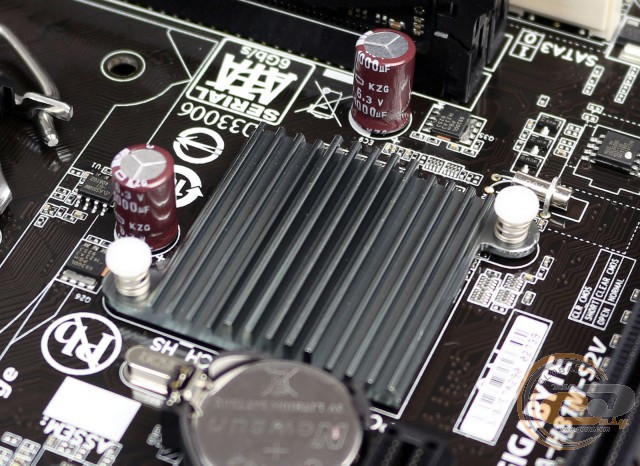 Cooling system of the product includes one aluminum radiator that removes heat from chipset Intel H81. In the process of testing the following temperature indices were fixed:
radiator of chipset cooling – 45.3°C (during overclocking – 45.4°C);
field-effect transistor of processor power subsystem – 74.1°C (during overclocking – 82°C);
chokes of processor power subsystem –75.2°C (during overclocking – 82.5°C).
Demonstrated results are average, but as there is a large reserve up to the critical temperature.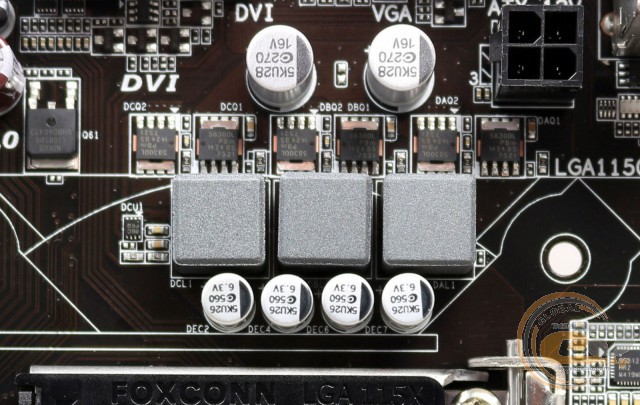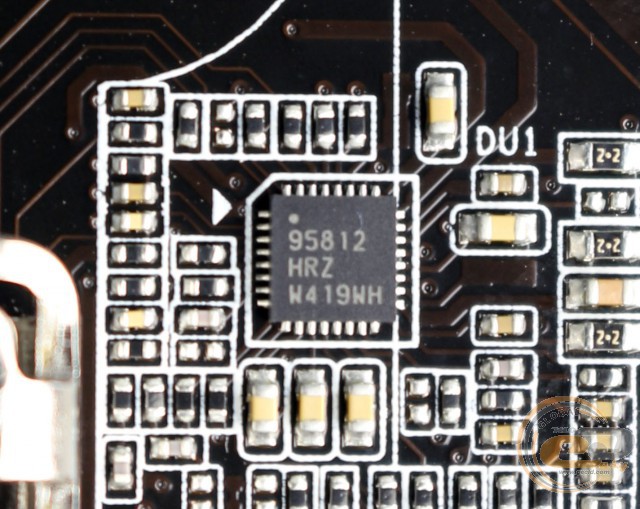 Processor power supply is performed via 3-phase scheme for computational cores and additional joints. The transformer is based on PWM controller ISL95812. The circuitry is made by high quality components such as: solid capacitors and transistors with low resistance of open channel and chokes with ferrite cores. Basic 24-pin and additional 4-pin connectors are use for power feeding.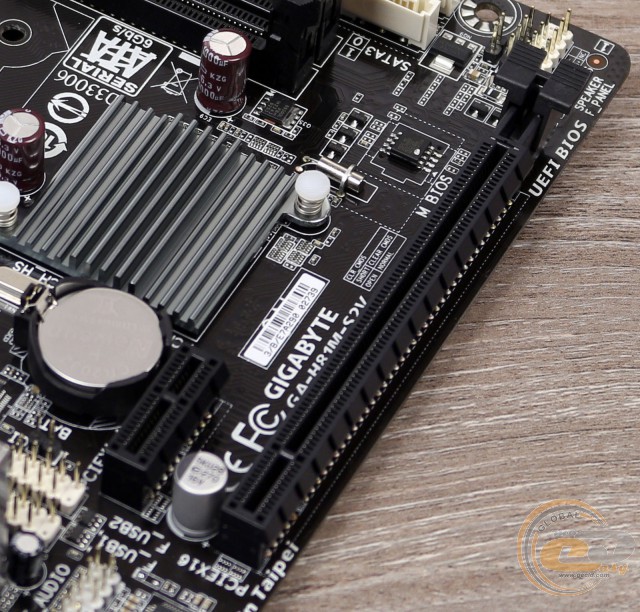 To extend the functionality of the product user has two slots:
PCI Express 2.0 x1;
PCI Express 2.0 x16.
It is expected that the new product provides the ability to install only one video card in a single slot PCI Express x16, which is connected to the processor and always uses all 16 lines of the standard PCI Express 2.0. Recall that the chipset Intel H81 does not support the distribution lines between the slots and work with the standard PCI Express 3.0. However, this is not a critical disadvantage, since the difference between PCI Express 3.0 and PCI Express 2.0 will not lead to a noticeable drop in performance.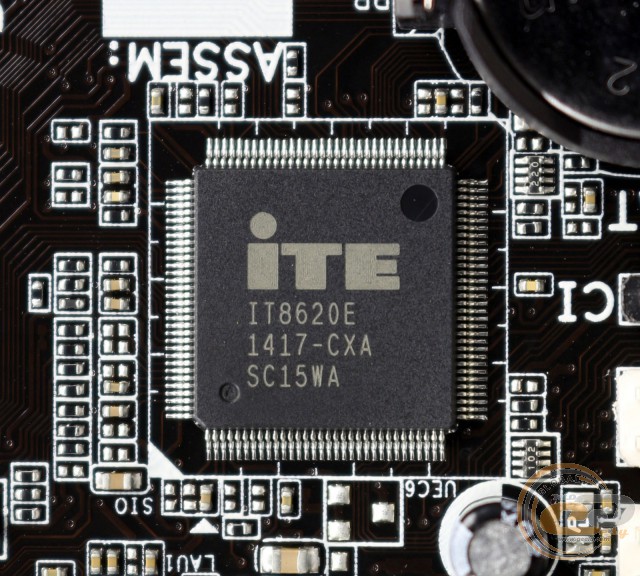 Multi I/O capabilities are based on chip ITE IT8620E which controls the operation of the system fans and PS/2 ports, as well as provides the monitoring.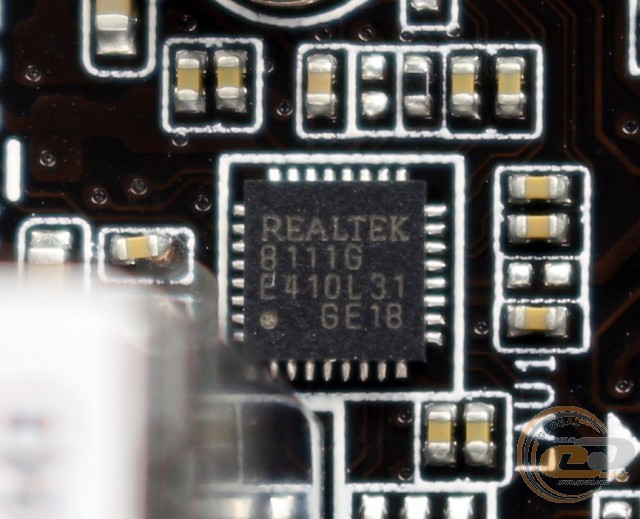 To support network connections there is a GB LAN-controller Realtek 8111G. Software GIGABYTE LAN Optimizer allows distribute network resources between application.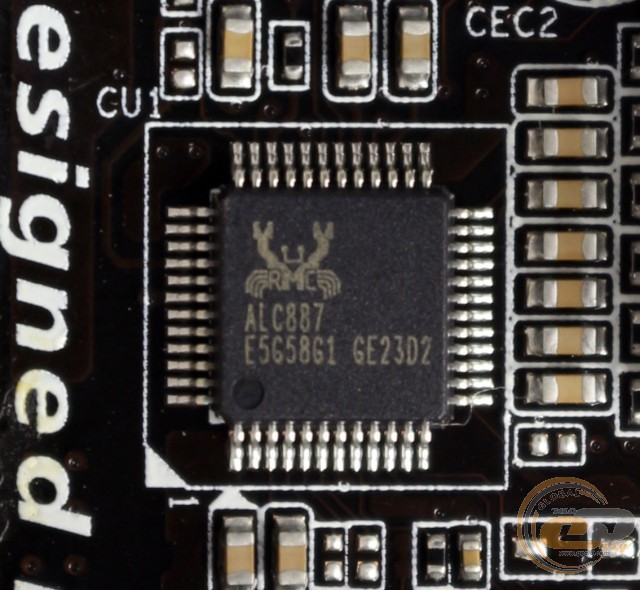 Sound subsystem of model is based on the 8-channel codec Realtek ALC887 which supports audio formats 2/4/5.1/7.1.

Interface panel of the model contains the following ports:
1 x LAN (RJ45);
2 x USB 3.0;
2 x USB 2.0;
1 x DVI-D;
1 x D-Sub;
2 x PS/2;
3 x audio jacks.
Note a very successful layout of interface panel, especially considering the affordable cost of the product. It offers two video outputs and basic number of ports USB. The features include only inconvenient connection of multichannel speakers, as well as the absence of HDMI.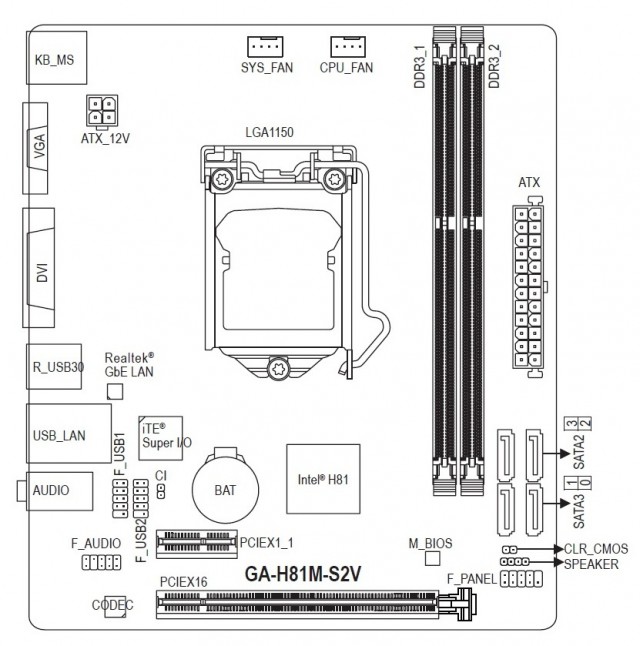 The possibility of organizing the cooling system inside the body of GIGABYTE GA-H81M-S2V is very standard. There are two 4-pin fan connectors, one of which serves to cool the CPU, while the others are intended for the system fan.
UEFI BIOS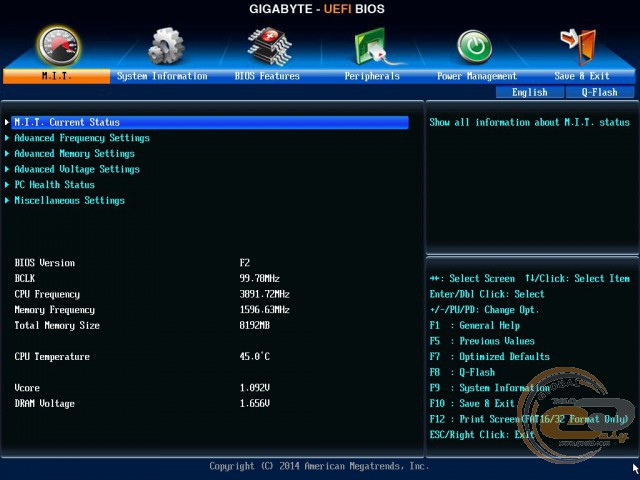 The tested model is equipped with modern firmware UEFI based on microcode AMI with a nice graphical user interface, the ability to control via mouse and support for drives larger than 3TB.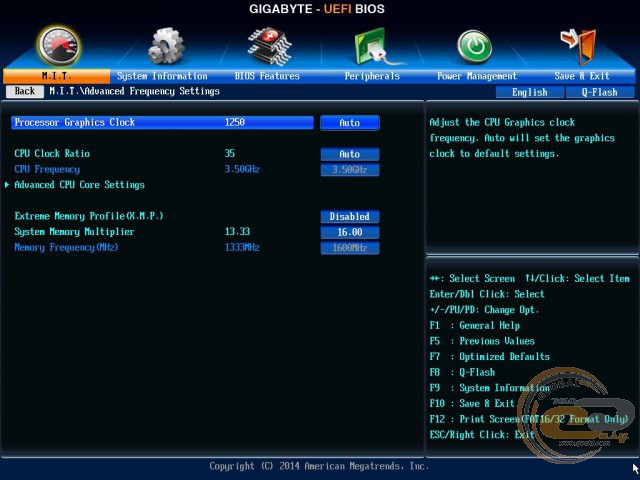 Most of the settings related to changes in frequency of the CPU, integrated graphics core and RAM are grouped under «MB Intelligent Tweaker» («M.I.T.») where they are separated by sections.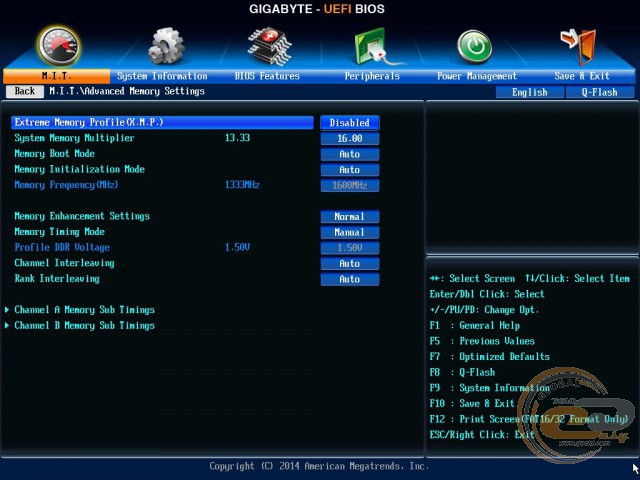 Multiplier allows you to set the frequency of the memory modules as part of the 800 MHz to 1600 MHz.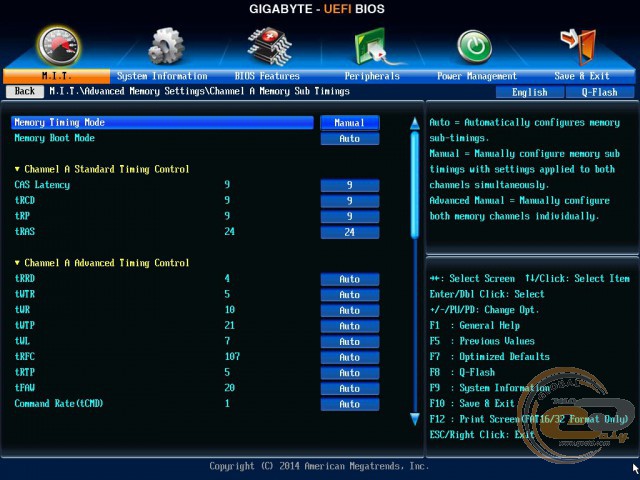 If necessary the section "Advanced Memory Settings" can provide the access to settings of memory latency.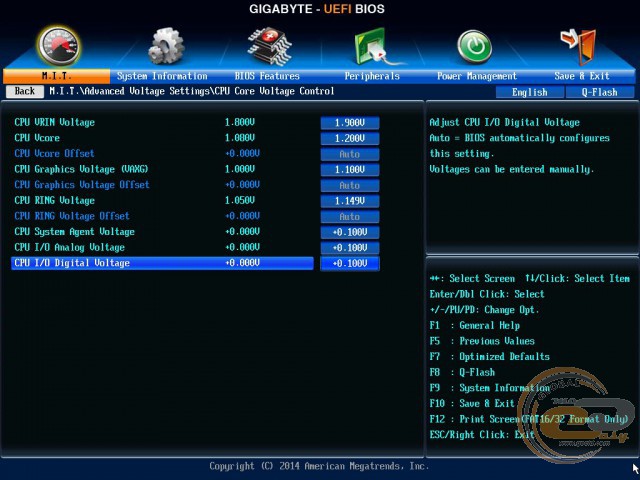 Also there is ability to fine tune of voltages on basic components of system.
Adjustments required to optimize the system:
| | | | |
| --- | --- | --- | --- |
| Parameter | Menu | Range | Step |
| CPU multiplier | CPU Clock Ratio | 8 – MAX | |
| RAM frequency | System Memory Multiplier | 800 – 1600 | |
| CPU voltage | CPU Vcore | 0,900 – 1,200 | 0,001 |
| Automatic overclocking profiles | CPU Upgrade | Auto; 4,3; 4,4; 4,5; 4,6; 4,7 GHz | |
| RAM voltage | DRAM Voltage | 1,160 – 1,700 | 0,020 |
| Chipset voltage | PCH Core | 0,955 – 1,150 | 0,005 |
| Graphics core frequency | Processor Graphics Clock | 400 – 4000 | 50 |
| | Turbo Power Limit | 1 – 4096 | 1 |
| | Core Current Limit | 10 – 1000 | 1 |
| | CPU VRIN Voltage | 1,700 – 1,900 | 0,010 |
| CPU Graphics Voltage | CPU Graphics Voltage | 0,900 – 1,100 | 0,001 |
| | CPU RING Voltage | 0,950 – 1,149 | 0,001 |
| System Agent Voltage | CPU System Agent Voltage | -0,100 − +0,100 | 0,001 |
| | CPU I/O Analog Voltage | -0,100 – +0,100 | 0,001 |
| | CPU I/O Digital Voltage | -0,100 – +0,100 | 0,001 |
| | PCH I/O | 1,400 – 1,700 | 0,005 |
| Capacity of memory for CPU graphics core | Intel Processor Graphics Memory | 32, 64, 96, 128, 192, 224, 256, 320, 384, 448, 512 | |
| RAM timing | Timing Control | CAS, tRCD, tRP, tRAS, tRRD, tWTR, tWR, tWTP, tWL, tRFC, tRTP, tFAW | |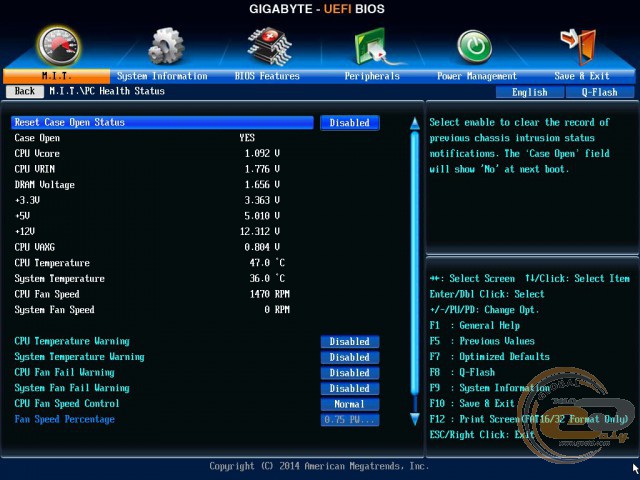 The section «PC Health Status» opens access for monitoring the temperature of the processor and chipset, as well as speed of installed fans. Additionally you can monitor the voltage at the processor core, memory modules and power supply rails +12V and +3.3V.
Социальные комментарии Cackle