Review of motherboard GIGABYTE GA-Z170X-Gaming 3 on Intel Z170
5 August 2015 is a significant date on the calendar in the IT-industry. After all, this day brought not only the announcement of the sixth-generation Intel Core processors under code-named «Intel Skylake», but also we have an introduction of a new platform Intel Socket LGA1151 and a new chipset Intel Z170. We will devote a separate review for processor family Intel Skylake, but in this material on the example of motherboard GIGABYTE GA-Z170X-Gaming 3 we offer a more detailed look at the possibilities of the chipset Intel Z170.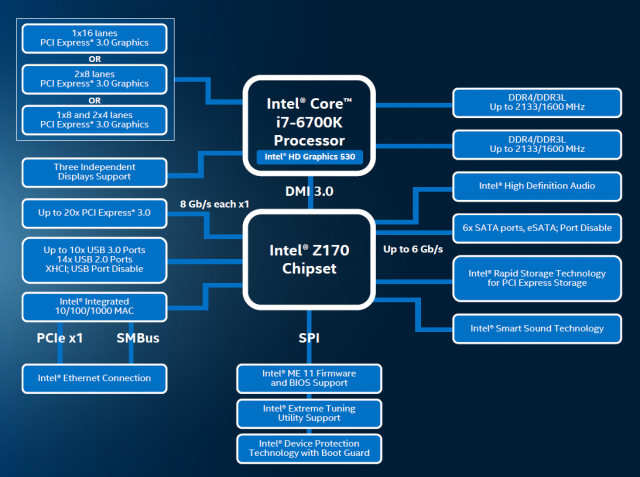 Conceptual scheme of platform Socket LGA1151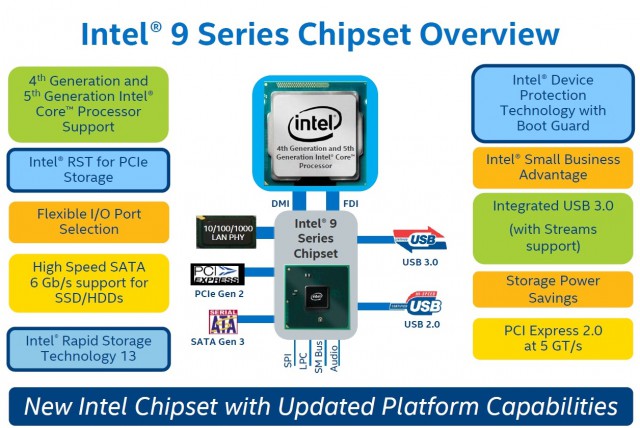 Conceptual scheme of platform Socket LGA1150
First of all let's consider the conceptual scheme of platform Socket LGA1151. The general structure has not changed: the board still contains two major components (CPU and chipset), the data exchange between them is done by a bus DMI. However "the main thing is in the details." Indeed, the analysis of the individual units of the scheme shows that the platform Socket LGA1151 is a big step forward compared to the Socket LGA1150. Firstly, the chipset Intel Z170 had the transition to the use of interface PCI Express 3.0, which has twice higher the bandwidth than PCI Express 2.0. Moreover, the new standard will be used for communication with external devices (expansion slots and the controller), and for "dialogue" with the processor. In other words, performance of bus DMI 3.0 also increased about twice compared with DMI 2.0. Such upgrading at chipset ensures that during operation any part of this scheme will not be the bottleneck and will not limit the performance of its individual components.
Another important development was the increase the number of lines PCIe in the chipset to communicate with peripherals. Intel Z97 features 8, while Intel Z170 has 20. Such a large amount should help the developers of motherboards in terms of implementing a set of interfaces for multi-graphics configurations, and the use of third-party controllers. Also don't forget that the processor also has its own 16th lines PCIe 3.0, that will give us a grand total of 36 lines. In other words, any board equipped with the flagship chipset Intel Z170, theoretically, be able to support modes 4-Way NVIDIA SLI/AMD CrossFireX in format х8+х8+х8+х8.
As for the supported connectors, the Intel Z170 also took the lead of its predecessor. For the needs of the user here are 10 USB 3.0 port versus 6 in Intel Z97. The number of available slots USB 2.0 and SATA 6 Gb/s has not changed - 14 and 6, respectively. Also, here is support for interface SATA Express and drives M.2 PCIe (NGFF SSD). Moreover, by increasing the number of lines and the transition to PCIe 3.0 standard now the motherboard can contain not one, but two or three corresponding slots. Also, minor changes were made for supported technologies. Thus, the Intel Rapid Storage options has added full support for PCIe-storage, and will have access to technology to improve sound quality (Intel Smart Sound).
In general, the chipset Intel Z170 has a rather large functionality.
Motherboard GIGABYTE GA-Z170X-Gaming 3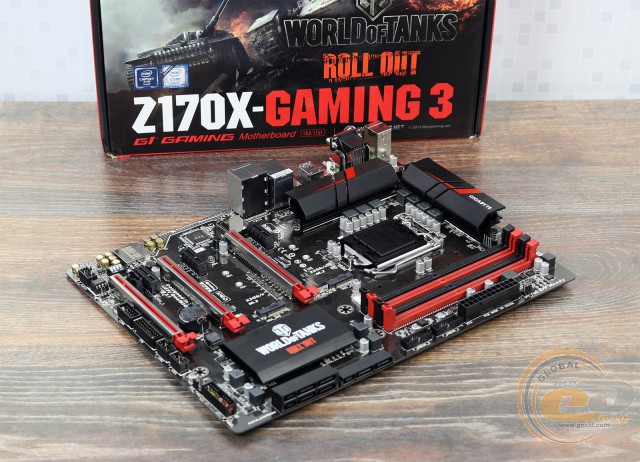 The specs:
Producer

GIGABYTE

Model

GA-Z170X-Gaming 3

Chipset

Intel Z170

CPU socket

Socket LGA1151

Supported CPUs

Intel Core i7 / Core i5 / Core i3 / Pentium / Celeron 6th gen (Intel Skylake)

Memory support

4 x DDR4 DIMM-slots

Memory frequency

–

Expansion slots

3 x PCI Express 3.0 x16 (х16+х8+х4)

3 х PCI Express 3.0 x1

Disk subsystem

2 x M.2 32 Gb/s (M.2 2242 / 2260 / 2280)

3 x SATA Express (compatible with 6 x SATA 6 Gb/s)

SATA RAID 0, RAID 1, RAID 5, RAID 10

LAN

1 x Qualcomm Atheros Killer E2200 (10/100/1000 Мb/s)

Sound subsystem

GIGABYTE AMP-UP Audio (codec Realtek ALC1150 + audio amplifier TI OPA2134PA)

7.1-channel sound

S/PDIF Out

Power

1 х 24-pin ATX connector

1 х 8-pin ATX12V connector

Fans

2 x 4-pin FAN (for CPU cooler)

3 x 4-pin FAN (for system fans)

Cooling

Алюминиевый радиатор на чипсете

Aluminium radiators on the elements of processor power subsystem

Aluminum heatsink on the chipset

External I/O

1 х PS/2 Combo

1 x HDMI

1 x DVI-D

1 x D-Sub

1 x LAN (RJ45)

1 x USB 3.1 (Type-C)

1 x USB 3.1 (Type-A)

3 x USB 3.0

2 x USB 2.0

1 x Optical S/PDIF out

5 x audio jacks

Internal I/O

2 x USB 3.0, each with support of two USB 3.0

2 x USB 2.0, each with support of two USB 2.0

1 х socket TPM

1 x COM

1 x audio output connector on the front panel

1 x unit front panel connectors

1 x CMOS

1 x socket COM

1 x socket TPM

1 x socket Thunderbolt

BIOS

Dual UEFI AMI BIOS

Form-factor

ATX

Dimensions

305 x 235 mm

Producer website
Package and content

Motherboard GIGABYTE GA-Z170X-Gaming 3 comes in a colorful box with a scene from the popular game World Of Tanks on the front side. Its references are not accidental. The fact is that buying this card, you get an invite code to the game and the bonus code on a premium tank. A sort of a gift to all fans of the popular online project.
The reverse side of the box already contains information relating directly to the motherboard. In addition to the specification, you can find a brief description of the applied technologies concerning sound path, the network controller, the disk subsystem, expansion slots, USB ports, and more overclocking options.
Inside the box we found a plug for the interface panel, driver disk, connector for connecting the case buttons, two SATA cables and the bridge for two video cards in mode NVIDIA SLI. Since we are dealing with a pre-release version of the motherboard, it is quite possible that it the set will have a little different look. In particular, a card with a bonus and an invite code for the game World Of Tanks. Nevertheless, even these components will be sufficient for the assembly and operation of a standard desktop system.
Design and features
Model GIGABYTE GA-Z170X-Gaming 3 is made on a dark brown color with black and red connectors. It looks impressive and moderately aggressive. The layout of the board can be called a typical for ATX-solutions, as, the sizes (305 x 235 mm). Just note that the design of the CPU socket was not changed. Accordingly, the cooler designed to be installed on the platform Socket LGA1150 will be suitable for this model (tested in practice). As for the electrical compatibility, between sockets Socket LGA1151 and Socket LGA1150 any direct or feedback is not possible.
The back side of the printed circuit board contains support plate of processor socket. To fix the chipset heat there are spring-loaded screws used to ensure the best clamping force, and for the coolers on the elements of the power subsystem there are the usual plastic clips.
Upper PCI Express x16 slot is located at a sufficient distance from the connectors for memory, so the use of even bulky video with hardness plate does not prevent the process of extracting or installing modules. The same can be said about the ports SATA, which for convenience are arranged parallel to the PCB.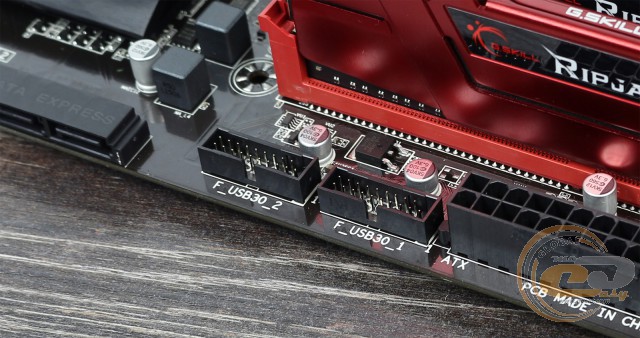 In the lower left corner of the PCB you can find: pads for connecting audio connectors, buttons and indicators on the front panel; ports TPM (for installation plate Trusted Platform Module), S/PDIF Out and COM; system fan connector; jumper to reset the BIOS, and the two pads to connect interface USB 2.0. Overall, the GIGABYTE GA-Z170X-Gaming 3 supports six ports USB 2.0: four inside and two on the interface panel. But USB 3.0 connectors are seven: four internal and three external. Also the board contains a high-speed port USB 3.1 Type-C, and one USB 3.1 Type-A. It is noteworthy that the implementation of interface USB 3.1 there are two lines of PCI Express 3.0, providing a total bandwidth of 16 Gb/s, which guarantees the operation of these ports with maximum efficiency (up to 10 Gb/s).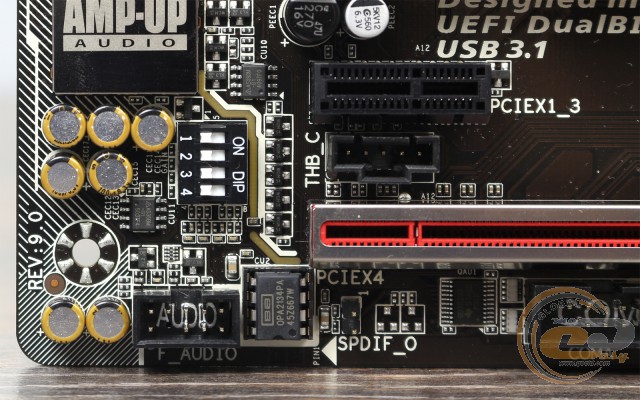 Near the bottom slot PCI Express x16 (x4) you can find a connector for connecting the expansion card with interface Thunderbolt.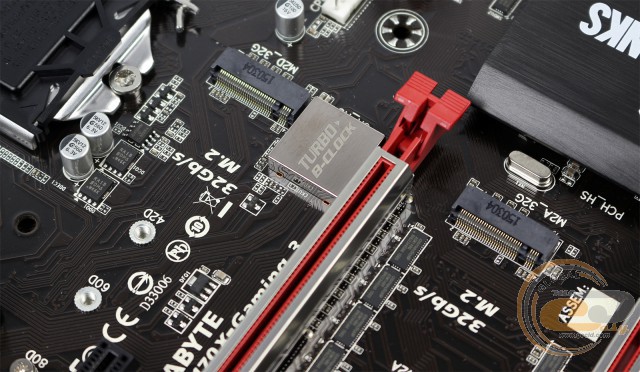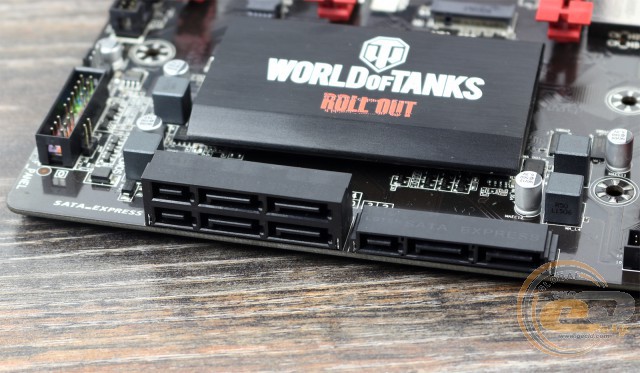 The possibility of organizing a disk subsystem is presented by two connectors M.2 32 Gb/s (SSD-drives supported formats M.2 2242, 2260 and 2280) and three ports SATA Express, which are compatible with six SATA 6 Gb/s. There is support for arrays SATA RAID 0, RAID 1, RAID 5 and RAID 10.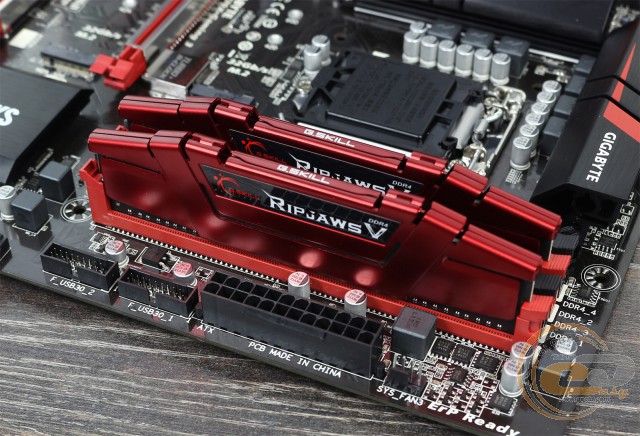 To install RAM standard DDR4 the user has four sockets wired to two channels (two modules per channel). The plate with a total volume of up to 64 GB and the frequency of operation to 4133 MHz overclocking are supported. For everyday tasks such characteristics will be enough.
The cooling system of this motherboard consists of three aluminum radiators: the first removes heat from chipset Intel Z170, while other two cover elements of processor power subsystem. Thermal paste is used in both options.
Intel company decided to refuse the use of on-board power supply (iVR). There are different opinions on this issue: some say that its implementation on a chip is too expensive, the other that it significantly increases the CPU heat dissipation. Whatever it was, it is not influenced on the configuration of the processor module VRM, located on the motherboard. In our case, it is a 7-phase controller running by PWM Controller Intersil ISL95856. The formation of the supply voltage for the memory is provided by the 1-phase module VRM.
In all cases the power components are presented by a combination of two transistor assemblies Vishay SiRA12DP и Vishay SiRA18DP. Note that in the processor power converter each phase functions independently and has a separate driver (three built into the PWM controller Intersil ISL95856, the other four are presented chips Intersil ISL6625A). This configuration allows for a more stable voltage output that can be useful during the overclocking of the respective components of the CPU. To smooth fluctuations there are high-quality solid capacitors. In short, the implementation of this unit performed at a very high level.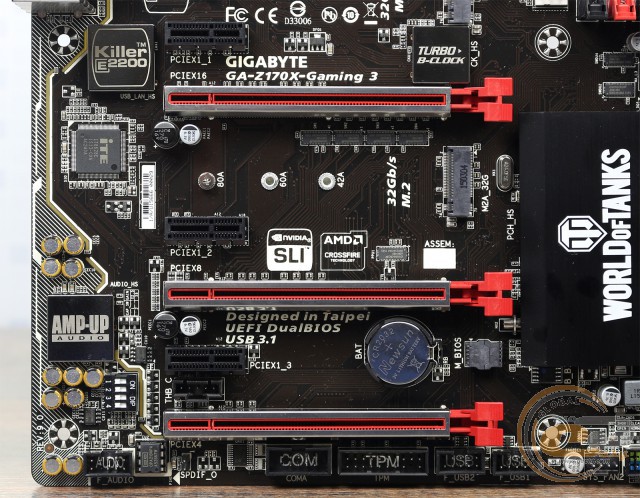 To extend the functionality test new products, the user has six slots available, all of which correspond to the specifications PCI Express 3.0. Black connector is used on one line PCIe, while for the full-size slots red provided the following scheme of distribution lines PCIe - x16 + x8 + x4. In other words, based on the GIGABYTE GA-Z170X-Gaming 3 without any problems, you can collect the game configuration, operates in 2-Way NVIDIA SLI or 3-Way AMD CrossFireX. And for their implementation GIGABYTE engineers did not need extra chips unsoldering-doublers PCIe lanes or worry about limiting the performance of some components of the motherboard. Functional expansion slots fully ensured by a processor and chipset Intel Z170, which is a clear demonstration of the benefits of the new platform over previous generations.
I would also like to note reinforced structure themselves PCI Express x16 slots and good location all connectors PCI Express: Even if you install two graphics cards with overall cooling system for at least one slot PCI Express 3.0 x1 is always available.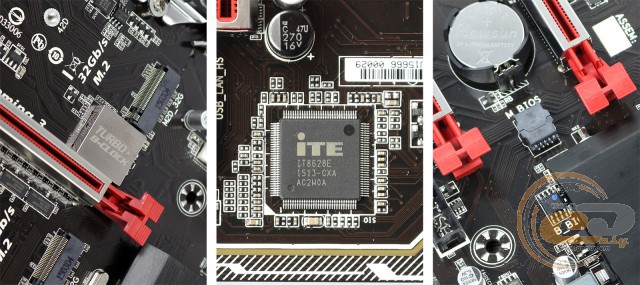 A feature of Intel Skylake processor family is the ability to adjust the reference frequency of processor cores, up to 1 MHz (previously only available three fixed ratio: 1.00; 1.33 and 1.67). However, for the implementation of this function requires a separate module, which is an optional external clock. The motherboard GIGABYTE GA-Z170X-Gaming 3, he presented a chip in a sealed enclosure with a proud name «TURBO B-CLOCK».
Support for Multi I / O and monitoring of the main indicators can be carried out using chip ITE IT8628E. Firmware BIOS, as well as the majority of motherboards from GIGABYTE, is stored on two separate chips. Therefore, in the case of a failed upgrade, or the serious software failure, GIGABYTE GA-Z170X-Gaming 3 will be easier to "return to life".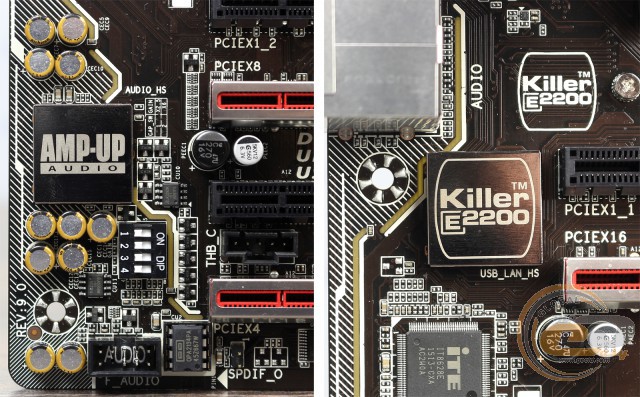 To support network connections there is a gigabit LAN-controller Qualcomm Atheros Killer E2200, which in addition to primary task, is able to allocate the game and multimedia traffic and increase its priority, which should positively affect the magnitude of delays in online gaming and video playback as from the Internet.
Sound subsystem of model GIGABYTE GA-Z170X-Gaming 3 is provided by audio complex called «GIGABYTE AMP-UP Audio». It is based on 7.1-channel Realtek ALC1150 codec and 2-channel headphone amplifier TI OPA2134PA, control modes which you can use pads with four switches «ON DIP» (function Gain Boost). The audio path equipped with special capacitors is used in professional audio equipment.

The interface panel features the following ports:
1 x PS / 2 Combo;
1 x HDMI;
1 x DVI-D;
1 x D-Sub;
1 x LAN (RJ45);
1 x USB 3.1 (Type-C);
1 x USB 3.1 (Type-A);
3 x USB 3.0;
2 x USB 2.0;
1 x Optical S / PDIF out;
5 x audio ports.
This arrangement is quite practical and versatile, since it involves a variety of types of video interfaces, a large number of ports USB (including advanced USB 3.1 Type-C and USB 3.1 Type-A with data rates up to 10 Gb/s), and it provides a convenient connection of multi-channel speakers.
Note that yellow USB-ports have gold contacts connected to a separate power converter that improves the stability of the output signal. These connectors are recommended for connecting sensitive equipment, such as DAC.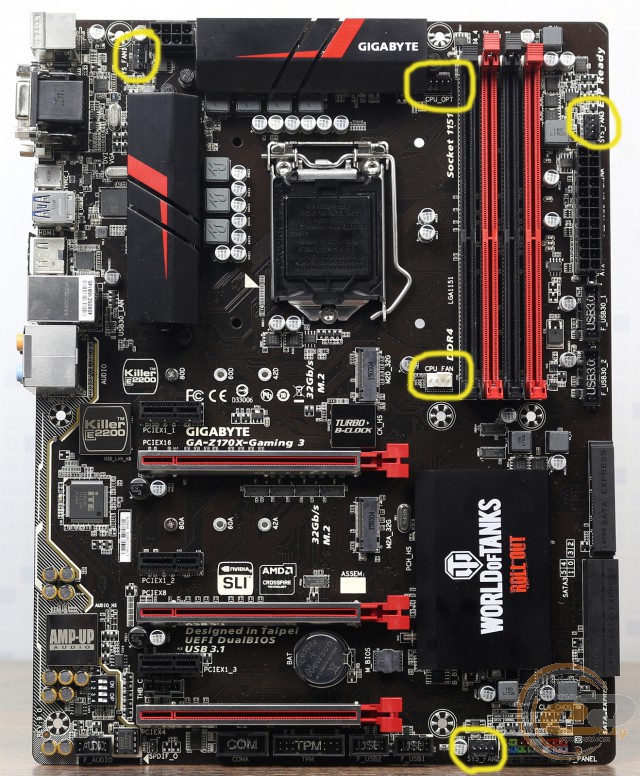 Motherboard GIGABYTE GA-Z170X-Gaming 3 is equipped with five FAN connectors to plug in fans. They all have a 4-pin design, allowing each fan has a monitoring function of its speed, as well as an option to specify a unique scheme of work.
Социальные комментарии Cackle