Motherboard MSI Z97A GAMING 6: review and testing
The hero of this review the motherboard MSI Z97A GAMING 6 takes a middle position in the lineup MSI GAMING, which continues to develop thanks to the interest of users. This model has an excellent network subsystem, which will be appreciated by fans of online battles, high-quality sound subsystem, as well as ample opportunities for the organization of graphics and disk subsystems. A particular note is given to the advanced interface USB 3.1 Type-C put on the interface panel.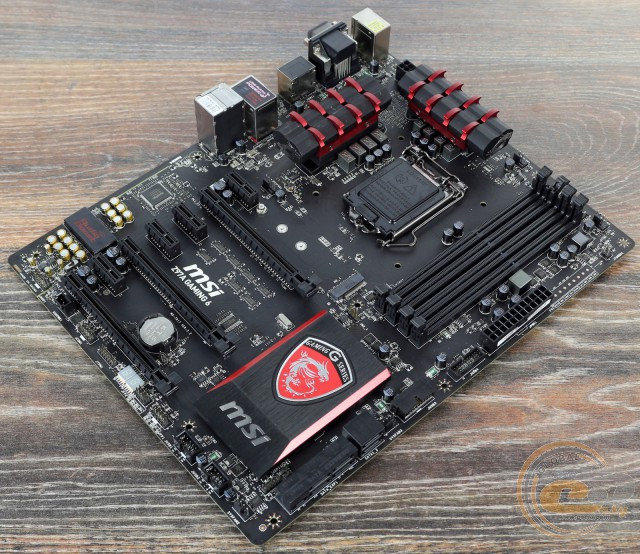 The specs:
Producer

MSI

Model

Z97A GAMING 6 (rev 1.0)

Chipset

Intel Z97

CPU socket

Socket LGA1150

Supported CPU

Intel Core i7 / Core i5 / Core i3 / Pentium / Celeron of 4th and 5th gen: Intel Haswell, Intel Haswell Refresh, Intel Devil`s Canyon, Intel Broadwell

Memory frequency

3300* / 3200* / 3100* / 3000* / 2800* / 2666* / 2600* / 2400* / 2200* / 2133* / 2000* / 1866* / 1600 / 1333 / 1066 MHz

(*OC)

Memory support

4 x DDR3 DIMM-slots with memory support up to 32 GB

Expansion slots

3 x PCI Express 3.0 x16 (x16 / x8+x8 / x8+x4+x4)

4 х PCI Express 2.0 x1

Disk subsystem

Intel Z97 chipset supports:

1 x M.2 (M.2 2242, M.2 2260, M.2 2280)

1 x SATA Express (compatible with 2 x SATA 6 GB/s)

4 x SATA 6 GB/s (RAID 0, RAID 1, RAID 5, RAID 10)

LAN

1 x Qualcomm Atheros Killer E2205 (10/100/1000 Мb/s)

Sound subsystem

Codec Realtek ALC1150

7.1-channel sound

S/PDIF Out

Power

24-pin ATX connector

8-pin ATX12V connector

Fans

2 x CPU fan connectors (4-pin)

3 x system fan connectors (4-pin)

Cooling

Aluminium radiators on the processor power subsystem elements

Aluminum radiator on chipset

Extenral I/O

1 x PS/2 Combo

1 x HDMI

1 x D-Sub

1 x DVI-D

1 x LAN (RJ45)

1 x USB 3.1 (Type-C)

2 x USB 3.0

2 x USB 2.0

1 x Optical S/PDIF out

6 x audio jacks

Internal I/O

2 x USB 3.0, each with support of two USB 3.0

2 x USB 2.0, each with support of two USB 2.0

1 х TPM

1 x COM

1 x connector of audio output to front panel

2 x sets of front panel connectors

1 x CMOS

1 х LED-indicator

1 x socket Direct audio

1 x switch Audio Power

9 х V-Check sockets

BIOS

64 Mb Flash ROM UEFI AMI BIOS

ACPI 5.0, PnP 1.0a, SM BIOS 2.7, DMI 2.0

Packaging

user manual

warranty card

disk with drives and documents

2 x SATA cables

1 х bridge NVIDIA SLI

1 x set MSI M-Connector

1 x door hanger

1 х sticker MSI GAMING

1 x power cord Direct audio

1 х interface panel plug

Form-factor, dimensions

ATX

305 х 244 mm

Producer website

MSI
Updated versions of BIOS and drives are available at support page
Package and content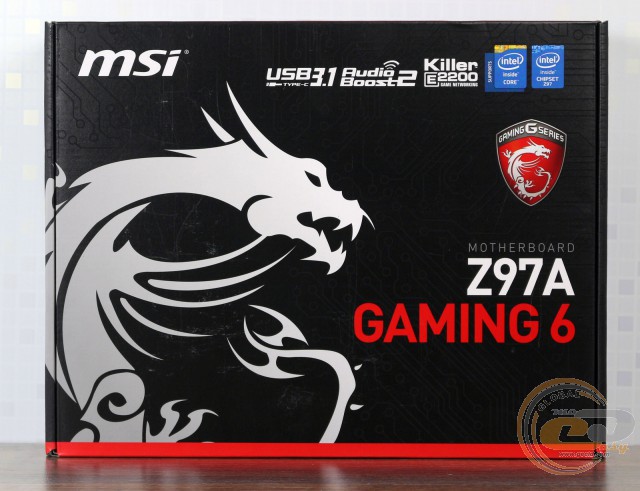 Motherboard MSI Z97A GAMING 6 comes in a cardboard box, which is decorated with high-quality and very stylish printing of series MSI GAMING. Most of the front side is reserved for the logo of gaming lineup - a stylized image of a dragon.
The useful information on the front side of the contains the name of the board and the manufacturer, the network controller Qualcomm Atheros Killer E2200, audio subsystem Audio Boost 2 and port USB 3.1 (Type-C).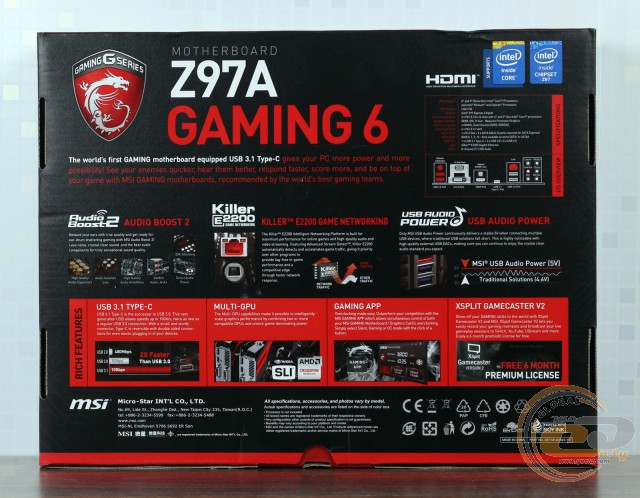 On the reverse side of the box, in addition to image of interface panel and brief specifications, you can find a description of the key features and supported technologies:
Qualcomm Atheros Killer E2200 - network controller has the ability to automatically detect the game and increase its traffic priority over low-level traffic system, ensuring low latency for transmission of gaming data.
USB Audio Power - the USB ports on the interface panel to maintain a stable supply voltage of 5 V, which will be useful when connecting external audio amplifiers.
Multi-GPU - the motherboard has support for technologies AMD CrossFireX and NVIDIA SLI for combining multiple graphics computing power.
Audio Boost 2 - audio subsystem includes a flagship codec Realtek ALC1150, special audio capacitor of company Nichicon, two amplifiers with the support of studio headphones with an impedance of 600 Ohms, and gold-plated audio outputs on the interface panel and a casing for protection against electromagnetic interference. Note also a nice bonus in the form of a shielding strip with LED-backlit, separating part of the printed circuit board with a sound system from the other components.
XSplit - motherboard comes the code to free software XSplit for six months, which is intended for broadcast gameplay on Twitch, YouTube, UStream, and other services.
MSI GAMING APP - proprietary software, providing controlled acceleration of the system (including graphics), and switch between different modes of operation of the PC.
USB 3.1 (Type-C) - port located on the interface panel has a capacity of 10 Gb/s, which is two times higher than USB 3.0.
In addition note other technologies:
EMI I/O Shielding - interface panel plug is made of high quality aluminum and is equipped with special shock-absorbing layer and the steel coating for greater reliability.
MSI Military Class 4 - in the design of new products uses only high quality components such as solid capacitors Dark CAP with increased lifetime up to 10 years, chokes SFC with ferrite cores and capacitors Hi-c CAP with a tantalum core of which are characterized by high energy efficiency.
MSI Gaming Device Port - USB 2.0 ports and PS/2 have increased three times the amount of gold plating, therefore, have greater reliability and durability. They are also optimized for manipulators with high sampling frequency (from 500 to 1000 Hz), thereby reducing the response time from 8 to 1 millisecond.
GUARD-PRO - the use of high quality components, the multi-layer printed circuit board and a series of special chips results in increased protection against moisture, high temperatures, electrostatic discharge and electromagnetic interference. The technology MSI ECO POWER bundled with proprietary software ECO Center allows physically disable unused chips to reduce energy consumption.
OC Genie 4 - automatic overclocking, which is activated by pressing a button in the bundled software.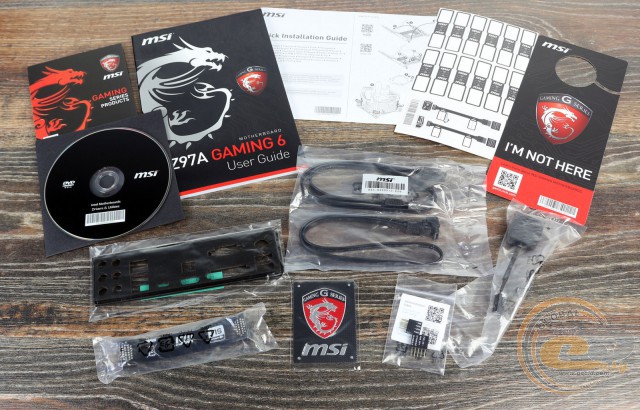 In addition to standard documentation and a CD with drivers and utilities the package of MSI Z97A GAMING 6 includes:
two SATA cables;
bridge NVIDIA SLI;
power cord Direct audio;
set of M-Connector;
interface panel plug;
label on the system unit with the logo of the series MSI GAMING;
cardboard henger logo and inscriptions: "Sorry, busy playing" and "I'm Not There."
Design and features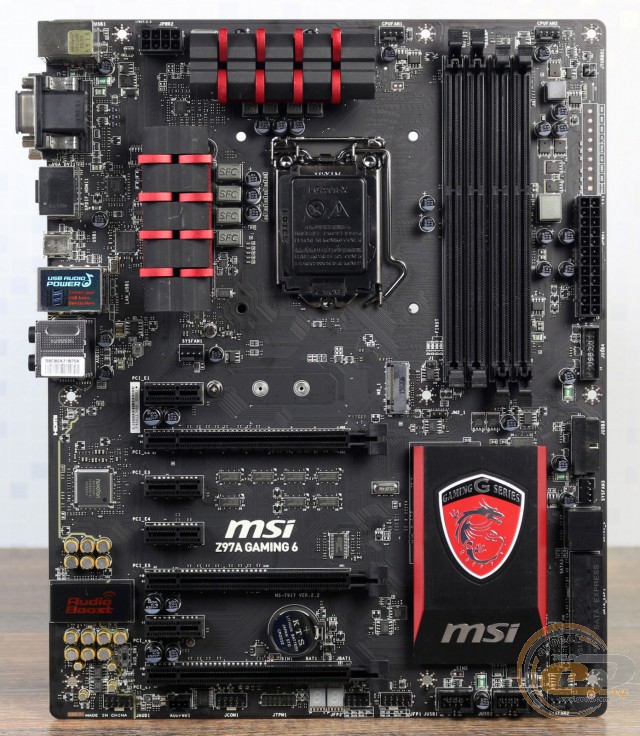 The news product is based on black a printed circuit board in format ATX (305 x 244 mm), the severity of which is added with red elements on the radiator. It can easily contain a sufficiently large number of on-board components, allowing to place them on the best places. Note that the delivery set includes M-Connector, which simplifies the connecting process of the front panel. In addition, please note that all the SATA ports are arranged parallel to the surface of the PCB, which means that even the longest expansion card won't restrict access to them.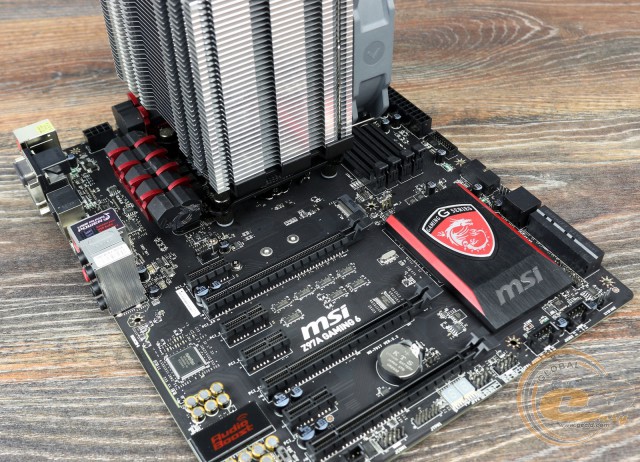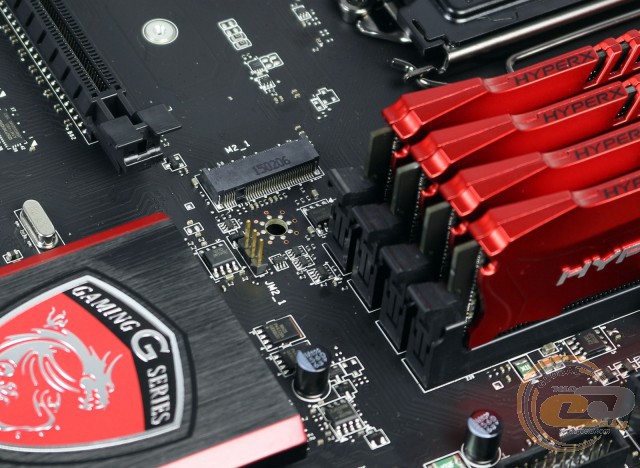 Despite the fact that the DIMM-slots include a latch on both sides, the manufacturer made sure that the installed graphics card does not interfere with the connection and disconnection of memory modules by placing PCI Express x16 slot at a sufficient distance.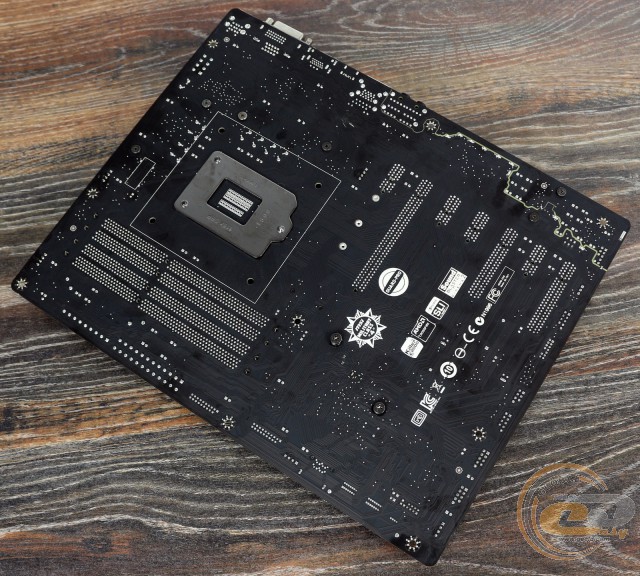 On the reverse side of the PCB note a base plate of the socket, and the fact that all three radiator are securely fixed by means of screws, which provide better downforce than plastic clips.

At the bottom of the board there are the following connectors: connection module of the front panel audio jacks, ports TPM and COM, POST-code indicator, two blocks to connect the front panel connector for system fan and two blocks for the connection of interface USB 2.0. MSI Z97A GAMING supports six USB 2.0 ports: four inside and two on the interface panel. Also note a connector Audio Power, designed to connect the cable Direct audio, which is used for direct power supply to the audio subsystem. There is a corresponding switch between the standard power mode and Direct audio.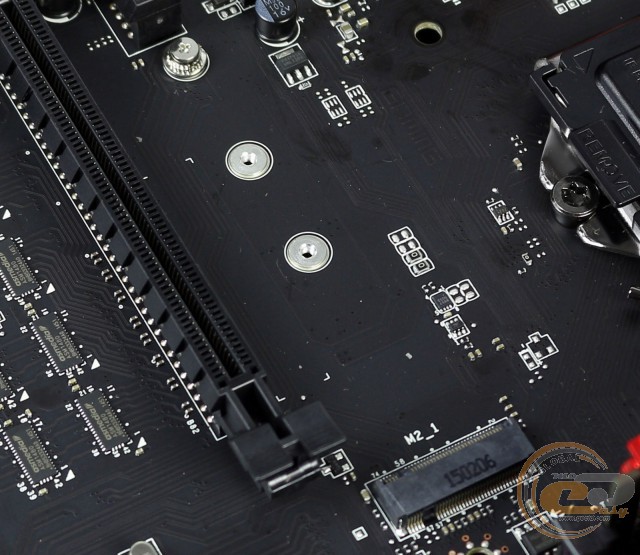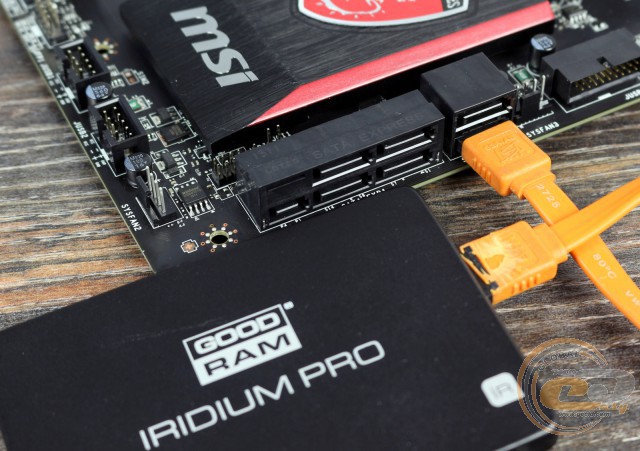 The possibility of organizing a disk subsystem is presented by socket M.2 (SSD-drives M.2 2242, 2260 and 2280 are supported), four ports SATA 6 Gb/s, and one SATA Express, which is compatible with two SATA 6 Gb/s. There is support for arrays SATA RAID 0, RAID 1, RAID 5 and RAID 10.
Due to lack of available chipset lines connector M.2 shares bandwidth dual-port SATA 6 Gb/s (not the scheme «SATA5_6»). Therefore, in the case of connection M.2-drive these interfaces will not be available.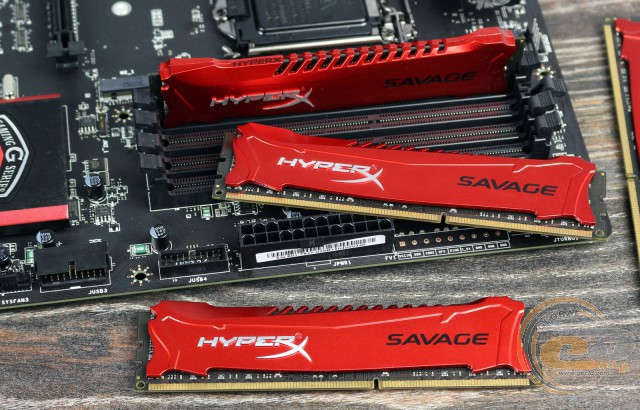 The right side of the motherboard MSI Z97A GAMING 6 contains group of connectors for multimeter and four DIMM-slots for modules RAM of standard DDR3, which can operate in dual channel mode. The modules must be installed either in the first and third or second and fourth slots. Modules operating at frequencies from 1066 MHz to 1600 in nominal mode and up to 3300 MHz overclocking are supported. The maximum amount of memory can be up to 32 GB, which should be enough for almost any task.
Also the right side has two modules for connection of remote panel with ports USB 3.0. In total, the new product supports six ports USB 3.0: four internal and two on the interface panel.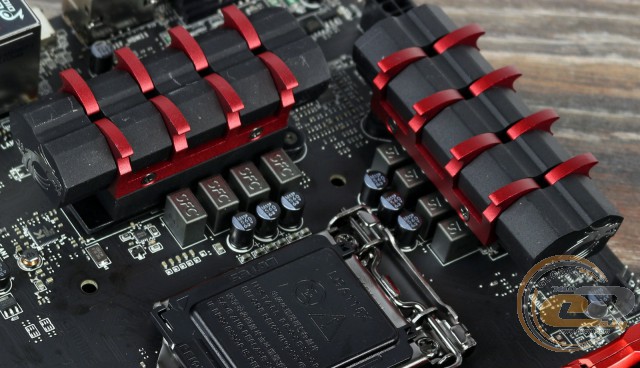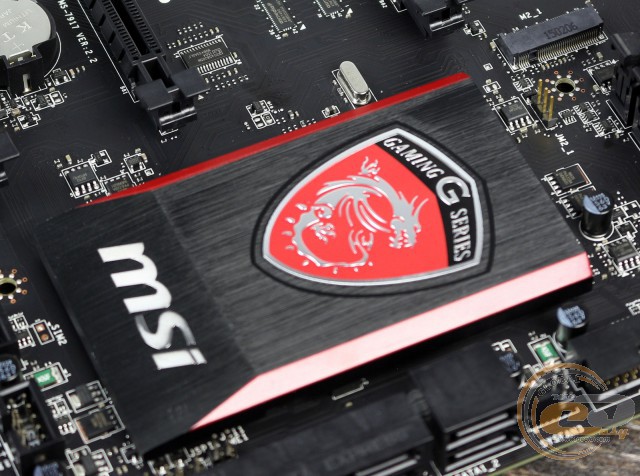 The cooling system consists of three main aluminum radiators, one carries out the heat removal from the chipset Intel Z97, while the other two cover elements of the power subsystem processor. The following temperature were fixed:
heat sink for cooling the chipset - 33°C (was not changed during overclocking);
top radiator cooling elements of the processor power subsystem - 43,6°C (during overclocking - 45,0°C);
bottom heat sink cooling elements of the processor power subsystem - 44,1°C (during overclocking - 47,9°C);
chokes of power system - 49,1°C (during overclocking - 50,2°C).
As we can see, pre-installed cooling system has good efficiency, thereby creating the necessary groundwork for overclocking.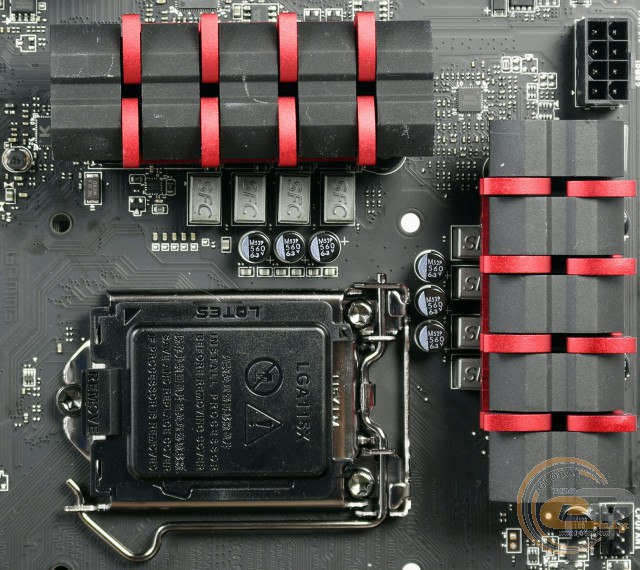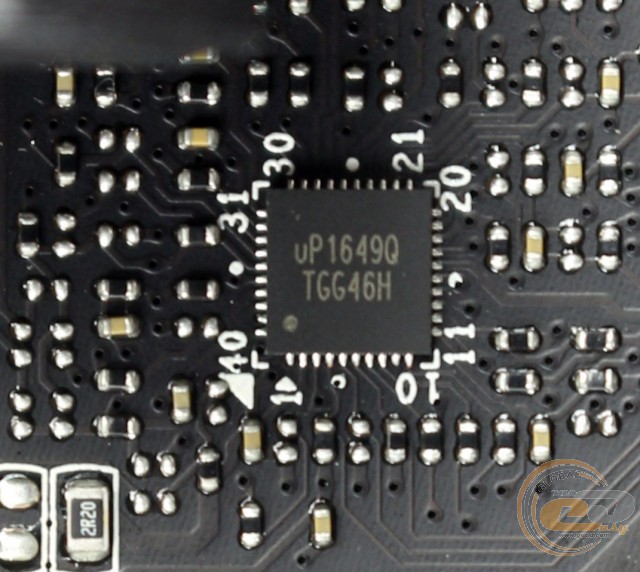 CPU power is carried out by enhanced 8-phase scheme for cores and additional nodes. The converter based on PWM controller uP1649Q. Element base is realized using high-quality components, the respective corporate design, Military Class 4 and certified to military standard MIL-STD-810G. It is composed of solid capacitors Dark CAP, SFC chokes and capacitors Hi-c CAP. Basic 24-pin and additional 8-pin connectors are use for power feeding.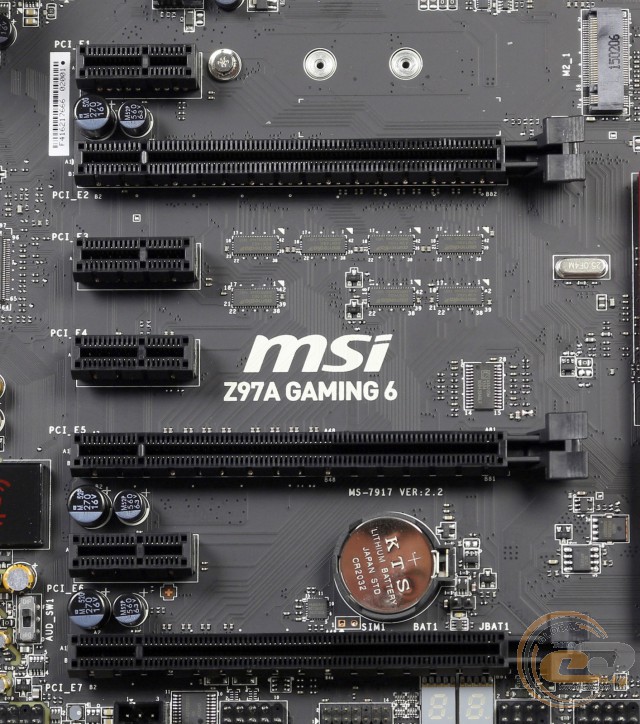 To extend the functionality of the product user seven slots:
PCI Express 2.0 x1;
PCI Express 3.0 x16 (mode x16 or x8);
PCI Express 2.0 x1;
PCI Express 2.0 x1;
PCI Express 3.0 x16 (mode x8 or x4);
PCI Express 2.0 x1;
PCI Express 3.0 x16 (mode x4).
As you can see there are three slots PCI Express x16, connected to the processor. Accordingly, they are using all sixteen available lines of standard PCI Express 3.0. Depending on the number of installed video cards, you will receive one of the following schemes: x16/x8+x8/x8+x4+x4. Don't forget that the last option is supported only during the installation of the graphics cards based on the GPU of AMD, since NVIDIA does not support the scheme with x4 bandwidth.
Also we would like to note that you have won't have problems with installation of two graphics cards with three slots cooling system. Tt the same time you will have one slot PCI Express 2.0 x1.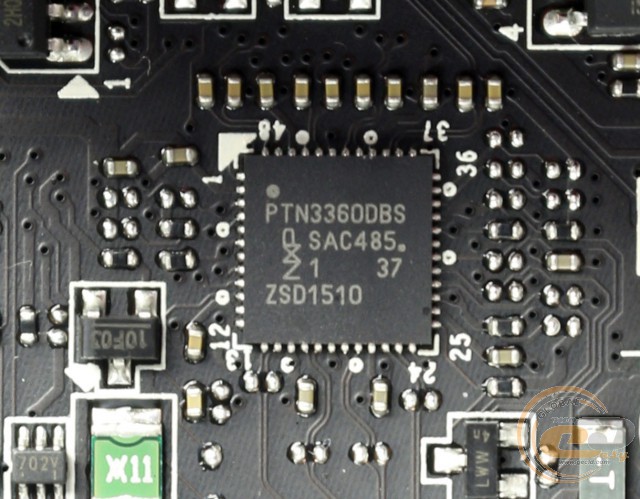 If you decided to take advantage of the graphics core integrated into the CPU, you have three video outputs: HDMI, D-Sub and DVI-D, navigated by two chips PTN3360DBS.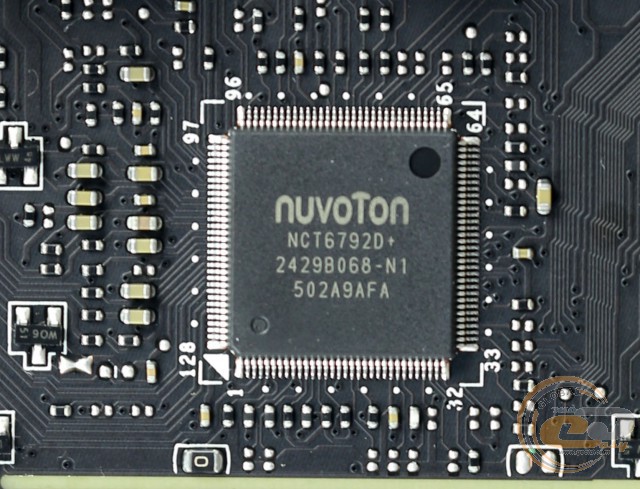 Multi I/O features are implemented using chip NUVOTON NCT6792D, which controls the operation of the system fans, PS/2 port, and provides monitoring.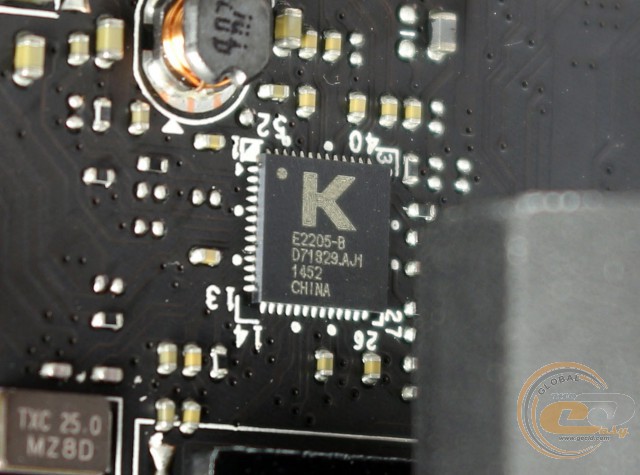 To support network connections there is a gigabit LAN-controller Qualcomm Atheros Killer E2205, that has a number of hardware and software advantages to prioritize gaming and multimedia traffic.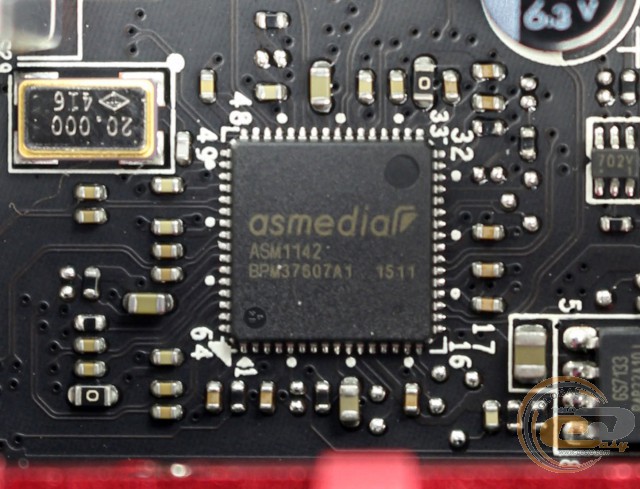 Correct operation of port USB 3.1 (Type-C) on the interface panel is provided by the chip ASMedia ASM1142.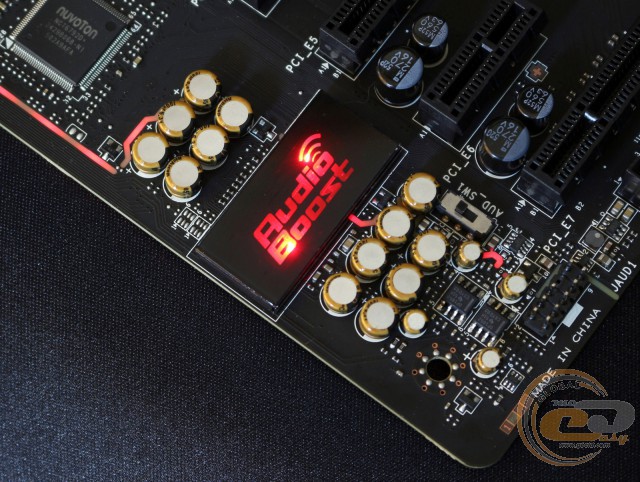 Sound subsystem MSI Z97A GAMING 6 has a rather interesting design titled «MSI Audio Boost 2". It is based on the flagship 7.1-channel HDA-codec Realtek ALC1150, which supports audio formats 2/4/5.1/7.1. It works in tandem with two amplifiers TI OP1652, able to support the work of headphones with an impedance of 600 Ohms. Also, there are high-quality audio capacitors producer by company Nichicon, direct audiopath supply technology (MSI Direct Audio Power), gold-plated audio connectors and shielding technology to protect against electromagnetic interference.

On the interface panel of the motherboard MSI Z97A GAMING 6 we found following ports:
1 x HDMI;
1 x DVI-D;
1 x D-Sub;
1 x LAN (RJ45);
1 x USB 3.1 (Type-C);
2 x USB 3.0;
2 x USB 2.0;
1 x Optical S/PDIF out;
6 x audio ports;
1 x PS/2 Combo.
The arrangement is excellent, since it has a large number of ports USB (including USB 3.1 Type-C), three video outputs, six gold-plated audio jacks for easy connection of multi-channel speakers, as well as support for ports MSI Gaming Device Port for connecting gaming mice or keyboards.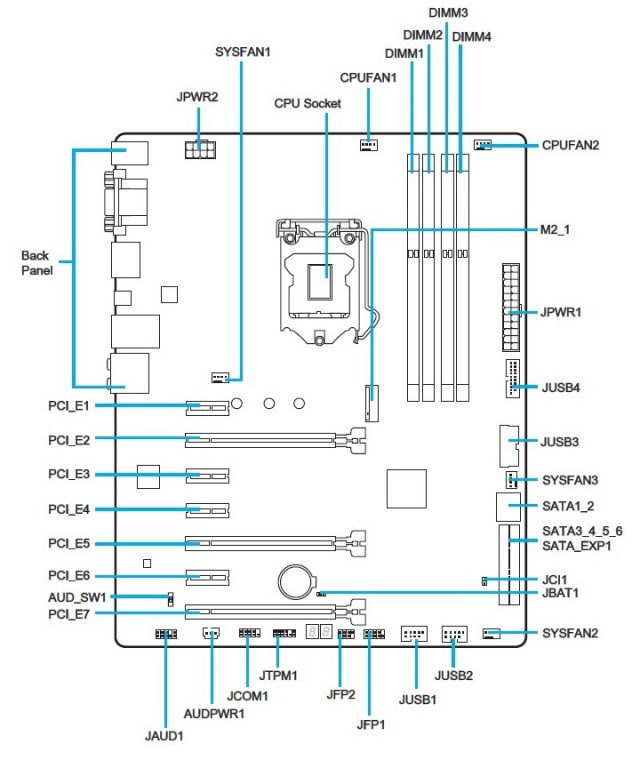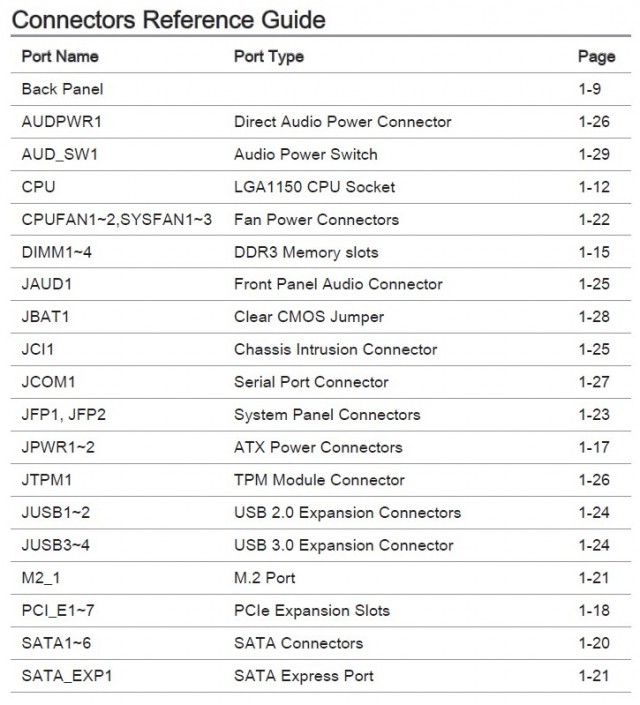 Motherboard MSI Z97A GAMING 6 is equipped with five fan connectors: two fans are used to supply the cooling system of the processor, and the other three are used to connect the system propellers. All connectors are in accordance with modern requirements of 4-pin, which will control the speed of fans connected by PWM method.
Социальные комментарии Cackle