ASUS RT-AC68U

router: review and testing
In this review we will continue to get acquainted with wireless routers that support the communication standard IEEE 802.11ac. Since its introduction enough time has passed and the market had to be filled with the solutions of the new format, which effected on their cost. Of course, the price tags for high-end models is still high, but the overall trend is still nice. Therefore, we decided not to be limited to the mainstream market segment, but also to draw your attention to a more productive solution. Such, for example, a router ASUS RT-AC68U, corresponding to the class AC1900.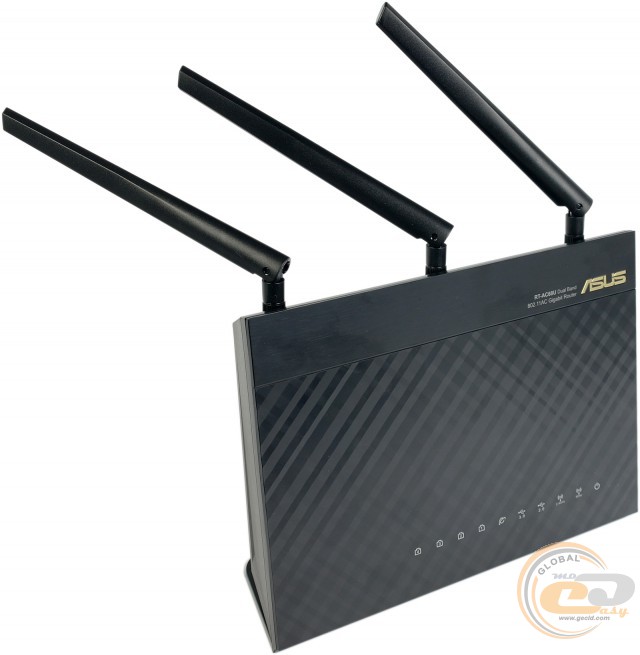 The specs:
Model

ASUS RT-AC68U

WAN

Type

Gigabit Ethernet (10/100/1000 Mb/s)

Quantity of ports

1

Auto MDI/MDI-X

yes

Fixed IP

yes

Dynamic IP

yes

PPPoE/Russia PPPoE

yes

PPTP

yes

L2TP

yes

IPSec

yes

BigPond Cable

-

Ability to manually set MAC

yes

Ability to manually set MTU size

yes

LAN

Type

Gigabit Ethernet (10/100/1000 Mb/s)

Quantity of ports

4

Auto MDI/MDI-X

yes

Manual interface locking

no

WLAN

Antenna

Quantity

3

Type

external

Ability to change the antenna

yes

Forced assignment of the operating antenna number

no

Manual wireless interface locking

yes

WPS support

yes

Operation frequency

2,4 and 5 GHz

Supported standards and speeds

802.11a

up to 54 Mb/s

802.11b

up to 11 Mb/s

802.11g

up to 54 Mb/s

802.11n

Standard mode

up to 450 Mb/s

Using technology TurboQAM

up to 600 Mb/s

802.11ac

up to 1300 Mb/s

Region/ number of 2.4 GHz channels

1 − 13

Region/ number of 5 GHz channels

36, 40, 44, 48

Ability of manual speed assignment

yes

Max output capacity

-

Operation with another AP

WDS (bridge) support

yes

AP support

yes

WDS + AP support

yes

Ability to work in client mode

yes

Wireless repeater

yes

Security

Locking of broadcasting SSID

yes

Binding to MAC addresses

yes

WEP

yes, up to 128 bit

WPA-Personal

yes

WPA2-Personal

yes

WPA-Enterprise

yes

WPA2-Enterprise

yes

802.1x (via Radius)

yes

Firmware capabilities

Administration

Admin password

yes

Ability to change the measurements Login

yes

WEB-interface

yes

WEB-interface via SSL

no

Personal utility

yes

Telnet

yes

SSH

no

COM-port

no

SNMP

no

Ability to save and download the configuration

yes

Built-in DHCP-server

yes

Static DHCP according to MAC

yes

UpnP support

yes

Supported WAN protocols

IPSec

yes

PPTP

yes

PPPoE

yes

L2TP

yes

Traffic shaping

-

NAT

one-to-many NAT (standard)

yes

one-to-one NAT

-

Ability to disconnect NAT (operation in mode of router)

yes

Ability to operate in mode of bridge

yes

NAT pass through

IPSec, PPTP, PPPoE, L2TP, RTSP, H.323, SIP

DNS

Built-in DNS-server (dns-relay)

no

Support for dynamic DNS

yes

Clock

Clock sync

yes

Manual time setting

yes

Utiltities

ICMP ping

yes

Traceroute

yes

Nslookup

yes

Resolving

no

Log

Login of firewall execution

no

Wireless Login

yes

DHCP Leases Login

yes

Port Forwarding Login

yes

System Log

yes

Storing inside the device

yes

Storing on the external Syslog-server

no

Sending to email

no

Routing

Statistic (manual record assignment)

-

Presence and abilities of built-in filters and firewall

Capabilities of SPI (Stateful Packet Inspection)

Support of SPI (Stateful Packet Inspection)

yes

Ability to use SPI in algorithms

-

Presence of filters/firewall

on LAN-WAN segment, Internet access restriction

yes

on WLAN -WAN segment, Internet access restriction

yes

on LAN-WLAN segment

no

Supported filter types

With SPI

-

According to MAC-address

yes

According to source IP-address

yes

According to destination IP-address

yes

According to protocol

yes

According to source-port

yes

According to destination-port

yes

Time reference

yes

According application

yes

According to URL

yes

According to domain

no

According to word

yes

Operation with lists of URL for the locking

no

Actions

allow

yes

deny

yes

log

no

Virtual servers

Creation

yes

Providing of various public/private ports for virtual servers

no

DMZ assignment

yes

DMZ-traffic assignment on port level

no

Power

PSU type

external, Input AC: 100 − 240 V, 1 А, 50-60 Hz; Output DC: 19 V, 1,75 А

Support for 802.1af (PoE)

no

Additional information

USB ports

1 x USB 3.0
1 x USB 2.0

Connection of external USB HDD, Flash (Samba (Storage) / FTP-server / media server)

yes

Connection of WEBcam (video surveillance)

no

Connection of 3G/4Gmodems

yes

Connection of USB-printer

yes

Firmware version

3.0.0.4.376_3626

Dimensions

220 х 83 х 160 mm

Weight

640 g

Producer website

Product page
Package and content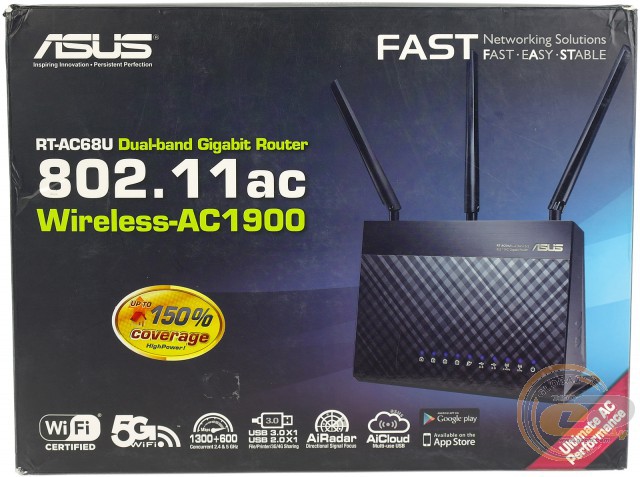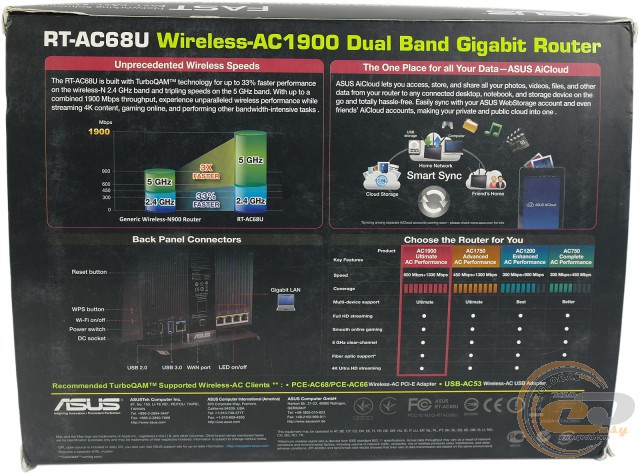 Router ASUS RT-AC68U comes in a cardboard box, decorated in the traditional style of ASUS. In addition to high-quality printing, package has good informative aspect: its face side shows the main features of the device, and the back contains a description of used technologies. We also offer a brief review of them:
5G Wi-Fi - support of modern wireless communication standard IEEE 802.11as;

300 + 600 Mbps Concurrent 2.4 & 5 GHz - the calculated total data rate on both channels can reach 1900 Mb/s (1300 Mb/s for the 5 GHz and 600 Mb/s for the 2.4 GHz band);

USB 3.0 x1 USB 2.0 x1 File/Printer/3G/4G Sharing - the USB-connector of standard 3.0 and 2.0 for connecting external hard drives, network printers, and 3G/4G-modems;

ASUS AiRadar - support for proprietary technology to increase the coverage area of Wi-Fi;

ASUS AiCloud - the ability to organize own cloud storage;

TurboQAM – support for TurboQAM, which increases the speed of data exchange in the segment of 2.4 GHz.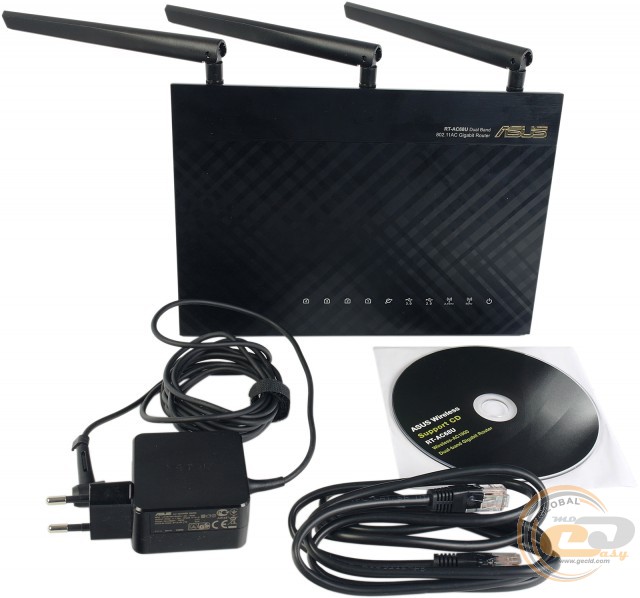 In addition to the router, the box also has the following components, you may need when connecting ASUS RT-AC68U and its further exploitation:
AC adapter from the electrical outlet (Input AC: 100 - 240 V, 1 A, 50 - 60 Hz; Output DC: 19 V, 1.75 A);

three antennas;

power cable;

CD with documentation and software.
Design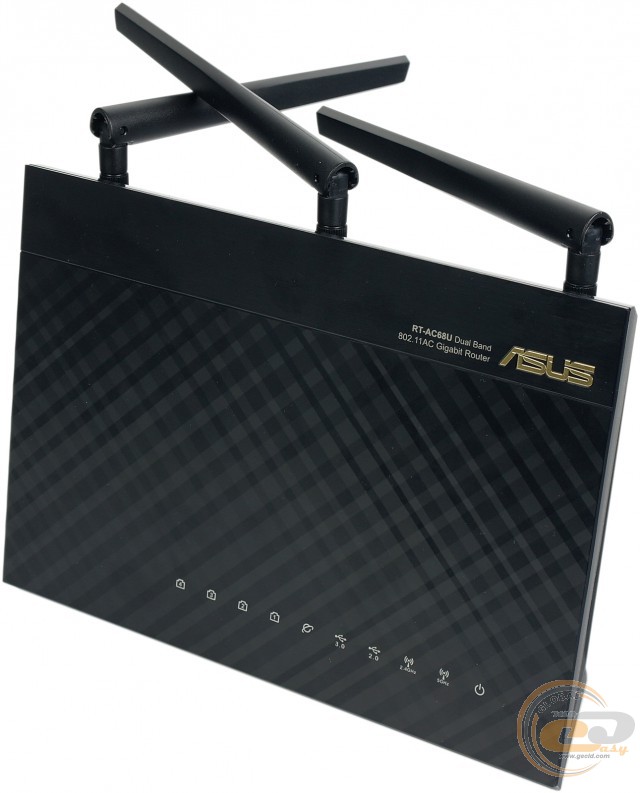 The body of the test solution has easily recognizable style of Black Diamond. Sharp edges, with elements of black gloss coloring, decorative front panel - all this stand out ASUS RT-AC68U on a background of standard boxes from other manufacturers. This router can be placed in a prominent position in interior room or office.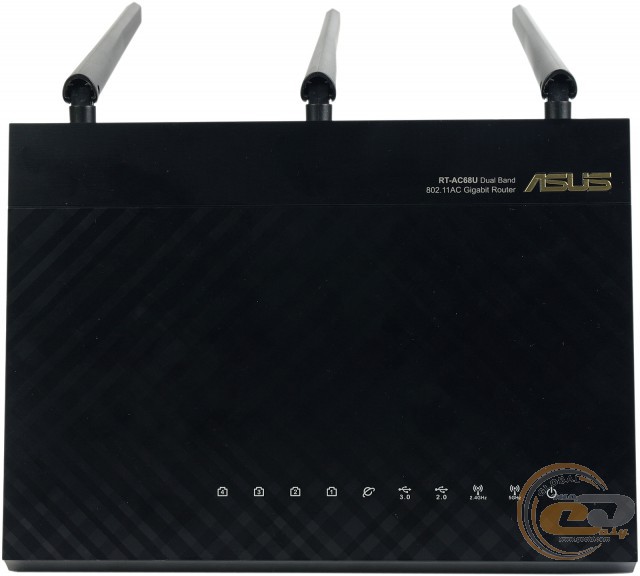 New product has vertical layout of case. The horizontal arrangement of the device or its placement on the wall is not provided. It is unlikely that in such a spectacular appearance it can be considered as a disadvantage. And the use of the vertical arrangement provides better cooling, which, among other things, is an important factor for productive solutions like ASUS RT-AC68U.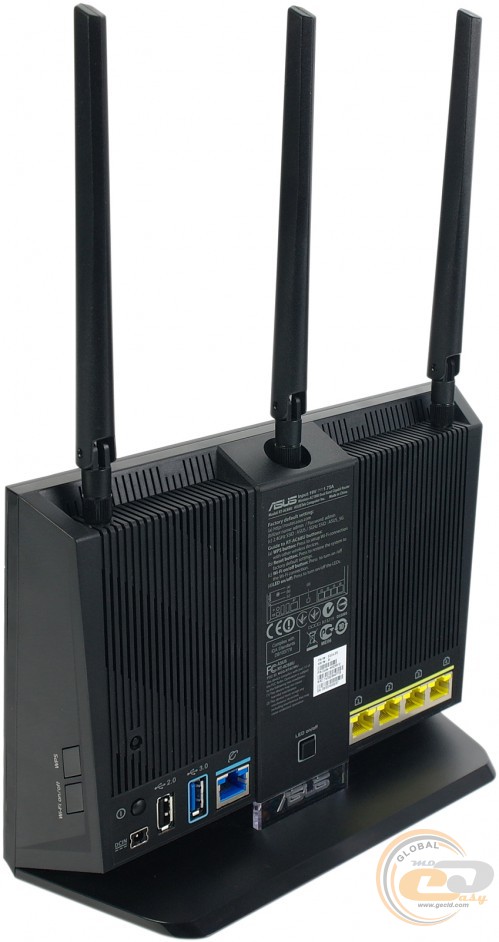 As you can see from the photos, the problem of rapid removal of heat outside of the case is paid quite a lot of attention. The vents can be found in all panels except the front. ASUS RT-AC68U has good stability due to the placement of the interfaces at bottom.

There are the following available connectors and controls:
input «DCIN» is for connecting the power supply;

button «Power», with which you can enable or disable the router;

button «Reset», serves to reset;

one port USB 2.0;

one port USB 3.0;

Gigabit WAN;

four Gigabit connectors LAN.
Note the presence of two USB connectors, which greatly expand the capabilities of model ASUS RT-AC68U. Depending on the connected devices, it can act as network storage, print server, a manager for downloading files from the Internet. In addition, there is support for 3G/4G-modems.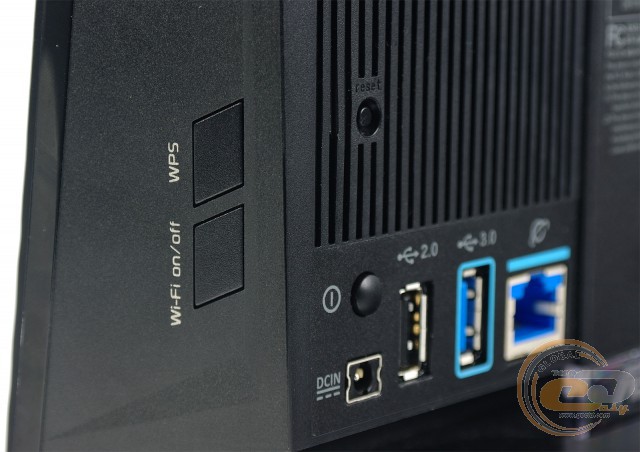 Two buttons are located at one end of the case. First with the inscription «WPS» is responsible for automatic connection to an existing network Wi-Fi. The second («Wi-Fi on / off») allows you to manually lock the wireless communication mode.
Displaying of router modes and interfaces is realized by using blue LEDs made on the front panel. They have a moderate brightness, so do not distract the attention when the ASUS RT-AC68U is located on the desktop.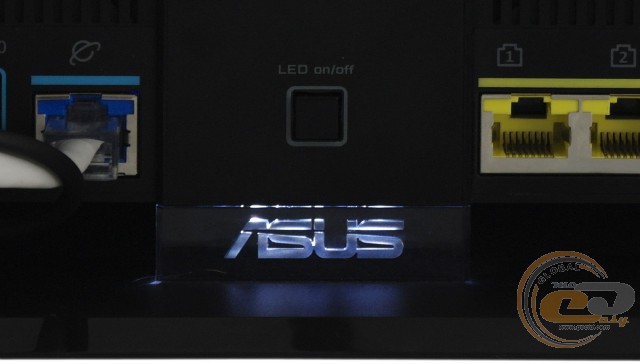 Behind there is another highlight, this time the logo ASUS. Naturally, there is no practical use, it makes the device's look more original. If necessary, you can turn off the backlight by pressing the «LED on / off».
Социальные комментарии Cackle