Wireless Router TP-LINK Archer C2: review and testing
Despite the fact that the network equipment is significantly different from the video cards, processors or monitors, the specific of markets in all cases remains the same, regardless of the type of components. First of all the market is extended by top devices, and then more affordable solutions.
The same situation was observed after the announcement of wireless router standard IEEE 802.11ac. The first of this class of routers were impressive not only due to its performance and capabilities, but also the price tag. When the new mode has gained certain popularity and all legal issues were resolved, computer equipment shops were flooded with low-cost solutions.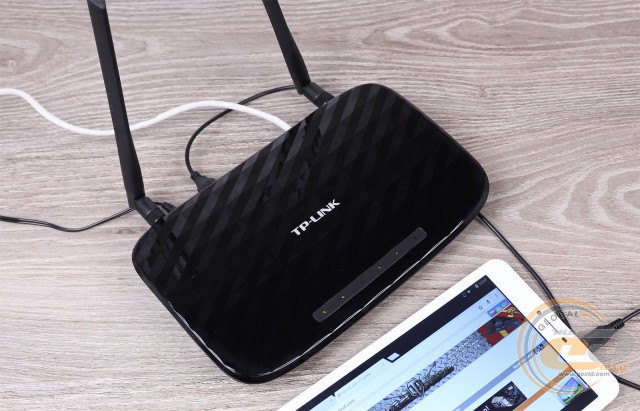 One is the TP-LINK Archer C2, which nominally belongs to the class AC750. By the way, this is not the cheapest router in theup line of the network equipment TP-LINK Archer. For those who do not need gigabit ports, the manufacturer offers a "lite" version of the device - TP-LINK Archer C20i. It uses a simplified hardware platform, and the maximum speed of transmission via LAN-interface limited to 100 Mb/s. Let us hope that this model will soon fall to us for testing, and we now have the router TP-LINK Archer C2.
The specs:
Model

TP-LINK Archer C2

Type

Wireless router

Supported network standards

IEEE 802.11a/b/g/n/ac, IPv4/IPv6

Frequency range for wireless connection

2,4 / 5 GHz

Data transfer rate

For frequency 2.4 GHz

Up to 300 Мb/s

For frequency 5 GHz

Up to 433 Мb/s

For both ranges (total)

Up to 750 Мb/s

Antennas

Q-ty (type)

2 (extrnal, removable, soxket RP-SMA)

Configuration for frequency 2.4 GHz

MIMO 2x2:2

Configuration for frequency 5 GHz

MIMO 1x1:1

Interfaces

1 х RJ45 (WAN) 10/100/1000 Мb/s

4 х RJ45 (LAN) 10/100/1000 Мb/s

1 x USB 2.0

WAN connection

Dynamic IP, static IP, PPPoE, PPTP (Dual Access), L2TP (Dual Access), BigPond

Encryption mode

64/128-bit WEP, WPA, WPA2, WPA-PSK, WPA2-PSK

Network security

Protection from DoS-attacks, internet display SPI, filtaration according to IP/MAC-address, domain, IP/MAC-address, parent's control

Data priority (QoS)

WMM, control of pass band

Guest network

1 х for frequency 2,4 Hz

1 х for frequency 5 Hz

Additional services and features

Virtual server, Port Triggering, UPnP, DDNS, VPN (PPTP, L2TP, IPSec)

Additional services

Data storage (Samba / FTP), media-server, print-server, connection of 3G/4G-modem

Dimensions

230 х 144 х 35 mm

Weight

-

Power

External power supply (DC: 12 V / 1,5 А)

Producer website

Product page
Package and content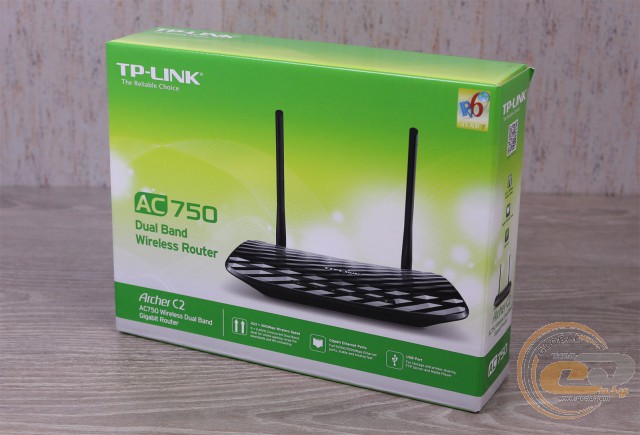 The router TP-LINK Archer C2 comes in a small cardboard box with different tables and diagrams depicting the main features of this model. In addition, there is an image of the device and its comparison with other solutions in a series of TP-LINK Archer. In short, the information content of the package is at the highest level.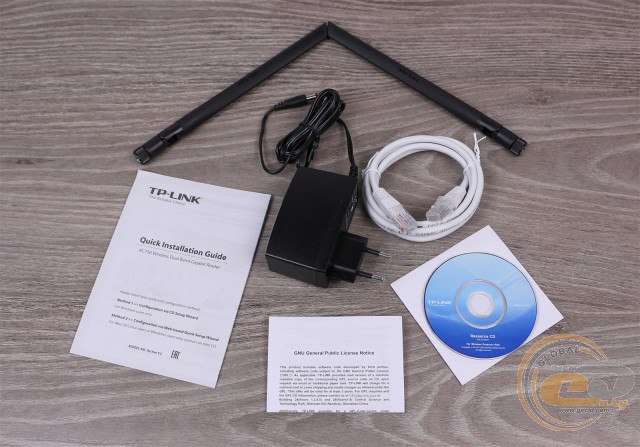 Inside the box, except for the router, we found an external power supply, two removable antennas, LAN-cable, software CD and user manual.
Design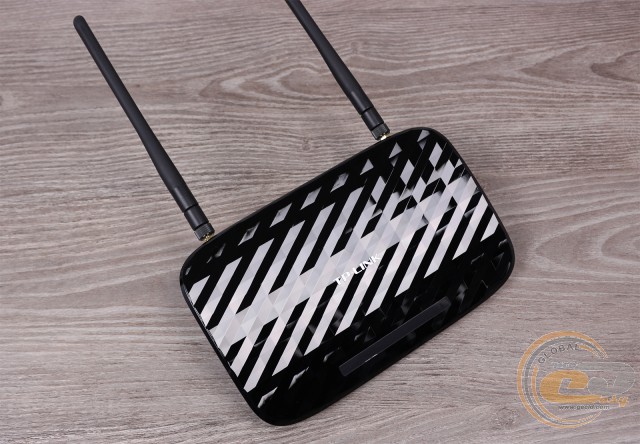 Model TP-LINK Archer C2 has a fairly presentable appearance. The most prominent is the top panel, made of glossy plastic. The presence of the original texture further enhances the mirror effect. And in a modern office or apartment this router will look quite organically. In our view TP-LINK Archer C2 looks very attractive.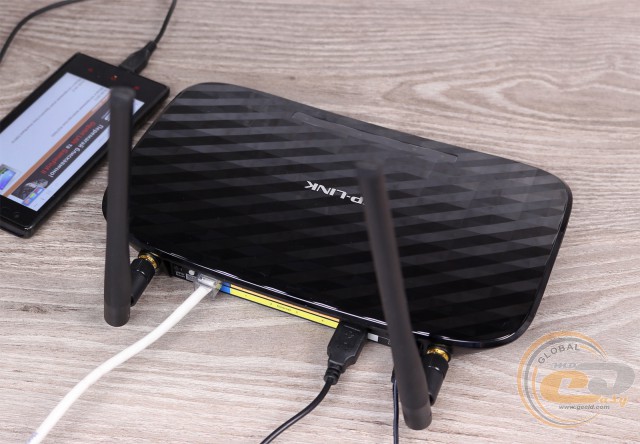 If we look at the body of the product in terms of functionality, it is perfect. It is less than classmates (230 x 144 x 35 mm), but it is equipped with all necessary connectors and controls with convenient access. The only, but not as significant drawback is the inability to place the router on the wall.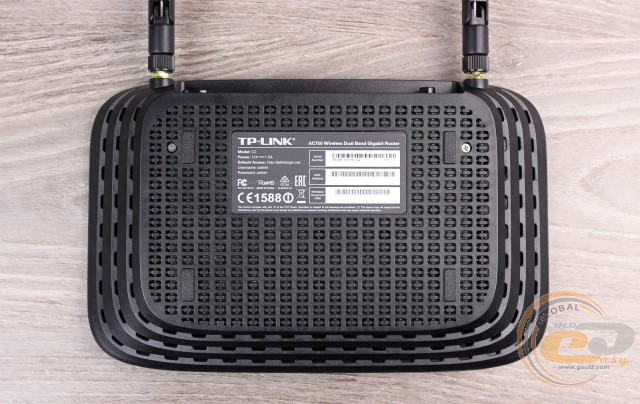 But the lack of special fixtures has increased the area occupied by the ventilation holes. They are on the entire rear panel and the side of the case. In order to avoid the sliding on the surface, the manufacturer has provided four rubber legs.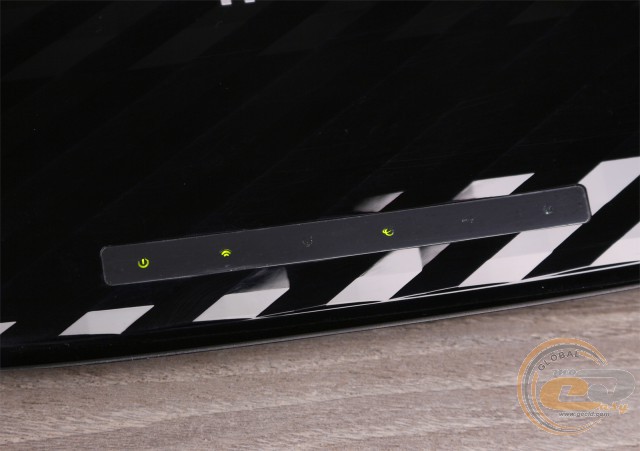 The indicating strip reporting bout the current device state and status of the network connections that traditionally put to the housing cover.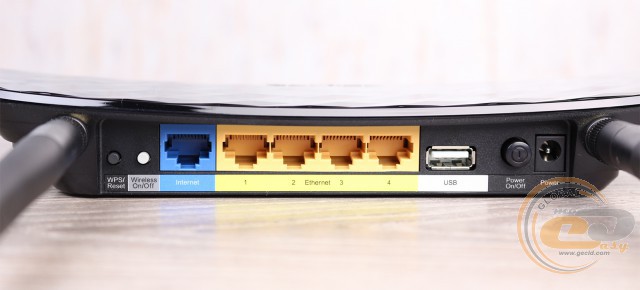 Available interfaces and controls also have their usual place on the rear end of the router. For wiring there are four connectors RJ45 (LAN) and one port RJ45 (WAN). All of them meet the standard 10/100/1000 Mb/s. Wireless broadcast is realized by two external removable antennas. Here is connector USB, which extends the functionality of the model TP-LINK Archer C2. Depending on the connected device, it allows you to turn it into file storage (with access via FTP- or Samba-client), media server, print server or a router connected to the Internet via 3G/4G-modem.
The controls are represented by three buttons. First, the larger («Power On/Off»), allows you to enable/disable the device. The other two («Wireless On/Off» and «WPS/Reset») intended for manual locking wireless interface connection and automatically connect to the existing network of Wi-Fi. Long holding of the «WPS/Reset» (more than 5 seconds) will restart the router with a further reset all settings.
Hardware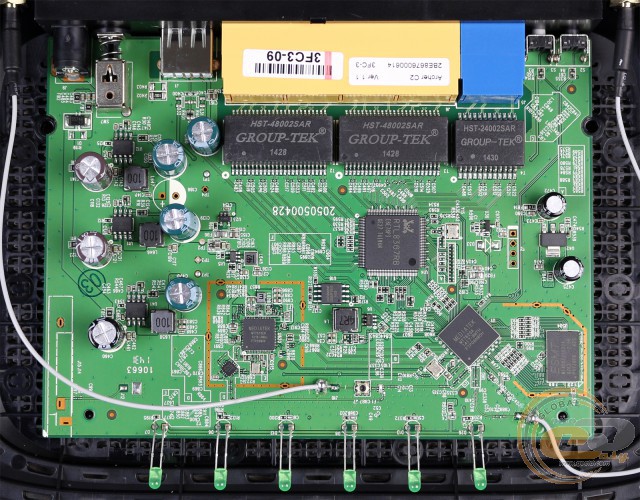 Model TP-LINK Archer C2 operates under the ligament of chipsets MediaTek MT7620A and MediaTek MT7610EN. The first is responsible for supporting the standard IEEE 802.11n in configuration MIMO 2x2:2 and provides a maximum data rate of 300 Mb/s at a frequency of 2.4 GHz. The second allows you to organize broadcasts in 5 GHz band with the use of standard IEEE 802.11ac in antennas in operation MIMO 1x1:1. In this case, the speed limit is 433 Mb/s. So a manufacturer cheated a little by specifying class AC750. It would be better to say AC733. However, this fact does not change the purpose, because it is a theoretical bandwidth. In real terms it is the device class AC750 will act in direct competition with TP-LINK Archer C2.

But let's back to the hero all the review, rather, to its hardware platform. The aforementioned chip MediaTek MT7620A also includes MIPS-processor clocked at 580 MHz, hardware service NAT, controller of port USB 2.0, and several other interfaces that remain untapped in the router. The correct functioning of Gigabit Ethernet Controller is provided by Realtek RTL8367RB.
RAM subsystem is represented by chip DDR2 ESMT M14D5121632A with capacity of 512 Mb/s. Router settings and instructions are stored in flash memory with capacity of 8 MB.
Router settings
Configuring of model TP-LINK Archer C2 is carried out by means of WEB-interface. Traditionally, it is made up of a set of tabs with grouped appropriate settings. We liked that every option is provided with a detailed description, which is displayed in the right part. However, all the text is presented in English.
Model TP-LINK Archer C2 has a standard (for this class) functionality, and available settings will be enough for the organization of a local network home or small office. New product supports a direct connection to the Internet, as well as through protocols PPPoE, L2TP and PPTP. Here are services forwarding and port forwarding, DMZ and UPnP; there is a possibility of protection against DoS-attacks by activating the built-in firewall. To monitor network traffic there is an extensive set of rules that includes a filter on domain names, ports, IP- and MAC-addresses. Using parent's control option you can customize the schedule of Internet access, as well as to prevent unwanted visits to special resources.
For each of the two frequency bands Wi-Fi there is its own separate tab where you can select the type and width of the channel, encryption method, and proposes a set of white and black lists of MAC-addresses of clients. The number of guest networks is limited by two (one for connection to a frequency of 2.4 GHz and one of 5 GHz). In addition you can enable or disable access the drive connected to the router via the port USB.
And, of course, the model TP-LINK Archer C2 contains such basic functions as viewing the status of network connections, change the administrator password, to update the router firmware, the output of logs and statistics as well as many others. The full list of options is usually available in our gallery of screenshots.
Социальные комментарии Cackle