ASUS Transformer Book T90 Chi: review and testing
Recently the company ASUS has introduced a number of interesting devices on Ukrainian market. Among them we found new 2-in-1 laptops of series ASUS Transformer Book Chi, which combine tablet and replaceable keyboard dock station. They boast of a relatively compactness. long battery life and a sufficient level of performance to perform simple daily tasks. For testing we have the youngest and affordable model of the lineup, ASUS Transformer Book T90 Chi.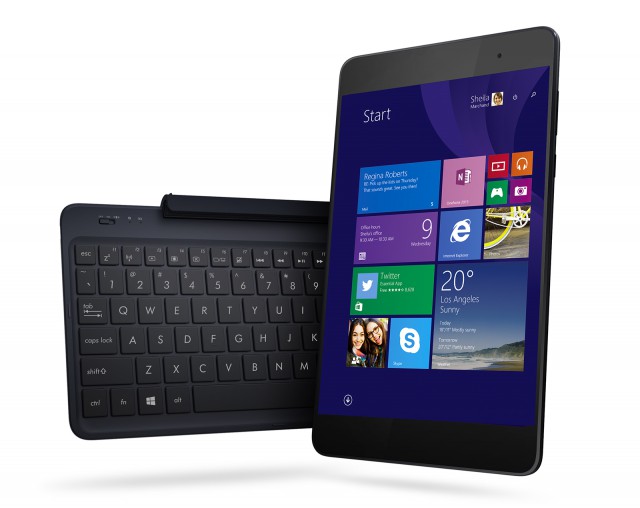 Novelty has a nice design using high-quality materials in the construction of 8.9-inch IPS-display, quite efficient processor Intel Atom Z3775, the main camera of 5 megapixels and a number of other features. Let's start a review of ASUS Transformer Book T90 Chi from a technical specifications:
Producer

ASUS

Model

Transformer Book T90 Chi

Type, form-factor

Laptop, transformer

CPU

Intel Atom Z3775: 4 х 1,46 − 2,39 GHz, L2 cache – 2 х 1024 КB

RAM

2 GB LPDDR3

Display

IPS 8,9", 1280 x 800 p (169 ppi), capacitive, multi-touch (up to 10 presses), protective glass

GPU

Intel HD Graphics (311 – 778 MHz)

ROM

64 GB eMMC (Hynix HCG8e)

Optical drive

–

Card-reader

microSD

Interfaces

1 x micro-USB 2.0
1 x combined audio
1 x DC-In

Multimedia

Speaker

Stereo

Sound processing

ASUS SonicMaster

Microphone

Mono

Camera

Main

5 Мp, aperture f/2.0, AF, video recording in format 1080p

Front

2 Мp, aperture f/2.8, fixed focus, video recording in format 720p

Connectivity

Wi-Fi

802.11 a/b/g/n

Bluetooth

4.0

Additional sensors

Accelerometer, gyroscope, light sensor, LED indicator

Battery

Lithium-pol cell (18 W·h)

Charger

Output parameters: 5,2 V DC, 2 A, 10 W

Input parameters: 100~240 V AC at 50/60 Hz

Other

Full version Office Home & Student 2013

Color

Dark blue

Dimensions

Tablet

241 x 137 x 7,9 mm

Dock station

241 x 137 x 9 mm

Weight

Tablet

400 g

Dock station

350 g

OS

Windows 8.1

Warranty

12 months

Producer website
Package and content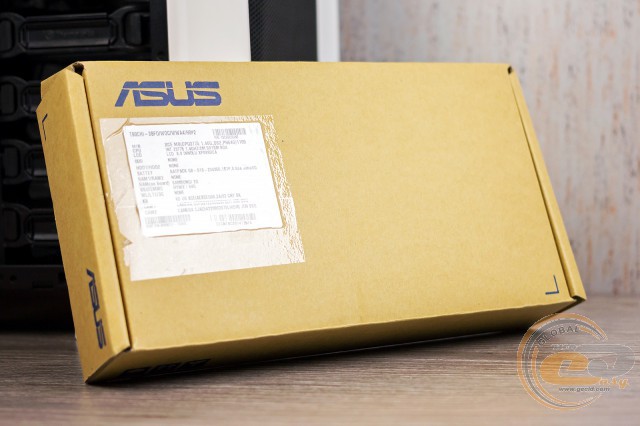 For testing we have an engineering sample of the product. It is packed in an ordinary cardboard box of compact size, without printing, which must be in the sales version. Therefore, we cannot tell you about a complete set of delivery.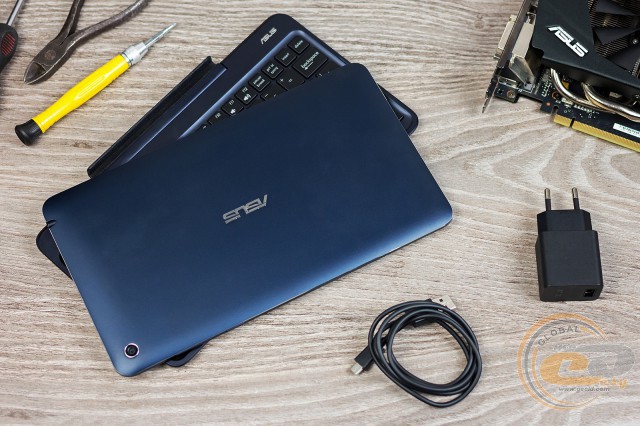 Components of the test sample ASUS Transformer Book T90 Chi involves only a small power unit 7 W (5 V at 1.35 A), the cable USB ↔ micro-USB for connection to charging. The retail version includes a power supply of 10 W (5 V at 2 A).
The solutions of a series of ASUS Transformer Book Chi have several useful and comfortable accessories. For example, the stylus ASUS Active Stylus Pen will help in drawing or creating a hand-written notes, and case ASUS Chi Tricover with a special holder for the digital pen will not only protect the notebook from the mobile life, but will keep it in the optimal position for work or entertainment.
Design and elements layout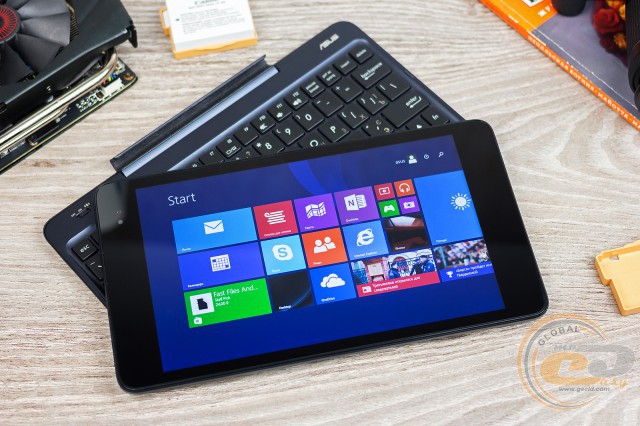 ASUS Transformer Book T90 Chi is made in a plain elegant design, which is inherent in the updated lineup of Transformers. Tablet part provides a good impression due to a solid aluminum base of small thickness (7.9 mm) and a moderate weight (400 g). The device is made in an unusual 8.9" form factor for Windows-based tablets, which is a compromise between the more traditional 8" and 10" models. It should be noted that we have already met the solution with the screen in the extremely popular lineup of laptops ASUS Eee PC. No wonder they say: "Everything old is new again." Therefore, such a step is justified and allows the manufacturer to take a free niche and attract the attention of new customers or supporters of the brand who are looking for a worthy replacement for own laptops.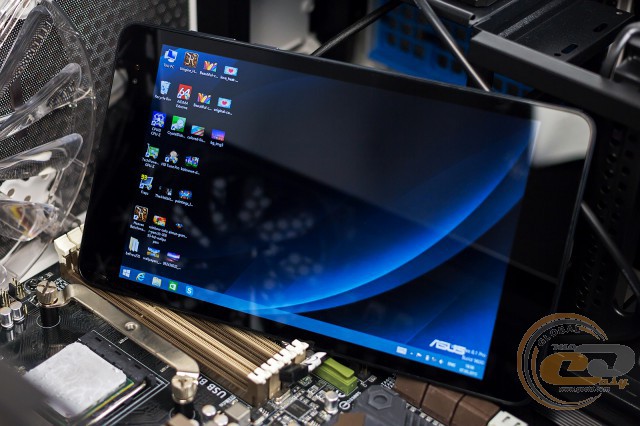 The front side of the tablet is covered by a protective glass (the mark is not specified) with very good oleophobic layer and a plastic bumpers that raise the screen over the surface. In terms of modern standards black gloss frames are lager and about 25 mm on top and bottom, as well as 8.5 mm on the left and the right, if you hold the tablet in portrait orientation. But this guarantees a reliable and sufficiently comfortable grip for both hands that do not cover the screen. The upper part has a front camera and light sensor. There are no inscriptions or logos.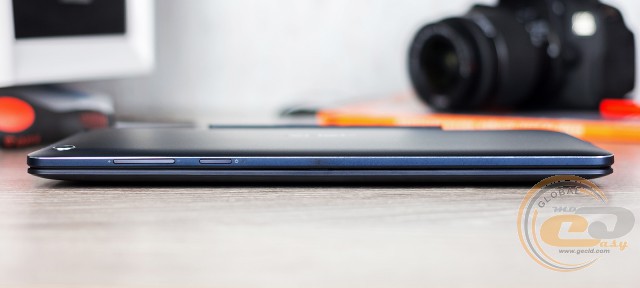 The side faces are flat with rounded corners. You can find a chrome bezel that is a wonderful complement of the overall style of the unit and adds glamor and glitz. The right side has a button "power/lock." Next to it there is a miniature LED indicator that shows battery operation (white - the battery is charged, orange - under charged). Closer to the edge there is the volume rocker. All the keys are small and fairly tight travel. On the one hand, it requires more effort when pressed, but on the other prevents unwanted tripping.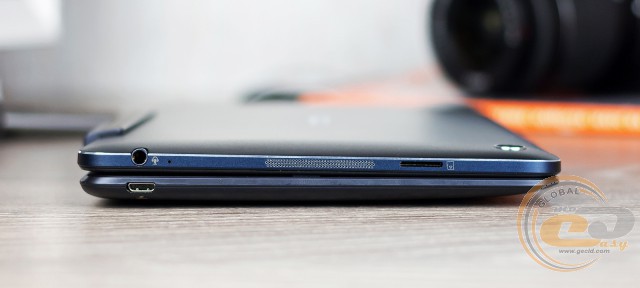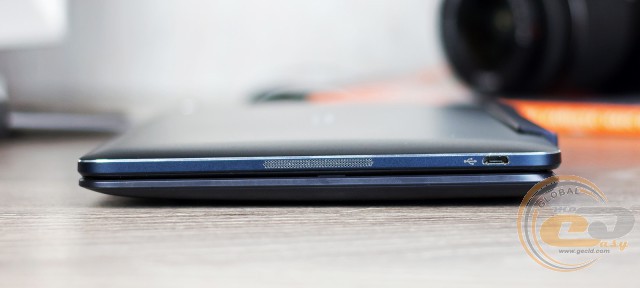 The top end contains holes of multimedia speaker, combined audio jack (mini-jack 3,5 mm), a microphone and a slot for memory cards microSD. The opposite side contains micro-USB port and the opening of multimedia speakers.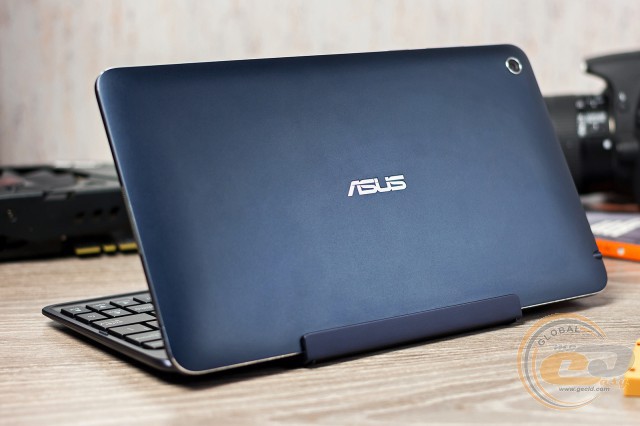 The back panel of ASUS Transformer Book T90 Chi is made of anodized aluminum, which has a dark blue color with a "spark" changing its color from dark to light. The central part has the considerable silver logo ASUS. In the upper angle contains the eye is the main camera, framed by a metal ring. Metal provides a pleasant tactile sensation, but noticeably collects fingerprints.
New has the highest build quality: there are no gaps or clearances. And thanks to the solid body and high-quality materials (aluminum, tempered glass) you have a monolithic tablet that is not bent or change its geometry under moderate torsion. Divorces and other artifacts on display are missing.
In general ASUS Transformer Book T90 Chi looks stylish and expensive. This effect is achieved thanks to the harmonious combination of nice design and premium materials. Metal gives a sense of security, and corporate color of the rear panel completes a spectacular way. In addition, the unit has become much thinner (lighter) then the first generation of Transformers.
Dock station
A characteristic feature of all transformers is complete keyboard dock station that turns the tablet into a compact laptop. In our case it is made in the same style as ASUS Transformer Book T90 Chi. However, it is not metal, and created from high-quality matte plastic. Dock station has a tapered shape: a distal part has the thickness of 9 mm, and it gradually decreases toward the user. The side faces are quite small, with a noticeable rounding toward the base. The lower part has four rubber legs that add resistance on slippery surfaces and prevent scratches on the workplace.
The back side has of the metal mount plate. The inner part is framed with a soft cloth like microfiber that prevents scratches on the tablet. A pair of powerful neodymium magnets is used to secure the product (an alloy of neodymium, iron and boron). They are more resistant to demagnetization. As a result, they provide and longer life. Due to lack of guides is not always possible to put the tablet directly in the center, but it doesn't take much to get used. The mount is characterized by a good reliability.
Due to this type of fastening the table can be installed in two modes: "Laptop" and "Console". The traditional version is designed to work with text or other office applications. A second mode is convenient for viewing videos or photos, although it should be remembered that in such a case, the magnets are weaker and the tablet can be detached in case of sharp movements.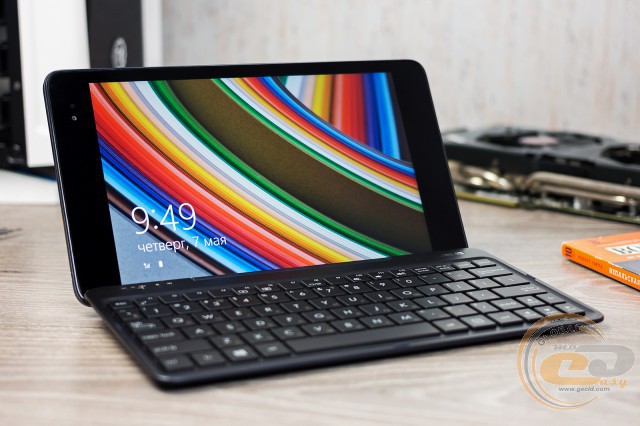 To open the screen you need to use both hands, as the joint is quite tight. The opening angle of about 125°, which should be enough, taking into account the use of IPS-display. Along the perimeter the working surface contains inserts that protect the tablet and the screen in the closed position.
Despite a little less weight of dock station than the tablet (350 g), no transfers are observed. During opening the back side of the base is lifted and the rubber legs are replaced by more smooth plastic placed on the hinge. This worses resistance on smooth surfaces, but increases the convenience of typing.
The side faces have a single port micro-USB, which is used to charge the internal battery module Bluetooth. High-grade USB-ports is absent to connect additional peripherals (preferably more). Thus, it can be obtained by using the appropriate adapter (USB-OTG), but these are additional cables and, as a result, you will face with a small inconvenience. While taking into account the presence of modern communications (Wi-Fi and Bluetooth), such a problem is not arise.
The front of the dock has the following items: three-position slider with the ability to enable/disable Bluetooth and translated it into a compound, several LEDs and ASUS logo.
The keypad has a full set of standard keys ([F] – keys are functional on a digital row) and uses all the available width (241 mm). The result was a decrease for the keys and the distance between of them, especially the block of arrows and neighbor keys. Because of this we have some time to get used to, but if you have already worked with compact keyboards, the difficulties should not arise.
The overall dimensions of the keyboard unit are 225 x 97 mm. The keys have the following dimensions: the letters - 13 x 14.5 mm; block of arrows - 10 x 14.5 mm; functional - 10.5 x 10.5 mm. The distance between the keys is about 2.5 mm. They are easy to press, have a short travel (about 1 mm) and good tactile feedback. Symbols are printed: the basic are highlighted in white and the service ones have bronze color. The base of the keyboard unit is well secured but under strong pressure may push. Due to its modest dimensions, the dock station is devoid of the touchpad, but taking into account the capabilities of the touch control, the user doesn't lose anything.
In the assembled version of ASUS Transformer Book T90 Chi is quite compact (241 x 137 x 16.5 mm) and lightweight (750 g), visually reminding elegant clutch. Therefore, this product absolutely does not cause discomfort during transport. It will look equally well in the arsenal of a student or business person.
Социальные комментарии Cackle