Ultrabook ASUS ZENBOOK UX305FA: review and testing
When in 2011 Intel presented a new and unique concept of a portable computer device, only few could have imagined that just a few years the ultrabooks will have a quite massive popularity. Today it is difficult to find a large manufacturer without at least one such gadget. But at the same time it became clear that new devices require an advanced hardware platform that can not fully function in such a compact space, but also seamlessly show a good result.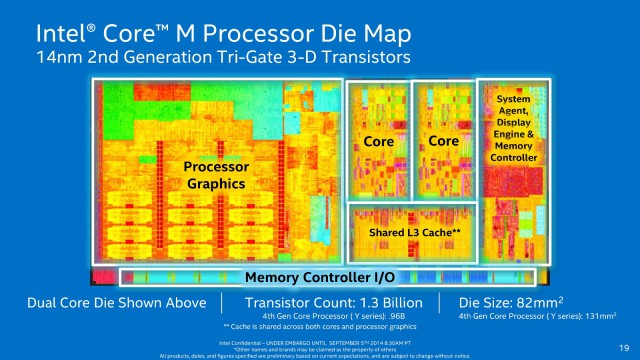 Best engineers from Intel decided to solve this complex problem. The result of their hard work was the development of a new generation of processors Intel Core M with record levels of performance and energy efficiency per watt of consumed energy. Thus, compared with the previous generation, it was possible to significantly reduce the level of heat (up to 60%), decrease the degree of power consumption (up to 45%) and to increase the processing power (40%) produced by microarray. And thanks to the introduction of the latest manufacturing process (14 nm), the area of the produced crystals was decreased by almost a half, enabling much more effective use of the available space, as well as deliver a portable device based on the new processors by the active cooling system.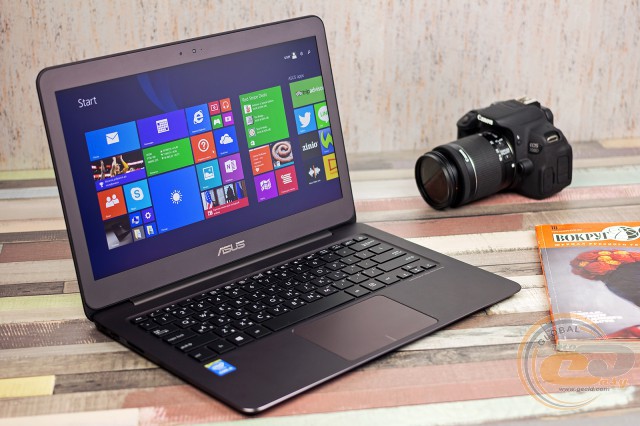 In this review, we will look at a magnificent example of modern ultra-compact computer equipment - ultrabook ASUS ZENBOOK UX305FA. Also we will try to analyze the effectiveness of a new hardware platform powered by Intel, as well as learn what additional capabilities has this very interesting and very promising market segment.
The specs:
Producer

ASUS

Model

ZENBOOK UX305FA

CPU

Intel Core M-5Y10: 2 cores, 4 threads, 800 MHz

(up to 2000 MHz in Turbo Boost 2.0), L3 cache – 4 МB

Chipset

Intel Broadwell PCH-LP (built-in Intel Core M-5Y10)

RAM

8 GB LPDDR3-1600 MHz, dual-channel

Display

Samsung 133YL04-P01: IPS, 13,3", QHD+ (3200 x 1800, 276 ppi),

matt antiglare coating

GPU

Intel HD Graphics 5300: 100 MHz in nominal mode, up to 800 MHz in Intel Turbo Boost 2.0; video memory capacity 1 GB (taken from RAM)

Discrete graphics card

–

Drives

SanDisk SD7SN3Q256G1002: 256 GB SSD, M.2

Optical drive

–

Card-reader

SDHC / SDXC

Interfaces

1 x micro-HDMI

3 x USB 3.0

1 x combined audio jack

1 x power socket

Multimedia

Speaker

Stereo speakers Bang & Olufsen ICEpower

Sound processing

Conexant CX20751/2 (Intel Broadwell PCH-L)

Microphone

Stereo

Web camera

1,3 MP (720p at 30 fps)

Connectivity

Network adapter

External (USB 3.0 ↔ RJ45)

Wi-Fi

802.11a/g/n/ac (Intel Dual Band Wireless-AC 7265)

Bluetooth

4.0 (Intel Dual Band Wireless-AC 7265)

Security

LoJack, password to load BIOS, drive access password,

Intel Anti-theft, USB-cable holder

Battery

lithium-pol cell, 3-cells, non detachable: 11,4 V, 3830 mА·h, 45 W·h

PSU

Output parameters: 19 V DC 2,37 A, 45 W

Input parameters: 100~240 V AC at 50/60 Hz

Color

Black, white

Dimensions

324 x 226 x 12,3 mm

Weight

1,2 kg

OS

Windows 8.1

Warranty

36 months (limited)

Producer website
Package and content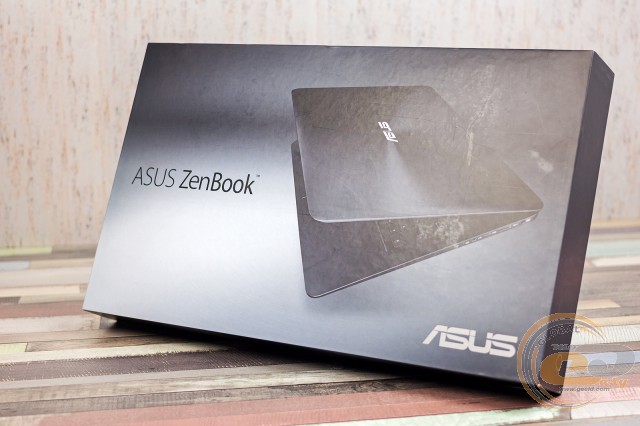 Ultrabook ASUS ZENBOOK UX305FA comes in a relatively small premium cardboard box. Like a device, it has a pleasant dark decor and has modest information content, without unnecessary gloss and invitingly advertising. The graphic elements include only large image of laptop and several branded logos that looks very stylish.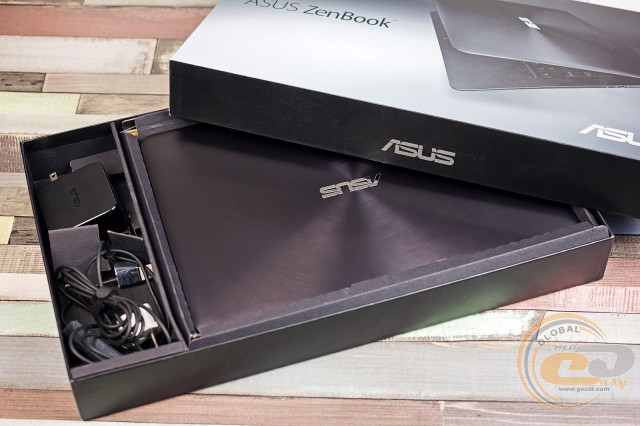 Given the level of the device and its positioning in the market, the scope of delivery is nice, because it contains a decent set of elements: the compact power unit with a long non-removable cable, special network adapter, documentation and corporate leather case.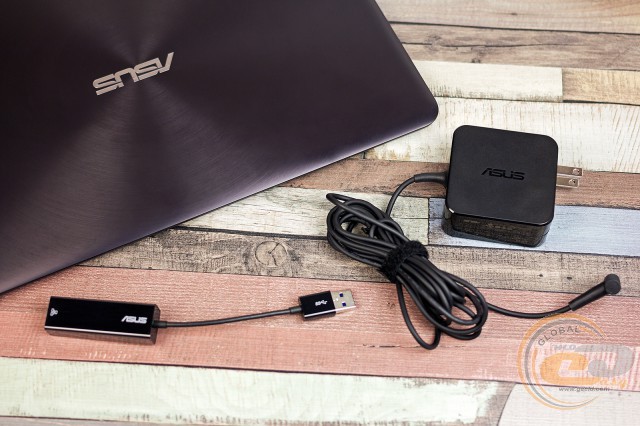 Unfortunately for testing we have a version of ultrabook, which doesn't have the last component. However, the user will get the above case and will be able to see the high quality of branded accessories.
Design and elements layout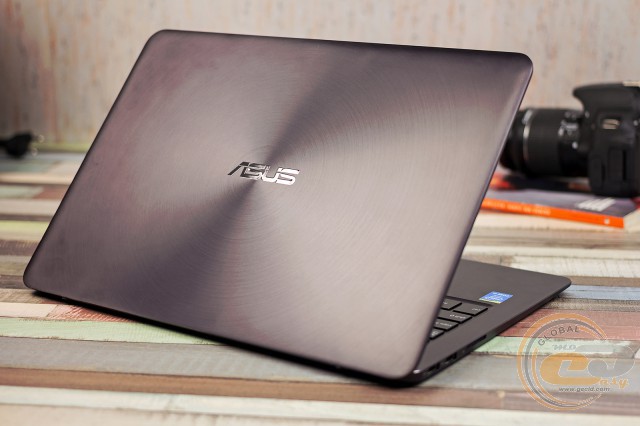 All very impressive refinement and exquisite design the novelty almost completely inherited from its famous predecessors. ASUS designers did not invent the wheel, and decided to use the familiar and useful concept, adding a few important touches.
So, fans of the brand will be appreciated by the ending of experiments with glass surfaces (ASUS ZENBOOK UX301LA) and return to the reliable and practical materials, among which the number of high-grade anodized aluminum and polycarbonate plastic. You do not have to worry about the safety of the device, and you can just enjoy its good look and functionality.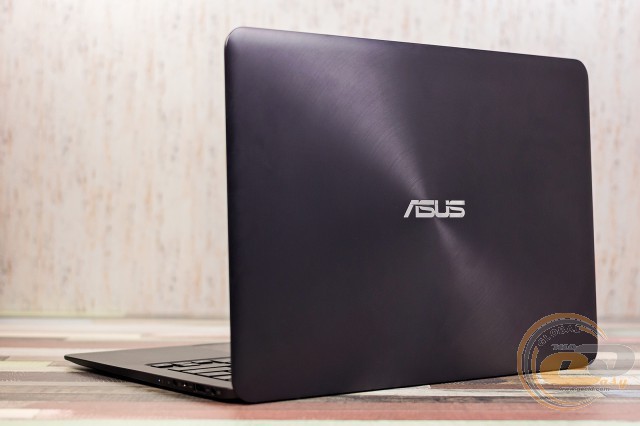 Another important feature is its quite interesting color scheme. Depending on the degree of illumination, it can change colors (from light gray to charcoal black) that allows the device to fit into almost any interior without any problems. There are two versions of the gadget - black and white.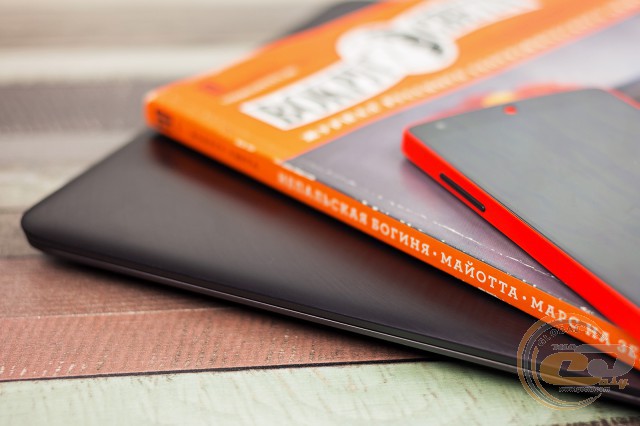 However, the main feature of the ASUS ZENBOOK UX305FA is a very small thickness of its case, which at the time of writing was an absolute record and was only 12.3 mm. Such incredible performance was achieved by eliminating the active cooling system, and a more modern approach to the concept of building of a compact notebook. For example, the base of the housing consists of two parts: the upper part where there is a place for the hardware platform and the bottom, which is securely fastened to the base and closes the internal components. In addition, it is possible to increase the rigidity that a minimum thickness is a very important factor. As a result, ultrabook has an excellent build quality, without any structural defects, backlash or gaps. It is opposed to bad external influence.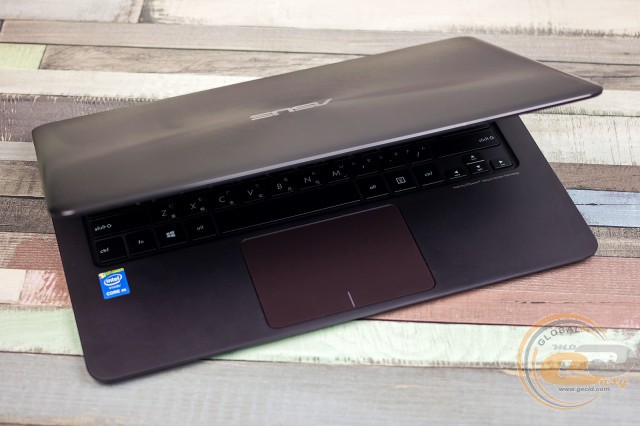 In general ASUS ZENBOOK UX305FA looks very compact and boasts of modest dimensions (324 x 226 x 12,3 mm) and light weight (1.2 kg). This allows you to easily take the device always and everywhere, as it is especially useful to business people who are constantly on the move.
As already stated above, the base body, top and bottom, as well as frame around the display is made of high quality anodized aluminum. These surfaces are pleasant to the touch and have matte texture that hides fingerprints. In case of the active use the fingerprints appear, but they are very easily removed. Plastic parts include only the buttons and keyboard hinge mounting the display unit.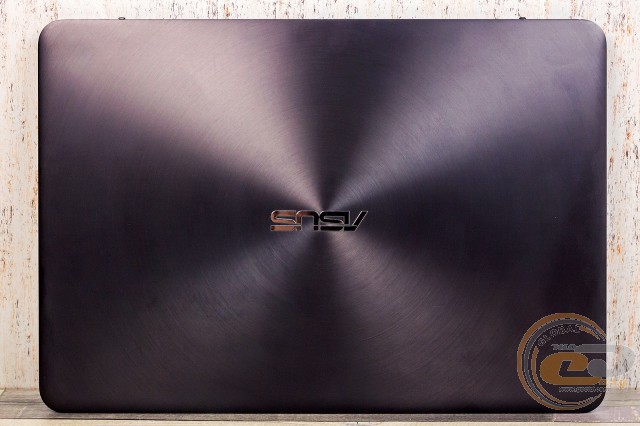 The outer cover of ultrabook has smooth rounded edges and ends are well polished. It has a stylish manufacturer's logo and corporate concentric pattern, which is already the hallmark of Taiwanese designers.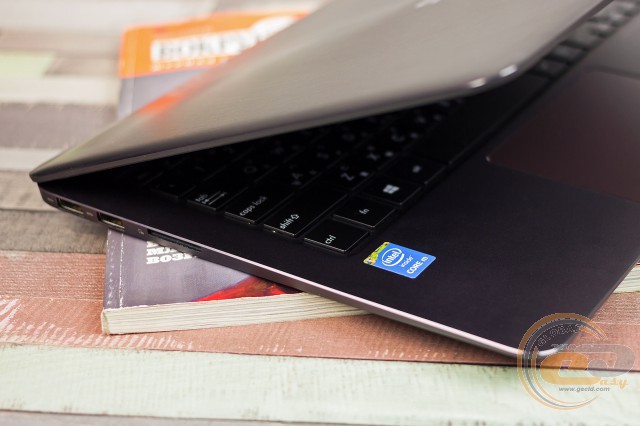 The features inside of the display unit and the work surface include the stylish chrome bevel. They do not attract the attention, but on closer examination become highly visible, well-emphasizing the premium status of the device.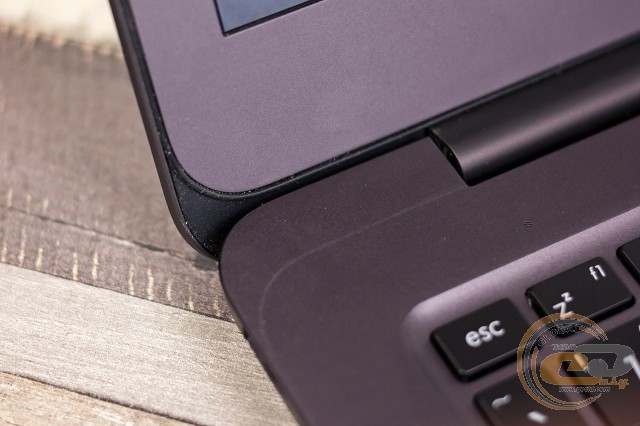 In addition, here is a special rubber strip that does not come into contact with the screen keyboard, and thereby protects the latter from possible damage.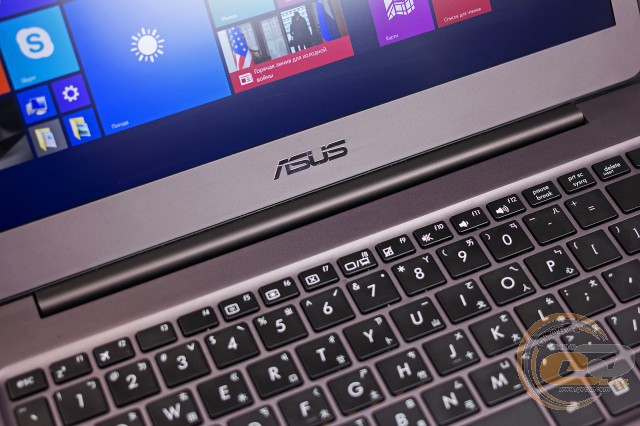 Mounting of the display unit is in the form of a wide "shelf" hinge, which occupies almost the entire back side of the notebook. Loops are relatively stiff, so they are able to provide a secure fit of the screen in almost any position. The ultrabook can be easily opened with one hand, keeping the base of the device from the surface. Note that there is not a special recess for the finger, which would increase the usability of new item.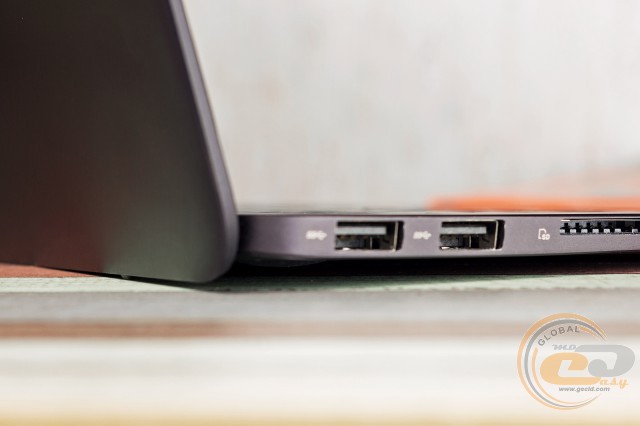 During the opening the display unit of ASUS ZENBOOK UX305FA is supported by a pair of metal legs, designed into little raises the base cover.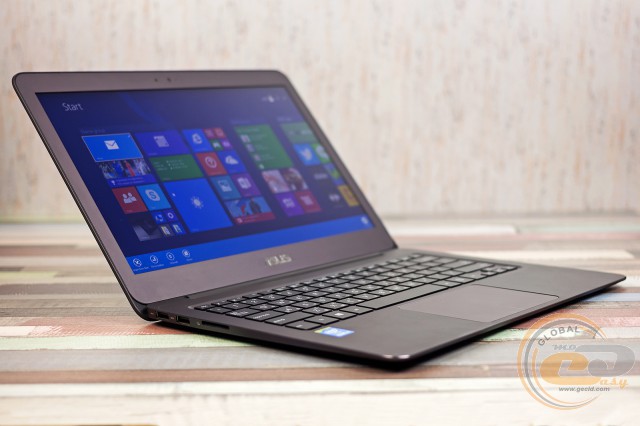 The maximum opening angle is 135°, which is more than sufficient for almost all tasks. And in order to safe transport the unit in the closed position, the top of the display unit is equipped with two special magnets. They secure the lid and do not allow it to open inadvertently even with fairly intensive shaking.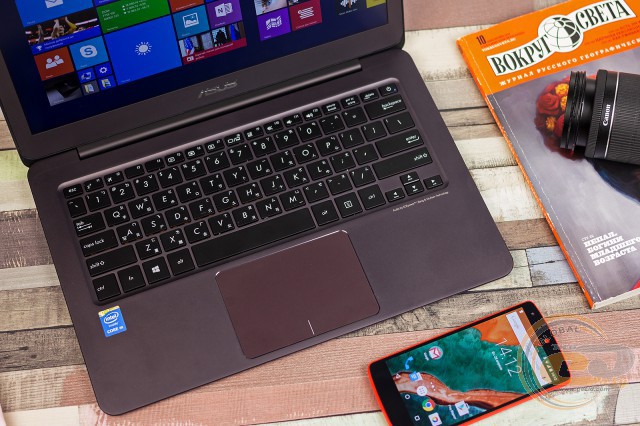 The entire operation panel is also made of a single piece of anodized aluminum and has a pleasant touch matte texture. In addition to a compact keyboard, large touchpad and a small microphone hole, any additional functional elements are not provided, that is entirely due to the concept of the device. Even the power button is a part of the keyboard unit and is in the upper right corner.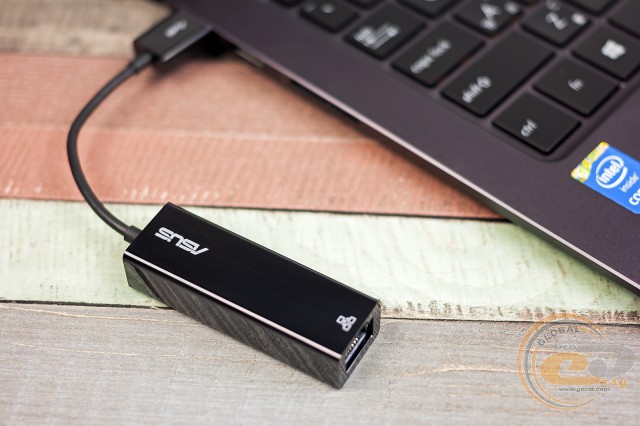 Due to extremely low thickness of the body, the ASUS ZENBOOK UX305FA has only the most essential interface connectors. One of them is represented in the form of external accessory it is a complete adapter with USB 3.0 ↔ RJ45 (Ethernet).
The left side of ultrabook has two USB 3.0 ports and a hole for card reader. The right side contains a combined 3.5mm audio jack, port micro-HDMI, another port USB 3.0, power connector and two LEDs (power and charge).
As for the front and rear side of the device, they are devoid of any slots except thin metal mesh covering the vent hole located below the display unit at the rear of the base.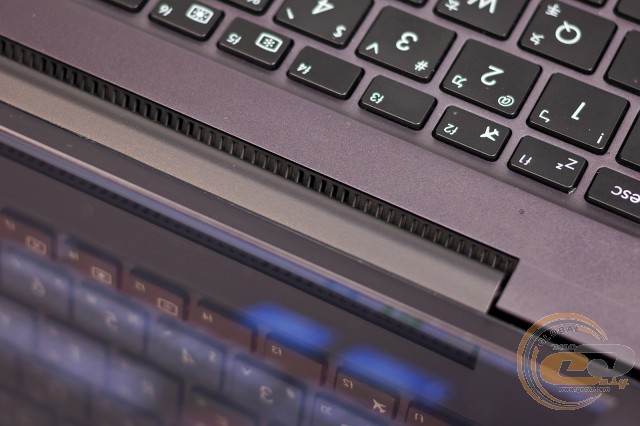 It migrated here from the previous models, but it is not a decorative element, as used passive cooling system also requires air circulation.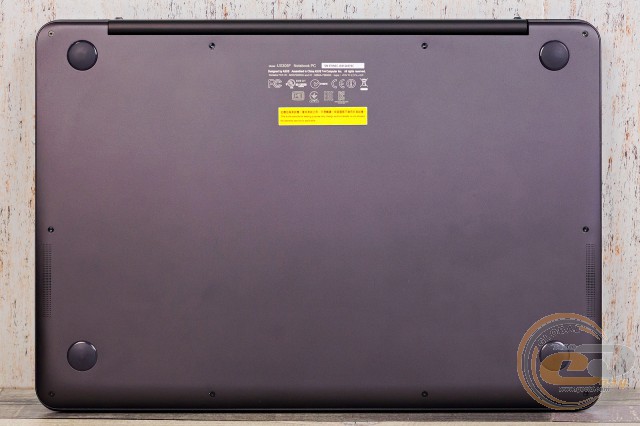 Base of ASUS ZENBOOK UX305FA is represented by virtually flat access panel from the same anodized aluminum. It is attached with the help of 10 small Torx screws and contains four small rubber legs to securely position the device on any surface, and a pair of tiny perforated holes, revealing two stereo speaker subsystems. There is also a small sticker with brief technical information about the laptop (model name, serial number, country of production), presented in English language.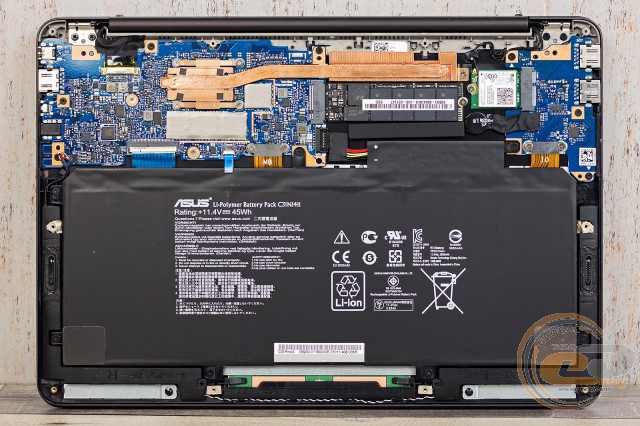 After removing the panel, the user gets access to the internal components: motherboards, processors, components of passive cooling system, SSD drive in format M.2 and combined module Wi-Fi and Bluetooth.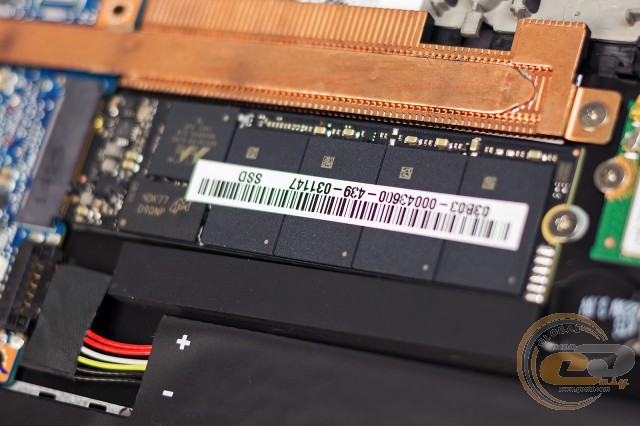 We could not replace or expand the RAM, because it soldered on the motherboard. In addition, it should be remembered that the opening of the device carries a loss of official guarantee. Therefore, if there is a need to replace any component or service, we recommend you contact an authorized support center.
Input device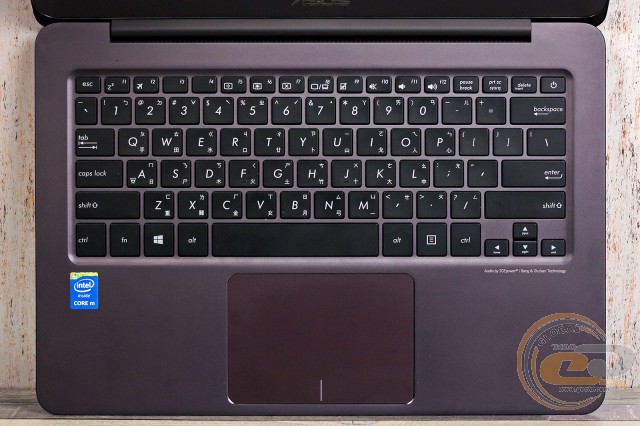 Traditionally for series of ASUS Ultrabooks, the novelty is equipped with a compact and extremely comfortable keyboard. It has a comfortable sharing of keys and pleasant, well-controlled effect. A beginner and experienced user who is familiar with the capabilities of such devices will be pleased by editing of the text to work with various documents or wander around the expanses of the Internet.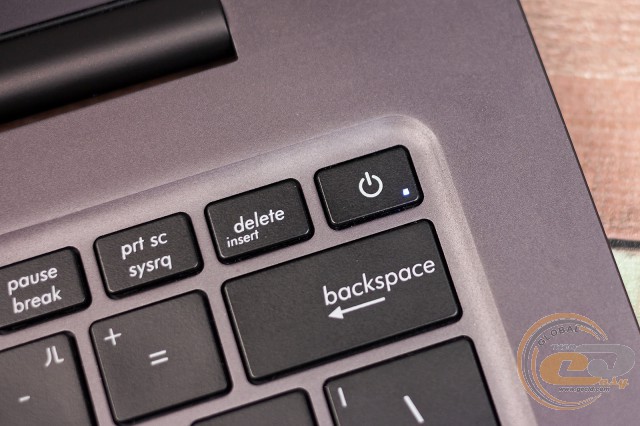 However, some may need time to adjust because of the unusual placement of the power button. It is located in the upper right corner near the frequently used keys [Del] and [Backspace].
The base of the keyboard is slightly recessed into the operating panel. It has a matte surface with a pleasant texture to the touch, which is struggling with fingerprints. Keyboard unit is fixed well and has a high level of rigidity. Even under strong pressure surface won't flex, and allows you to work comfortably for a long time.
The heart of the keys is a membrane-scissor mechanism, which has a smooth, short and fairly comfortable travel. The buttons have a classic flat shape of caps and quite a large size (basic and digital - 16 x 15 mm, functional - 13 x 8 mm, arrows - 13 x 9 mm). This allows you to type confidently, without fear of adjacent touch keys or accidentally make double-click.
Application of symbolic elements is performed by a printing method. Of course, this is not the laser engraving, but it can boast of good quality performance and high durability. All the characters on the keys are characterized by a single color scheme, without the usual separation of the basic and functional buttons.
The shortcomings of the keyboard include the absence of any highlight that can play against the ultrabook under review given the serious enough competition in this segment of the market. Most likely, this is due to the extremely small thickness of the shell, which is not allowed engineers to place an additional LED and electroluminescent layer. Whatever it was, it will be very difficult to use the device in the dark and require the use of external light sources.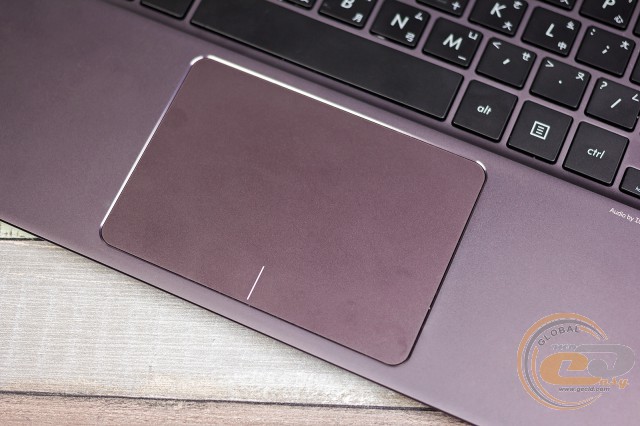 The touchpad ASUS ZENBOOK UX305FA is presented by a single touchpad of quite large size - 105 x 74 mm. Like the keyboard unit, it is slightly recessed into the base of the housing and has a good texture. The touchpad has a pleasant touch matte finish that provides an easy and comfortable fingers sliding.
In addition, it has a high sensitivity and boasts of full support for multi-touch gestures in the environment of Windows. In order to adjust the operation correctly, you must install the proprietary utility ASUS Smart Gesture.
Display, sound, web camera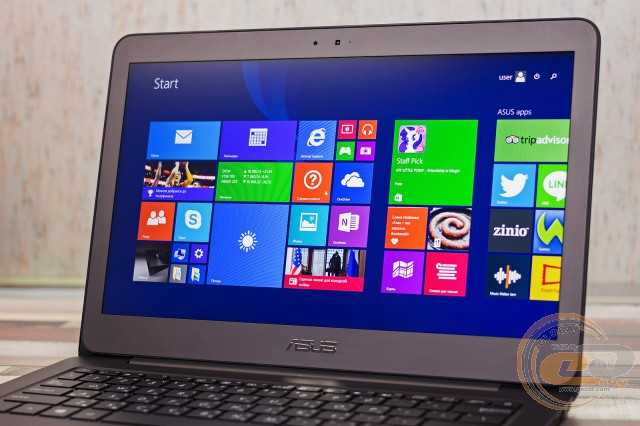 ASUS ZENBOOK UX305FA is equipped with 13.3-inch IPS-screen with QHD+resolution (3200 x 1800) and the density of pixels at 276 ppi. It is based on high-quality matrix, manufactured by Samsung, which provides maximum viewing angle (almost 180 degrees), high detail images and a good response time. However, with such a high resolution it is necessary to use the system scale (default 250%), which, fortunately, does not affect on the final image quality. Also there is a model with Full HD-display, which has a similar, but not as high performance.
Display of ultrabook has a good level of contrast and bright enough and rich color reproduction with deep, but at the same time, natural colors and shades. White Balance also has a good balance, without noticeable shift in warm or cold tones. In rare cases, under a significant deviation from the normal, you can notice a imbalance in the direction of yellow and purple shades, which is especially noticeable on a dark background with a brightness of 50% or higher.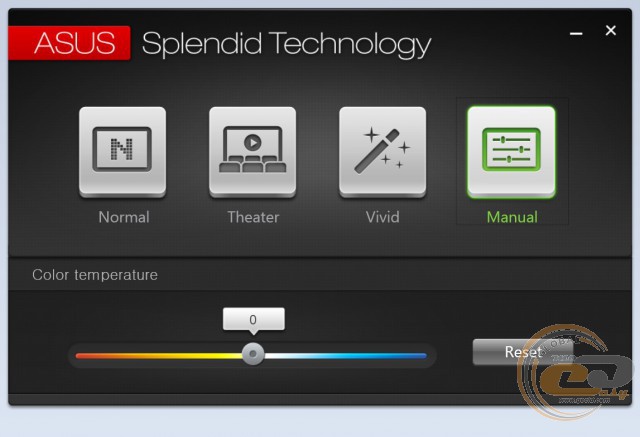 Fortunately, thanks to the utility ASUS Splendid Technology, you can manually adjust the color temperature of the display or to activate one of the previously predefined user profiles.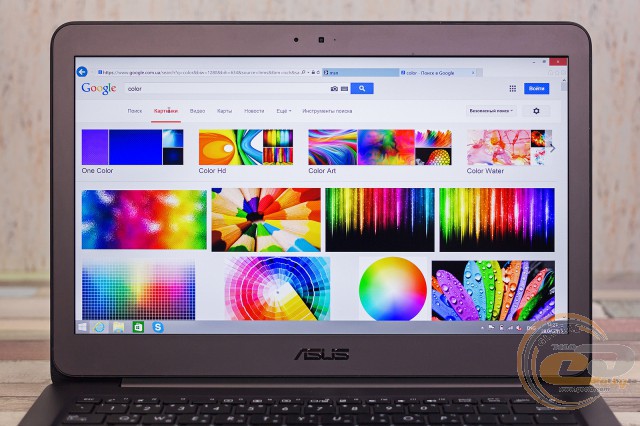 Laptop screen has very good matte finish, which copes with patches of light and glow. In addition, it is equipped with a nice uniform illumination with a good range of adjustments (in view of the light sensor), allowing you to use the device, even with enough bright daylight.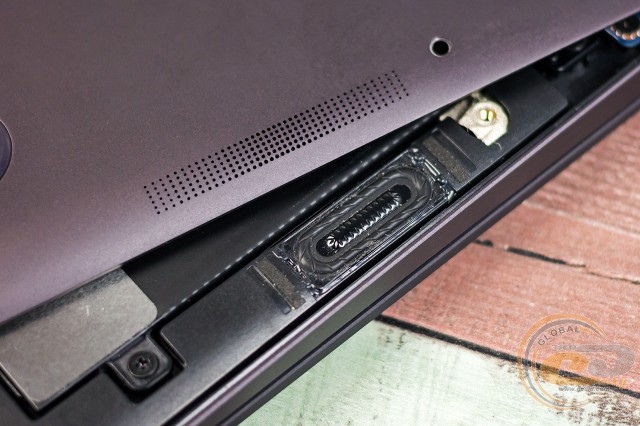 A pleasant sound quality is provided by dual-channel audio subsystem presented in stereo speakers Bang & Olufsen ICEPower. They are located at the bottom of the case side walls, a rather inconspicuous perforated near the front legs. However, due to the internal design of the device surround sounds in the range available are perfectly reproduced. The sound is very clear and rich. It absolutely is not distorted even at maximum volume. You can hear well-defined treble and midrange, and a small hint of bass.
To improve the sound quality the company's software has a special utility Smart Audio, which has broad tools for fine-tune music. The role of the audio codec device performs relatively new Conexant CX20751/2, which also has a good software support.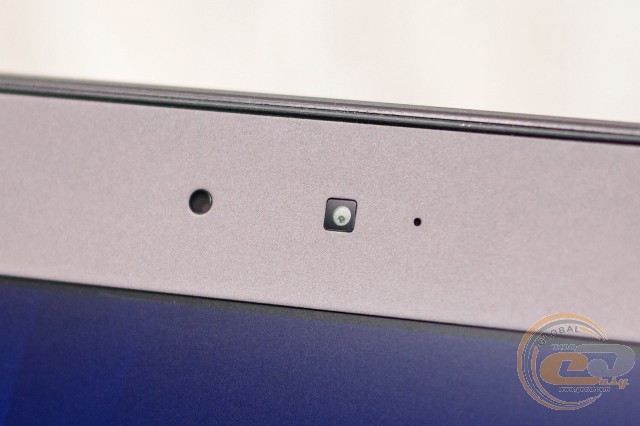 Despite its compact size and thickness of the shell, the new product has a place for a good webcam. Here is a 1.3 megapixel module with a resolution of 720p, which is more than enough for a variety of web conferencing or implementation of Internet calls. The webcam is located above the screen ultrabook in the company of a small activity light and the light sensor.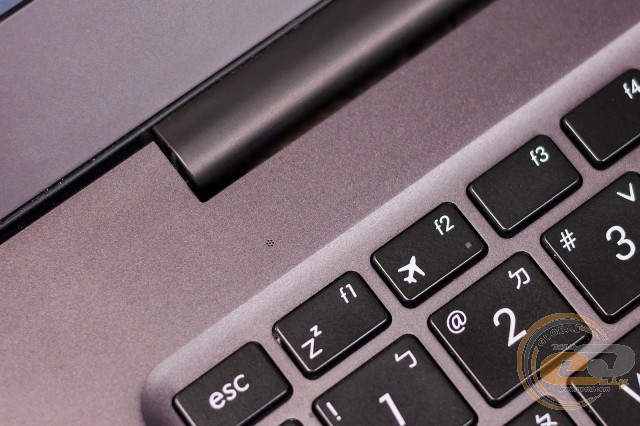 Regarding the latter, it moved to the work surface and is opposite the button [F1].
Социальные комментарии Cackle