Ultrabook Dell XPS 13 (2015): review and testing
The market of tablet PCs and smartphones had showed us that appearance of each new model provides more sophisticated and productive device. In contrast, during the mention of classical laptops, the majority of users currently imagine bulky and plain models that captured our homes and offices. However, thanks to a successful initiative of the California giant (Intel), familiar laptops have rebirth into ultrabooks. In short, we have the most compact and lightweight gadgets with a focus on high functionality and comfort in everyday use. These solutions include interesting new generation portable computer - Dell XPS 13 (2015). And today we are going to test this model.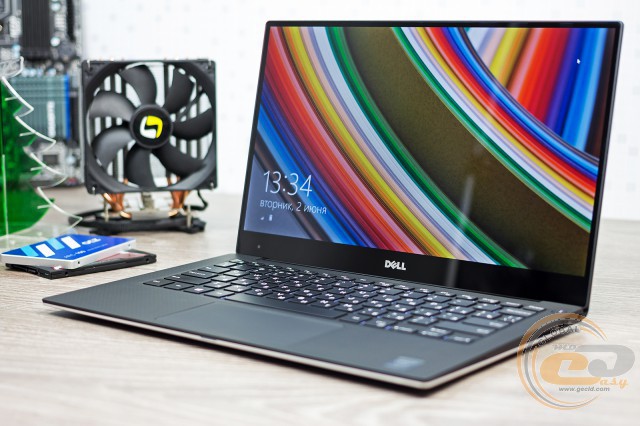 New product is made in the ultra-compact housing with the familiar design and use of premium materials. Depending on the configuration, the device can be equipped with the newest processors Intel Core 5th generation, touch screen, a backlit keyboard, RAM DDR3L up to 8 GB solid state drive with capacity of up to 512 GB, as well as two stereo speakers with support for technology Waves MaxxAudio Pro.
The specs:
Producer

Dell

Model

XPS 13 (2015)

CPU

Intel Core i7-5500U: 2 cores, 4 threads, 2,4 GHz

(up to 3 GHz in mode Turbo Boost 2.0), L3 cache – 4 МB

Chipset

Intel Broadwell PCH - LP

RAM

8 GB DDR3L-1600 MHz, dual channel

Display

Sharp SHP1421: IPS, 13,3", QHD+ (3200 x 1800, 276 ppi), sensor, capacitive, multi-touch up 10 touches, glossy coating, LED-highlighting, protective Corning Gorilla Glass NBT

GPU

Intel HD Graphics 5500: 300 MHz in nominal mode, up to 950 MHz in mode Intel Turbo Boost 2.0; video memory with 1 GB (selected from RAM)

Discrete video card

–

Drive

Samsung SSD PM851 M.2 2280: 256 GB

Optical drive

–

Card-reader

3-в-1 (SD, SDHC, SDXC)

Interfaces

1 x Mini DisplayPort

2 x USB 3.0

1 x combined audio jack

1 x power socket

Multimedia

Speaker

Stereo speakers Waves MaxxAudio Pro

Sound processing

Realtek ALC3263

Microphone

Stereo (AudioSmart SSP)

Webcam

1,3-Mp (720p at 30 fps)

Connectivity

LAN

-

Wi-Fi

802.11a/b/g/n/ac (Dell Wireless 1560 802.11ac)

Bluetooth

4.0 (Dell Wireless 1560 802.11ac)

Protection

Kensington lock; BIOS password; password to access the drive; Intel Anti-theft

Battery

Lithium-ion, 4-cell, несъемный: 7,4 V, 6930 mА·h, 52 W·h

PSU

Output: 19,5 V DC, 2,31 A, 45 W

Input: 100~240 V AC 50/60 Hz

Color

Moon Silver

Dimensions

304 х 200 х 9-15 mm

Weight

1,26 kg

OS

Windows 8.1

Warranty

12 months

Producer website
Package and content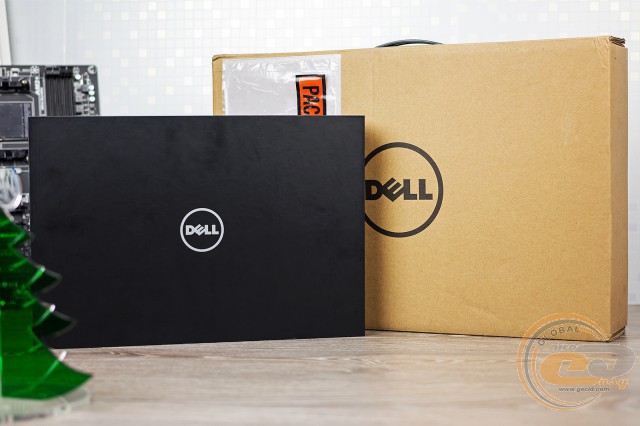 Ultrabook Dell XPS 13 (2015) is shipped in a large cardboard box. It has minimalist decor without colorful printing. It contains only a few logos and sticker with technical information. On top there is the handle for easy transportation. Inside there are several smaller but denser boxes with black Dell logo in the center.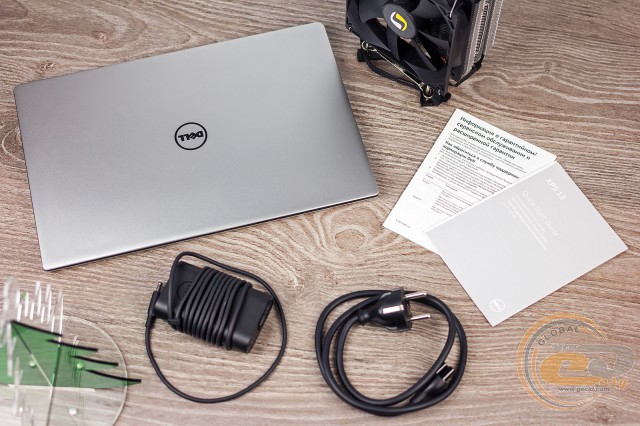 Package includes only the most necessary: compact power supply with replaceable cable and paper documentation.
Design and elements layout
American manufacturers managed to fit a 13.3-inch model in the body similar in size to 11.6 or 12.1-inch netbook. Even in fleeting glance of dimensions (304 x 200 x 9-15 mm to 325 × 227 × 3-17 mm) and weight (1.26 kg vs. 1.35 kg) in our opinion solution from Dell is more advantageous. This allows you to fully appreciate the advantages of a compactness that does not cause discomfort during transportation.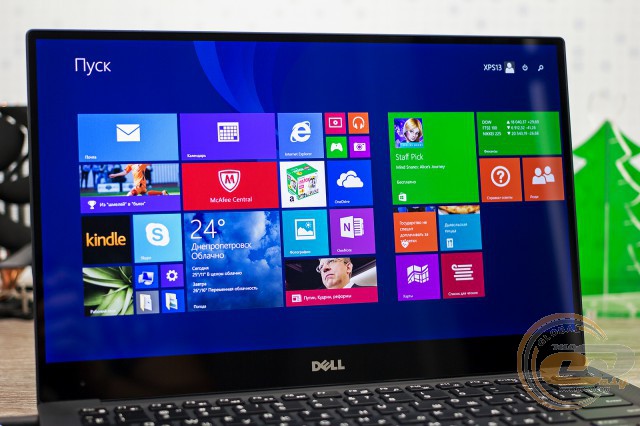 This effect was achieved by reducing the frames around the display, which are 5 mm top and sides. Only the lower frame remained relatively large (21 mm), but it absolutely does not damage the overall picture, and is reserved for the unexpected position of the camera and the manufacturer's logo. It seems that the ultrabook has no frames. The previous version of Dell XPS 13 (2012) is also a nice different in this respect from the classmates.
In terms of design the new ultrabook got tighter and straight outlines. There are high-quality materials. Thus, the chassis of Dell XPS 13 (2015) is made of magnesium alloy and externally are added by sheets of anodized aluminum, carbon fiber brand with soft-touch coated and strong tempered glass. The case has received a wedge shape, which is characterized by a thickness of 15 mm in the distal portion and its gradual decrease to 9 mm in front.
Rigidity is very good, especially through the use of metal panels. The model is subject to deformation when attempting to pressure and torsion, and extra sounds are absent. The build quality is also at the highest level: the components of the body perfectly adjusted to each other, without any backlash or gaps.
The upper and lower parts are made of high-quality brushed aluminum, which not only pleasantly cools the palm, but masks the appearance of fingerprints. The aluminum panels are manufactured on a milling machine CNC. This has a positive effect to the strength as compared with pressed embodiments.
Outside convex cover of ultrabook has chopped faces with rounded ends. In the center you can find logo a logo from Dell.
Side profile uses a two-tone design, which combines silver and black colors. The inside of the display unit has slightly raised border. It is designed to protect the screen when you close the lid. The matrix is covered with tempered glass Corning Gorilla Glass NBT with good oleophobic layer.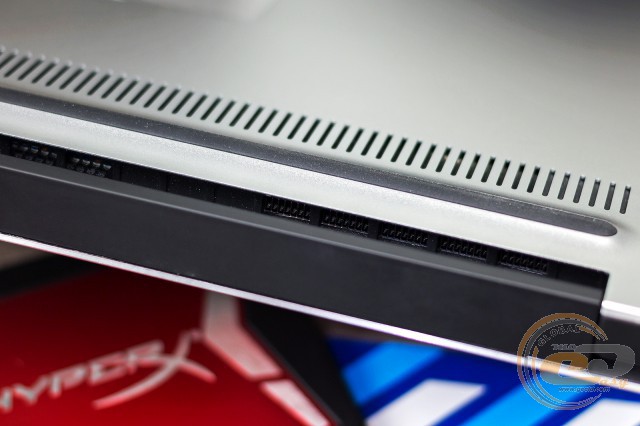 The display unit is attached to the base via hinge regiment, which occupies almost the whole rear side. At the edge (between the hinge and the base) you can find openings for the exit of heated air out of the case. The hinges are quite stiff. They are covered with a plastic cover. On the one hand they provide secure fixation of the screen, including touch control while, on the other do not allow to open ultrabook by one hand.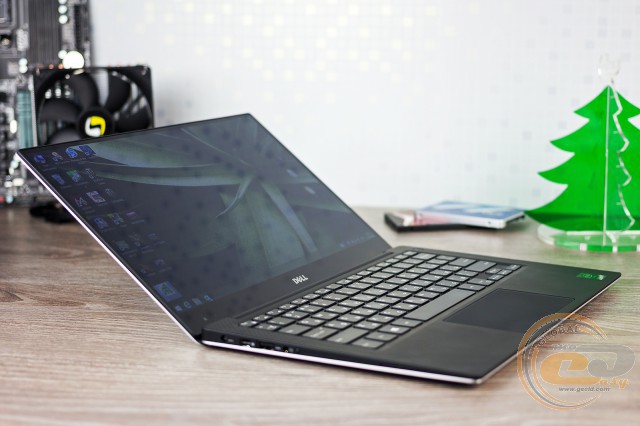 The maximum opening angle is approximately 145, which should be enough for most usage scenarios.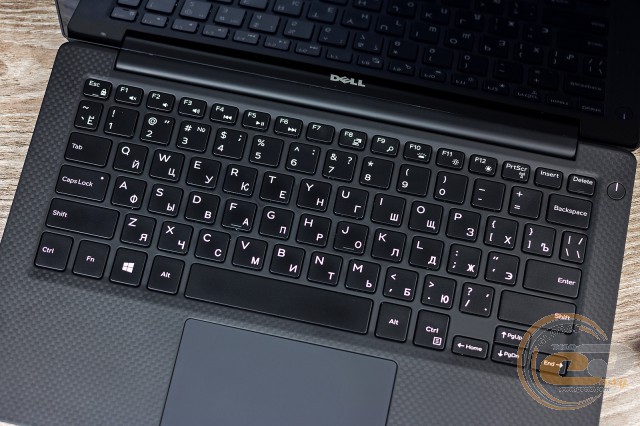 The working surface of Dell XPS 13 (in 2015) is made of carbon fiber, which has a high-quality soft-touch coating with a characteristic checkerboard texture. This solution provides a pleasant tactile sensation during the operation, but also requires appropriate care. Here are: power key (display in the form of strips with white backlighting), which has a tight and accurate press, protects it from accidental activation; keyboard unit and touchpad without considerable dedicated keys.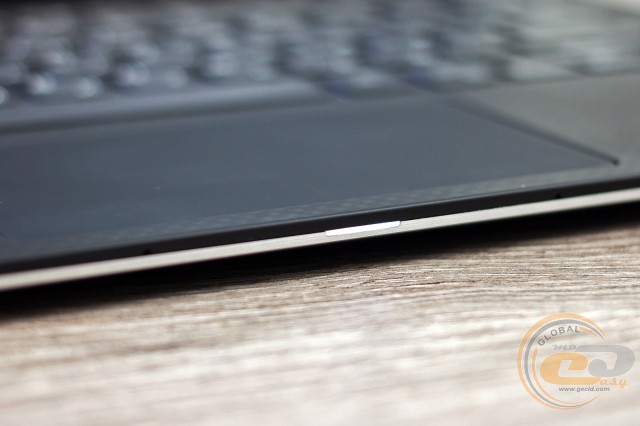 The front side has two microphones and a small power indicator (glows white during charging and operation of the network or orange when the battery is discharged).
The sides of the body include a pair of speakers, covered with a faint metallic mesh. All interface connectors are concentrated closer to the back panel. In particular, the left side of ultrabook has the power connector, Mini DisplayPort, port USB 3.0, a combined 3.5mm audio jack and a number of LEDs. The right side includes a Kensington lock, one USB 3.0 port and a shortened card reader (SD, SDHC, SDXC).
The base of Dell XPS 13 (2015) has broad ridges with rubber lining which replace conventional legs to secure the device on flat surfaces. In the central part is a panel with magnetic fastening and logo «XPS», which is neatly hidden under the sticker with the service information. Toward to the distant side there is wide mesh of ventilation for fresh air intake. All bottom panel is removable. It provides access to the components of the laptop: motherboard, cooling system components, battery, SSD format M.2 and combined module Wi-Fi and Bluetooth. You cannot replace or expand the RAM because it is soldered on the motherboard.
Input device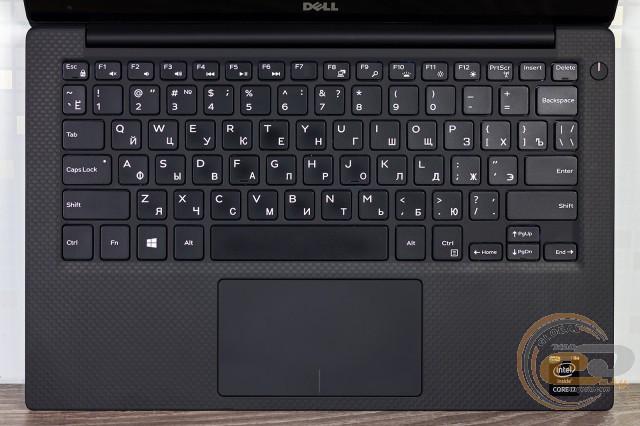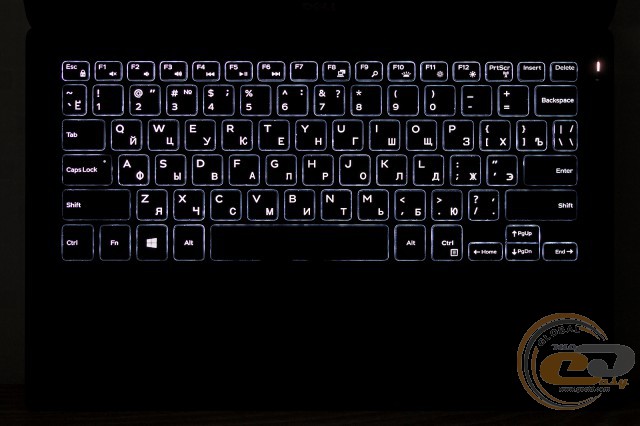 Model Dell XPS 13 (2015) is equipped with branded keyboard of island type, which is characterized by the usual elements layout. The key caps have are more stringent due to the refusal of cavity in the central part. However, they were comfortable enough for everyday use. In addition, using the key combination [Fn] + [F10] you can turn the white illumination (there are three brightness levels: maximum, average and zero), which makes it comfortable to work in the dark.
A convenient solution is to use a number of [F] button in two modes: by pressing a combination [Fn] + [Esc] they perform multimedia functions. A certain time to adapt may take a block of arrow, which is functionally combined with the keys [Page Up], [Page Down], [Home] and [End].
The base of keyboard is made of magnesium alloy and slightly recessed into the operation panel. It has a considerable size and pleasant soft-touch coating. The keyboard unit is well fixed, so even under strong pressure to the surface it does not bend.
General dimensions are 265 x 102 mm. Keys got the following dimensions: the letters - 14 x 14 mm; block of arrows - 16 x 8 mm; functional - 12.5 x 8.5 mm. They are easy to press; have a short stroke and tactile feedback.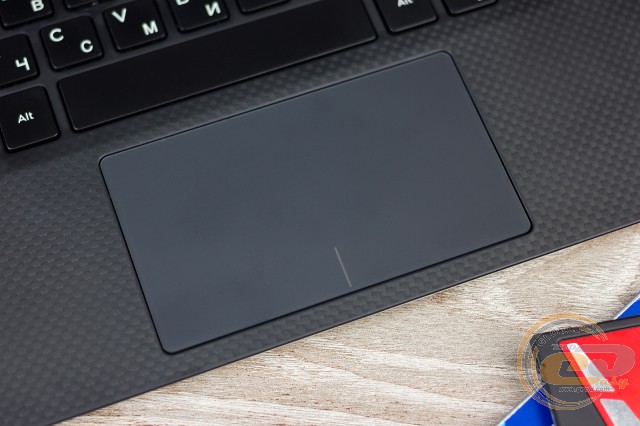 The touchpad is represented by an integrated touchpad of quite large size 110 x 60 mm. Like the keyboard unit, it is slightly recessed into the base of the case and has a good selection. The touchpad is presented matt glass with wonderful tactile features: sliding is very easy and pleasant; excellent sensitivity and accurate processing of touches. There is the support of multi-touch gestures. You cannot disable the touchpad.
In our case ultrabook is equipped with a touch screen, which complements the aforementioned input methods.
Display, webcam, sound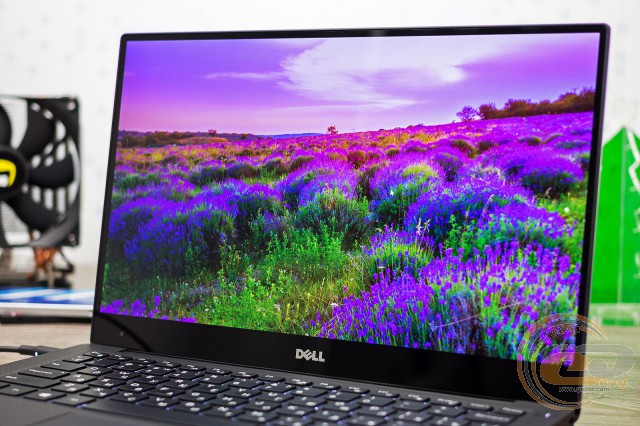 Dell XPS 13 (2015) is equipped with a proprietary 13.3-inch UltraSharp-screen with a resolution of QHD+ (3200 x 1800) and the density of pixels at 276 ppi. It is based on high-quality IPS-matrix Sharp SHP1421, created with the use of technology IGZO 2 (reduced energy consumption), high-gloss coating and the LED backlight. According to the manufacturer, it boasts of the impressive color gamut (at the level of 72% Adobe RGB and 97% sRGB) and wide viewing angles (170°). The level of contrast is (1000:1) and brightness (400 cd/m2). Due to such a high resolution it is necessary to use the zoom system (default 250%), which absolutely does not worse the final quality of the image. Screen is protected by tempered glass Corning Gorilla Glass NBT, which has a good oleophobic (grease repellent) finish. This ensures comfortable and easy to slip fingers, as well as delays in the cluster of prints, and those that appear are easily removed by fibber or regular cloth.
The positive subjective impressions of display are provided very small frames. The whole screen is characterized by maximum viewing angles and high contrast from the use of high-quality IPS-matrix. Images can boast of bright and saturated colors (especially when viewing photos and video).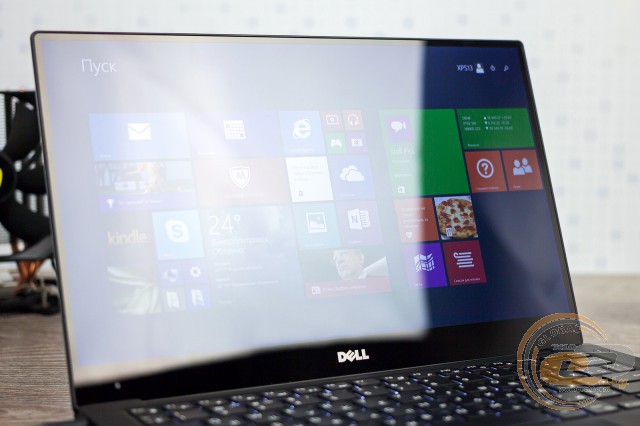 The maximum brightness level is sufficient to deal with information on a sunny day. Minimum rate is comfortable work in the dark. The only drawback is noticeable unevenness of illumination near the edges of the screen. Multi-touch technology guarantees the processing of up to 10 simultaneous touches.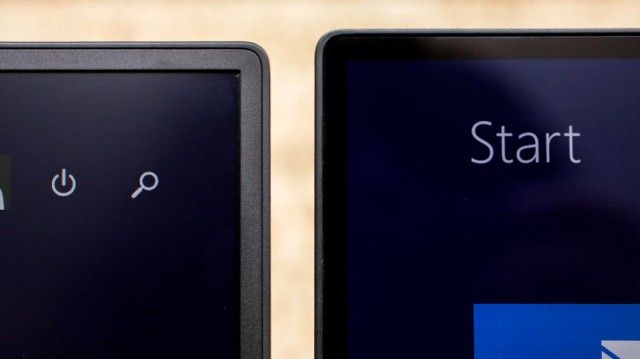 There is an option of ultrabook with a matte Full HD-display. In addition to the reduced resolution, it has lost the protective glass and the possibility of touch control.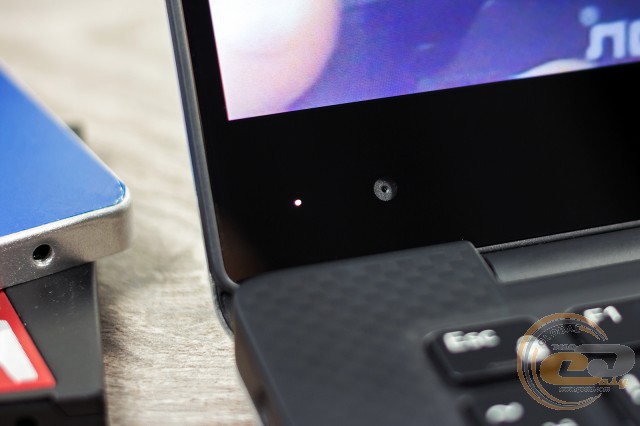 Due to the extremely thin frames of the screen (on the sides and top) the webcam is placed in bottom. This solution provides not the best view, but in such circumstances it is not bad. We have an ordinary CMOS-module with a resolution of 1.3 megapixel and video recording as 720p at 30 fps. Nearby you can find LED activity indicator.
Webcam photography
In general, its opportunities will be enough for all sorts of web conferencing or video calls. High audio quality is ensured by two microphones with support for technology AudioSmart SSP (eliminates noise from the microphone input), which are located in the front of the case.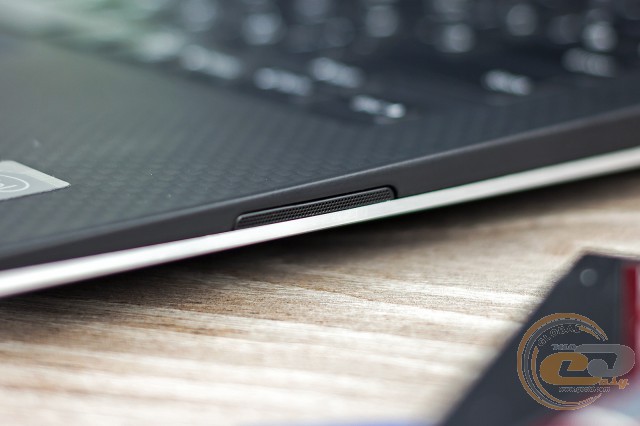 An audio is provided by two speakers with 1 W each. They are located on the side faces (closer to the user), and covered with a metal mesh. The role of the audio codec is performed by Realtek ALC3263
There is support for technology Waves MaxxAudio Pro, which provides proprietary software with highly customizable music. Due to a good placement of speakers we have a pleasant stereo sounding. The sound is very good, including on the maximum volume, which is sufficient for use within a small room (living room). The frequency range is represented by well-balanced high and average, and depending on the composition, there is a hint of bass.
Социальные комментарии Cackle