MSI GE70 2PE Apache Pro gaming laptop: review and testing
The acquisition of a gaming laptop is important and quite complicate task, as the purchase requires a special demand. And if the choice of "workhorse" for the daily needs is more or less clear, due to a variety of gaming models and values in their prices the head of buyer is spinning. And it's not so much due to high price which often accompanies the devices in this category, but in the number of advanced technologies used in modern gaming laptop. In addition, an important factor when choosing a gadget is its reliability, because in most cases the device to be used in a very active mode to perform time-consuming tasks and modern games.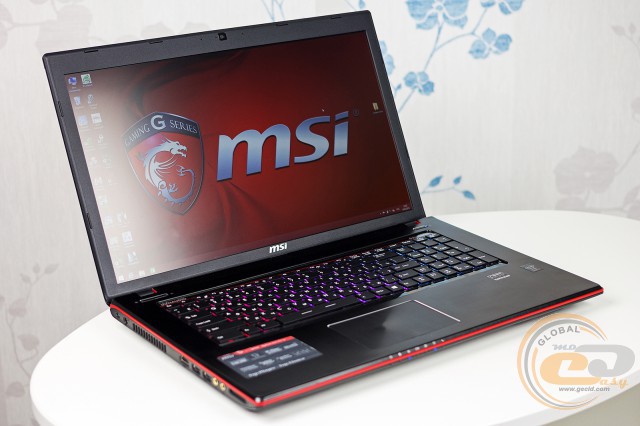 In this review we aimed to find out what is a true gaming laptop, using a laptop MSI GE70 2PE Apache Pro. According to the manufacturer, this model is a classic representative of the family of gaming laptops, because it occupies a central position in the famous lineup of MSI Gaming. We will start our acquaintance with this very interesting device from the traditional consideration of the technical characteristics.
The specs:
Producer

MSI

Model

GE70 2PE Apache Pro

CPU

Intel Core i7-4710HQ: 4 cores, 8 threads (2500 MHz in nominal, up to 3500 MHz in mode Intel Turbo Boost 2.0), DMI2 – 5 GT/s, L3 cache – 6 МB

Chipset

Intel Lynx Point HM87 (Intel Haswell)

RAM

12 GB DDR3L-1600 MHz, dual channel

Display

CHIMEI INNOLUX TFT-LCD Panel: 17,3", TN+film, LED-lighting,

mat, Non-Glare, 1920 x 1080

Graphics adapter

Intel HD Graphics 4600: 400 MHz in nominal mode, up to 1200 MHz in mode Intel Turbo Boost 2.0; video memory capacity is 1 GB (taken from RAM)

Discrete graphics card

NVIDIA GeForce GTX 860M 2 ГG GDDR5

Drives

Hitachi HGST Travelstar 7K1000 (HGST HTS721010A9E630): 1000 ГG HDD,

32 МB buffer, 7200 rpm, SATA 6 Gb/s

Optical drive

Hitachi-LG Super-Multi DVD Drive (HL-DT-ST DVDRAM GTA0N)

Card reader

SD (XC/HC)

Interfaces

2 x USB 3.0

2 x USB 2.0

1 x RJ45 (LAN)

1 x D-Sub

1 x HDMI

1 x audio jacks

1 x microphone input

1 x power socket

Multimedia

Speaker

Audio subsystem Dynaudio: 4.1, subwoofer,

Support of technology MSI Audio Boost

Sound processing

Realtek ALC892 (Intel Lynx Point PCH)

Microphone

Stereo

Webcam

1,3 Mp (720p at 30 fps)

Connectivity

Network adapter

Qualcomm Atheros Killer E2200 Gigabit Ethernet

Wi-Fi

802.11 b/g/n (Realtek RTL8723BE)

Bluetooth

4.0 (Realtek RTL8723BE)

Security

Lock Kensington, password BIOS

Battery

lithium-ion, 6-cells, removable: 11,1 V, 4400 mА·h, 49 W·h

PSU

Output parameters: 19,5 V DC, 6,15 А, 120 W

Input parameters: 100~240 V AC at 50/60 Hz

Color

Black

Dimensions

418 x 269 x 39 mm

Weight

3,0 kg

OS

Windows 8.1

Warranty

12 months

Producer website
Package and content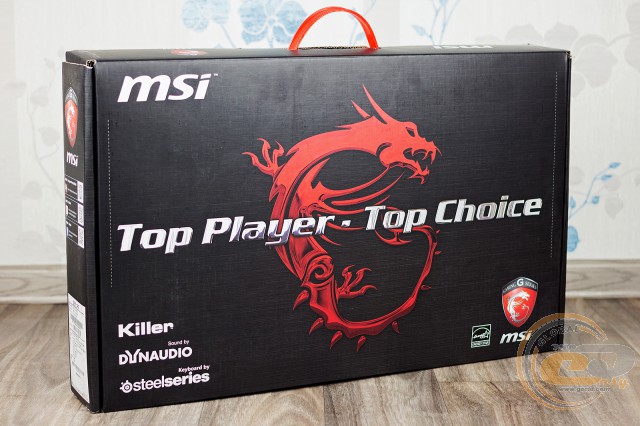 Gaming Laptop MSI GE70 2PE Apache Pro comes in fairly large and relatively heavy box. It is made of high quality and tightly fitted cardboard, which in addition to hardness, gives the structure a complete design. Traditionally for the lineup of gaming devices MSI package is stylish, concise and has rather aggressive design (do note a company logo in the form of a red dragon), but bears only the most necessary technical and legal information.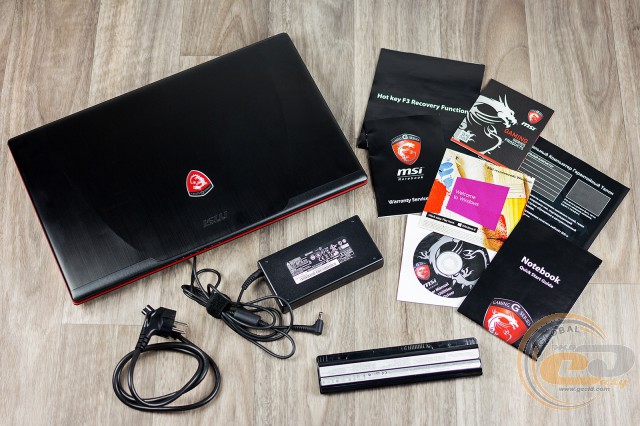 Supplied set of MSI GE70 2PE Apache Pro contains quite a standard set of elements. It includes: battery charger, power cord, removable battery, CD with proprietary software and drivers, as well as a set of technical documents and brochures. Like most laptops on the market, this gaming device has a pretty impressive list of optional accessories (wireless mouse, bag, cover), which if desired may be purchased separately.
Design and elements layout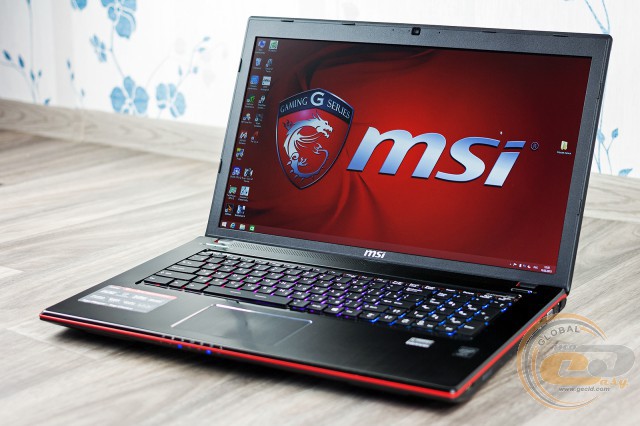 Without a doubt, the model MSI GE70 2PE Apache Pro is quite attractive devices. The appearance contains visible bright corporate style that is usual for the lineup of gaming laptop MSI Gaming. If there is opportunity to place near few gaming laptops from different manufacturers, the vast majority of users without any problems will point to the product from the Taiwanese computer giant. The reason is solid, moderately aggressive design, which has a red line across the model range of series MSI GE. This red border not only visually makes the gadget thinner, but also sets it apart from its direct competitors.
Most likely, the phrase "gaming laptop" is associated with something massive and heavy. This is not surprising, since most of the models in this market segment resemble stationary system unit, rather than a full-fledged portable device. Fortunately, in this respect MSI GE70 2PE Apache Pro boasts of a medium size (418 x 269 x 39 mm) and a relatively low weight (3.0 kg). Of course, this is not the ultrabook, but, in our opinion, its transportation should not cause any trouble or difficulty.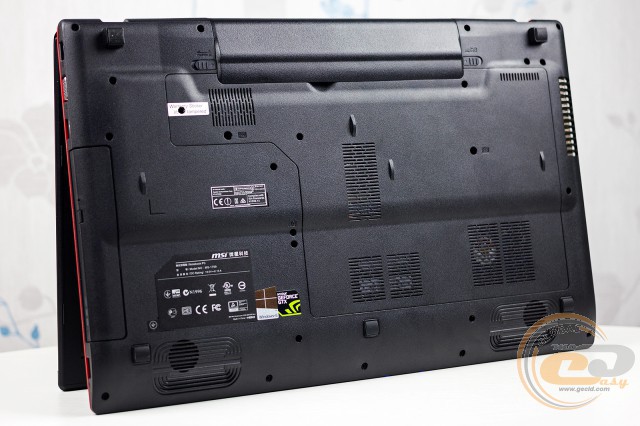 Base of the product case, the lower part and the frame around the display are made of high-quality matte plastic. They have a slightly rough texture, and in addition to high wear resistance they have excellent oleophobic properties. Plastic is painted in dark gray color that gives the rigor and solidity.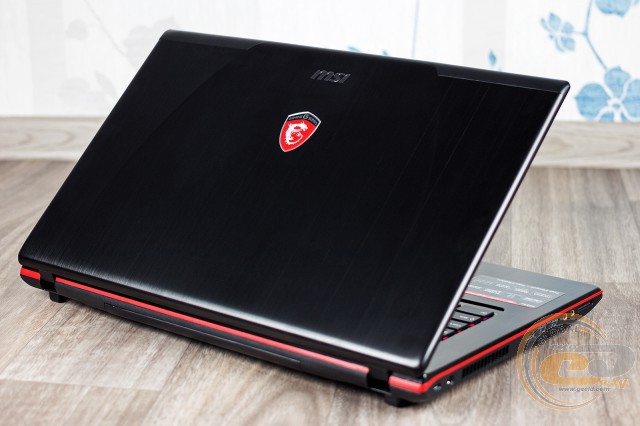 The top side of the laptop, with the exception of a small plastic lining, is fully made of anodized aluminum with a polished texture. It looks very attractive, but it has one drawback - this surface quickly collects fingerprints and dust.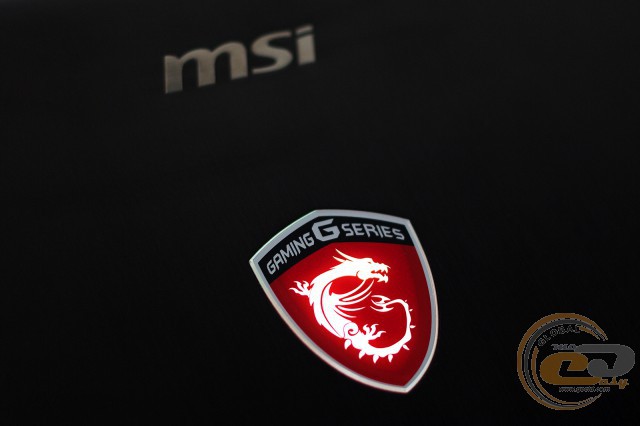 In the center you can find a stylish logo of the manufacturer and brand label «Gaming Series» with the famous dragon while the laptop has a pleasant white backlight.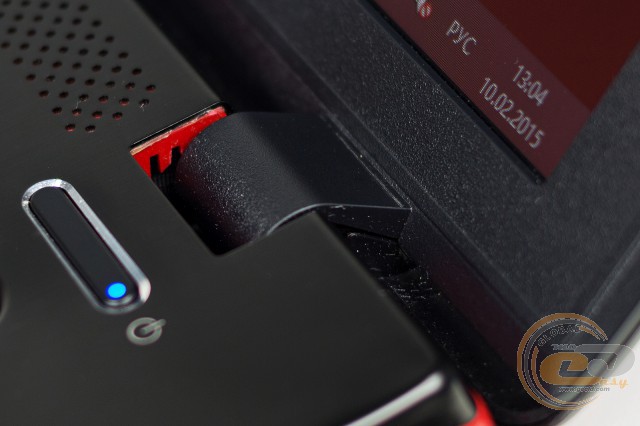 Fastening of the display unit are shown in the form of two typical plastic loops. They are pretty tight and provide a clear fixation in any available position.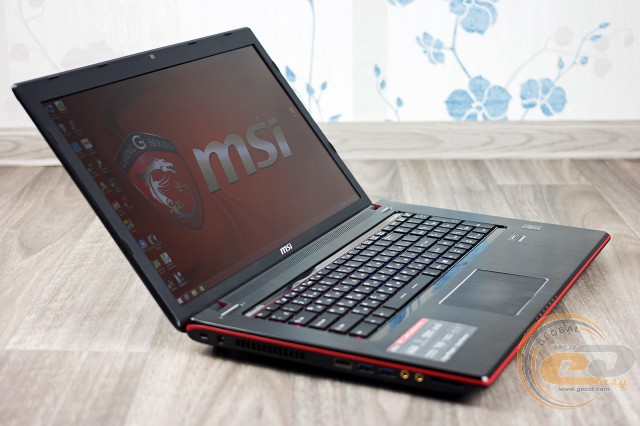 The maximum angle is 135°, which is more than sufficient for almost all tasks. Due to the weight of the laptop display unit can be opened with one hand, while the base is better to hold.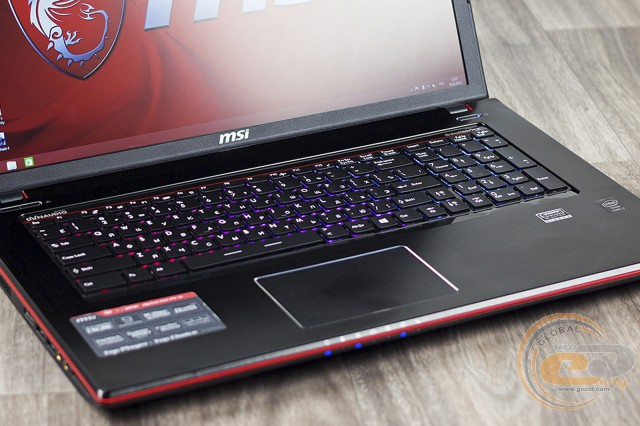 The operation panel of MSI GE70 2PE Apache Pro is also made of a single sheet of anodized aluminum with a typical vertical grinding. Compared with the case base, this surface much more active collects fingerprints, but has good durability. In addition to a full keyboard and a large touchpad, there is a power button, double lighting rocker and cooling systems button, as well as longitudinal perforated grille of acoustic subsystem under which there are two speakers.
The tested model has a wide range of communication ports and connectors that allow you to connect all the peripherals. Their arrangement and placement will not cause any difficulties even for a beginner, not to mention an experienced user.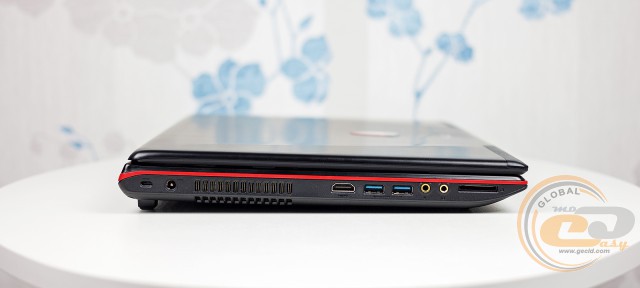 So, the left edge has: lock Kensington, charger socket, the grid of the cooling system, HDMI-port, two USB 3.0 ports, two 3.5mm audio jacks for connecting a microphone and headphones, as well as opening for a card reader.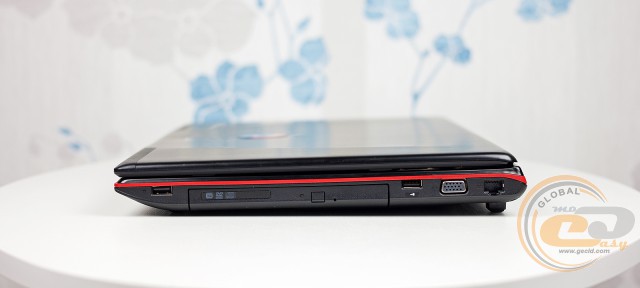 On the right there are: the network connector RJ45, two USB 2.0 ports (one of them with peripherals charging function), video connector D-Sub and optical DVD-drive.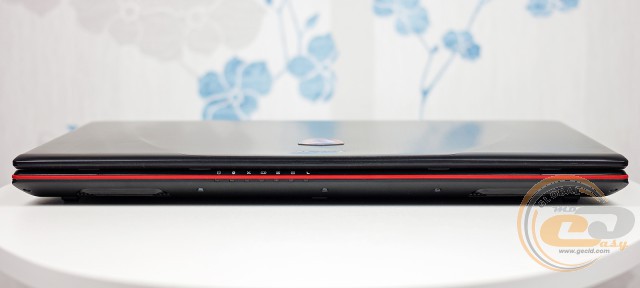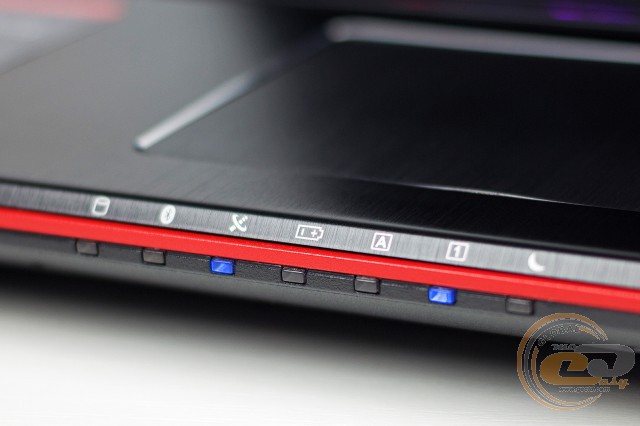 The front face of the MSI GE70 2PE Apache Pro contains seven LED indicators. They allow to quickly determine the status of the main components without using the settings of the operating system.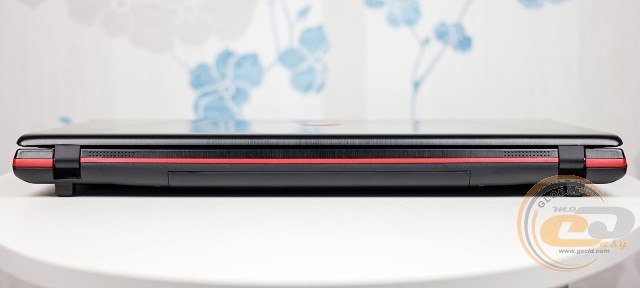 As for the rear side of the device, it has no any connectors and elements except the small holes of audio subsystem.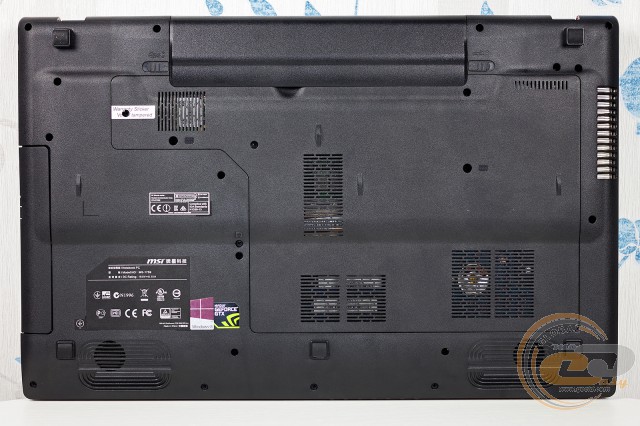 As we already stated above, the bottom of the laptop is made of high quality ABS-plastic. Due to the high rubberized legs that provide reliable placement of gadget on any surface, here is the necessary flow of cold air consumed by cooling system. In addition, here are perforations of Multimedia Subsystem, where are the other two speakers and a subwoofer and a large removable panel that provides access to the hardware of the laptop.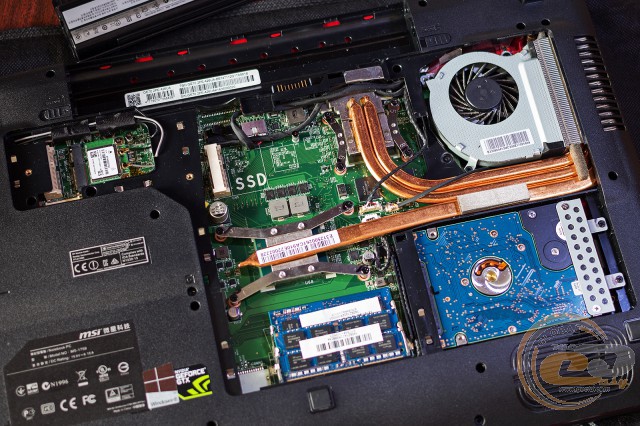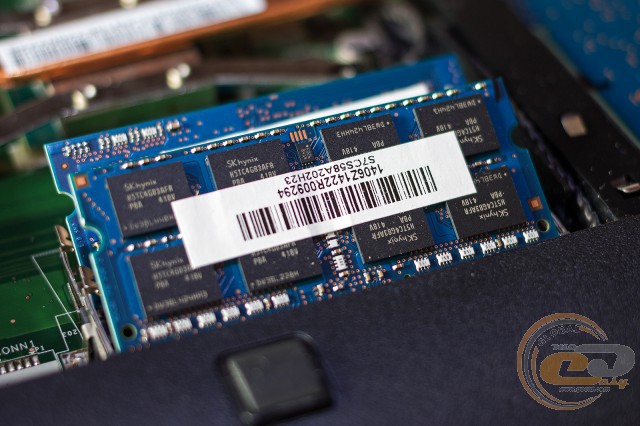 After removing it, the user can replace the RAM and hard drive, and if necessary to extend the functionality of the laptop due to two free slots PCIe. However, it should be noted that one of the securing screws is protected by a special security seals, so we recommend to perform the above operations only after the completion of the warranty period.
Traditionally, the build quality of MSI notebook is at a high level. For all the testing we did not notice any structural defects, backlash or gap. Body rigidity is also pleased and has no complaints. Under moderate pressure or torsion attempts the body parts do not creak, and the geometry of the device cannot be changed.
Input peripherals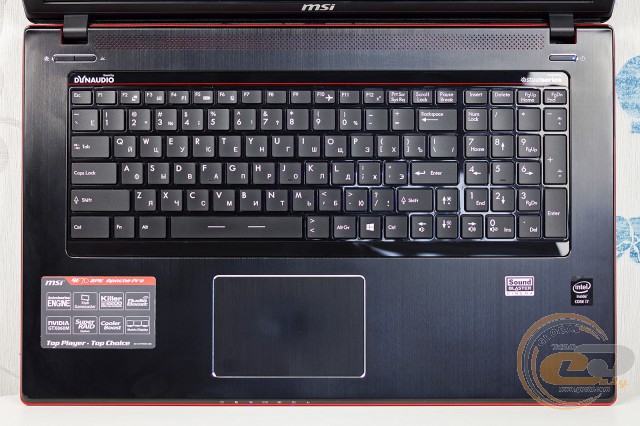 The novelty is equipped with island keyboard from the company SteelSeries. This is well-known manufacturer that produce qualitative gaming peripherals and accessories. The keyboard has corporate style design called "Golden Triangle", which is characterized by a unique diversity of keys [W], [A], [S], [D], [Ctrl] and [Space] for a more convenient and effective control in the games. Also the advantages include full-size format, having a separate number pad and quite functional proprietary software.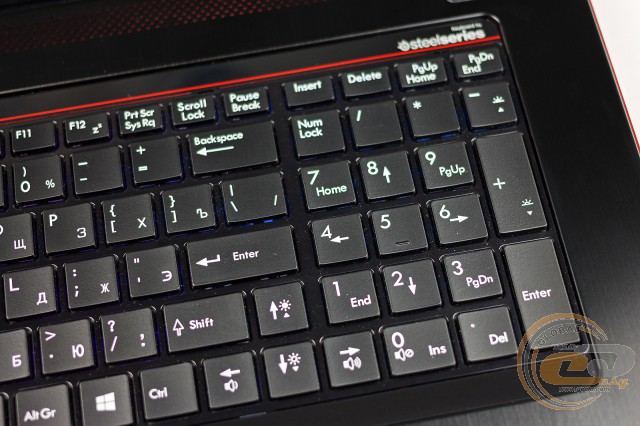 The base of the keyboard has a glossy surface with a pleasant to the touch texture, which, unfortunately, quickly collects fingerprints and dust. Keyboard unit is well attached and has a high level of rigidity. Even with fairly strong pressure the surface do not bend and allows you to work comfortably for a long time.
The heart of the keys is well proven scissor-membrane mechanism. The buttons have a slightly modified form of the classic cap with a little concave central part for easy clicking. They have a relatively large size: basic and numeric - 15 x 15 mm; functional - 13 x 9 mm; arrows - 14 x 15 mm. In this case, the keys have a smooth, short and medium travel.
In addition to the usual literal and numeric block, as well as function keys, the keyboard of a laptop MSI GE70 2PE Apache Pro has three additional buttons that stand by unique functional and very interesting visual properties. Thus, in the top right corner of the working surface there is two-tone power backlight button (blue glow - running integrated graphics, orange glow - a discrete graphics card), while in the left corner is a double button that changes the illumination profiles and activate functions MSI Cooler Boost. The last improves the performance of the cooling system to the maximum level.
Application of elements is realized using laser engraving. It boasts of a good quality of workmanship and durability, but is characterized by a single color scheme, without the usual separation of basic and functional buttons.
In addition to high-quality performance, laptop keyboard is characterized by fairly bright three-position LED backlight divided into three separate areas. Its peculiarity lies in the multi-uniform illumination, which can be adjusted depending on the game environment or personal preferences of the user. There are about 1000 color combinations and up to 5 different scenarios.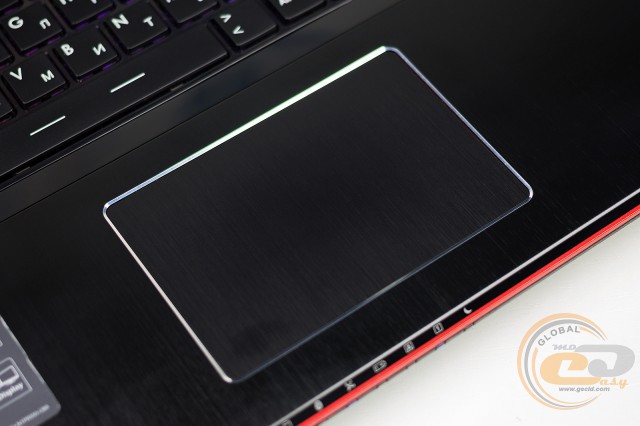 The touchpad of MSI GE70 2PE Apache Pro is presented by a single touch panel of a fairly large size (105 x 70 mm). It has a nice-looking chrome trim, which qualitatively distinguishes the touchpad on the background of the work surface. The touchpad is very sensitive and allows easy sliding finger over the surface, as well as full support for multi-touch gestures in the environment of Windows. In addition, it is worth noting that if you connect a mouse to the notebook, the system automatically disables the touchpad.
The keyboard has support of software SteelSeries Engine, which has a simple and intuitive interface. It allows to fine-tune the work of the keyboard unit to the specific needs of the user. For example, you can change the functionality of the keys, to create complex macros, to control the level of illumination, as well as collect and analyze data on the frequency of clicking on the various buttons on the keypad to further maximize the use of the laptop for game and work. For added convenience, all the changes can be saved to an unlimited number of individual profiles.
Display, sound, webcam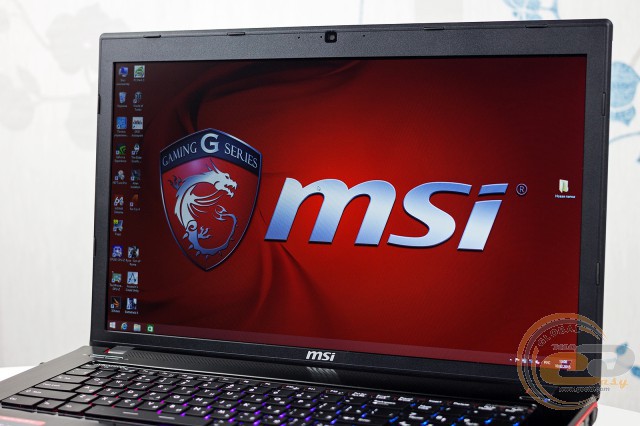 Laptop MSI GE70 2PE Apache Pro is equipped with high-quality 17.3-inch wideTFT LCD-screen with a resolution of 1920 x 1080 pixels. It is based on a very good TN+film matrix with a fairly wide viewing angles, good detail and excellent response time. The latter characteristic is very important for gamers, as responsible for the rapid and timely output to the screen.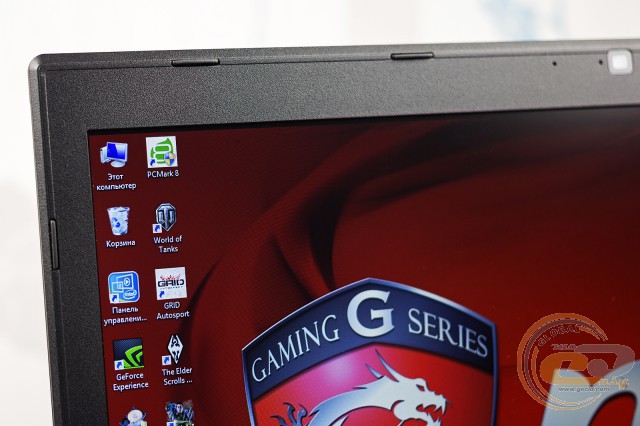 Also we were pleased with high contrast and natural color reproduction, which is rarely seen on this type of matrices. It boasts of bright and highly saturated colors without a noticeable imbalance in the direction of cold or warm shades.
Matte finish of screen copes well with glare and glows. In addition, the display has a fairly high level of brightness, which in addition has a good range of adjustment. However, under direct sunlight the picture is noticeably faded, but generally remains quite readable.
The playback of various audio effects is provided by high-quality 4.1-channel audio subsystem Dynaudio. It is represented by four speakers (two speakers located on the bottom side, and two more are over the keyboard) and a sufficiently powerful subwoofer.
Due to the good location and support for technology MSI Audio Boost audio subsystem of notebook boasts of lovely, loud enough and rich sound. In the range you can notice high and medium frequencies, while the presence of the subwoofer creates a rather noticeable bass.
To improve the sound quality a complete software has a special utility Sound Blaster Cinema, which has a fairly wide tools to fine-tune the sound path. So you can achieve even more tangible depth and volume.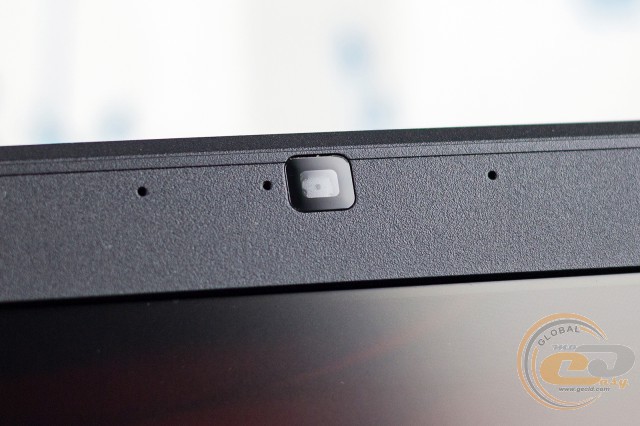 The arsenal of MSI GE70 2PE Apache Pro contains a fairly good webcam. Here it is represented by a 1.3-megapixel unit with a resolution of 720p, which copes with the role video assistant for a variety of web conferencing or implementation of Internet calls. Webcam is located over the laptop screen and surrounded by several directional microphones. They also have good quality and are able transmit the user's speech without significant interference and sound distortion.
Социальные комментарии Cackle