Gaming keyboard ACME AULA BEFIRE: review and testing
Professional gamers are pretty rigorous for the selection of gaming accessories and have increased demands. Typically these solutions offer great convenience and high functionality with the ability to customize to the needs of a particular user. The reverse of the medal is quite high price. However, there is always a category of people who want to acquire gaming accessories that offer reasonable combination of price and features. Such solution is a gaming ACME AULA BEFIRE.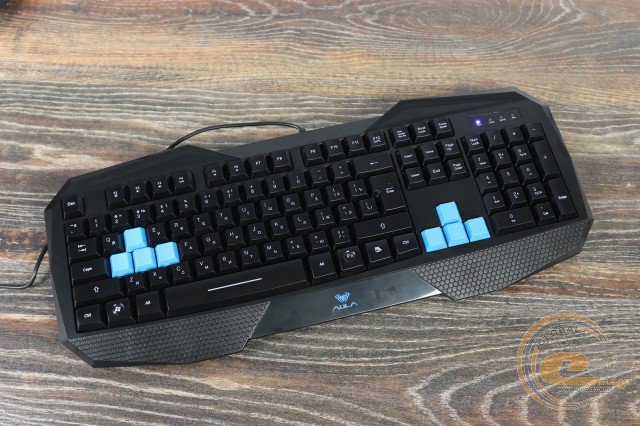 It received a stylish appearance, high quality performance, LED illumination and good functionality. In this review we will try to find out how interesting it is the ordinary user and the modern players. We will start from its traditional detailed review of the technical characteristics:
| | |
| --- | --- |
| Producer and model | ACME AULA BEFIRE (SI-859) |
| Interface | USB 2.0 |
| Connection | Wire |
| Switch | Membrane |
| Quantity of buttons | 104 |
| Sampling rate, Hz | 1000 |
| Response time, ms | 1 |
| Keys backlight | LED (blue), 3 modes and 2 brightness levels |
| Features | 8 additional removable keycaps; laser engraving; gold-plated connector USB 2.0; quick access to controls via the button [Fn]; protection from spills |
| Cable length, m | 1,5 |
| Color | Black |
| Dimensions, mm | 458,5 x 190 x 30 |
| Weight, g | 690 |
| Software | - |
| OS | Windows ХP / Vista / 7 / 8 / 8.1 / 10 |
| Warranty, years | 5 |
| Producer website | |
Package and content
The keyboard comes in a cardboard box of considerable size. Packaging is made with a predominance of dark shades. The printing is quite pleasant and informative. The reverse side contains a large image of the device, its name, brand logo of the manufacturer, as well as several icons that tell about the features of ACME AULA BEFIRE (laser engraving, keys illumination, gamer direction). The back side allows to familiarize with the specification and more expanded list of features of this model.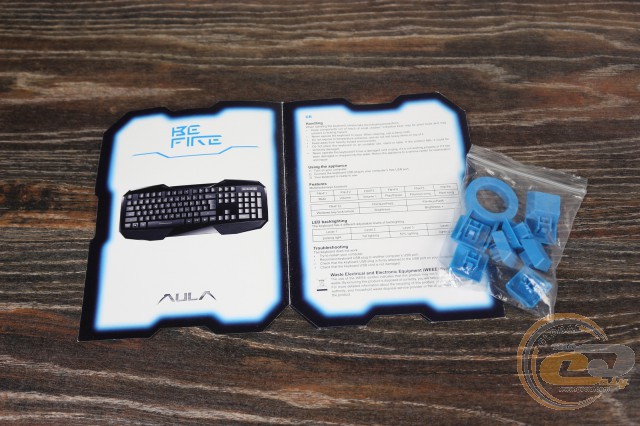 The package includes a quick start guide, 8 removable keycaps and tweezers for their removal.
Design, elements layout and impression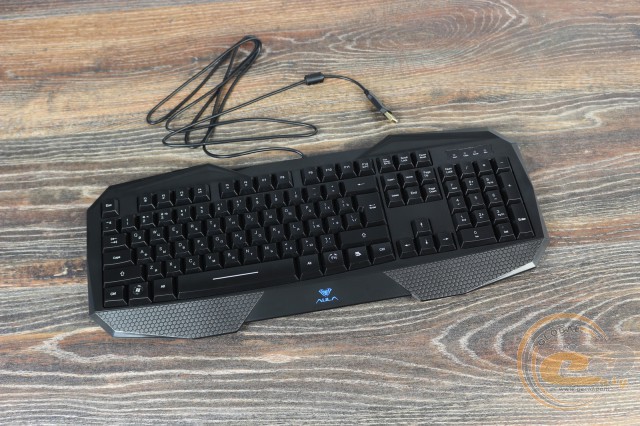 Design of keyboard ACME AULA BEFIRE (Titles «Acme Be Fire expert Aula», «Acme Expert Gaming Keyboard Be Fire», «AULA Be Fire expert gaming keyboard by ACME») is quite attractive. It is made in full-size format with LED illumination and decorative elements (inserts in the lower and upper part, the transition from direct to beveled edges), which successfully highlight the gaming focus. In turn, this led to a slight increase in size (458,5 x 190 x 30 mm) and weight (690 g) in comparison with conventional office solutions. Due to this the keyboard is more comfortable hold on the working surface and doesn't slide in the most fierce battles game.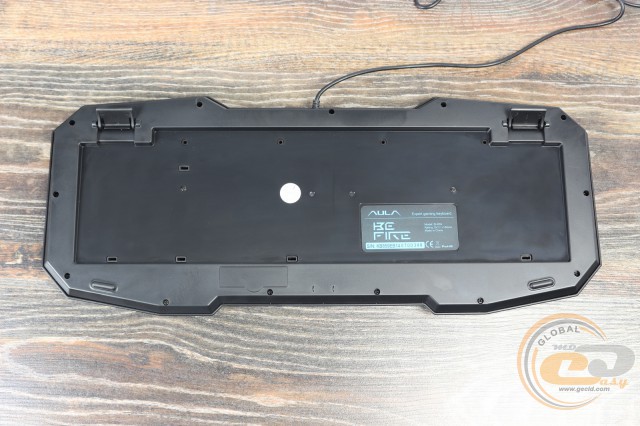 The case of ACME AULA BEFIRE is made of glossy black plastic, with the exception of the area and under palm bottom border. Glossy component has a spectacular view and disadvantages (dust and fingerprints are clearly visible), so it requires appropriate care. In general, the body has a very good build quality, as evidenced by the absence of any backlash and gaps. And in case of the active operation keyboard will not pressed and you won't hear extra noises.
On the lower part there are two elongate rubberized legs and two plastic. The first provides a secure hold on smooth surfaces, while the latter allows to change the angle of the keyboard. There is a sticker with technical information and brand logo. Furthermore, the drainage system is provided protection against spills.

The most visible element of the front side is a comfortable under palm (non-removable) area of medium size. It has a tenacious pleasant to the touch matte textured surface. In the central part there is considerable glossy blue logo AULA.
Also the top of the body features soft wire length of 1.5 meters. It is framed by stiffness sleeve (prevents excesses), and ends with the ferrite filter (protection against spurious signals), and a gold-plated connector USB 2.0 (resistance to oxidation processes).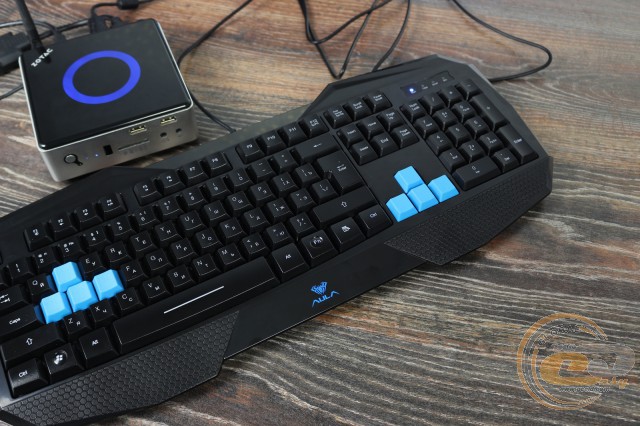 The layout of the keys is presented in a classic American (US ANSI) version, but with a two-level [Enter] in accordance with ISO. Buttons [Left Shift] and [Backspace] have an elongated shape. It is the most common variant, which eliminates the need for addiction and allows you to immediately communicate effectively with the device (as in the gameplay, and the recruitment test). Extra keys contains only [Fn], which is located on the site of a button [Right Windows]. There is a number of functional actions (submitted for a number of [F] button a few keys and number pad):
[Fn] + [F1] - [F6] - multimedia functions;
[Fn] + [F12] - locks or unlocks the keys [Windows] (when activating the corresponding indicator lights [Win] in the upper right corner above the number pad);
[Fn] + [Num2] or [Num8] - control illumination.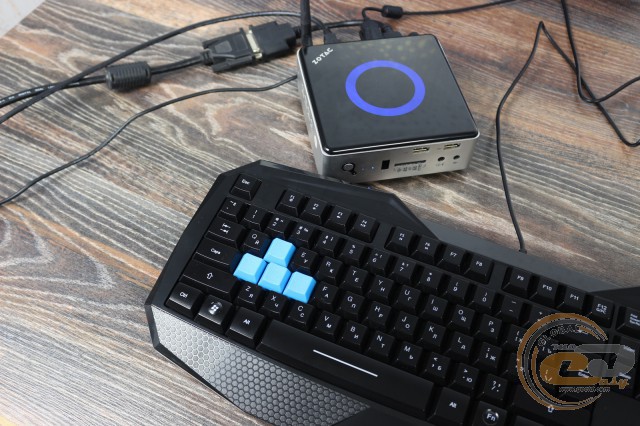 Keyboard ACME AULA BEFIRE is equipped with membrane-type keys with classical trapezoidal upper bevel and cylindrical faces that are well suited for fast typing and gameplay. Caps of keys are characterized by low height (10 mm). They are made of easily solid gloss plastic. Near the bases their dimensions are 18 x 18 mm, and pressed - 13 x 14 mm. LEDs are located under the cap. It should be noted that in the package contains set of interchangeable caps of blue-turquoise (unmarked) for block arrows and WASD, and tweezers to replace them. Operation of the keys causes no complaints: the stroke is 3-4 mm, and they are characterized by a light, quiet and moderately elastic work.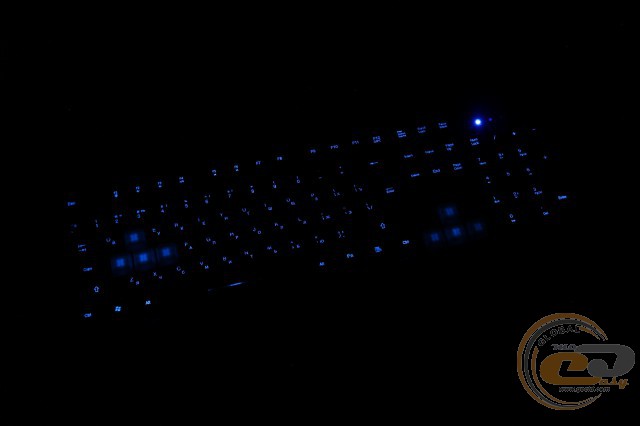 As mentioned above, ACME AULA BEFIRE is equipped with LED blue backlight. It operates in three modes ("Disabled", "Solid light" and "Pulsating" and has two levels of brightness. The backlighting is uniform and gent for the eyes, even in complete darkness and at the maximum value.
Drawing symbols is realized by durable means of laser engraving in a single white color scheme. All keys are read equally well.
Социальные комментарии Cackle