Gaming keyboard Logitech G910 Orion Spark: review and testing
When professional gamer faces with a question of choice of uncompromising gaming device, the amount of material costs goes by the wayside. The main aspects are cold practicality and a strong desire to achieve this goal by all available means. Because in additona to the prestige of the clan or virtual cup, but rather a large real money. For this category of users the company Logitech manufactures high quality and multi-function devices of gaming orientation.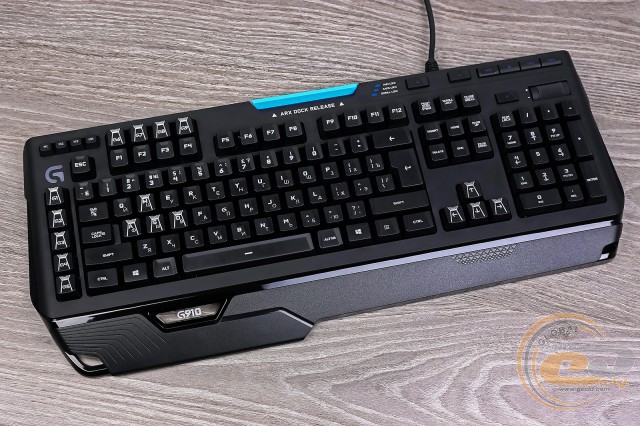 And for this review we have a real "space hero" - keyboard Logitech G910 Orion Spark. Having a stylish design, unique features and advanced technical characteristics, it is capable to transfer the gameplay to a new level and provide an advantage in meeting even the most serious enemy.
The specs:
Producer

Logitech

Model

G910 Orion Spark

Interface

USB

Connection

Wire

Switch type

Mechanical (Logitech Romer-G)

Quantity of buttons

113

Service life of buttons, M presses

70

Sampling rate, Hz

1000

Response time, ms

1

Quantity of simultaneous presses of buttons (Key Rollover)

Non-limited (NKRO)

Button illumination

LED (multicolor, up to 16.8 M of shades), independent setting of each button, 4 operation modes

Features

9 programmable buttons with the ability to record up to three profiles; 4 buttons for quick setup of programmable keys; two detachable palm pads of various sizes; separate block of buttons for quick access to media controls; a special stand for smartphone Logitech Arx Dock Release

Cable length, m

1,8

Color

Black

Dimensions, mm

505 х 243,5 х 35,5

Weight, kg

1,5

Software

+ (Logitech Gaming Software for Windows and Mac OS X,

Logitech Arx Control для Android и IOS)

OS

Windows 7 / 8 / 8.1

Mac OS X 10.8 or next

iOS 6.0 or next

Android 4.0 or next

Warranty

24 months

Producer website
Package and content
Loke any ultimatum gaming device, the keyboard Logitech G910 Orion Spark has a bright and very attractive package. It comes in a large and quite heavy rectangular box, which consists of two parts and has a colorful and informative printing.
Thus, the upper shell is made of a thin glossy cardboard and contains several images of stylish keyboard, a couple of brand logos and icons, as well as much useful information about the main advantages and opportunities of new item.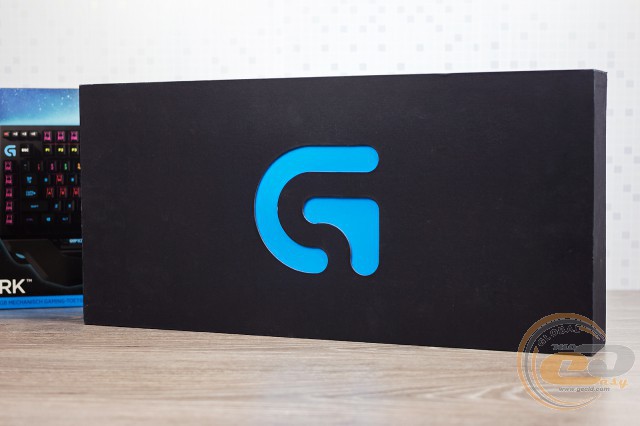 The inner part of the package is made of matte black cardboard of high density, which is decorated with carved logo of lineup gaming products Logitech - Latin letter «G» of bright blue. It looks very stylish and gives the device a feeling of exclusivity.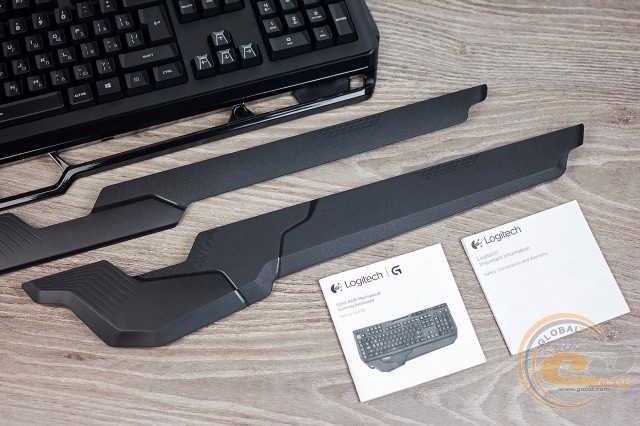 Package of Logitech G910 Orion Spark contains only the most essential elements of the set: two detachable palm pads of different size and quick start guide. Disk with proprietary software is absent, but it can be easily downloaded from the official website of the manufacturer.
Design and elements layout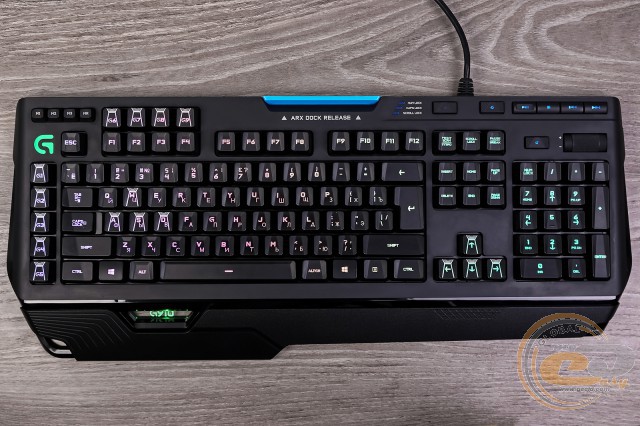 The design of a novelty is a prime example of the last iteration of the design of a wide range of Logitech G gaming peripherals. This is specified not only by the original "space" device name, but rather a futuristic body shape, unusual cut faces of key caps, as well as a special seat for installation of information console, which is any modern smartphone with installed firmware application Logitech Arx Control. All this gives the keyboard a unique look and sets it against the backdrop of a huge number of very strong competitors.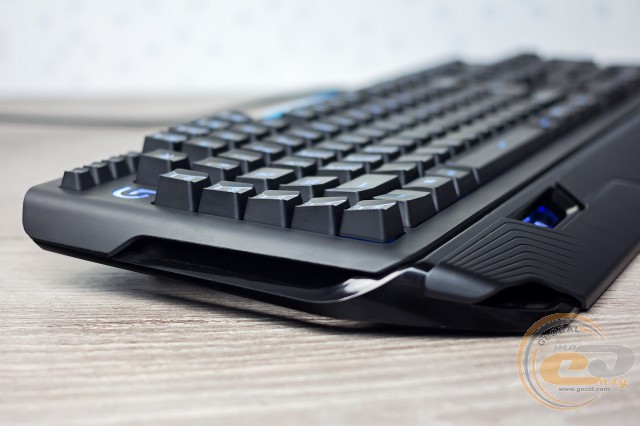 However, the reverse side of ultimatum design and advanced functionality is the rather large size (505 x 243.5 x 35.5 mm), requiring little space, as well as a very large weight (1.5 kg). However, the last point should be attributed to the benefits of the device, as it allows more reliable and convenient install the keyboard on almost any work surface, without being afraid to move it during the active game battles.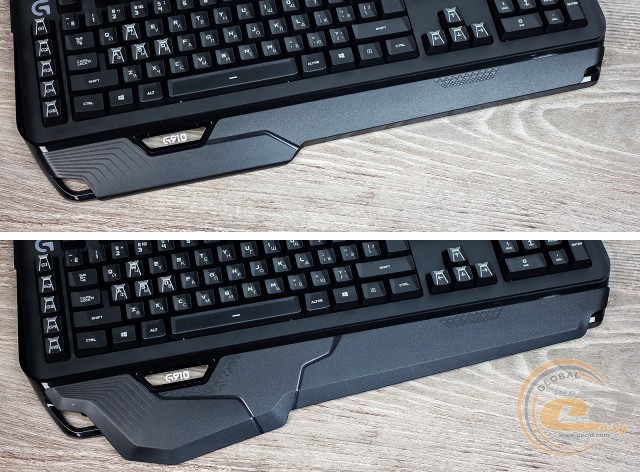 In addition, the feeling of comfort are contributed by two removable bases (narrow and wide), which are used for its convenient location of hands. They are made of a slightly rough matte plastic and has an interesting shape.
The stands are fastened by using standard slots, providing a secure grip. In addition, the narrow support is further fixed with two clamps and becomes almost stationary. Unfortunately, the broad base hasn't such advantages. It doesn't have an additional fixing.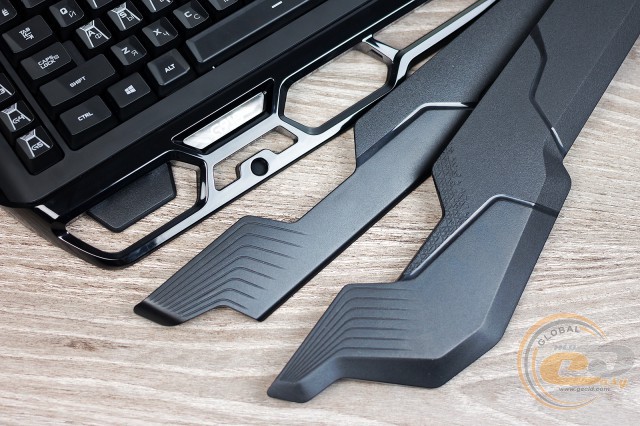 Case base of Logitech G910 Orion Spark is made from high quality thermoplastic resin (ABS), added with high-impact polystyrene (HIPS). The top of the frame has quite practical and pleasant to the touch matte plastic, while in the bottom covered by a relief inserts with interesting rough texture. In general, the selected materials have excellent protection properties and do well not only with minor mechanical damage, but resist to the appearance of fingerprints.
The build quality of the keyboard is at a high level. Virtually all parts of the body fit tight: no visible backlash or gaps. You can notice only a small gap under the mount for a smartphone, which, fortunately, doesn't have a serious affect to the usability of the device. Under normal and even active use the keyboard unit does not flex, allowing you to play and work in a fairly productive mode. In addition, the keyboard has a high rigidity and under a moderate impact is almost impossible to deformation. However, when considering this parameter do note the weight and dimensions of the device, which also affect the density of the structure.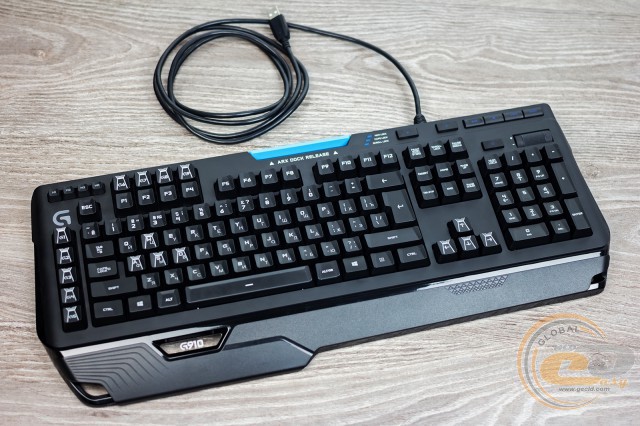 The front side of the Logitech G910 Orion Spark is painted in matt black, which looks not only attractive, but also has a high practicality, as well hides fingerprints and dirt. The design features include the above said detachable palm pad and a special stand Arx Dock Release.
It is located on the top of the keyboard, and is used for placement of the smartphone, which at the time of connecting plays the role an external monitor, and displays important and very useful information about the system. Stand, like the rest of the case is made of high-quality, slightly rough plastic, painted in a nice blue color.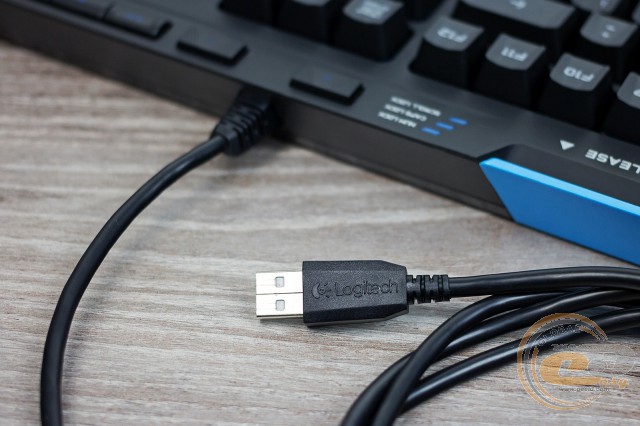 Also the upper face has USB-cable 1.8 m long. It doesn't have a braid, but is thick enough. At its end you can find an ordinary USB-connector without gold plating.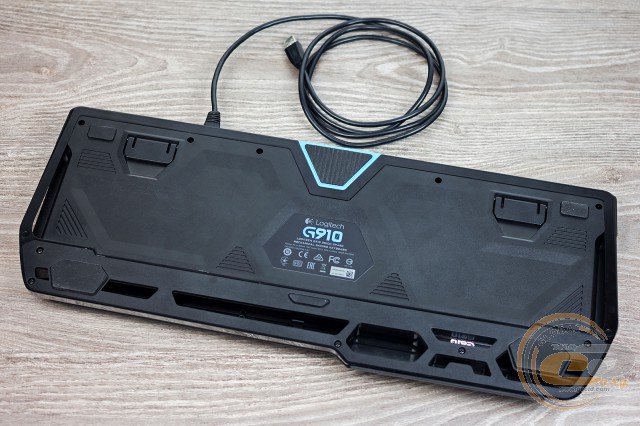 At the bottom of the device, in addition to five rubberized legs and a small logo, there are two folding supports.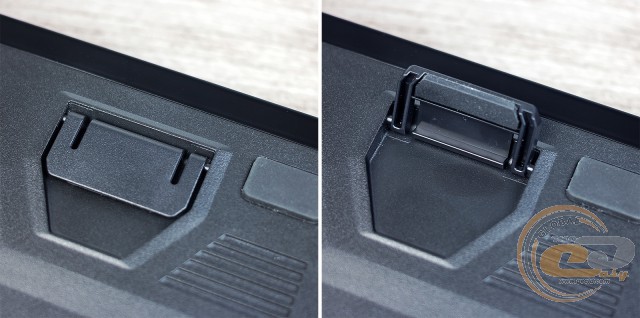 They allow you to change the angle of the keyboard for a more comfortable position of hands during the game. As regards the rubber legs, they have a rather wide base and provide excellent adhesion to virtually any surface, including glass.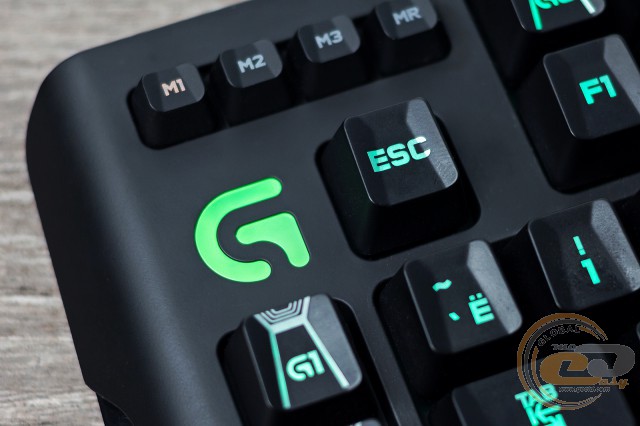 The keypad is made of standard full-size keys, but with a rather unusual and very original form. Caps have a bevelled trapezoidal profile, which allows you to conveniently place your fingers for a more confident and reliable contact. Key covering is matte and has a lovely texture. Unfortunately, this is not the soft touch. However, in general, the coating does not cause any discomfort and allows easily interact with the device for a long time.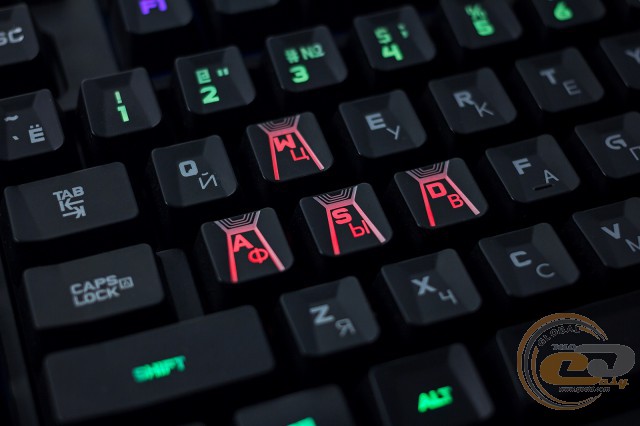 Besides interesting trapezoidal shape the buttons have a small height (10 mm) and standard size: 18 x 18 mm at the base and 15 x 14 mm in press area. At the top of the buttons, in the center, under the caps there are small but sufficiently bright LEDs, which are covered by the diffuser plate, which in turn allows a pleasant and truly uniform glow.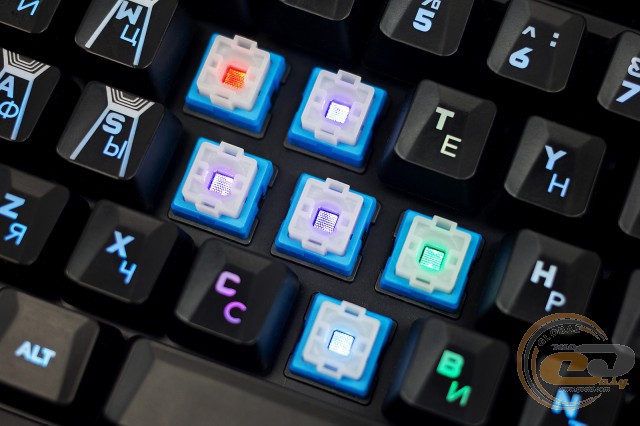 The main advantage of Gaming Keyboard Logitech G910 Orion Spark is a unique mechanical switches Romer-G. According to the manufacturer, they are able to provide almost instant response to pressing and the highest level of sensitivity (minimum impact force of 45 g), which is comparable with the best analogues on the market.
Switches have moderately elastic, smooth and fairly well predicted move, which at the time of activation is only 1.5 mm. You won't have a special sound, which may take some time to get adapted. Operation of buttons is quiet and very pleasant.
The keyboard has a US layout US ANSI, which is characterized by a two-tier button [Enter], elongated keys left [Shift] and [Backspace], as well as the presence of high-grade digital unit. Additional function keys, as usual keys [Fn], are absent. But there are three blocks of special buttons that greatly enhance the functionality of the keyboard.
A special attention should be paid to 9 programmable keys [G1] - [G9]. They are divided into two rows (vertical and horizontal) and are located on the left side of the keyboard, near to the triangle [W] [A] [S] [D]. It is very convenient because it allows you to easily use the above buttons while playing. In order to quickly configure functionality, you must use the keys [M1] - [M3] and [MR] or download the firmware from the official site of the manufacturer.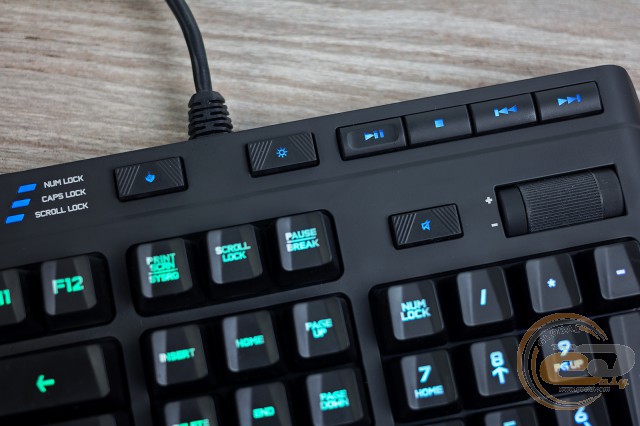 Finally, the last block of buttons located in the left corner of the keyboard provides media controls and allows you to adjust the volume level, turn on/off the backlight of keys, and change the functionality of the button [Windows].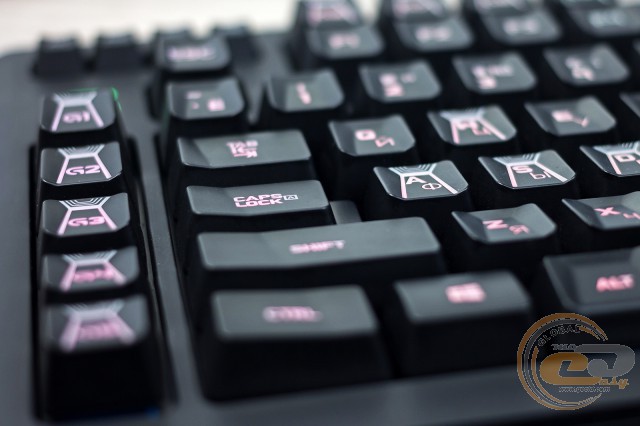 The symbols are printed by very durable and reliable method for laser engraving. Alphabetic elements of Latin and Cyrillic have sufficiently large size due to LED illumination, so they are perfectly readable in all lighting conditions.
Социальные комментарии Cackle