Review and testing of mouse Mionix AVIOR SK and mouse pad Mionix Sargas 450 SK
Probably every other user who following the various cyber activities from time to time have a question: "What computer peripherals are used by successful professional players to achieve such good results?"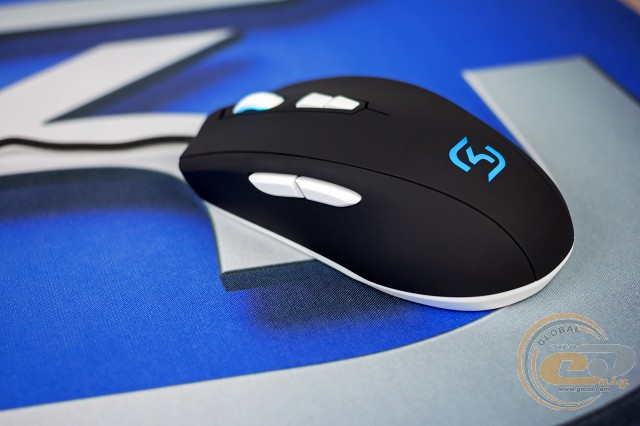 In this review we will get acquainted with the typical "workhorse" of the progamer, gaming mouse Mionix AVIOR SK. Developed in collaboration with the famous German team SK Gaming, this mouse is the reference model that will allow us to step behind the scenes of the professional gaming community.
The specs:
| | |
| --- | --- |
| Producer | Mionix |
| Model | AVIOR SK |
| Interface | USB |
| Connection | Wire |
| Sensor | Optical (Avago ADNS 3310 with IR backlight and support for function S.Q.A.T.) |
| Resolution, dpi | 7000 |
| Internal memory, KB | 128 |
| Max speed, in/s (m/s) | 215 (5,45) |
| Start height, mm | Adjustable |
| Quantity of buttons/programmed actions | 8 + 1 (scroll-wheel) / 9 |
| Base | Plastic / Teflon |
| Cable length, m | 2 |
| Clock frequency of used ARM-processor, MHz | 32 |
| Additional features | Zone LED backlight with adjustable color scheme; cable with fabric braided, a ferrite ring and a gold-plated USB-plug; buttons to quickly change the resolution of the sensor; software and hardware modes (up to 5 profiles) |
| Color | Black with white inserts |
| Dimensions, mm | 125,3 х 65 х 36,6 |
| Weight, g | 100 (146 including cable) |
| Software | + |
| OS | Windows ХP / Vista / 7 / 8 / 8.1 |
| Warranty | 24 months |
| Producer website | |
Package and content
GamePad Mionix AVIOR SK is shipped in a relatively small pull-out box of thick cardboard. It has a stylish black and white design, but at the same time differs with low information content.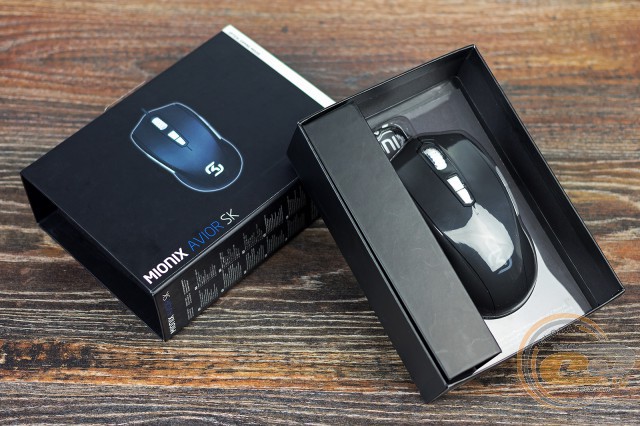 Inside the box has a special rectangular tray, covered with a transparent protective plastic. This design not only helps to carefully transport the product, but also allows you to visually evaluate its appearance and design features.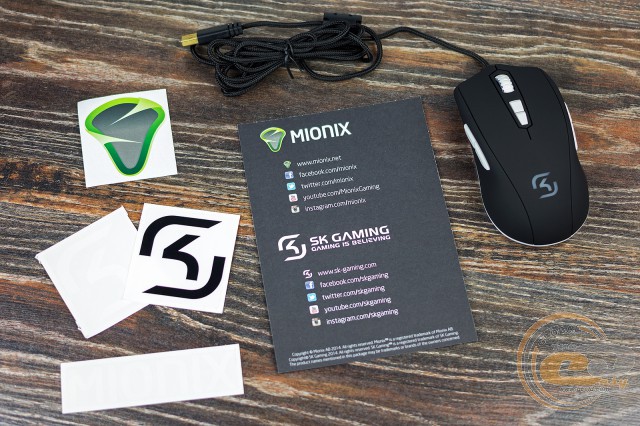 Delivery set of Mionix AVIOR SK is quite standard. It includes a paper user manual and a set of brand labels. Drivers and software are available on the official page of technical support.
Design, elements layout and operation impression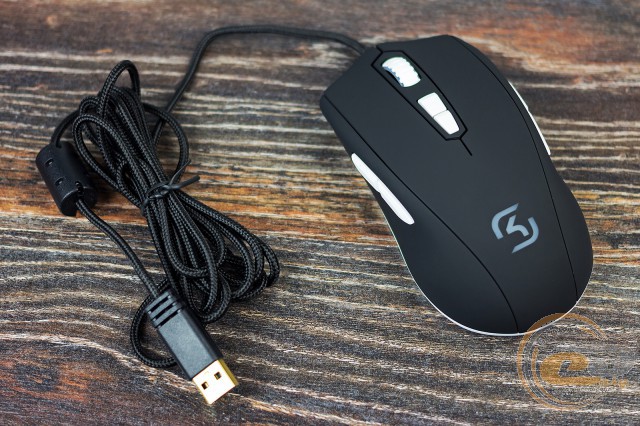 A distinctive feature of the gaming mouse Mionix AVIOR SK is its concise and very attractive appearance. A sure insert on a contrasting design (matt-black design is ideally complemented by white inserts in the base and auxiliary buttons) allowed to achieve almost perfect balance between convenience and aesthetic component. So it fits perfectly into any modern interior without distracting the user from the gameplay by futuristic style.
Another important feature of the mouse is a good ergonomics, which is revealed only through direct contact with the device. Due to excellent weight distribution (about 110 g) and the proportional size of the case (125.3 x 65 x 36.6 mm), the manipulator is excellent in hand, and its presence is not felt completely even after prolonged heavy use. In addition, this model has a completely symmetrical design that allows it to be equally comfortable for right-handers and left-handers.
Like other development of company Mionix, the mouse has high quality materials, which have a pleasant tactile properties and good wear resistance. So, due to a strong matte plastic with a slightly soft 4 layer soft-touch the case is not covered with fingerprints, and continues to look presentable and stylish, even after a considerable period of time.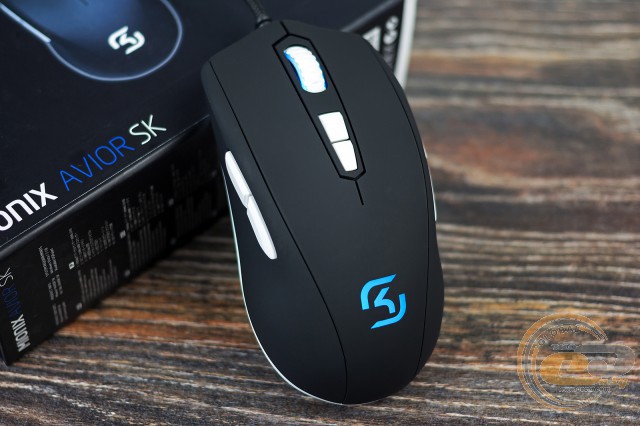 The upper part of Mionix AVIOR SK has a slightly curved plate which smoothly flows into the base of the two central buttons. It is characterized by length and area enough to keep the mouse through the grip "hand."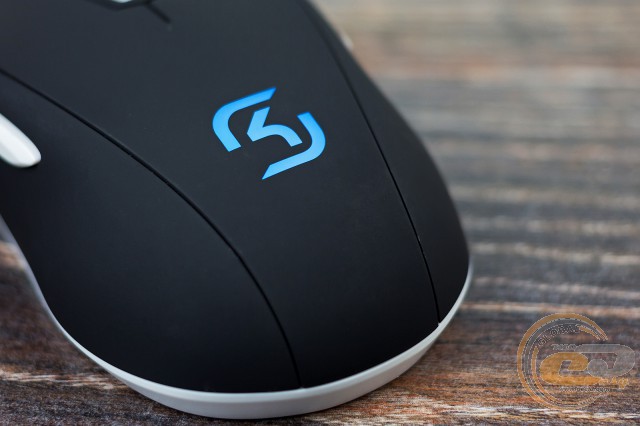 The interesting decorative feature includes the company logo (in this case, the emblem of the German eSports team SK Gaming), which is a kind of a quality mark. In addition, it fits perfectly into the sleek design of the model.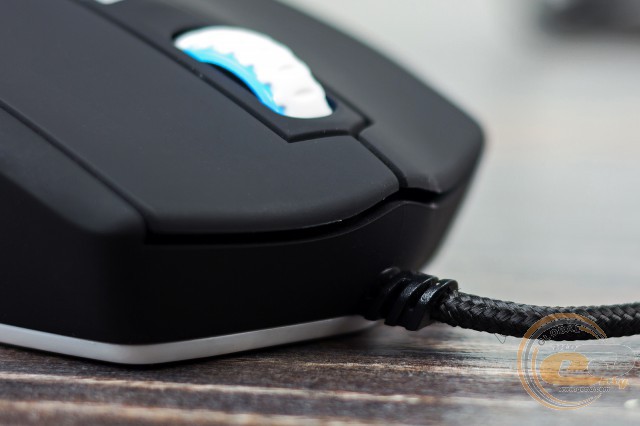 The two main buttons of Mionix AVIOR SK have small grooves for a more convenient location of fingers. This solution looks not only stylish, but also allows for precise control over the sensitivity and the degree of their pression, which is very important in modern computer games. The key travel is clear and pleasant. It is characterized by an average volume of clatter.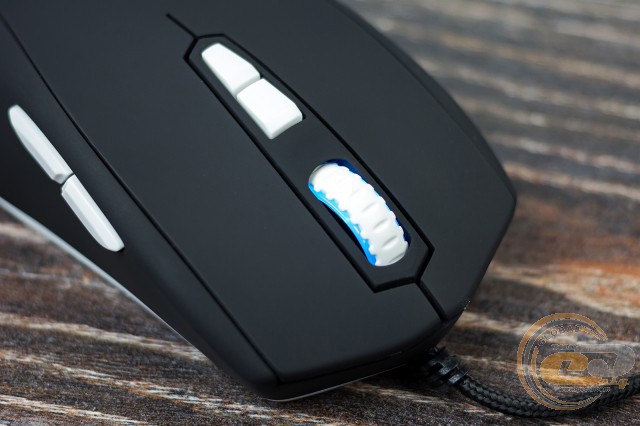 Between the right and left button you can find a small island with two keys to quickly switch sensor resolution and very convenient scroll wheel. It is covered with a dense rubberized insert that provides good contact with your finger and confident control over the course and degree of rotation.
Together with the previously mentioned company logo, the scroll wheel has adjustable LED backlight, which has a huge selection of different colors and shades, as well as four independent modes of operation that provide a sufficiently bright and attractive glow in all accessible areas of the body. Using proprietary software, it can be easily personalized depending on the style and mood of the user.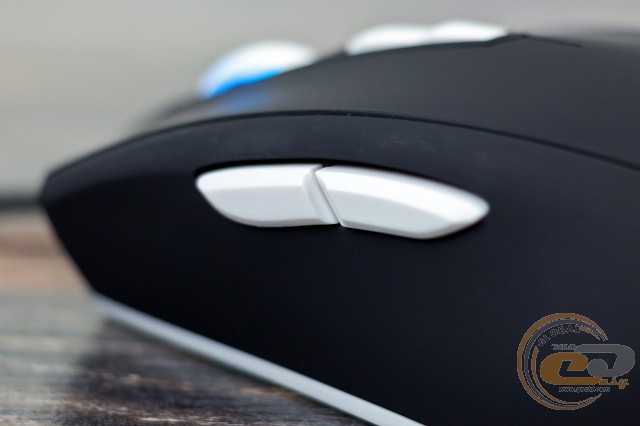 Sides of Mionix AVIOR SK are made of soft-touch material and painted in matt black. They are characterized by smooth sleek lines that create a very ergonomic contour for easy holding the device during the active game session.
Since the manipulator has a symmetrical design, the two programmable buttons («Forward» and «Back») on the left side are completely duplicated on the right and have a similar shape and location. This makes it possible to interact with the device with hand and comfortable to use it affordable functionality, regardless of the physiological characteristics (right-handed or left-handed. In addition, the above keys have a separate adjustment system that allows you to customize their functionality for a clear performance of tasks.
The back side of the mouse doesn't have any important features and the front contains USB-cable (2 m) and interesting specifications.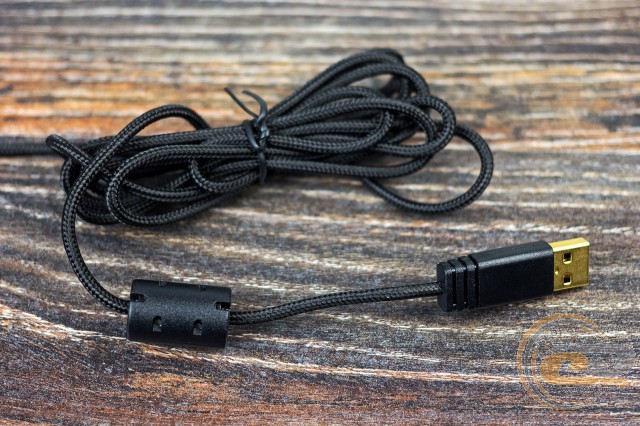 In particular, the cord is wrapped in a strong fabric braid, which prevents bends and equipped with a small ferrite ring, reducing adverse effects of electromagnetic waves. The end has a USB-plated connector that provides a secure connection to an external port of the connected device.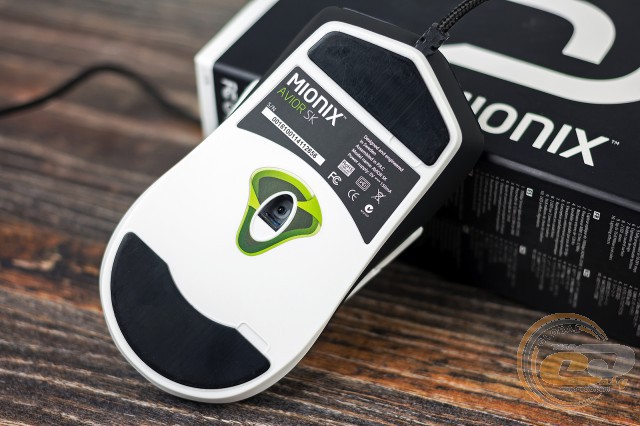 The lower part of Mionix AVIOR SK is made of thick white matt plastic. It has a slightly rough texture and can boast of a good durability. To ensure fast and accurate sliding of the manipulator on any surface there are two large Teflon legs. They have a reasonably large surface area and very strong fastening, so that during operation shall not cause any problems.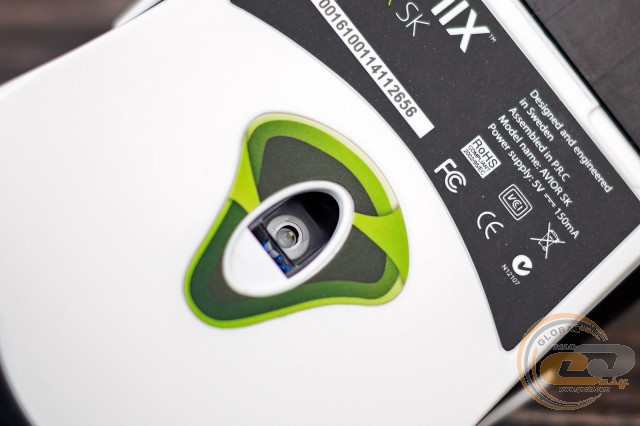 The center of the bottom side has a logo of the manufacturer with a small oval hole of the sensor. In this case there is a high-precision optical sensor Avago ADNS 3310 with infrared illumination and support for function S.Q.A.T. (Surface Quality Analyzer Tool) used to detect the quality of the surface. It is characterized by excellent performance and high speed on almost all available surfaces, including lacquered tabletops. The maximum resolution of the sensor is 7000 dpi, which is more than enough to completely solve all the problems of the game. The product is based on 32-bit ARM-processors with a working clock speed of 32 MHz.
The model boasts of superb build quality. All the elements of the case fit very well: there is no backlash or unnecessary gaps. The total hardness of the manipulator is excellent and deserves only positive reviews. Mouse is a monolithic device and even under intense pressure does not bend and creak.
Социальные комментарии Cackle