Gaming manipulator Tesoro Gandiva: review and testing
From time immemorial people surrounded themselves with a variety of household items, giving them a kind of sacred meaning. By purchasing a certain history, they ceased to be just a means for everyday tasks, and received unusual, sometimes even magical properties.
For example, the famous Gandiva bow of Arjuna, the great warrior and hero of the Mahabharata, was a very rare for that time. A bow was decorated with hundreds of gold jewelry. Arjuna used it for Kurukshetra battle. It is believed that Arjuna was the only one, apart from Krishna, who used the bow in the mortal world.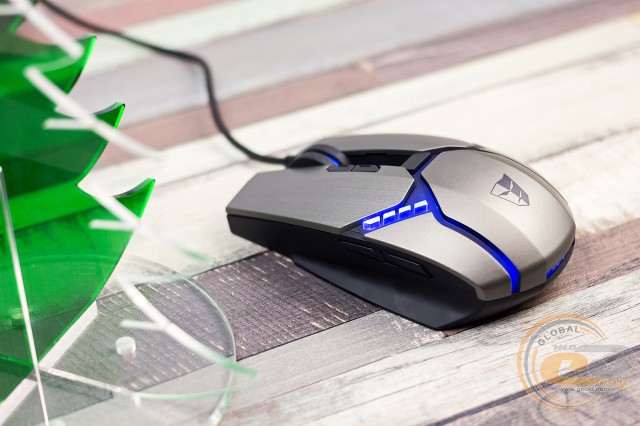 No, we're not crazy! But for today testing we have unusual gaming manipulator Tesoro Gandiva, which in addition to a superior design and advanced technical features, has a tremendous history of advertising. So if you are interested in such a bizarre and rather intriguing name, and you want to quickly reveal all the secrets of this device, we suggest you read our further review.
The specs:
| | |
| --- | --- |
| Producer | Tesoro |
| Model | Gandiva |
| Interface | USB |
| Connection | Wiring |
| Sampling rate, Hz | 125 – 1000 |
| Sensor type | Laser |
| Resolution, dpi | 800 – 8200 |
| Capacity of inner memory, KB | 128 |
| Image processing rate, fps | 12000 |
| Start height, mm | 1 – 5 |
| Quantity of buttons/programmed actions | 7 + 1 (scroll wheel) / 8 |
| Base type | Plastic / Teflon |
| Cable length, m | 1,8 |
| Additional features | 8 programmable buttons; adjustable LED lighting; cable with fabric braid, ferrite ring and a gold-plated USB-plug; buttons to quickly change the resolution of the sensor; software and hardware modes (5 profiles) |
| Color | Black with silver inserts |
| Dimensions, mm | 116 х 72 х 44 |
| Weight, g | 135 |
| Software | + |
| OS | Windows ХP / Vista / 7 / 8 |
| Warranty | 12 months |
| Producer website | |
Package and content
Gaming mouse Tesoro Gandiva comes in a relatively small box which has unusual trapezoidal shape and very attractive design. It is made of high quality medium density fiberboard, and boasts a bright, interesting and informative printing.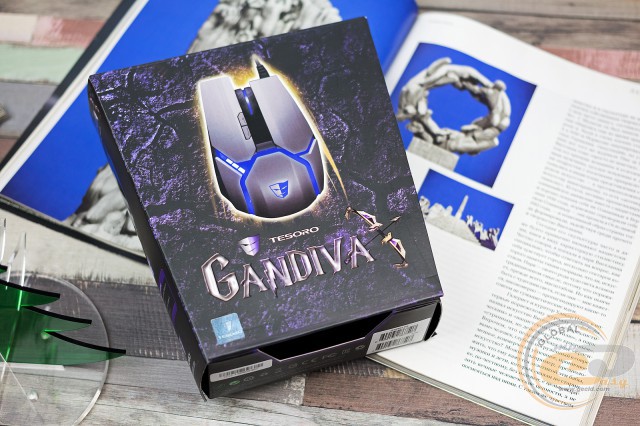 Thus, the front of the box is almost entirely occupied by a colorful image of the manipulator with stylized name and logo of the manufacturer. It is designed as medieval masks, which gives a certain aura of mystery to package and device.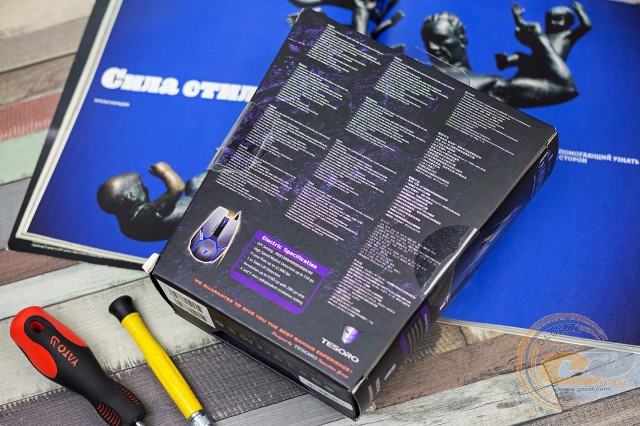 The back side of the box contains a huge list of useful information, which tells about all the main features and opportunities, and allows to prepare for the problem-free connection of the mouse to a stationary device. In addition the aforementioned information is available in 13 languages.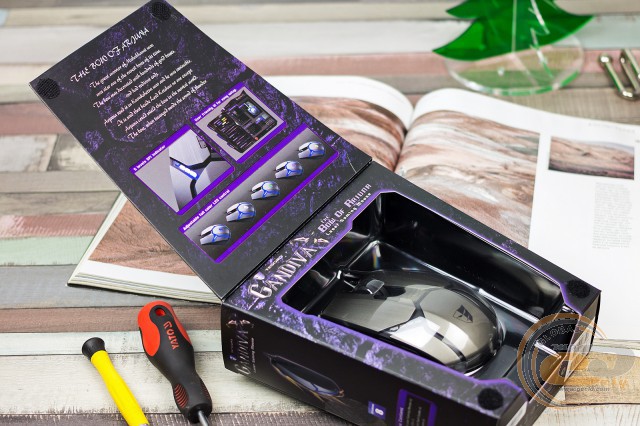 Top cover of the box is held by two small round adhesive tapes. After opening you will find a small inner compartment with the device hidden under the transparent plastic window. Due to convenient cut on the bottom you can see the ergonomics of the device without spending time on the opening of the protective container.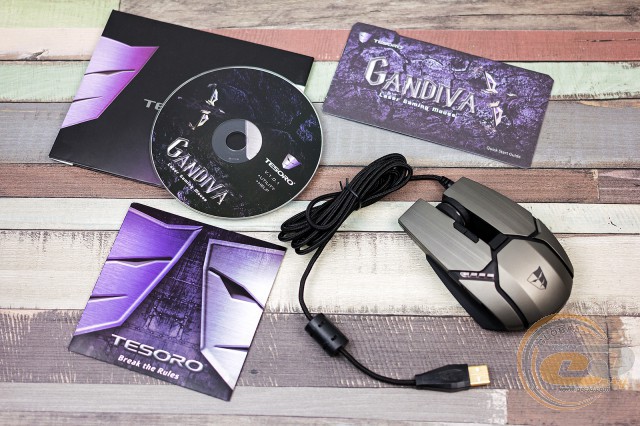 Package of Tesoro Gandiva is quite standard. In the box you will find a CD with drivers and software, Quick Start Guide and a small advertizing brochure.
Design and elements layout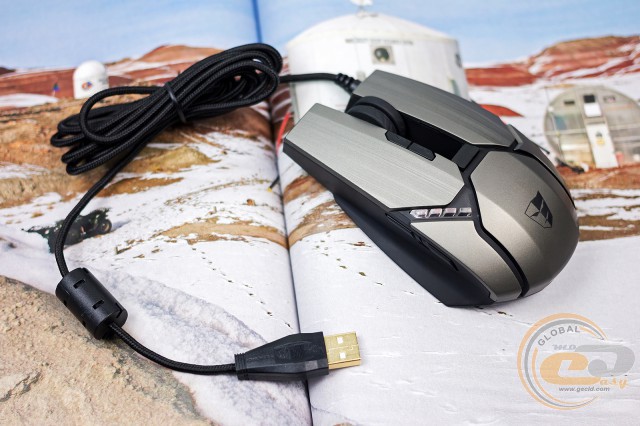 The unusual design of new products is fully consistent with its ancient exotic name. A beautiful story about the legendary warrior Arjuna bow is embodied in the abundance of stylish chopped faces, metallic shades of body parts and pleasant LED lighting, which gives the device a fighting look.
Thanks to the practical low-profile silhouette, extravagant form of the basic buttons and quite original location of the scroll wheel it is absolutely impossible to confuse the mouse with any other model on the market, making it a truly unique gaming artifact.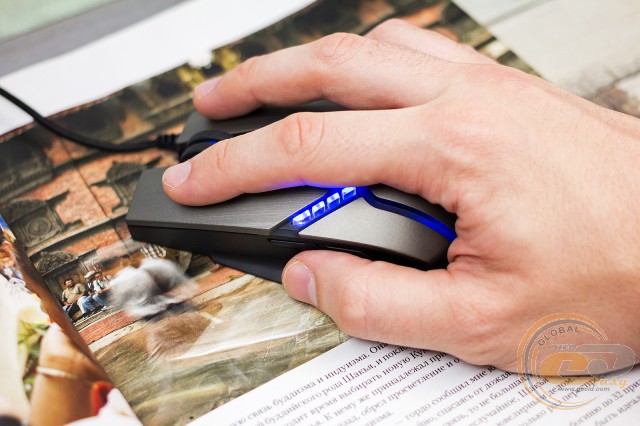 Despite the rather unusual design and unique shape, the manipulator has comfortable ergonomics, proportionate dimensions (116 x 72 x 44 mm) and optimum weight (135 g). As a result it is perfect for hand, allowing you to playing your favorite games for a long time without fatigue or discomfort.
Base of case Tesoro Gandiva is made of durable high quality black plastic. Due to the pleasant soft-touch cover it provides a comfortable grip as well as gives stiffness and noticeable durability.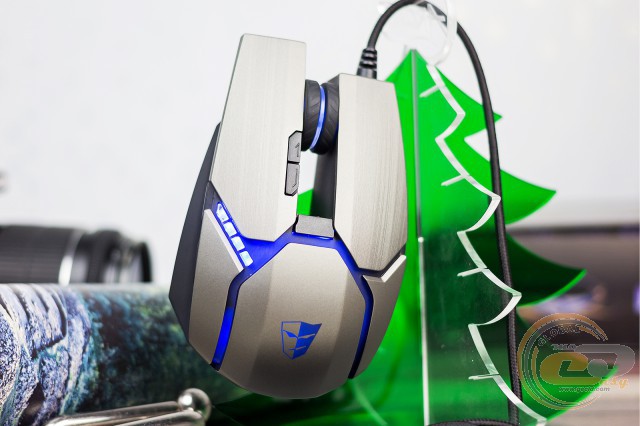 The upper part of the mouse is presented in the form of cut plates with LED lights. Like the two main manipulator buttons, they are made of high quality plastic, but unlike the base have an attractive textured surface stylized of rough brushed metal. In addition to the interesting design these overlays resist the appearance of fingerprints and other contaminants, which significantly increases the comfort level of the device use.
The additional decorative elements include small manufacturer's logo and four small rectangular LEDs. During operation all of these elements have a nice uniform glow that emphasizes unusual design of the device.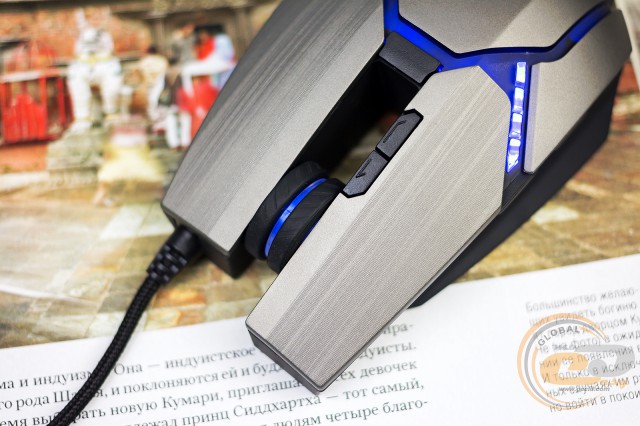 The two main mouse buttons have a unique asymmetrical shape. Thus, the left button has a slightly elongated profile and raises above right. This solution allows more convenient to place the index finger for accurate and comfortable pressing.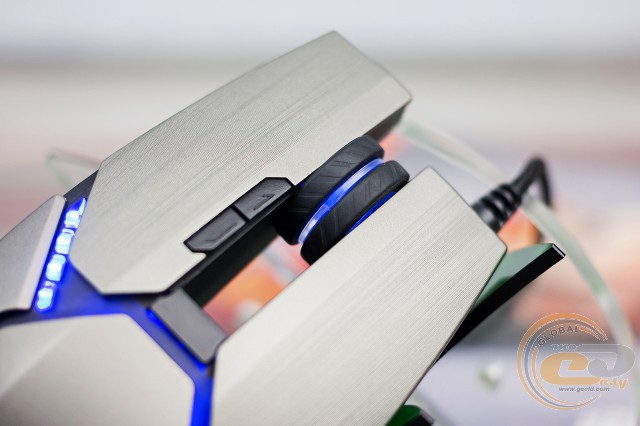 Between the cut of the left and right buttons in a fairly wide opening you can find a rubberized scroll wheel. It also has a nice uniform illumination and has a clear well-defined travel. On the left side you can find two buttons to quickly change the resolution of the sensor.
Sides of manipulator are made of a soft-touch black plastic. It provides a secure hand contact with the device and allows you to actively play gaming session in an aggressive and uncompromising style.
In addition to the two soft keys and a small oval indentations on the left side of the mouse, and other functional elements on the side there.
At the same time, the back side of the device contains a small manufacturer's logo (a stylized brand name made of transparent plastic), while the front side has attached USB-cable 1.8 m long. It has enough interesting features and deserves special mention.
The cable is wrapped in a sturdy fabric braid and equipped with a small ferrite ring, reduces the negative electromagnetic effects. Its end has a gold-plated USB-connector, ensuring reliable contact with the external port of stationary device.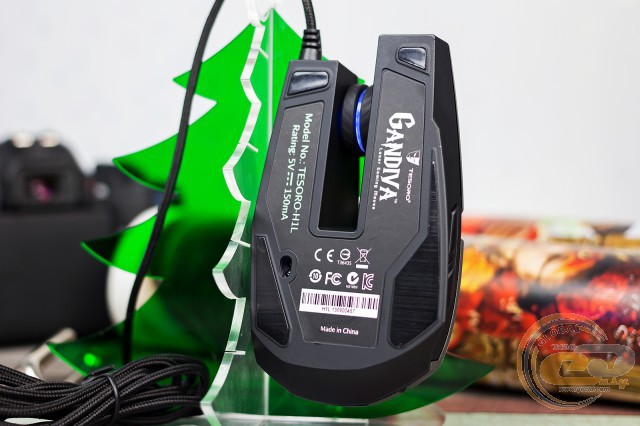 Bottom of the mouse is also made of high-quality matte plastic. It has a slightly rough texture and can boast of a good durability. In contrast to most other manipulators today's model has slightly unusual arrangement of a laser sensor, which is caused by a non-standard form of construction. It is located in the lower left corner of the back of the mouse near the Teflon leg that should be considered when using the device. Legs provide a fast and accurate slide over any surface, including transparent glass and lacquer cover.
Build quality of Tesoro Gandiva is at the highest level and deserves only positive reviews. All the elements of the case fit very tightly (backlash or gaps are excluded) and represent a single monolithic structure. Due to abundance of thick wear-resistant plastic you won't hear twist no creaks even under intense pressure, and the integrity and reliability of the design does not cause any possible doubt.
Социальные комментарии Cackle