Keyboard Tt eSPORTS POSEIDON Z Illuminated: review and testing
Being a gamer in our difficult time is not an easy task. The rapid growth of prices for components and accessories noticeable hit not only by ordinary users far from eSports, but also for professional players who are primarily focused on results. And if for the first the gaming keyboard or mouse is just a pleasant luxury, then for the second it is a working tool in achieving the goal.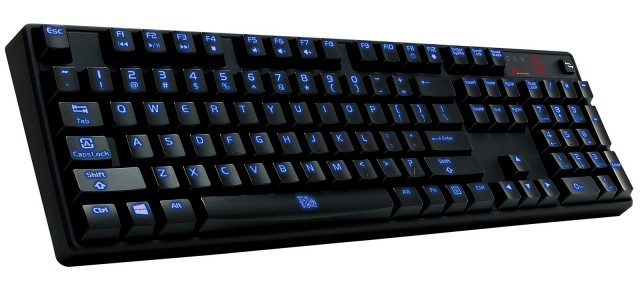 However, this difficult financial situationcan be solved. Regular readers of our portal are familiar with the company Thermaltake from previous reviews. In addition to the excellent quality and high functionality, the products of this manufacturer can boast of adequate cost. A new gaming keyboard Tt eSPORTS POSEIDON Z Illuminated is not exclusion. Having good technical characteristics, high reliability and an affordable price, the novelty can be an excellent choice for the average user and for the modern player.
The specs:
Producer

Tt eSPORTS

Model

POSEIDON Z Illuminated

Interface

USB

Connection

Wired

Switch type

Mechanical (Kailh Blue Switch)

Key quantity

106

Key lifetime, M of presses

50

Sample rate, Hz

1000

Response time, ms

1

Quantity of simultaneously presses keys (Key Rollover)

Up to 8 keys (8KRO)

Key lighting

LED (blue), 4 levels

Features

[Windows] keys locking

Quick access to controls via [Fn]

Compartement for cabling

Cable length, m

1,8

Color

black

Dimensions, mm

440 х 133 х 37

Weight, g

995

Software

–

OS

Windows XP / Vista / 7 / 8 / 8.1

Warranty

5 years

Producer website
Packaging and content
As befits a gaming device, the keyboard Tt eSPORTS POSEIDON Z Illuminated has an aggressive and highly visible packaging. The novelty comes in a relatively small cardboard box, which stand out due to the qualitative and quite informative graphic printing.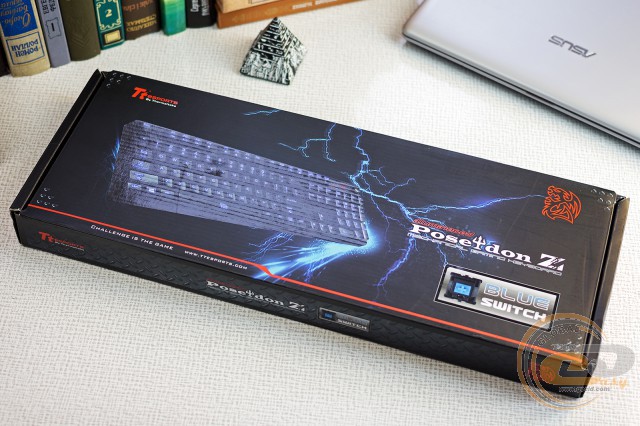 Most of the front of the package takes a colorful image of the keyboard and its name, which is represented in the form of a stylish logo. These graphic elements are placed on the background of bright flashes of lightning and water sprays, which hints at ancient god of Greek mythology. There is also a small label with information about the type of used switch (Kailh Blue Switch) and some stylish emblems and logos.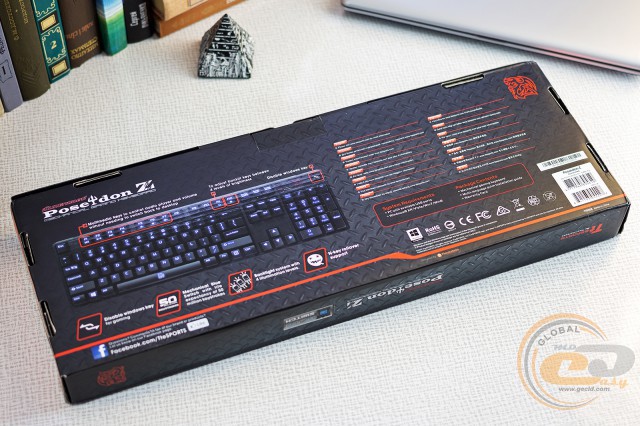 The back side contains a list of useful technical information. Do note the table with minimal system requirements and four icons that allow a closer look at the main features of the keyboard and make the final decision about buying this gadget.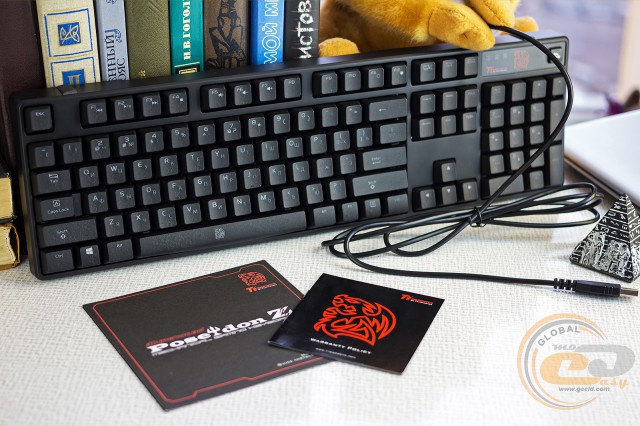 Traditionally for gaming category the supplied set of Tt eSPORTS POSEIDON Z Illuminated looks quite modest and consists only of the most essential elements. It includes a quick start guide and warranty card.
Design and elements layout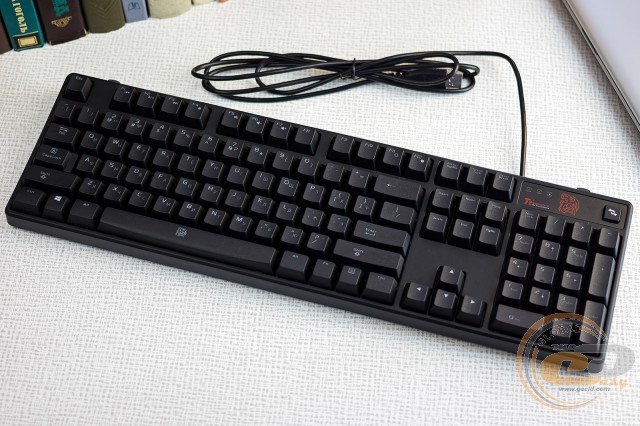 In terms of design Tt eSPORTS POSEIDON Z Illuminated almost does not stand out against the background of its direct competitors. Except for some design features (a modified form of the key [Space], a unique block of LEDs with a spring-loaded lock of button [Windows], an increased amount of rubberized legs and a special compartment for cable management), we have a common mechanical keyboard. As it often happens, all exclusive features are hidden deep inside and are not visible to the naked eye.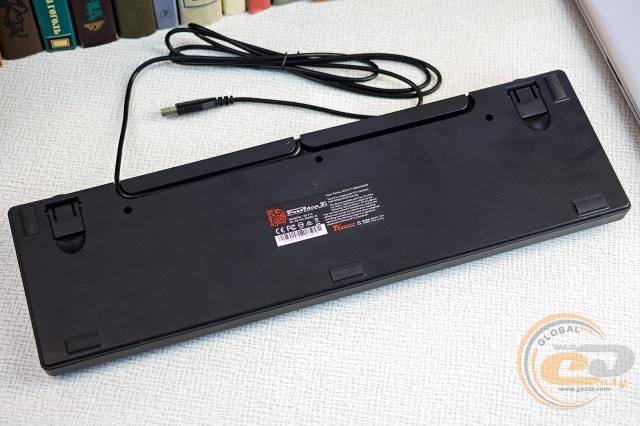 The tested model belongs to the class of compact gaming devices, as evidenced by its modest size (440 x 133 x 37 mm). Due to the keys proximity and ergonomics developers could not only fit it into a fairly narrow framework, but leave a full numeric keypad.
Despite its modest size, the novelty has a relatively high weight (995 g). But unlike ordinary office keyboards, this feature can be considered as advanatge. The Palpable mass allows to reliably place the device on almost any work surface, without being afraid to move it during active gaming sessions. Subjectively, the only missed thing is the under palm area for more comfort for hands.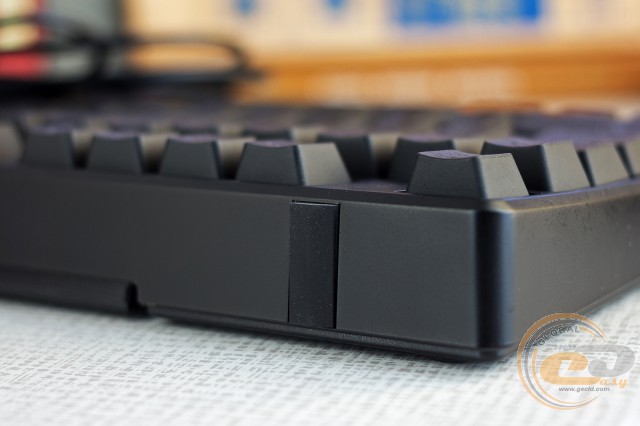 The case of Tt eSPORTS POSEIDON Z Illuminated is made of high-quality soft-touch ABS-plastic. At the top and at the sides it has a weakly expressed rubberized coating and in terms of its properties it resembles a soft touch, while the lower part has a slightly rough texture. In general, plastic is distinguished by safety features and copes well not only with minor mechanical damage, but fingerprints too.
The build quality is also pleasant. All case parts fit tight: no noticeable backlash or gaps. Thanks to the excellent materials keyboard has a high rigidity and a moderate impact can not deform it. The keypad is absolutely non-flexible, and allows you to work in a fairly active.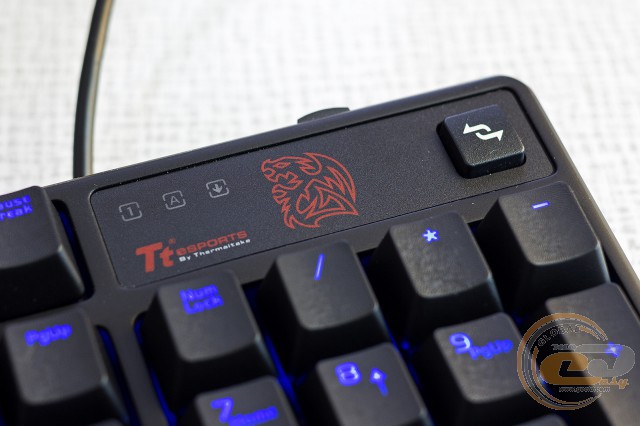 The front side of the tested model is painted in matt black and looks very attractive. As already stated above, the design features include the upper right corner with a block of LEDs with a lock of key [Windows], under which there is a complete set of digital keys.
At the bottom of the device, in addition to five rubberized, there are two folding legs. They allow you to change the angle of the keyboard for a more comfortable position of hands.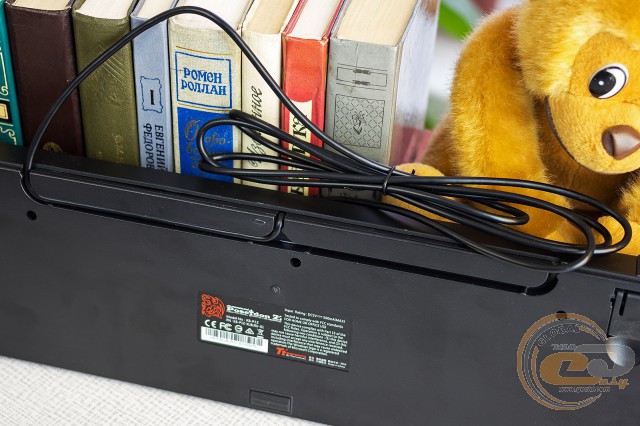 In addition in the center of the bottom side there is a special compartment for laying of USB-cable, which allows you to lay the cable in three different directions, preventing their bending.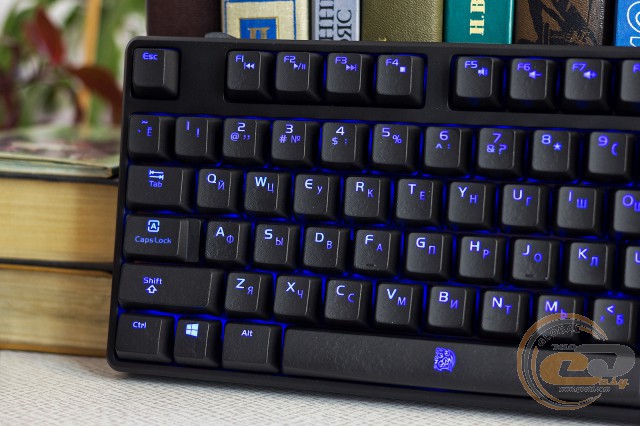 Keyboard unit Tt eSPORTS POSEIDON Z Illuminated is made of standard full-size keys with a fairly fine and the original texture. This is not a soft touch, so for some users the coating may seem unusual and requires getting to used. However, in general it does not cause any appreciable discomfort allowing to use the device over a fairly long time. The keys have a high caps with classical trapezoidal shape and cylindrical top bevel edge. Their dimensions near the base are 18 x 18 mm, and in pressed area - 14 x 12 mm. At the top of the buttons under the caps three are small, but quite bright LEDs.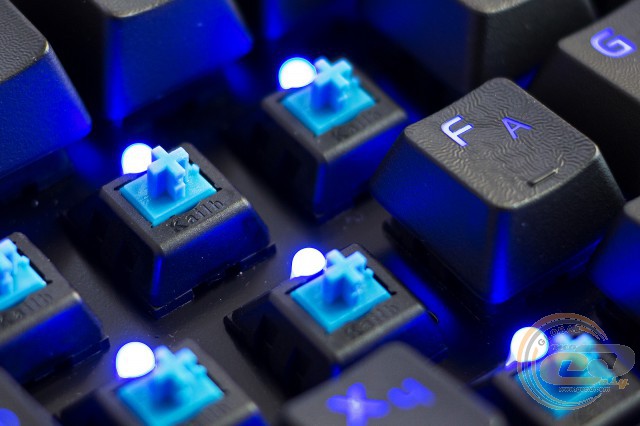 At the heart of the keyboard Tt eSPORTS POSEIDON Z Illuminated is mechanical switches Kailh Blue Switch. According to the manufacturer, they are able to provide a clear response to the pressing and stand out due to light and predicted travel with a pronounced click. Thanks to good technical performance and lower the cost these switches gradually become more and more popular not only among developers, but also among ordinary users.
The keyboard has a US layout US ANSI and is characterized by a single-level [Enter] button and elongated left [Shift] and [Backspace]. In addition the features of a literal block include the presence of a button [Caps Lock] with a slightly beveled edge and extra key [Fn], which is located on the right site of the button [Windows].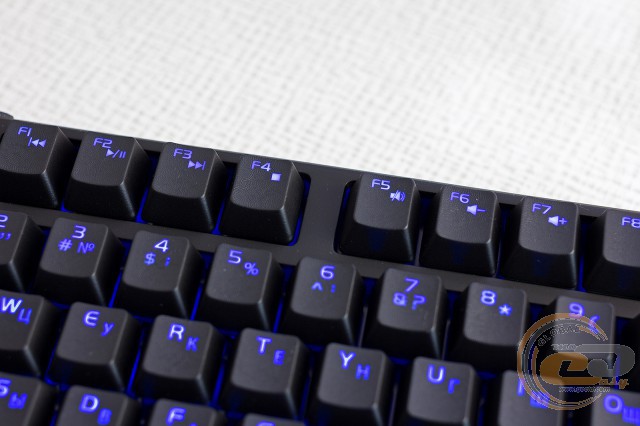 Functional key row also has an additional set of features. It includes the function of the volume [F5] - [F7] and the level of illumination [F11] - [F12], as well as the ability to control the media player [F1] - [F4].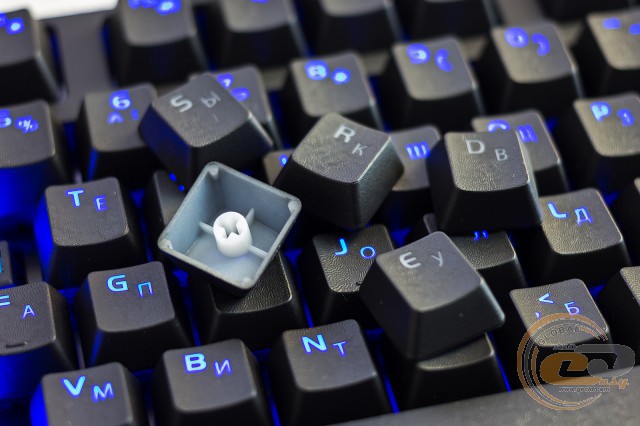 Application of symbols on the keyboard is realized by durable and highly reliable method of laser engraving in a single color. Unfortunately, due to the parameters of the backlight (light-emitting diodes are placed in the upper part of the switch), the letter symbols were placed in the upper part of the cap. Consequently, the marking is quite small (especially Cyrillic), and depending on the lighting conditions they can be difficult to read.
Социальные комментарии Cackle