Mirrorless cameraCanon EOS M3: review and testing
It is not a secret that the largest market lion of classic SLR cameras is divided among Canon and Nikon. And after the appearance of mirrorless cameras, both producers took a waiting position. Such a move was quite justified: should we change something if everything is okay? While other manufacturers have managed to saturate the market with their own solutions and to attract the attention of the world community. The company Nikon with lineup Nikon 1 also joined to such manufactures. And only in the late summer of 2012 Canon introduced the first mirrorless system camera - Canon EOS M (where «M» means Mirrorless). But in contrast to its rival, Canon did not invent a new format sensor, but has equipped its creation with proven APS-C matrix. Despite this, the new product could not compete in this segment. The second was Canon EOS M2, which could not significantly affect the state of affairs, including due to the presence in the Japanese market only. In order to fix the situation recently the company has introduced Canon EOS M3, which had time to visit our test lab, and we want to share our impressions of familiarity with it.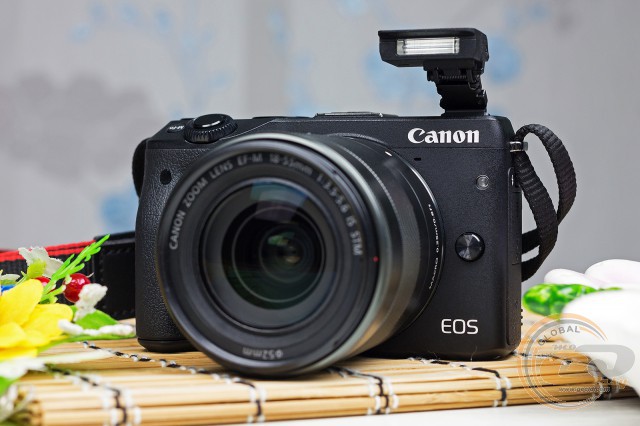 In comparison with its predecessor, the novelty has significantly updated design and construction, the sensor with resolution increased to 24.2 megapixel, updated autofocus Hybrid CMOS AF III, proprietary processor DIGIC 6 and a number of other equally interesting features. All this and more will be describe in detail in this review. Let's start from the specifications Canon EOS M3:
Producer and model

Canon EOS M3

Type, class

Digital camera, mirrorless

Light receiving element

Matrix CMOS type APS-C (22,3 x 14,9 mm); effective number of pixels – 24,2 MP

Image format

Photo

JPEG (compatible with Exif 2.3 [Exif Print])
RAW (14 bit, original Canon RAW, version 2)
Compatible with digital format of printing control [DPOF] version 1.1

Video

MP4 (video: MPEG-4 AVC (H.264), sound: MPEG-4 AAC-LC (stereo))

Bayonet joint

Canon EF-M

Resolution

Photo

RAW: (3:2) 6000 x 4000, (4:3) 5328 x 4000, (16:9) 6000 x 3376, (1:1) 4000 x 4000
JPEG 3:2: (L) 6000 x 4000, (M) 4320 x 2880, (S1) 2880 x 1920, (S2) 2304 x 1536, (S3) 720 x 480
JPEG 4:3: (L) 5328 x 4000, (M) 3840 x 2880, (S1) 2560 x 1920, (S2) 2048 x 1536, (S3) 640 x 480
JPEG 16:9: (L) 6000 x 3376, (M) 4320 x 2432, (S1) 2880 x 1616 (S2) 1920 x 1080, (S3) 720 x 408
JPEG 1:1: (L) 4000 x 4000, (M) 2880 x 2880, (S1) 1920 x 1920, (S2) 1536 x 1536, (S3) 480 x 480

Video

1920 х 1080, 1280 x 720, 640 х 480 up to 30 fps

Photosensitivity

ISO 100 – 12 800, increased H value: 25600

Exposure range

1/4000 – 30 s

Exposure

TTL measurement by image sensor

Light meter mode

(1) Evaluative size (384 zones)
(2) Partial size in center (approx 10%)
(3) Spot measurement (approx 2%)
(4) Center weighted

Exposure compensation

±3,0 EV (with step 1/3 EV)

Focus

Hybrid CMOS AF III (AF with identification of phase/contrast): 49 points of autofocus

Shutter

Hybrid single-lobe (electronic first sutter and mechanical second)

Continuous shooting

4,2 fps for approx 1000 pictures in format JPEG, 5 pictures in format RAW

Picture stabilization

Not supported (image stabilization is supported by lens)

Display

Rotary, sensory, LCD, sRGB ClearView II, 3", resolution 1 040 000 p, aspect ratio 3:2

Viewfinder

Optional electronic viewfinder EVF-DC1

Audio

Microphone

Built-in stereo microphone

Speaker

Built-in, monaural

Flash

Built-in (effective number 5 at ISO 100)

Data carrier

SD, SDHC, SDXC (compatible with UHS-I)

Interfaces

mini-HDMI (Type C), mini-USB, mini-jack 3,5 mm

Connectivity

802.11b/g/n Wi-Fi, NFC, DLNA

Battery

Lithium-ion cell, removable, Canon LP-E17 (1040 mАh)

Charger

Canon LC-E17

Lens

Canon EF-M 18-55mm f/3.5-5.6 IS STM

Dimensions

110,9 x 68,0 x 44,4 mm

Weight

366 g (including battery and data carrier)

Color

Black

Warranty

12 months

Producer website
Package and content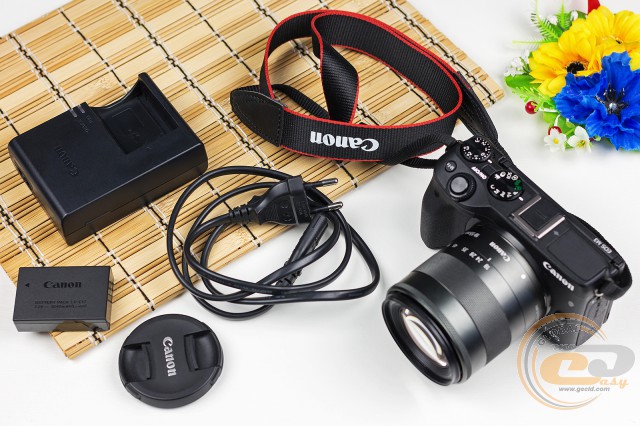 The camera came to us as a test sample for the press with minimum required scope of supply. It included only the lens, battery, external battery charger with mains cable, lens cap and neck strap. In the retail version in addition there should be documentation, CD with software and USB-cable. Traditionally, there is an additional number of accessories that can be purchased separately. The full list of them can be found on the official page of the device.
Design and elements layout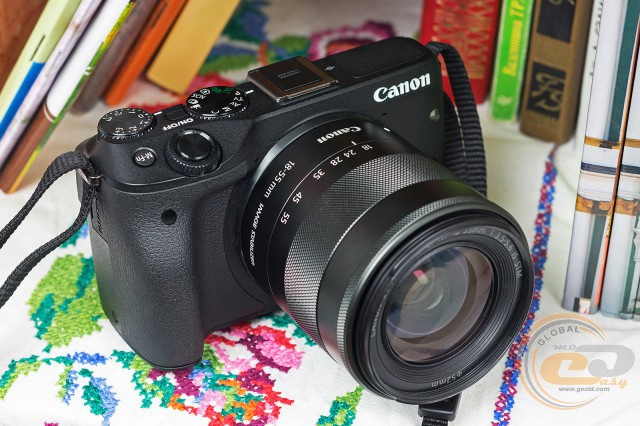 As mentioned above, Canon EOS M3 is a direct successor of the Canon EOS M and Canon EOS M2, with a lot of improvements. In terms of design of the previous model was very similar to the series of compact cameras Canon PowerShot SX with slightly convex colorful case, a predominance of glossy plastic and minimum of controls. In contrast, the new product has become more "adult" and gives the impression of a serious device with many features. This is provided by redesign of more stringent forms, sighnificant handle and a wealth of controls. In the market you can find classic color variation: silver and black. In both cases, the camera case is made of magnesium alloy, supplemented by external plastic parts and rubber inserts, which mimics the skin.
When comparing the dimensions (110,9 x 68,0 x 44,4 mm) and weight (366 grams) with the model Canon EOS M (108,6 x 66,5 x 32,3 mm and 298 g), you may notice some increase. This is due to the manufacturer's desire to improve the ergonomics and ease of capture devices. But in comparing these parameters with a direct competitor (Sony A6000), the new product is slightly inferior to the depth and weight with complete zoom lens (576 g versus 460 g), but benefits from the lower body width (110.9 versus 120 mm). Therefore, it is better to transport it in a compact bag or neck / shoulder using the included strap that is comfortable enough and does not cause problems. If required, the size can be reduced by acquiring separately fixed lens Canon EF-M 22mm f/2 STM.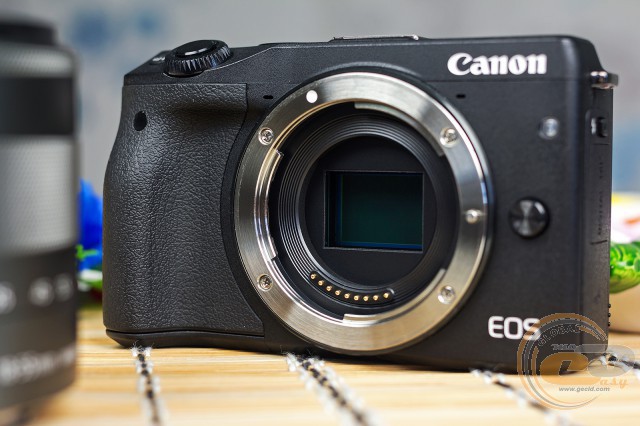 On the front panel you can find: bayonet mount (Canon EF-M) with button to release the lens, stereo microphone, AF backlight lamp, and logos of devices and products Series. Nearby there is a considerable hand grip with a rubber grip that provides secure grip and pleasant tactile sensations. Note that it has a recess under the finger. Also here is the IR receiver for the remote control.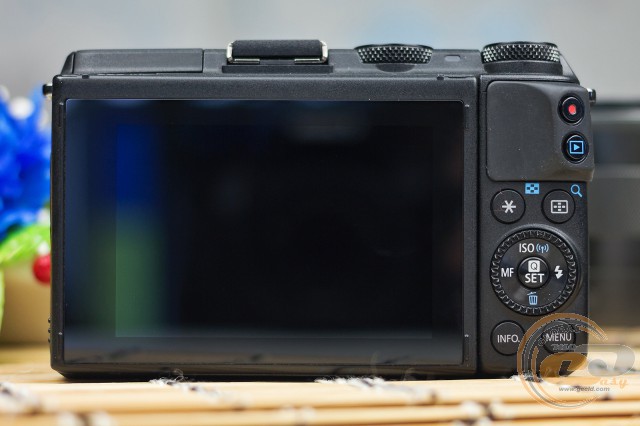 Folding screen is placed on the back. To the right there are the keys of lock AE and focus selection area (decrease and increase in the viewing mode, respectively), change the display information on the display, enter the main menu and all four-drive selector switch (AF, ISO, flash mode and remove the captured content mode view) with the enter button in the middle. At the junction of the back and the side face of the hill is available, complete with a platform for the thumb. Here you will notice the activation keys and transition to the video playback mode.
The side faces of the Canon EOS M3 includes strap hole. On the right side (under the hinged cover) there is an interface connector mini-HDMI, and the left - key of flash release, logo Wi-Fi, and a mini-USB connector and a 3.5mm audio connection for an external microphone.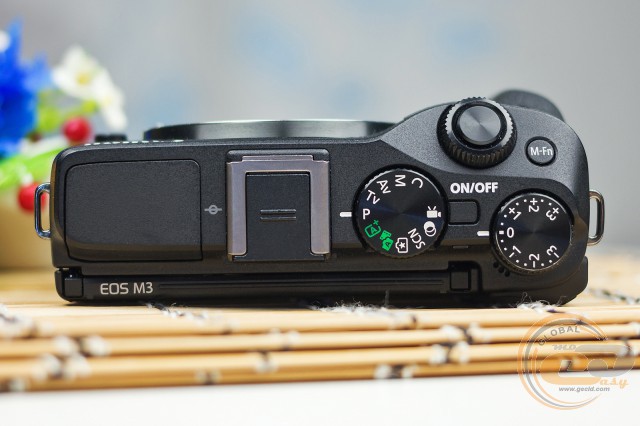 The upper end includes a flip flash inscription «EOS M3», "hot shoe", the mode dial, the on / off indicator next to the disk exposure correction and speaker system and the shutter button, with the control dial (exposure parameters). Closer to the right softkey «M-Fn» button is available.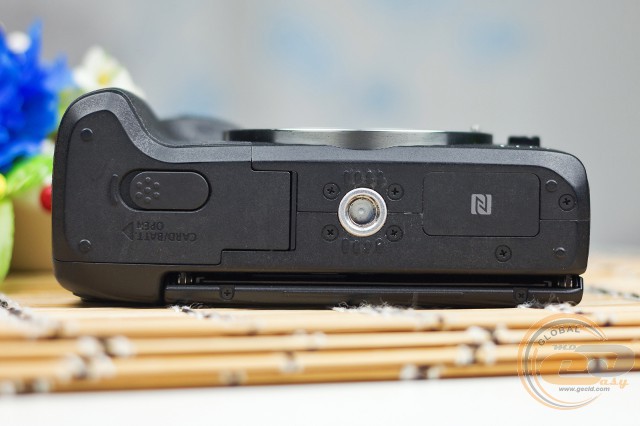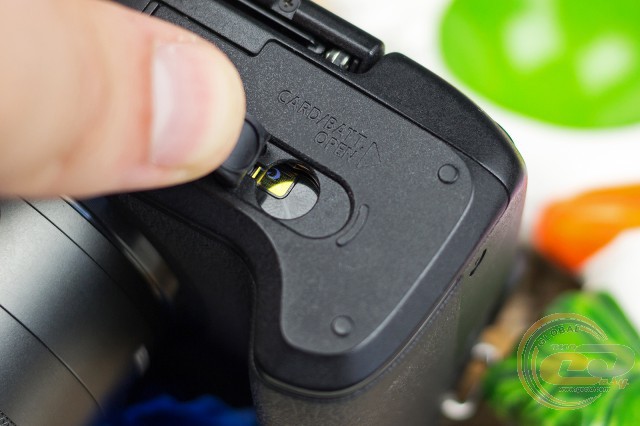 On the bottom there are: a compartment for the battery and memory card (with a hole for the network adapter Canon ACK-E17), metal thread for tripod mount, and a pad for NFC, which hides the antenna. Note that when you install the camera on a tripod, memory card slot and a battery is no longer available for quick replacement.
The build quality Canon EOS M3 is at a good level, but there are some flaws. If squeaky keys (video recording and return to the playback mode) and play a plastic insert on the left side can be attributed to the pre-sale sample, the creaking (the pressure at the bottom of the handle near the battery compartment) is a design flaw, which at this point is relatively small thickness.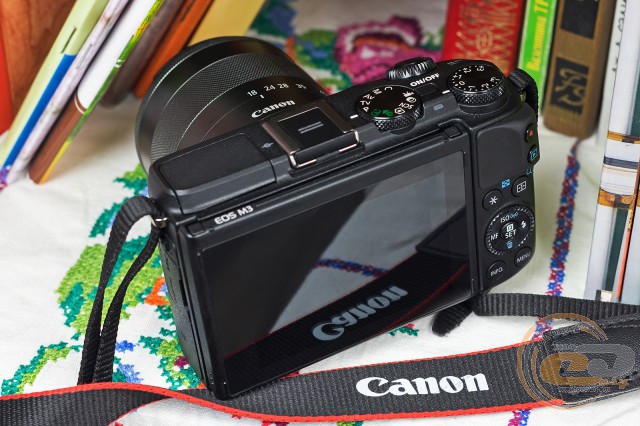 Ergonomics is pretty good. It should appeal to both novice and experienced users. Controls are enough, which allows to operate with one hand. Thanks to significant handle grip is quite comfortable for most users. It should be noted that due to the relatively strong springs, the flash has to be hold during the activation. In addition, some time will have to get used to not too elastic plug on the side faces.
Display, video finder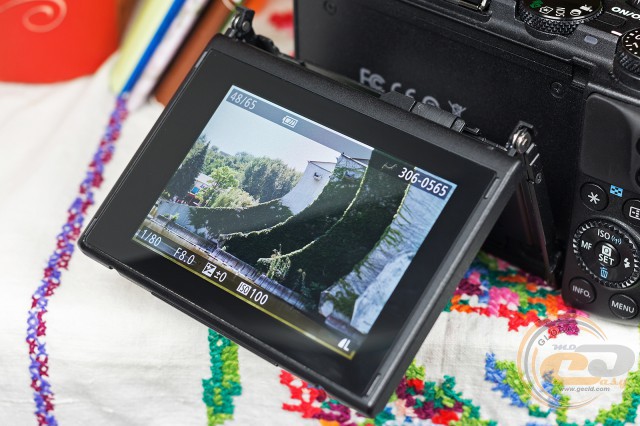 Camera Canon EOS M3 is equipped with a 3-inch (7.5 cm) LCD sRGB ClearView II (TFT) screen with a conventional aspect ratio of 3:2. Its resolution is 1040000 pixels (that is about 720 x 480 pixels). In general, the screen provides a very positive impression. The picture is highly detailed with nice colors and good contrast ratio. The level of brightness is good enough (there are five stages of adjustment), that allows to consider the information, even on a sunny day. There is a good anti-glare filter. Viewing angles are wide, with no noticeable color deviations from the normal.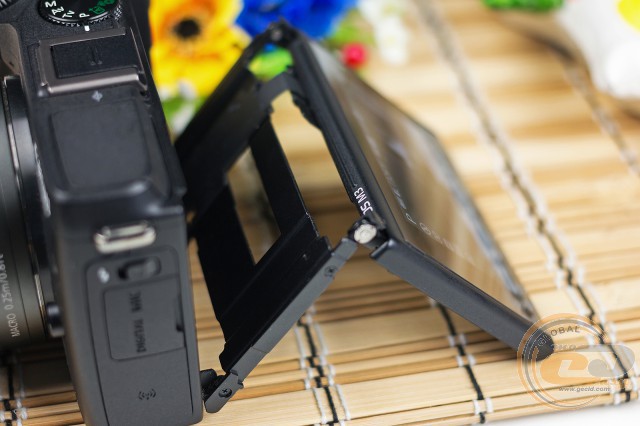 Unlike its predecessors, the camera display unit has received a hinged design (45 ° down and 180 ° up), which allows not only comfortable enough removed from the upper and lower positions, but also to create so popular now self-portraits. This also is provided by presence of the sensor substrate, which provides a range of point of focus and the implementation of one-touch recording. Moreover, you can scroll, zoom and playback footage content to navigate through the menu and change the settings, which is good for modern system cameras. It should be noted that the owners of previous models were complained about the erroneous operation of the sensor device when worn the device around the neck. We want to inform you that in this model this phenomenon is absent due to the most of the touch area or shooting touch. During the tests, the technology multitouch proved in the best way.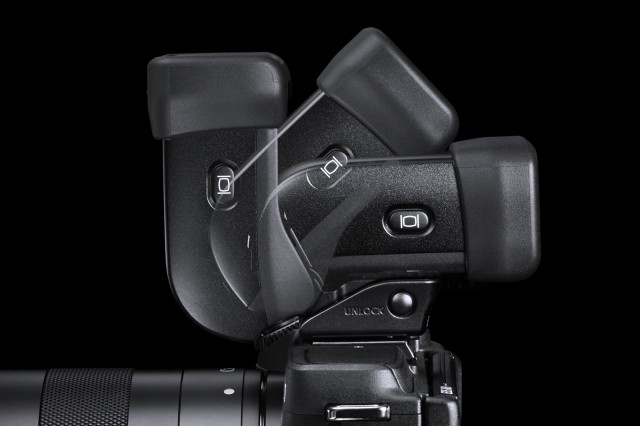 Built-in camera lacks a viewfinder, but it is available as an accessory Canon EVF-DC1 with swivel design. It can be purchased separately.
Interface, settings
Canon EOS M3 has traditional and quite user-friendly interface, which is inherent to the brand mirrored entry-level devices. The main menu consists of four horizontal tabs («SHOOT», «SETUP», «C.Fn» and «MYMENU»), which are divided into additional submenus. They are filled with lots of functions and settings, providing access to almost all the parameters of the camera. And if in the previous models (Canon EOS M and Canon EOS M2) you had to climb deep into the menu to find the desired item, the new product has the traditional way - by adding more disks and control the mode dial, which greatly simplifies the lives of users. A good tradition is the presence of pop-up menu of quick settings: full screen (by pressing button «INFO») in the form of side bars (called the enter button «Q» in the center of the disc selector). Settings equally well may be performed by traditional or touch. In submenu «C.Fn III» you can configure the controls at its sole discretion, including soft keys «M-Fn», "Delete" and "Videotape". To transfer the footage enough in playback mode, press «ISO» on the navigation joystick that causes the menu to connect to your devices.
In the «Live View» displayed on the screen displays grid, histogram, and the basic parameters of a two-axle virtual horizon. To change the type of information displayed on the main screen by pressing the key «INFO» (right of the display). Changing the shooting is carried out in real time, which is quite convenient and easily allows you to select the required values for the frame, and this is especially true in the manual mode.
It should be noted that the camera and lens were tested by the firmware 1.0.0 and 2.0.0 respectively. At the time of this writing, there are no updates. In general, the camera interface leaves a positive impression.
Социальные комментарии Cackle