PSU Seasonic TFX-350: review and testing
We did not have compact power supplies for a long time. However, this is not due to our unwillingness to review the production of this kind, but to the fact that not all manufacturers give it due consideration. Although it is quite logic. Power supplies made in SFX and TFX formats are highly specialized solutions, and accordingly not as popular as the full-size counterparts. Besides the development and production of such a device is more expensive. Task becomes difficult when it is required to create not only a compact, but at the same time powerful and highly efficient power supply. Nevertheless, there are producers who are ready to undertake its implementation. One of them is the company Sea Sonic Electronics. Its product range includes compact solutions with a relatively large capacity, but they are usually limited to "bronze" standard (Seasonic SS-300TFX, Seasonic SS-300SFD) or 80 PLUS (Seasonic SS-350SFE).
However, due to the ambition of the manufacturer, you can be sure that this is not one solution. And indeed, after some time a model Seasonic SS-300TGW appeared, which in addition to the "gold" status, also received a lot of innovation at the level of the hardware. The engineers have an excellent basis for the creation of compact and efficient power supplies.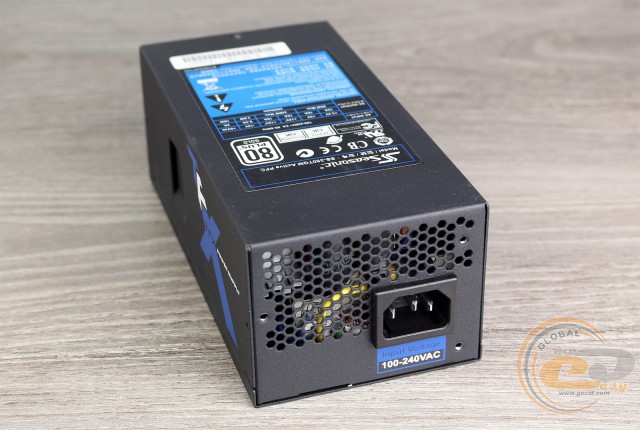 Although, to be honest, 300 W is enough for most mini-PCs. But since competitors began to produce more efficient solutions, the Sea Sonic Electronics did not delay the return stroke. The company announced model Seasonic TFX-350 (Seasonic SS-350TGM), with increased capacity of up to 350 W and upgraded platform.
The specs:
Model

Seasonic TFX-350

(Seasonic SS-350TGM)

Type

TFX12V

Rated capacity, W

350

Rail 12V capacity, W

348

Rails +3,3V and +5V capacity, W

80

Quantity of rails +12V

2

Outputs, А

+3,3V

12

+5V

16

+12V1, +12V2

18

-12V

0,3

+5Vsb (stand-by power line)

2

Input supply voltage, V

100 − 240

Frequency, Hz

50 − 60

Input current, V

5

Efficiency, %

> 88

Certified 80 PLUS

Gold

Power factor (PF), %

99

Method of Power Factor balancing

Active

Configuration of output cables system

Completely modular

PCIe sockets

1 (6+2-pin)

Fan dimensions, mm

80 х 80 х 15

Fan speed controller

Yes (Seasonic S3FC)

Noise level, dB

−

Operating time between failures, h

100 000

Support for energy saving states C6 / C7(Intel Haswell Ready)

Yes

Correspondence to environmental standards, electromagnetic safety and compatibility (EMI/EMC)

cULus, TUV, CB, CE, C-tick, FCC, RoHS, WEEE, ErP Lot 6 2013, Energy Star 5.0, REACH

Protections

OVP, UVP, OPP, SCP

Dimension, mm

175 х 65 х 85

Warranty, years

5

Producer website

Product page
Package and content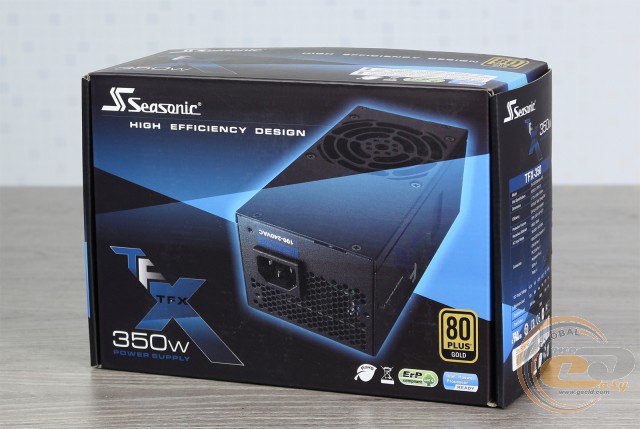 PSU Seasonic TFX-350 comes in a compact cardboard box with colorful accents. In addition to photos of the device, it also contains detailed information about its technical parameters, the system configuration of cables and used technologies.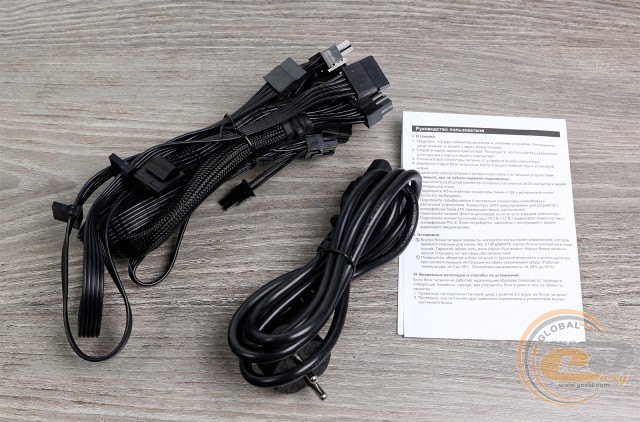 The package includes all the necessary components, you may need during the operation power supply: AC power cord, modular cables, and manual.
Design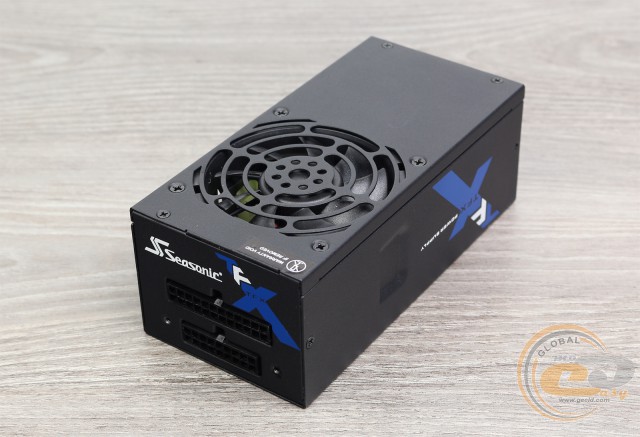 A distinctive feature of the model Seasonic TFX-350 is its small size: only 175 x 65 x 85 mm. Thus, it is perfect for building a compact PC in case Mini-ITX, which involves the installation of power supply of standard TFX. As always, the build quality of the device has no complaints: all of the panels are well treated and fit tightly to each other. Furthermore, Seasonic TFX-350 top cover has an additional black paint, while other manufacturers of compact solutions often save on this component. The openings for the air intake are located on the lid of the housing closer to the back.
Also, the perforation is present in the front wall, and the remaining panels are made continuous. It is noteworthy that the system of output cables has a fully modular design. Theoretically, this should simplify the building of the system and reduce clutter the interior space of the system unit by unused cables. The latter factor is particularly important. But here, the engineers of Sea Sonic Electronics have overthought.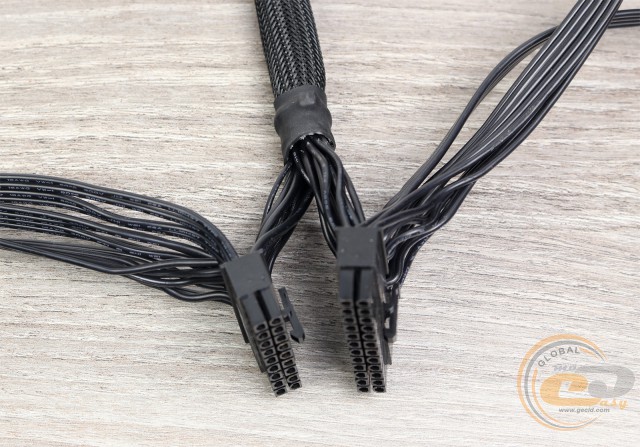 The point is that you will always use both modular connector, regardless of the type and number of connected components. Since the output cables are related providing a single structure.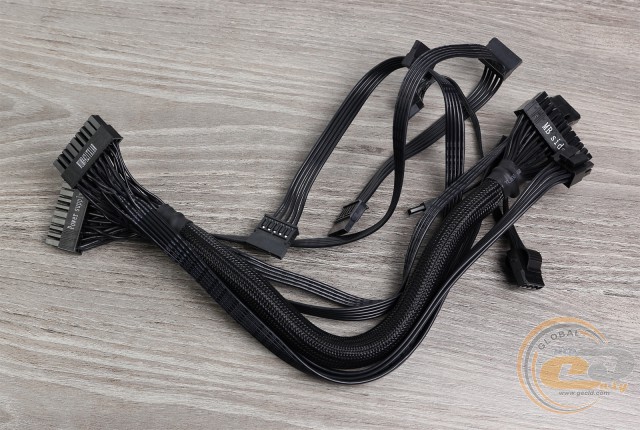 Moreover, these connectors are located in separate and sufficiently long cables, most of which are also made in the form of ribbons. Everything is done at the highest level. But in this version you will still not be able to remove the unused cables outside the enclosure. In other words, one of the main advantages of a modular configuration is lost.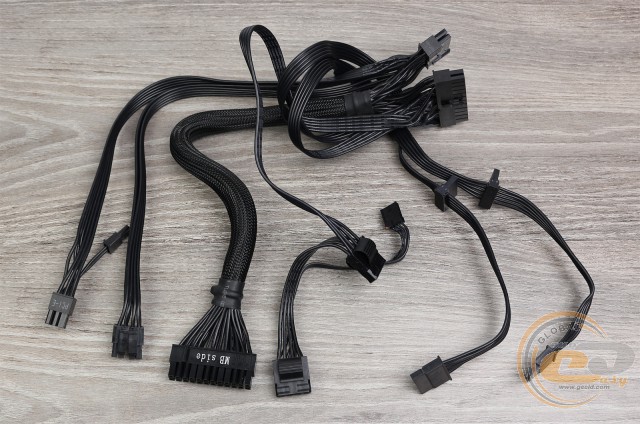 Additional power to the CPU is carried out by 4+4-pin ATX12V, and video card is provided by a 6+2-pin PCIe. In other words, using Seasonic TFX-350 you can build quite powerful gaming system. Fortunately, there are suitable accessories such as compact graphics card адаптер ASUS GeForce GTX 960 Mini OC.
As for the peripheral connectors, the user has four SATA connectors, two PATA and one FDD. This amount would be sufficient for HTPC or mini-PCs to power the all the drives, fans, and other devices.
Socket

Quantity

Cable length to socket (connectors), cm

Modular (detachable) cables

20+4-pin ATX connector

1

35

4+4-pin ATX12V connector

1

35

6+2-pin PCIe connector

1

35

two PATA + FDD

1

35-45-15

two SATA

2

35-55
* All cables are connected to each other and represent a single structure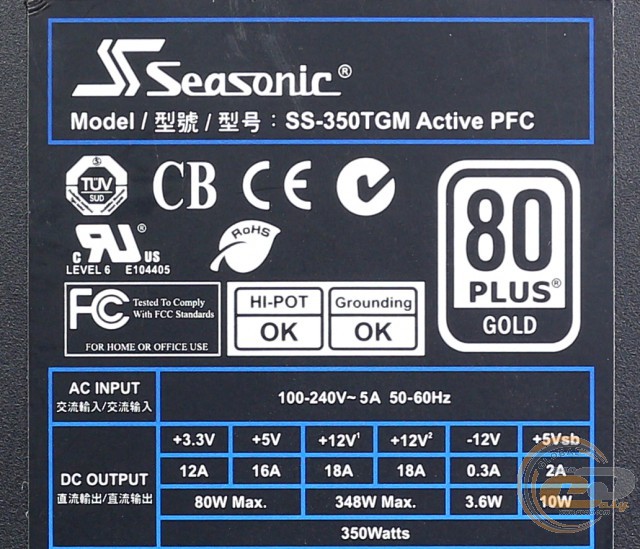 Before moving to the analysis of the hardware platform, we offer a look at the characteristics of electrical power supply specified on the label. Its nominal power is 350 W. The +12V channel is designed to the same load - 348 W or 99.4% of the total power. Such indicators are just fine, and in some ways even unique for compact solutions. However, the manufacturer has decided not to leave one powerful 12-volt line, and divided it in two "virtual", with the current limit of 18 A. Although in theory this solution will not affect the ability of the power supply and ease of use. Since the nature of the load in mini-PC is a little different than the full-length configurations and outputs are usually connected directly to the two lines. The total capacity of the rails +3.3V and +5V equal to 80 W, which will be sufficient to summarize the power to peripheral devices within a compact system.
Seasonic SS-350TGM can operate over a wide input voltage range (100 – 240 V). That is in case of unstable power supply you don't need to use external voltage regulators.
Internal device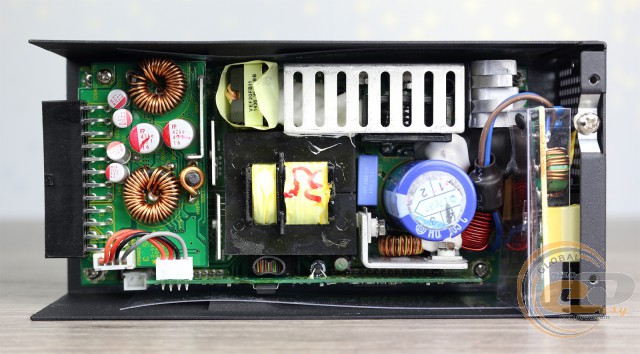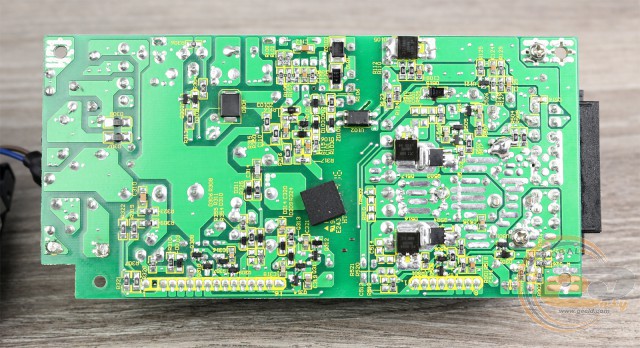 The base of this model is platform designed by company Sea Sonic Electronics. It is noteworthy that it uses relatively advanced solutions, which are mainly characterized by full-size ATX-devices and rarely found in such a compact power adapter. In particular, it is a synchronous rectifier to the low voltage side that reduced power in channel +12V and allowed to organize separate stabilization system voltages.
The cooling system deserves special attention because it is quite difficult to arrange such dimensions in a small body. But as we can see, engineers from Sea Sonic Electronics find a way to solve this problem. Some of the components are moved to the back side of the board, thus freeing up space for the installation of aluminum plates near the power transformer. Coolers in the high part take proper place. As a result, none of the power elements had without its separate radiator.
The active air circulation inside the power supply is provided by 80 mm fan ADDA AD0812MB-D90 with capacity of 2.4 W, based on two ball bearings. It is not cheap, but reliable option.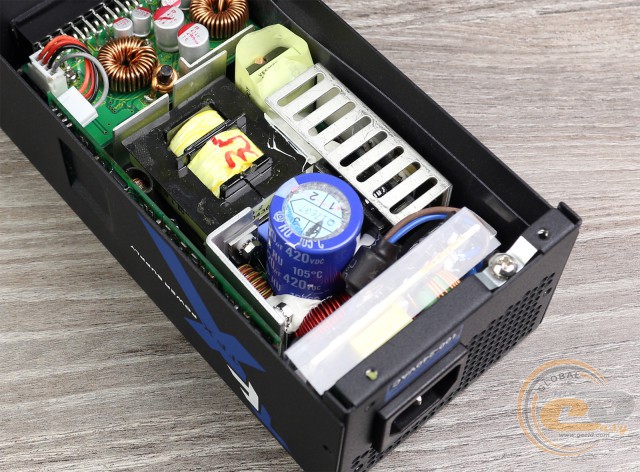 Unfortunately, due to tight layout the ratings of many elements could not be determined, therefore, we consider only the general structure of the power supply. EMI filter is placed at the entrance. Behind it we found a diode bridge represented by one assembly, and module active Power Factor Correction (APFC).
The main transmitter belongs to the resonance type of converters (LLC). Two keys are fixed to the "L" shaped radiator in the center of the board. There is also reservoir capacitor with capacity of 220 uF. Its manufacturer is Japanese company Hitachi, and the element belongs to the high-temperature series (up to 105°). All this guarantees high quality and provide a long life. By the way, the warranty period for the model Seasonic TFX-350 is 5 years instead of 3 years as from the most competitive solutions.
As we mentioned above, the low-voltage part of the new item is based on the modern principle based on the synchronous rectifier: output provides line +12V (with three high-performance SBR-diodes SBR10U45), that ensures ratings (+ 3.3V and + 5V). Cascade of respective DC/DC-converters is on a separate circuit board. There are components of stabilization and filtration units of output voltages.
Most capacitors to smooth ripple belong to the type of solid-state, although there are a few volumes with liquid electrolyte. Their manufacturers are such famous companies as Japanese Rubycon, Nippon Chemi-Con and FP Caps, so the quality is at the highest level.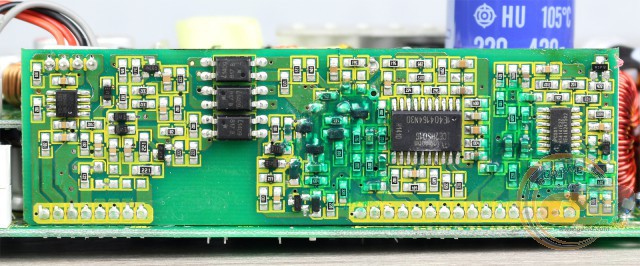 All control logic of power supply is a separate module with three chips. The first two (Infineon ICE3PCS01 and Infineon ICE2HS01G) are PWM controllers node APFC and the main converter, respectively, and the latter (HY-510N) is responsible for the correct operation of the overvoltage (OVP) and undervoltage (UVP) events. The model Seasonic TFX-350 provides protection against short-circuit (SCP) and overload power (OPP).
Testing
Cross loading characteristics
According to the norms of the standard ATX12V, the allowable range of voltage deviations for all supply lines is ± 5% of the nominal line.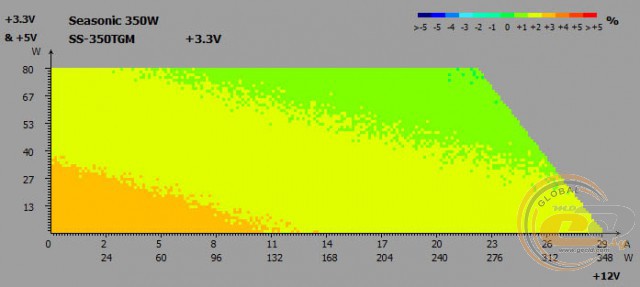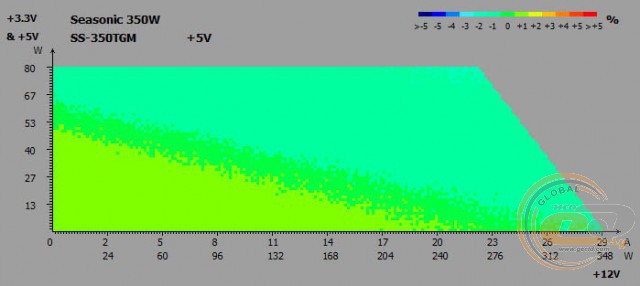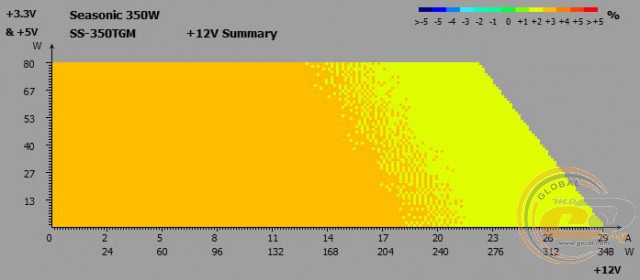 A cross loading testing showed the presence of voltage fluctuations within the following limits:
rail + 3.3V: from +1% to +3%;
rail + 5V: from -1% to +1%;
rail + 12V: from +2% to +3%.
Node voltage stabilization coped well with the task: in all cases, the voltage does not go beyond the limits of the standard ATX12V and on the most popular line +12V did not have drop below its nominal value.
Социальные комментарии Cackle