Microsoft Lumia 535 Dual SIM smartphone: review and testing
Last year Microsoft has completely closed the deal with the Finnish company Nokia concerning the acquisition of its mobile phone business. And in the end of the year the software giant released the first smartphone under its own brand Microsoft Lumia 535. Novelty has familiar design and relatively affordable price tag. Smartphone had visited our lab, so we are ready to share the results of own acquaintance with this model.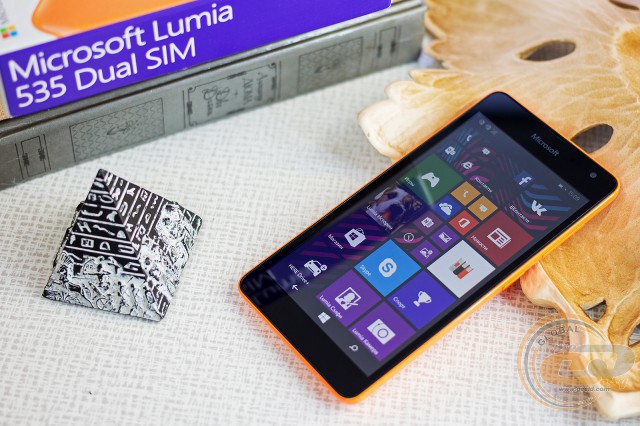 The device is the embodiment of the concept of "5×5×5". Where the first five is the key integrated services and applications Microsoft (Skype, Office, Cortana, OneDrive and Outlook). The second and third five is a wide-angle 5-megapixel front camera and 5-inch IPS-display with qHD resolution. Lets' start from the specifications:
Producer

Microsoft

Model

Lumia 535 Dual SIM

Marking

059W6D9

Type, form-factor

Smartphone, monoblock

Communication standards

2G (GSM)

850 / 900 / 1800 / 1900 MHz

3G (WCDMA)

900 / 2100 MHz

4G (LTE)

–

Broadband data transfer

GPRS (32-48 Kb/s), EDGE (236 Kb/s), HSDPA+ (up to 42,2 Мb/s), HSUPA (up to 5,76 Мb/s)

SIM-card

Micro-SIM

CPU

Qualcomm Snapdragon 200 (MSM8212): 4 cores (ARM Cortex-A7), up to 1,2 GHz, manufacturing process 28 nm

GPU

Qualcomm Adreno 302: up to 400 MHz, support for OpenGL ES 3.0, OpenVG 1.1, OpenCL 1.1, Direct3D 11.1

Display

IPS, 5", 960 × 540 p (220 ppi), touch-sensitive, multi-touch up to 5 presses, protective Gorilla Glass 3

RAM

1 GB LPDDR2

ROM

8 GB

Card-reader

microSD (up to 128 GB)

Interfaces

1 x micro-USB

2 x Micro-SIM

1 x audio mini-jack 3,5 mm

Multimedia

Speaker

Mono

Microphone

Mono

FM-radio

+

Camera

Main

5 Мp, ¼ in sensor, aperture f/2.4, focal distance 28 mm, autofocus, LED-flash, video recording in format 848 x 480

Front

5 Мp, aperture f/2.4, fixed focus, video recording in format 848 x 480

Community

Wi-Fi

Wi-Fi 802.11 b/g/n (2,4 GHz)

(Wi-Fi Direct, Wi-Fi Hotspot)

Bluetooth

4.0 (A2DP)

GPS/ GLONASS

+/+

DLNA

+

NFC

–

IrLED

–

Sensors

Proximity sensor, lightning sensor, accelerometer

Battery

lithium-ion cell: 1905 mАh

Charger

Input: 100~240 V DC at 50/60 Hz

Output: 5 V AC, 550 mА

Dimensions

140,2 x 72,4 x 8,8 mm

Weight

146 g

Color

Orange / black / green / white / blue / dark-gray

OS

Windows Phone 8.1 including update Lumia Denim

Warranty

12 months

Producer website
Packaging and content
Microsoft Lumia 535 Dual SIM is shipped in a well recognizable square cardboard packaging. Its design is similar to the latest smartphones of series Nokia Lumia: sleek appearance with qualitative printing and sliding design. The front side of the package has an image of the device in three color variations (orange, black and green). It also includes the manufacturer's logo and the model name.
The reverse side contains an image of a smartphone in every possible color options: black, green, blue, dark gray, white and orange. In addition, we are reported about the model name and manufacturer, supplied set (in pictograms), used hardware platform and operating system.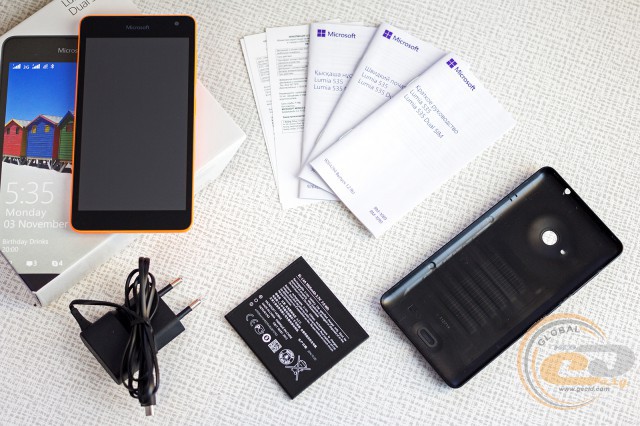 The box itself has minimally necessary set to start working with smartphone: Ccharger (5V, 550mA), the battery BL-L4A, removable black rear panel and user manual. Unfortunately, there is no complete cable for PC connection (micro-USB↔USB) and headset that should be considered when buying.
Design and elements layout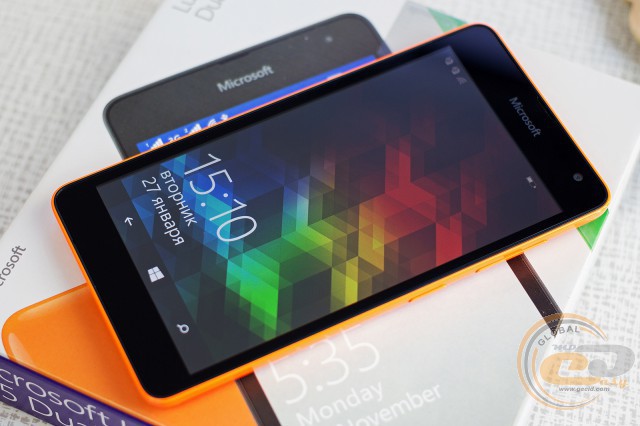 Smartphone Microsoft Lumia 535 Dual SIM looks like a classic representative of the lineup Nokia Lumia (now Microsoft Lumia, although previously released models do not fall under renaming). We have a regular rectangle with rounded corners and a few oblique lateral faces. Traditionally, the rear panel and the side faces (control keys) are made in one piece that initially creates the illusion of integrity of the entire structure. To remove it is enough to put pressure on one of the corners on the back side of the panel, which is quite simple, but requires some skill because of the small ledges. Dimensions (140,2 x 72,4 x 8,8 mm) and weight (146 g) does not cause any complaints. The device fits nicely in the average palm and easily placed in the pockets of jeans or jacket. New product is available in several colors: green, blue, dark gray, white and orange. And thanks to the optional rear panel (always included to the supplied set) we have also black color, which will allow to choose the option according to own tastes.
Most of the front panel takes the display, covered with a heavy-reliable tempered glass Gorilla Glass 3 without oleophobic (grease repellent) coating. The black frames around the screen are approximately 5 mm on each side, 13 mm and 15 mm below the top. It is not a record figure, but quite acceptable. Along the contour (between the glass and sidewall) is thin black glossy bezel, which is slightly raised above the display and protects it against minor mechanical damages, besides acting as a seal.
The top panel includes: earpiece mesh, front camera, proximity/lighting sensor and logo of the manufacturer. Under the display (between glass and plastic frame) you can notice the microphone hole, and the familiar touch keys with the advent of OS Windows Phone 8.1 became screen ones. However, their number and functionality remain unchanged: "Back" (holding the "menu of running applications"), "Home" and "Search" (holding to run corporate assistant Cortana). The settings include an opportunity to change their color or auto-hide function.
The upper side has only one universal audio jack (mini-jack 3,5 mm). The bottom end sheltered single interface micro-USB.
Volume rocker and button "power/lock" (you can unlock by double tapping the screen) are located on the right side. The left side is empty. Physical keys are in place and well felt blindly, although they are small.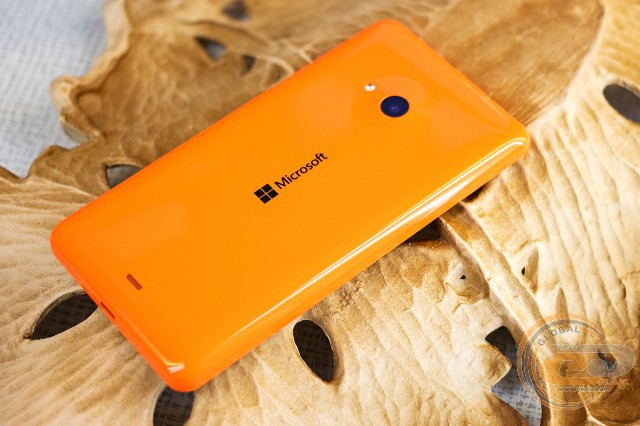 The back side of Microsoft Lumia 535 Dual SIM is made of glossy plastic coated with a transparent layer of polycarbonate (little slippery), the colored part of protecting against mechanical damage. Although fingerprints are quickly colected, but thanks to the bright colors they are unobtrusive and easy to remove.
In contrast, extra removable panel is made of matte black plastic, which is more practical in everyday life. Geography of the elements is pretty standard: at the top you can notice main camera lens with a one-LED-flash, in the middle - signidicant black logo «Microsoft», and at the bottom - the sound outlet of multimedia speakers.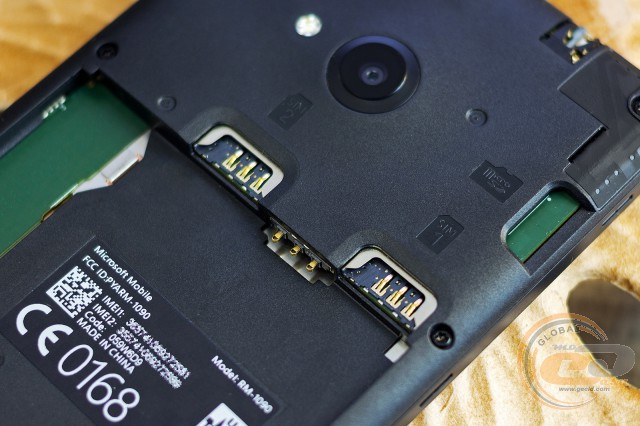 The back removable cover is well-fitted to the base, although there is very little backlash. After removing it, you can get the access to the two slots SIM (Micro-SIM), jack microSD, as well as replacement battery. The last backs slots Micro-SIM, so "hot" replacement is not provided (as opposed to memory card).
The smartphone is characterized by good body rigidity: it does not bend or change its geometry under moderate torsion, and the glass is not pressed. In general, Microsoft Lumia 535 Dual SIM has quite well building and good controller with one hand (it all depends on the size of the palm). And thanks to a pleasant appearance and wide range of colors the product attracts the attention of the youth, as well as business people.
Display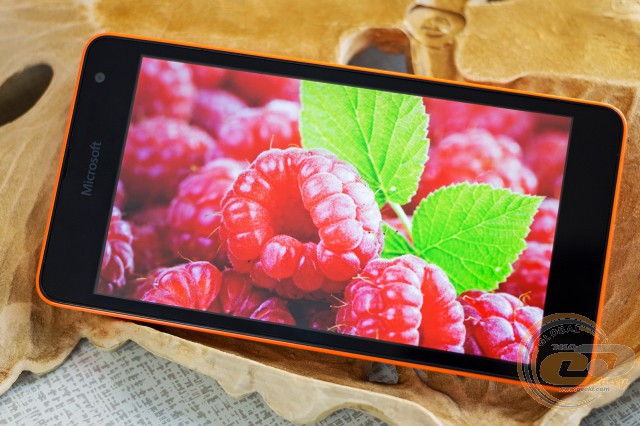 Smartphone Microsoft Lumia 535 Dual SIM is equipped with a good 5-inch screen based on IPS-matrix with a resolution qHD (960 × 540) and a pixel density of 220 ppi. The indicator is not a record, but it is quite sufficient to create detailed pictures, especially in the environment of OS Windows Phone 8.1. Individual pixels can be considered when displaying user content or smooth fonts, but this is noticeable only up close.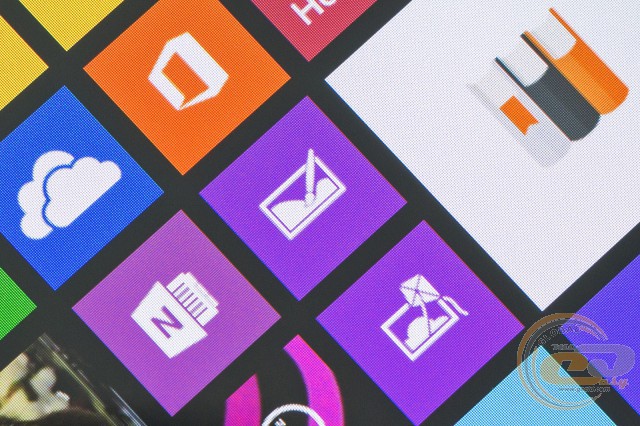 The matrix is protected from the surround peripeteia by the ultrastrong tempered glass Gorilla Glass 3. Between the glass and matrix there is an air layer. This approach has its advantages and disadvantages. The first include the relative ease and low cost of replacement in case of damage (theoretically it is possible to replace the glass). But under direct sunlight this panel can be a bit glared. Oleophobic (grease repellent) coating is not available, so in order to maintain the purity of the screen constant care is required.
In general, we have positive subjective impression of the display. Due to the use of IPS-matrix (although entry level) there is a good color rendition with nice saturation, but not very high contrast. Viewing angles (horizontal and vertical) are comfortable enough for everyday use, although under the diagonal view there is a small color shift and pictures fading.
Brightness range is sufficient for information on a sunny day, though the image fades markedly. The minimum brightness index is quite comfortable to work in complete darkness. It should be noted that the backlight can be adjusted within a few levels ("Low", "Medium" and "High") or use "Auto mode" (there is a light sensor). Unfortunately, the advanced settings like in the older smartphones Nokia are not provided. Most likely, this is done for a clearer demarcation of the lineup.
Integrated technology Multi-touch can handle up to 5 simultaneous presses and offers a mode with increased sensitivity, providing work with the smartphone in thin gloves. Finger sliding is comfortable, but there is no oleophobic coating. You can unlock smartphone by double-tap the screen (activated in the settings).
Социальные комментарии Cackle