Smartphone Sigma mobile X-treme PQ30: review and testing
On the pages of our website we have learnt a lot of protected gadgets under the brand Sigma mobile. From mobile phones to highly functional smartphones and even tablets. Nest in turn is another representative of smartphones Sigma mobile X-treme PQ30.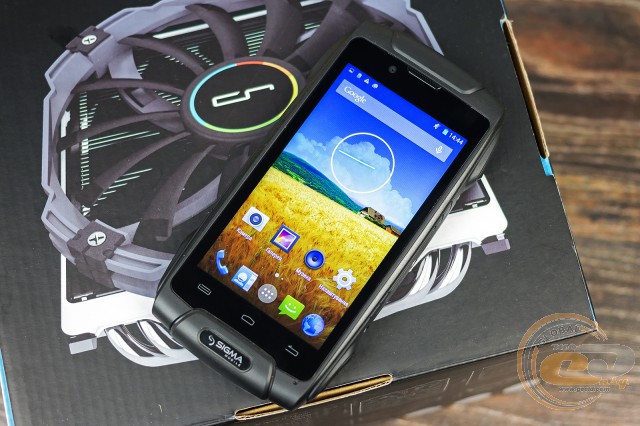 Novelty has usual aggressive appearance, protection against water and dust according to the international standard IP68, enough fresh hardware platform MediaTek MT6752 and excellent functionality. Traditionally, we propose to start an overview from the technical characteristics of the device:
Producer and model

Sigma mobile X-treme PQ30

Type, form-factor

Protected smartphone, monoblock

Dust and moisture protection

IP68

Communication

2G (GSM)

850 / 900 / 1800 / 1900 MHz

3G (WCDMA)

850 / 1900 / 2100 MHz

4G (LTE)

+

Broadband data transfer

GPRS (32-48 Kb/s), EDGE (236 Kb/s), HSDPA+ (up to 21 Мb/s), HSUPA (up to 5,76 Мb/s), LTE Cat.4 (up to 50 Мb/s UL, up to 150 Мb/s DL)

SIM-card

Mini SIM + Micro SIM

CPU

64-bit MediaTek MT6752V/C: octa-core ARM Cortex-A53, up to 1,7 GHz, manufacturing process 28 nm

GPU

ARM Mali-T760 MP2: up to 700 MHz, support for OpenGL ES 3.1, OpenVG 1.1, DirectX 11.1

Display

IPS, 4,5", 1280 x 720 p (326 ppi), touch-sensitive, capacitive, multi-touch up to 5 presses, protective Gorilla Glass 2

RAM

2 GB

ROM

16 GB

Card-reader

microSD (up to 32 GB)

Interfaces

1 x micro-USB (OTG)

1 x audio mini-jack 3,5 mm

Multimedia

Speaker

Mono

Microphone

Mono

FM-radio

+

Camera

Main

13 Мp, aperture f/2.0, AF, LED flash, video recording in format 1080p

Front

2 Мp, aperture f/2.8, video recording in format 480p

Connectivity

Wi-Fi

Hotspot Dual-band 802.11n

Bluetooth

4.0

GPS

+

NFC

+

IR

–

DLNA

+

Sensors

Gyroscope, accelerometer, proximity sensor, light sensor, LED indicator

Battery

Lithium-ion cell, non-removable: 3300 mАh

Charger

Input: 100~240 V AC 50/60 Hz

Output: 5 V DC 1,5 А

Other

Gesture recognition, modes of gloves and wet hands, PTT, SOS

Dimensions

151 x 75 x 15,2 mm

Weight

229 g

Color

Black

OS

Android 4.4.4 KitKat

Warranty

12 months

Producer website
Package and content
Smartphone Sigma mobile X-treme PQ30 is available in relatively large cardboard box. It has traditionally discreet and quite informative design that allows you to become familiar with the key features of new item. Package includes everything you need for complete work with the device: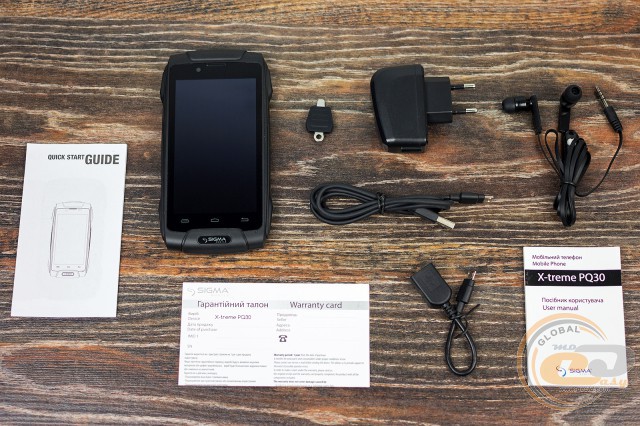 user's guide
warranty certificate;
charger 7.5 W (5 V, 1.5 A);
cable-adapter USB OTG;
cable micro-USB↔USB with elongated connector;
screwdriver to open the compartment with SIM-cards and memory card;
stereo headphones in vacuum design.
Design and elements layout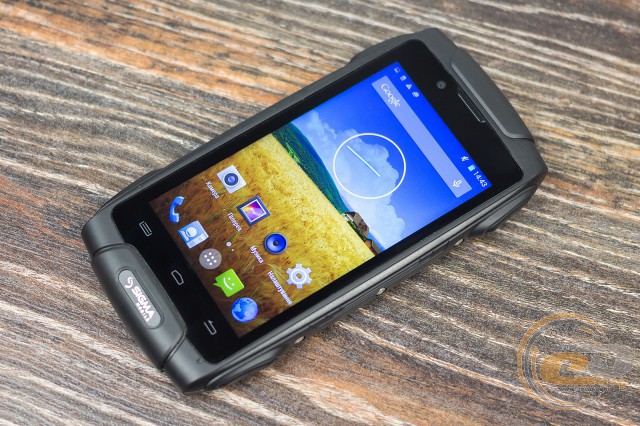 Even at first glance to Sigma mobile X-treme PQ30 it is clear that we face with a classic representative of protected smartphones. Massive housing with high-quality rubberized plastic is added with textured inserts, cut edges and uncovered mounting slots that create the image of a powerful and robust apparatus. In addition, the full implementation of the black makes the product much stricter against a background of its neighbors with orange inserts.
If you compare the size (151 x 75 x 15,2 mm) and weight (229 grams) of the smartphone with the same protected gadgets, these features are not high, due to the smaller number of the projections at the sides, but much more than usual 4.5-inch solutions. Despite this, the device is comfortable and confident for the palm.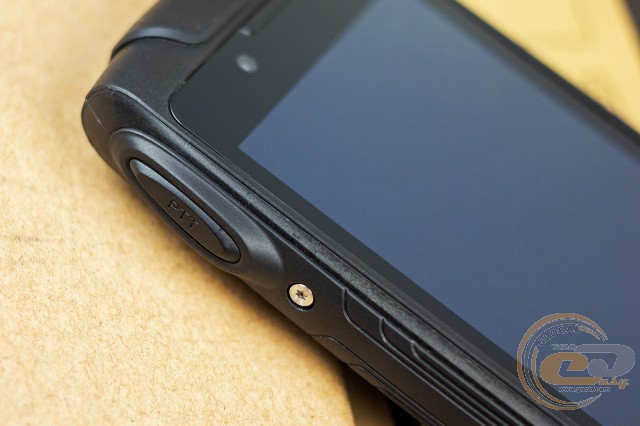 Display of new item is covered by tempered glass Gorilla Glass 2. It has considerable frames: 9 mm on each side, 26.5 mm on top and 24.5 mm on bottom corresponding to the status of the device. There are small ledges along the contour of the glass to protect in case of fall. Elements of the front panel are quite common: at the top you can find the earpiece, front camera, light/proximity sensor and indicator (flashing red or green, if the event is missing or battery is low); under the display there are three touch-sensitive keys and a microphone without illumination.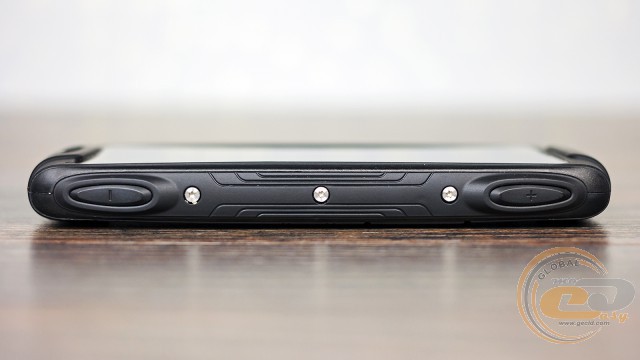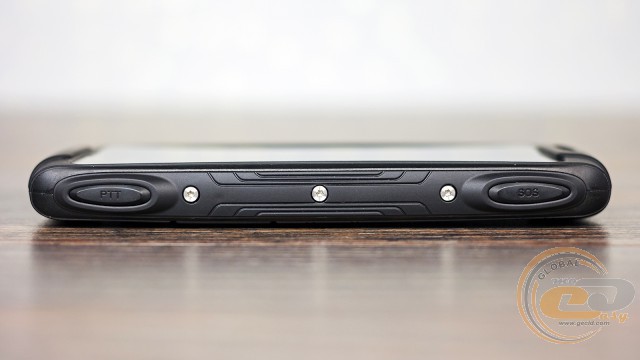 Controls have unusual location: the power button is at the top end, and volume keys are separated in the extreme right point of the side face. Similarly, but on the opposite side there are keys «PTT» (while holding the application Zello runs) and «SOS» (while holding the phone automatically sends the message and performs the call to the specified number). At first glance, it's not a good solution. However, the manufacturer has added the ability to unlock the smartphone by double-tapping the display or a simple run from the bottom edge, eliminating the need to reach for the power button. And the other buttons got a location and size for quick blindly finding and the possibility of pushing even when wearing gloves. The keys are quite stiff and when activated have a sound of average volume.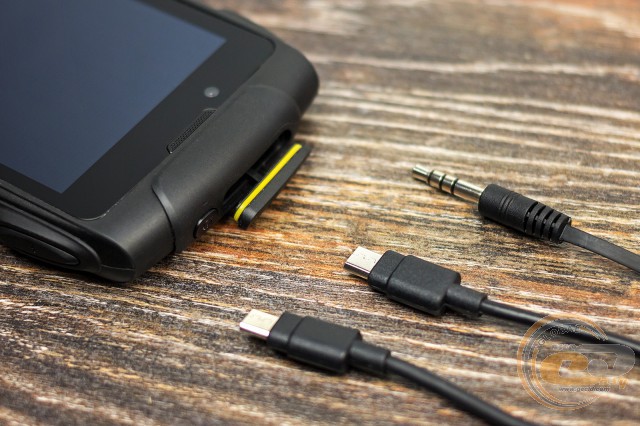 Universal audio jack (mini-jack 3,5 mm) and micro-USB interface are located on the upper end. They are covered with a plug, which protects against dust and moisture. It should be noted that the ports are recessed, so the standard connectors are not suitable and it is necessary to use only the elongated one.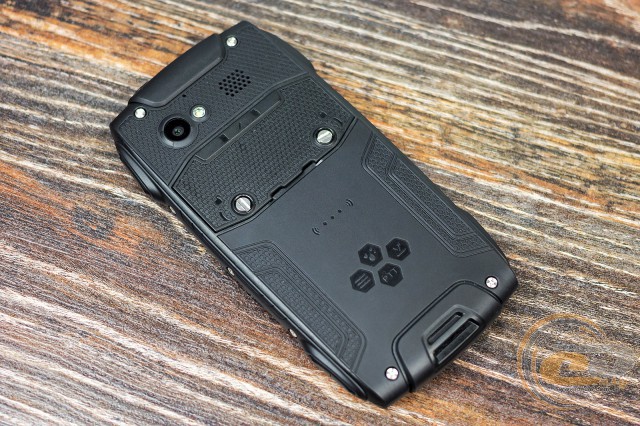 Rear panel of Sigma mobile X-treme PQ30 has textured inserts that resemble a crystal lattice or honeycombs. Also here is a traditional set of elements: the main camera module, complete with LED flash; multimedia speaker grille; plastic hatch (fixed with two screws that can be unscrewed by means of a conventional coin or complete screwdriver), where you can find slots of SIM-cards and memory cards; platform NFC. At the bottom there is mounting for strap or carabiner.
New fully meet the standards of protection IP68. This suggests that the smartphone will not be damaged by submersion in fresh water at a depth of 1 m or washing under low pressure (the main thing is closed plugs).
Sigma mobile X-treme PQ30 is assembled at the highest level: backlash and creaking are completely absent; all the elements fit tightly to each other, and in case the torsional and pressure any structural defects were not found.
Display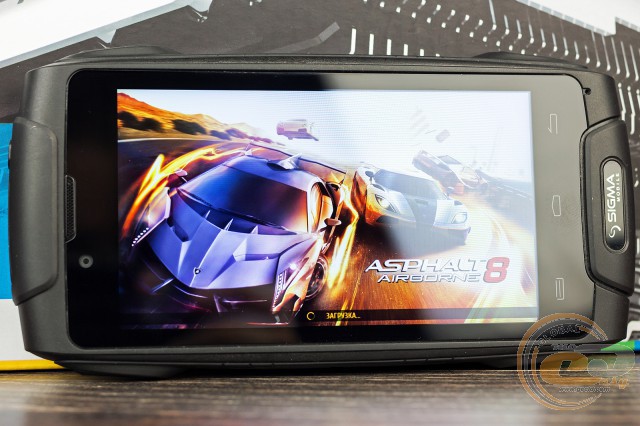 The Sigma mobile X-treme PQ30 uses 4.5-inch touch OGS (without air gap) IPS-display with an aspect ratio of 16: 9 and a resolution of 1280 x 720 pixels (326 ppi). Matrix is protected by the mineral glass Gorilla Glass 2. Grease repellent coating is absent, but there is a good anti-glare filter.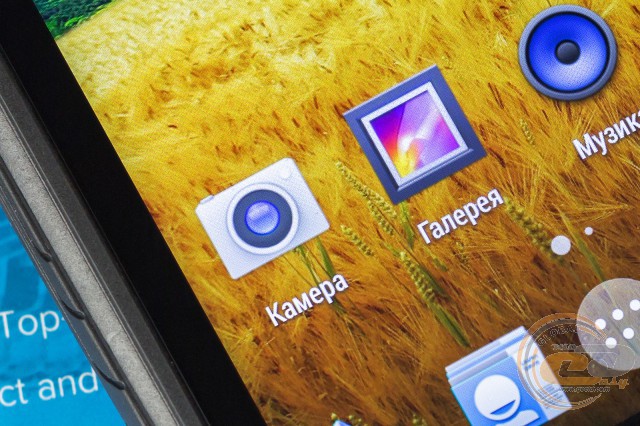 In general, the screen of apparatus leaves quite a positive impression. Resolution is enough to display any type of information. The picture is characterized by the nice color and good contrast ratio. Viewing angles are wide, although under extreme deviation there is drop of contrast.
Special attention is given to the technology Miravision, which is a set of tools to fine-tune the image. Using it you can adjust contrast, saturation, brightness, sharpness and color temperature.
Like any modern gadget, there is an automatic adjustment of brightness level that works properly. The maximum figure is enough to consider the information on a sunny day, but for the comfortable work you have to look shade. The minimum value a little higher than comfortable, so here is an increased load on the eyes when working in total darkness. The proximity sensor locks the screen when you bring the device to your ear.
Built-in sensor can recognize up to 5 simultaneous keystrokes. During the tests the shortcomings in the work have not been noticed as everything works properly. There is support for the work in gloves and even with wet hands as well as gesture control and access (unlock, camera activation, music player control) from turn off the screen.
Социальные комментарии Cackle