Smartphone Sigma mobile X-treme PQ33: review and testing
Modern smartphone market offers an extremely wide variety of devices of different shapes, sizes, colors and technical configurations. In addition, it became quite popular to equip some solutions by protection against dust and moisture. A striking example is the top models Sony Xperia Z2 and Samsung Galaxy S5. Despite this, modern gadgets remain vulnerable even to minor mechanical effects, which require prudent care. While in most everyday scenario, it is quite possible, that in case of active life, sport or work under hazardous conditions (manufacturing, construction, mining, etc.) - it becomes extremely difficult. Protected smartphones offering increased resistance to external negative factors were created for such purposes. Typically, these devices cannot boast the best performance, which further limits the range of potential users. What would happen if such a protected case will have a considerable screen and efficient hardware platform combined with modern communication capabilities and technologies?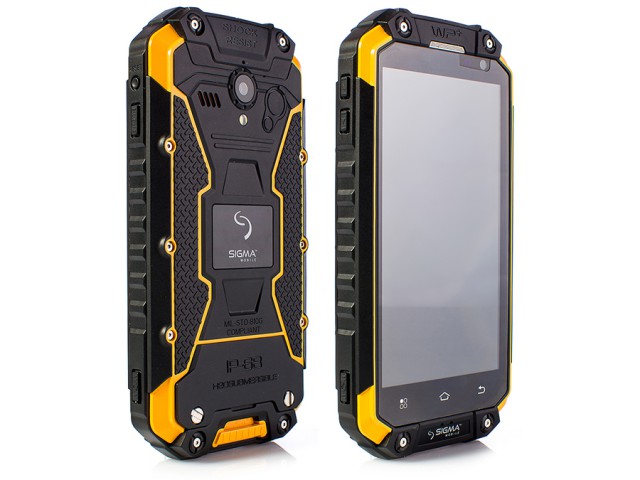 This will be described on the example of the flagship protected smartphone
Sigma mobile X-treme PQ33
, which is the embodiment of long-term developments of Sigma mobile. It has a considerable experience in producing safe devices (phones, smartphones and even tablets), which provide good performance in daily life and in the field. We offer an overview of trend start with technical specifications:
Producer

Sigma mobile

Model

X-treme PQ33

Type, form-factor

Protected smartphone, monoblock

Dust and moisture protection

IP67

Communication standards

2G (GSM)

850 / 900 / 1800 / 1900 MHz

3G (WCDMA)

850 / 1900 / 2100 MHz

4G (LTE)

-

Broadband data transfer

GPRS (32-48 Kb/s), EDGE (236 Kb/s), HSDPA+ (up to 21,6 Mb/s), HSUPA (up to 5,76 Mb/s)

SIM-card

Mini-SIM

CPU

MediaTek MT6592: 8 cores ARM Cortex-A7, up to 1,6 GHz , L2 1 МB, 28-nm HPm manufacturing process

GPU

ARM Mali-450 MP4, up to 650 MHz, support OpenGL ES 2.0 и OpenVG 1.1

Display

IPS, 4,7", 1280 х 720 p (312 ppi), multi-touch (up to 5 presses), protective glass

RAM

2 GB

ROM

32 GB

Card-reader

microSD (up to 64 GB)

Interfaces

1 x micro-USB (OTG)

1 x microSD

2 x Mini-SIM

1 x audio mini-jack 3,5 mm

Multimedia

Speaker

Mono

Sound processing

-

Microphone

Stereo

FM-radio

+

Camera

Main

13 МP, aperture f/2.4, autofocus, LED flash, video recording in format 1080p (30 FPS)

Front

5 МP, aperture f/2.8, video recording in format 480p

Connectivity

Wi-Fi

802.11 a/b/g/n (Wi-Fi Direct, Wi-Fi Hotspot)

Bluetooth

4.0

GPS/ A-GPS

+/+

NFC

+

IrLED

–

DLNA

+

Additional capabilities

Walkie-talkie (446,000 − 446,100 MHz), charging of external devices, wireless charging

Sensors

G-sensor, M-sensor, proximity sensor, light sensor

Battery

lithium-ion cell, non-removable: 3500 mАh

Charger

Input: 100~240 V AC at 50/60 Hz

Output: 5 V DC 1 А

Dimensions

150 х 78,5 х 18,5 mm

Weight

260 g

Color

Black-orange

OS

Android 4.4.2 KitKat

Warranty

12 months

Producer website
Packaging and content
The novelty comes in a nice white cardboard packaging which is characterized by restrained and quite informative design. The front side contains a picture of the phone (in profile and full face) with the name of the model, as well as the manufacturer's logo. The reverse side carries information about the company, the country of manufacturing and supplier into Ukraine. In addition, there is a sticker with the service and technical information (model name, IMEI, serial number). The side faces are designed for the key benefits of the smartphone, among which are: dust and moisture protection, two modules of digital cameras (5 and 13 megapixel), eight-processor, function Walkie-talkie (446,000 - 446,100 MHz), wireless charging and other communications.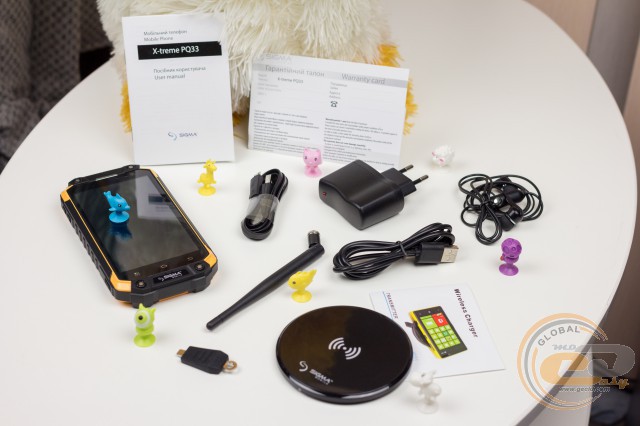 The supplied set has a fairly rich set for complete work:
User's Guide
warranty card;
charger (5V, 1A);
platform for wireless charging of standard Qi;
two cables micro-USB↔USB (with flat and standard cable);
screwdriver to open the compartment with SIM-cards and memory card;
changeable antenna for the radio;
stereo headphones with vacuum design.
Design and elements layout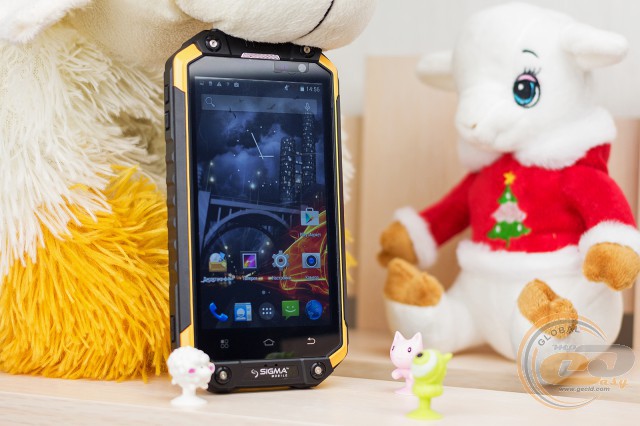 Like a protective device, Sigma mobile X-treme PQ33 looks quite sternly. This is achieved through a combination of rough design (cut faces, textured inserts, and uncovered Torx fixing slots) and high-quality materials, which together create an enduring association with a powerful crossover. The base of case is made of bright orange plastic (more glossy) and supplemented with "armor" in the form of rubber inserts. The case has a mark about the compatibility with protection of the standard Ingress Protection (IP) 68 (protection against dust and the possibility of immersion to a depth of 1 m for a long time).
Moreover, here you can find inscriptions in the manner: «WP+», «H20 Submersible», «Shock Resist» and «MIL-STD-810G compliant». That is, the novelty should be resistant to temperature, pressure, vibration, drops, or even to pyrotechnic and ballistic impact. However, the official website of the product guarantees that the smartphone is full compliance with civil protection standard IP67 (protection against dust and painless dive to a depth of 1 meter for 30 minutes). The latter fact is confirmed by our tests.
Most of the front panel takes the display, covered with tempered glass (the mark is not reported). It is characterized by a relatively wide side frames (11.5 mm sides, 29 mm at the bottom and 26 mm on the top). There are small ledges along the contour of the glass to protect it in case of fall. At the top is metal earpiece mesh, front camera and proximity and light sensors. Under display are three familiar touch keys: "Menu", "Home" and "Back". They applied with a translucent white paint and have illumination: in the afternoon you can see without light, and at night it doesn't hit the eyes (adjust or deactivation is not available). In addition, there are openings for the main microphone and logo of the manufacturer.
At the top there is a universal audio jack (mini-jack 3,5 mm) and micro-USB interface. They are covered with a plug, which protects against dust and moisture. It should be noted that the micro-USB port is not profound (as in most protected phones), so that conventional cable is suitable. But when choosing the headphones you should be careful: a wide connector may not fit. Lower bound is devoid of any connectors or components.
The right side of the Sigma mobile X-treme PQ33 has: the keys to activate the camera (in a locked state is not activated), «PTT» (works only in the application "Walkie-talkie" and does not activate it by pressing) and «Reset». Despite the fact that the last is deep in and has a fairly tight course, you should be careful not to accidentally turn off the smartphone. The left side face has a button "on/lock" and adjust the volume (split). Physically the keys are located on unusual places, so it takes some time to get used. Furthermore, they are quite stiff and require a certain effort for pushing. However this prevents unwanted tripping.
The back side is covered with different elements and details. At the top is the main camera lens with a one-flash (app "Flashlight" is absent) and an additional microphone. Near (on both sides of the camera module) we have slots for audio output from the multimedia speaker and a hole under the removable radio antenna (plug covered with seal).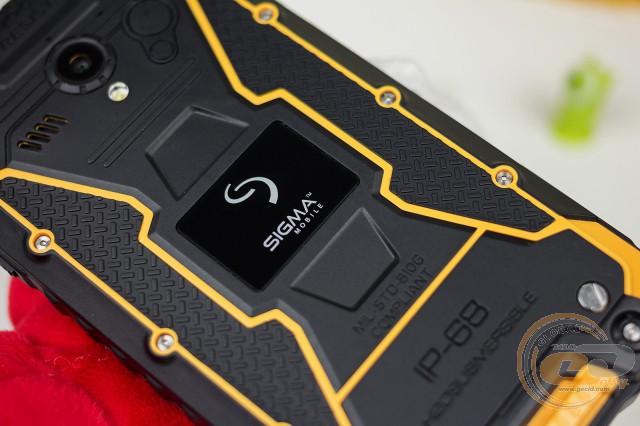 In the center is a stylish logo «Sigma mobile» (under it there is a special induction coil for wireless charging). On the sides you can see textured inserts that resemble metal sheet with notches. At the bottom there is a strap hole or carbine.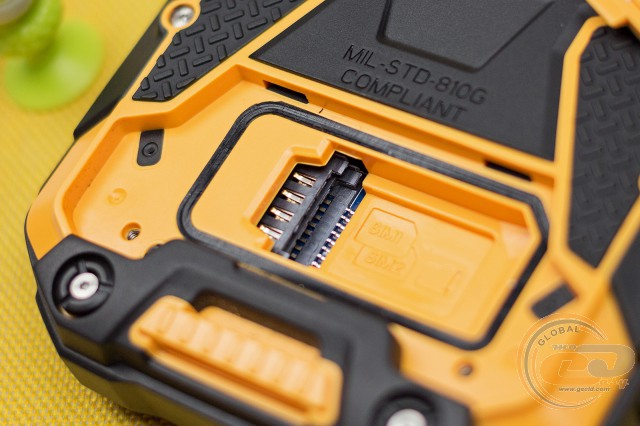 Formally body is nonseparable, but one replacement part is present. It is a plastic cover on the bottom of the back side. It is fastened with two screws that can be unscrewed using a normal coin or supplied screwdriver. Under the cover there are two slots for cards Mini-SIM and memory card slot microSD, located one above the other. Along the contour of the compartment there is a protective lining.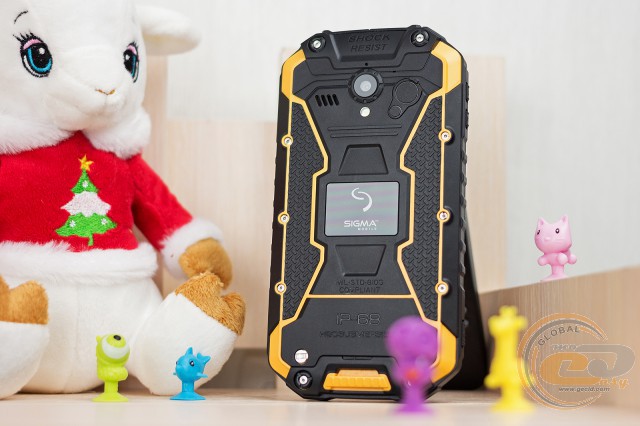 Compared with conventional smartphones, the novelty has received significantly larger dimensions (150 x 78.5 x 18.5 mm) and weight (260 g), it is quite normal for this class of devices. On the one hand, coupled with some unusual arrangement of controls this leads to the need to adapt over some period of time. On the other, the increased size and weight, special materials and design features (non-slip borders or texture) provide a secure grip even with wet or dirty hands, which is very important in extreme conditions. In general, Sigma mobile X-treme PQ33 has excellent build quality (there are no defects, backlash or creaking) and stiffness of the structure (here is not even a hint of a deflection or deformation under moderate physical impact, the glass is not pressed, and artifacts on the screen do not appear).
Display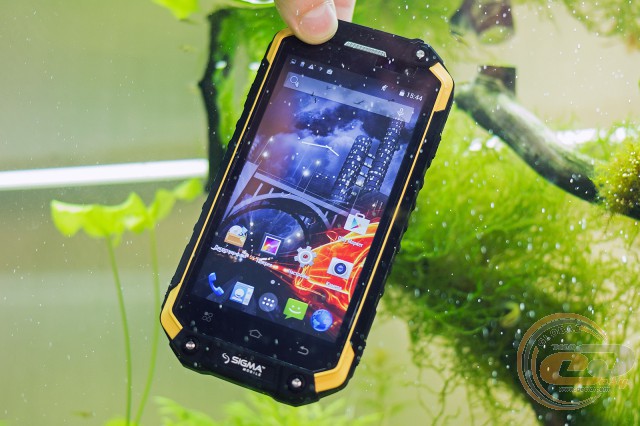 Sigma mobile X-treme PQ33 is equipped with high-quality 4.7-inch screen on the basis of IPS-matrix with a resolution of 1280 x 720 pixels and a pixel density at 312 ppi. More than enough to display a very smooth font and get quite detailed image as a whole. Even with a strong desire individual pixels considered unlikely to succeed.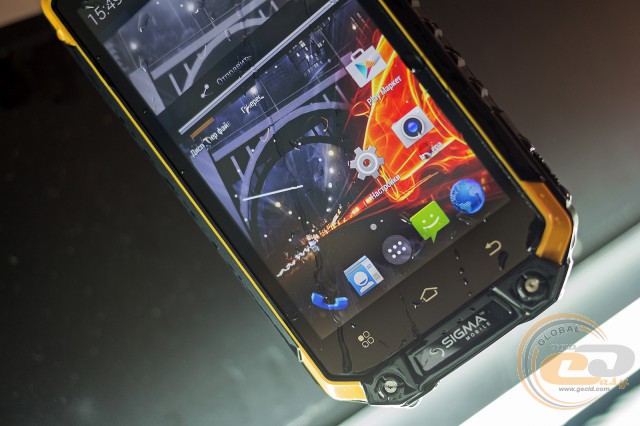 The matrix is protected against the negative influence of the environment by strong tempered glass. The manufacturer did not mark it. For additional protection there is a pre-glued factory film. Between the glass and matrix here is a small layer of air. This design has its own advantages and disadvantages. The first include the relative ease and low cost of replacement in case of damage (if the matrix is complete, it is theoretically possible to replace only the top glass). But under direct sunlight the panel can be pale. Oleophobic (grease repellent) coating is absent, so you need to wipe the display. But thanks to the water protection the screen can be easily washed without negative consequences for the device.
Subjectively, the display leaves a very good impression. This was possible through the use of IPS-matrix with a natural-colored and pleasant saturation. Contrast level is at a sufficient level to perform any everyday scenarios. Viewing angles (horizontal and vertical) correspond to the maximum level, but in case of diagonal view there are color shifts and fading pictures.
The screen brightness can be changed manually or use automatic adjustment (there is a light sensor). The maximum level should be enough to note the information on a sunny day, but for a more comfortable viewing you need to find a shade. But the rate of minimum brightness is quite comfortable to work in the dark. Proximity sensor locks the screen when held it to the ear. The touch screen can recognize up to 5 simultaneous touches, and their processing is carried out without any of complaints (it responds to wet touch). Finger sliding on the glass and the film is good. Only the support of gloves operation is missed.
as already mentioned, sigma mobile x-treme pq33 has only one multimedia speaker, which is in the upper part of the rear side of the case (near the main camera lens). due to this location sound is muted when the gadget is on the horizontal surface of the screen up. furthermore, due to its protective properties inside the speaker is covered with a special waterproof membrane. volume is not too large, but quite sufficient for most everyday usage scenarios (watching videos, games). the sound is at a good level: middle and high ranges are detailed enough, but due to the lack of low-frequency sound seems a little flat. in any case, you can use the universal audio jack (mini-jack 3,5 mm) and connect headphones or external speakers.complete headset with vacuum type headphones provides mediocre sound. it has a minimum stock of volume and cannot boast of a wide frequency range: low and medium are almost absent, and high are too high. the sound in the headphones was tested by gaming (impedance 60 ohms) and vivanco hs 200 wt (impedance 16 ohms). it should be noted that due to the nature of the location of audio connectors (under the cap in a small cavity) wide connector of gaming headphones is not suitable. this situation did not happen with vivanco hs 200 wt, so you should consider this factor when choosing future peripherals. returning to the sound, it is quite pleasant, with good detail (there the entire frequency range) and sufficient volume (even with some margin).the novelty is equipped with two modules of digital cameras. front has a sensor on the 5 megapixel, fixed focus lens and aperture f/2.8. photography and filming is started in resolution 2560 x 480p and 1920, respectively.the main camera has received a 13-megapixel lens and an aperture of f/2.4. there are autofocus and single-section led-flash. maximum resolution is 4096 x 3072p. video has a resolution of 1920 × 1080 (30 fps) and a format 3gp. the base of sigma mobile x-treme pq33 is a productive 8-core processor mediatek mt6592, created on the basis of a 28-nm hpm process with application of the design arm cortex-a7. the maximum clock frequency of its processor cores reached 1.66 ghz, while the l2 cache is 1 mb. the integrated graphics card is presented as solution arm mali-450 mp4, i.e. four cores with a maximum clock frequency of 650 mhz. it received the support for opengl es 2.0 and openvg 1.1.set of communication features is presented modules nfc, bluetooth 4.0 and wi-fi. the latter has the support of protocols 802.11 b/g/n and features wi-fi direct, wi-fi hotspot and wi-fi display, but is able to work only in the range 2.4 ghz. in addition, there is support for the radio walkie-talkie (for the application provides "radio station"), operating in the civil range resolution of 446.000 - 446.100 mhz. transmitter power is 0.5 w, and the range can be up to 5 km. traditionally, there is support for dlna.the smartphone has the gps module with support for a-gps. the quality of its operation did not cause complaints: in an open area it quickly determines 12 satellites, and even more. connecting takes a little more than half a minute, and the connection is stable with the majority. "cold" start of gps-module takes up to 2 minutes. in terms of test accuracy of determining was at a level of up to 4 meters. as a result of viewing hd-video (mpeg-4 / avc, container mkv, stream 4 mb/s) at 50% brightness and active modules wi-fi and gps unit discharge for almost 10 hours. game simulation using asphalt 8: airborne at 100% brightness and active modules wi-fi and gps exhausted battery power for 4.5 hours. testing of autonomy by the popular benchmark pcmark (text editing, viewing video, photo editing, etc.) demonstrated the results of 7 hours at maximum brightness. estimated time of the smartphone according to the benchmark gfxbench is 165 minutes.battery charge time from complete unit (5 v, 1000 ma) is about 3 hours. in addition, the smartphone boasts of a possibility of wireless charging thanks to a special induction coil (located in the body of the device) and complete charging platform (mp01) of standard qi. the process of recovery from the wireless battery charging takes about 6 hours. another important advantage of sigma mobile x-treme pq33 is a function of charging of external devices (powerbank), which will be useful outside of civilization (without access to other sources of supply).undoubtedly, is one of the most interesting protected smartphones on the ukrainian market. traditionally, for its class the novelty has spectacular and quite formidable design with quality materials, sophisticated design and high quality execution. the smartphone boasts of dust and moisture protection in accordance with standard ip67, and can safely survive a fall from a moderate height. list of benefits includes a good hd ips-display with wide viewing angles and natural-colors, some good photographic opportunities of digital cameras (5 megapixel and 13 megapixel) with enough light, capacious lithium-ion battery 3500 mah and the latest version of the os android 4.4.2 kitkat. due to the use of efficient 8-core processor mediatek mt6592 and 2 gb of ram novelty is one of the fastest among the protected classmates. in addition, thanks to the support of two sim-cards and a wide range of communication capabilities (nfc, bluetooth 4.0, wi-fi, dlna, gps and even radio walkie-talkie) modern user will feel comfortable in everyday life and in the field.
Социальные комментарии Cackle