Flash drive Silicon Power Jewel J08 (32 GB): review and testing
A well-known proverb about the taste and color hardly concerns range of flash drives Silicon Power. Indeed, each user has own vision of flash drive look. But a well-known Taiwanese manufacturer took into account the portable media requirement decided not to skimp on a variety of models: here are all-metal miniature Silicon Power Jewel J50, and practical in everyday use Silicon Power Blaze B31, and many other decisions that you probably already got acquainted via the pages of our site.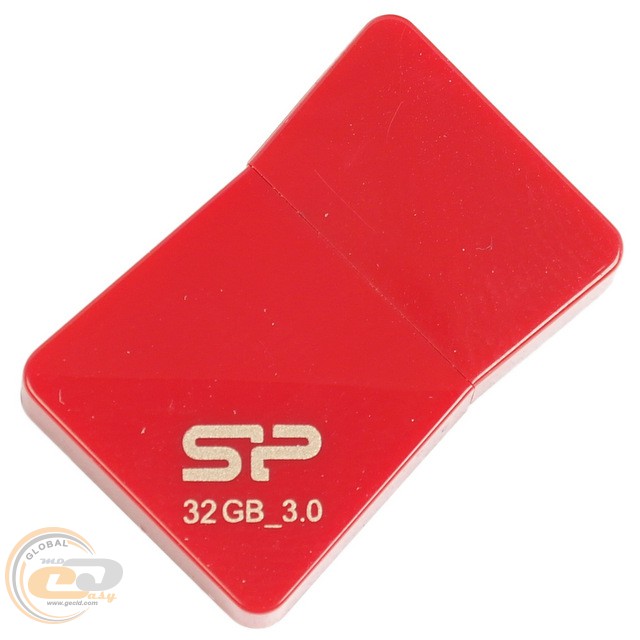 This time we want to draw the attention of our readers to bright and compact drive. The received testing model Silicon Power Jewel J08 is also characterized by the presence of interface USB 3.0, which makes it interesting not only as a carrier of small documents, but also quite easy to transport more intensive files. And this is contributed by its capacity of 32 GB.
However, let's take closer look at a novelty. Let's start with its technical specifications.
The specs:
Producer and model

Silicon Power Jewel J08
(trsted option SP032GBUF3J08V1R with capacity of 32 GB)

Interface

USB 3.0 (backward compatible with USB 2.0 and USB 1.1)

Capacity, GB

64 (SP064GBUF3J08V1K / SP064GBUF3J08V1R)
32 (SP032GBUF3J08V1K / SP032GBUF3J08V1R)
16 (SP016GBUF3J08V1K / SP016GBUF3J08V1R)
8 (SP008GBUF3J08V1K / SP008GBUF3J08V1R)

Color

Tansparent black / ruddy

Case material

Plastic

Operation temperature, °C

0…+70

OS compatibility

Windows 8 / 7 / Vista / XP / 2000

Mac OS 10.3.X and next

Linux Kernel 2.6.X and next

Dimensions, mm

24,2 x 15,8 x 7,8

Weight, g

3,59

Warranty

Lifetime

Certificates

CE / FCC / BSMI / Green dot / WEEE / RoHS / KC

Producer website
Flash Drive Silicon Power Jewel J08 is available in four variants of capacity (64, 32, 16, and 8 GB) and two color versions (black and red). For the black color option the body material is a translucent plastic, and red - is the traditional opaque. In addition, there are identical in appearance solutions Silicon Power Touch T08, but in white and pink color, equipped with the previous version of the interface (USB 2.0).
Package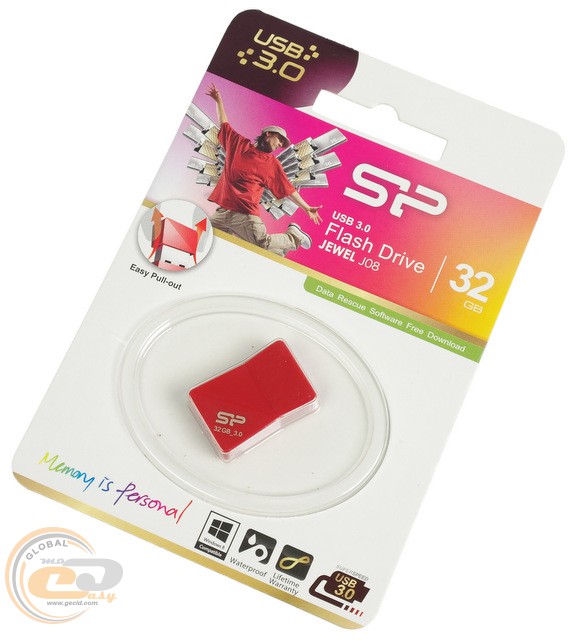 Package of the product has the appropriate features of the manufacturer of the device and you don't even need to pay attention to the applied abbreviation. This is facilitated by the characteristic colors, as well as the familiar content. So, the front side of the drive provides the name (Silicon Power Jewel J08), an indication of its size (32 GB) and interface (USB 3.0), the mark of providing a lifetime guarantee, compatibility with Windows 8 and waterproof housing. The latter feature, as well as resistance to dust and vibration, is provided through the use of technology COB (Chip-On-Board). Therefore, you can expect an increase in reliability of the device, which is indirectly indicated by the presence of lifetime warranty from the manufacturer.
Blister package allows you immediately evaluate the appearance of a drive, and located next image shows the use of the cap to protect the USB connector from external influences. The inscription on the green strip reminds us of the ability to download additional software to recover deleted data.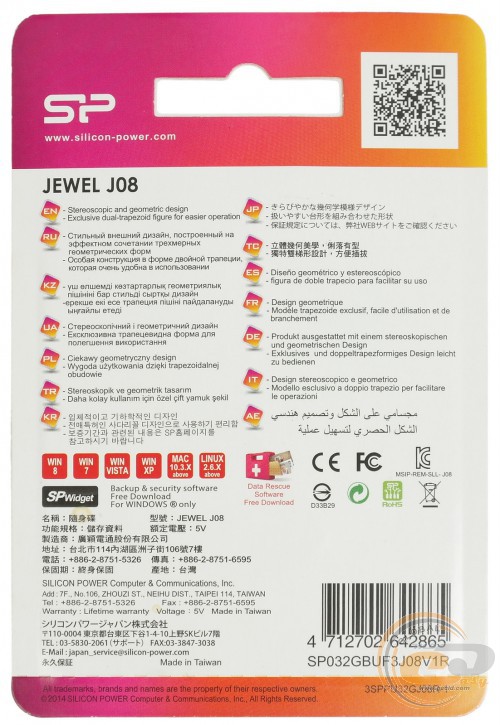 The reverse side of the package is also made in the best traditions of the brand. There is a description of main advantages of the design Silicon Power Jewel J08 (in 14 languages). Thus, the manufacturer notes stylish look, built on a spectacular combination of three-dimensional geometric shapes. The special design of the body, consisting of two elements in the form of a trapezoid, increases the convenience of using the drive in everyday conditions. Also there is an indication of a number of compatible operating systems, the ability to download supporting software, the list of received certificates and place of manufacturing (Taiwan).
The inner part of the package informs us about the extensive range of products, as well as offers to register the drive on manufacturer's website. Note that this procedure can be performed using an application that is initially placed on the drive.
Design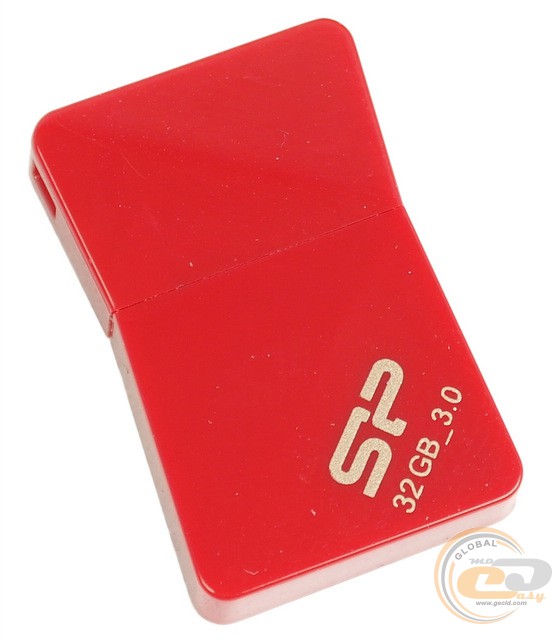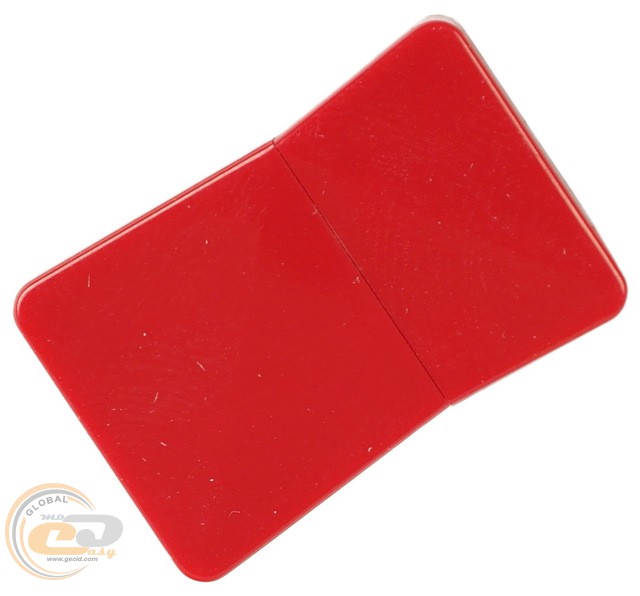 Here we come to one of the most important feature of the new item, its appearance. The drive Silicon Power Jewel J08 has a bright plastic case, which consists of two parts: the cap and the drive itself, wrapped in plastic. The information on the face of the flash drive (or rather on the cap) contains producer's abbreviation, an indication of memory capacity (32 GB) and the type of interface (USB 3.0).
The submitted photo provide more clearly visible diagonal bends, which are also interesting part of the exterior of new item. Alas, such an extraordinary design of solution does not include a LED drive activity, so before removing make sure that the copy operation has been completed.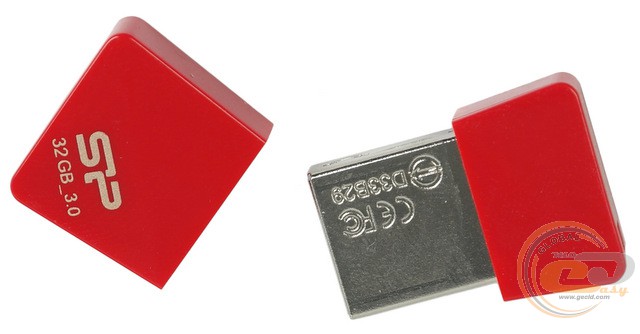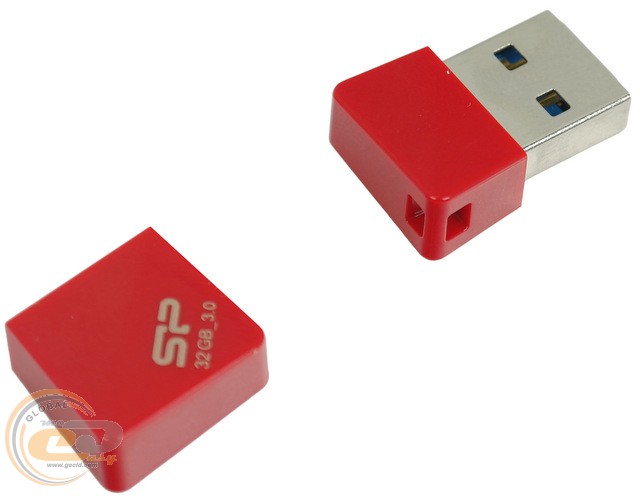 When removing the cap you can see that the flash drive is very small, only slightly larger than the size of the USB connector. Interface is presented by version USB 3.0, which should positively affect its speed performance.
The case has a hole tab allows you to wear a novelty for example as a key fob. The cap is not tight, but quite reliable, so you can not worry about losing it. Furthermore, it has a symmetrical shape, i.e. it is possible to put it on a USB connector in both positions.
Trapeze shape allows easily insert and remove it from the connector. Unfortunately, the cap cannot be put on the back of the drive.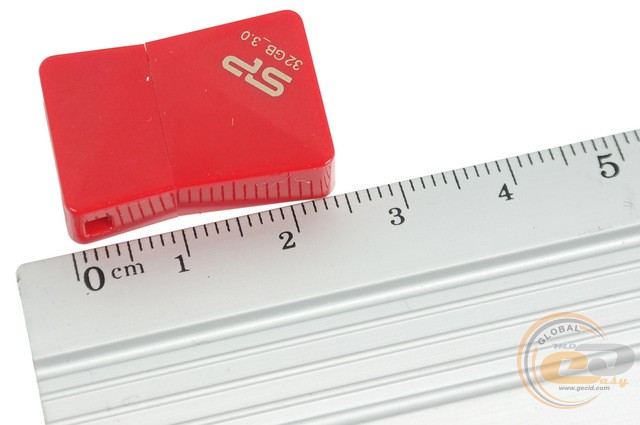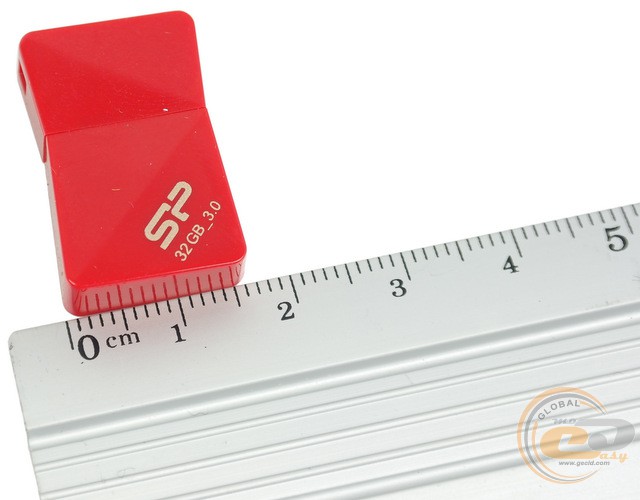 Dimensions of Silicon Power Jewel J08 even with cap are very small. The length of the new item is 24.2 mm, width is 15.8 mm.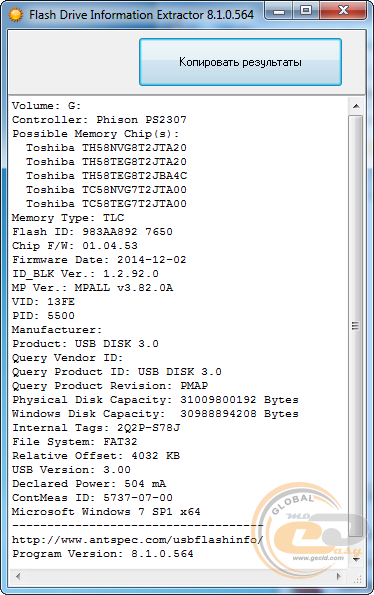 The basis of the test flash is controller Phison PS2307. Data is stored on a memory chip, manufactured by Toshiba, made by technology TLC.
File system

Initially the novelty is formatted as a single partition FAT32, which makes it compatible with a variety of operating systems. However, a significant disadvantage of FAT32 is the possibility to work only with files larger than 4 GB. Therefore, it is better to choose a more suitable file system (exFAT or NTFS) for high-capacity drive, including a tested 32 GB version.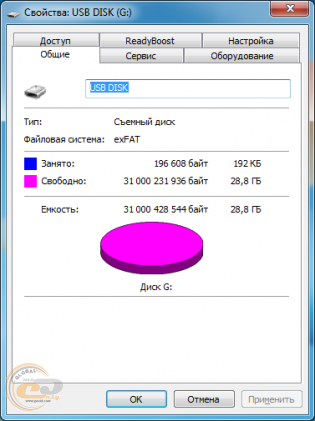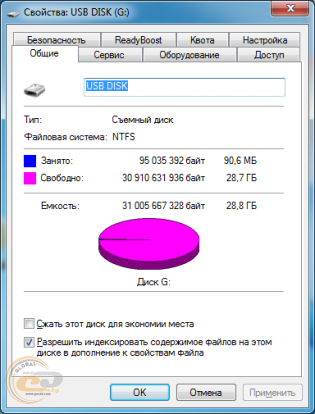 Regardless of the choice of the file system, the available volume of new item will be 28.8 GB instead of the promised 32 GB.
Testing
The following test bench was used for testing the flash drive Silicon Power Jewel J08:
| | |
| --- | --- |
| Motherboard | ASUS P9X79 PRO (Intel X79, Socket LGA2011, DDR3, ATX) |
| CPU | Intel Core i7-3930K (Socket LGA2011, 3,2 GHz, 12 МБ of L3 cache) |
| CPU cooler | ZALMAN CNPS12X (Socket LGA2011) |
| RAM | 2 x DDR3-1333 1024 MB Kingston PC3-10600 |
| Graphics card | AMD Radeon HD 6970 2 GB GDDR5 |
| Hard disk | Seagate Barracuda 7200.12 ST3500418AS, 500 GB, SATA-300, NCQ |
| Optical drive | ASUS DRW-1814BLT SATA |
| PSU | Seasonic X-660 Gold (SS-660KM Active PF), 650 W, 120 mm Fan |
| OS | Microsoft Windows 7 64-bit |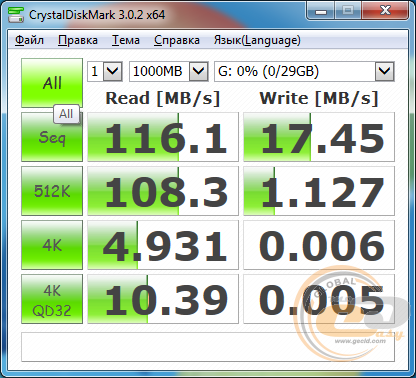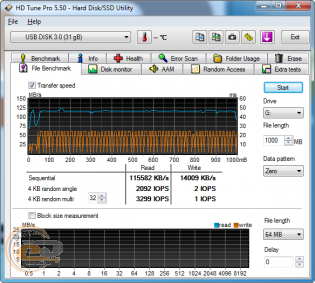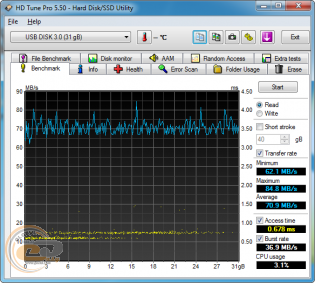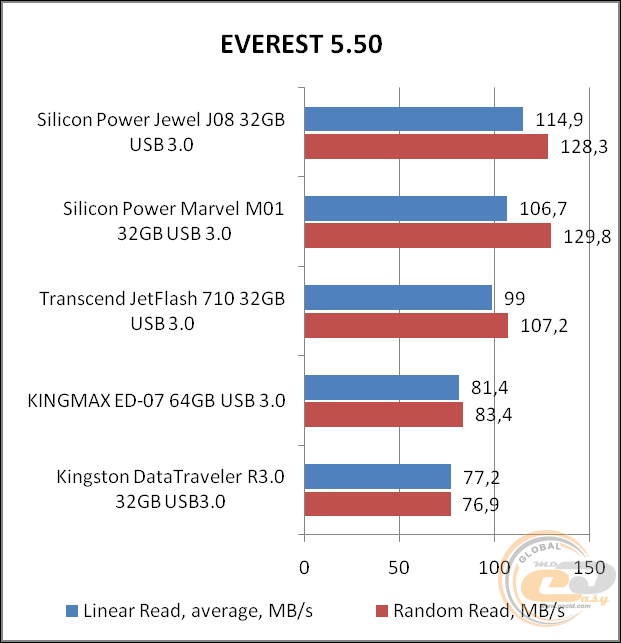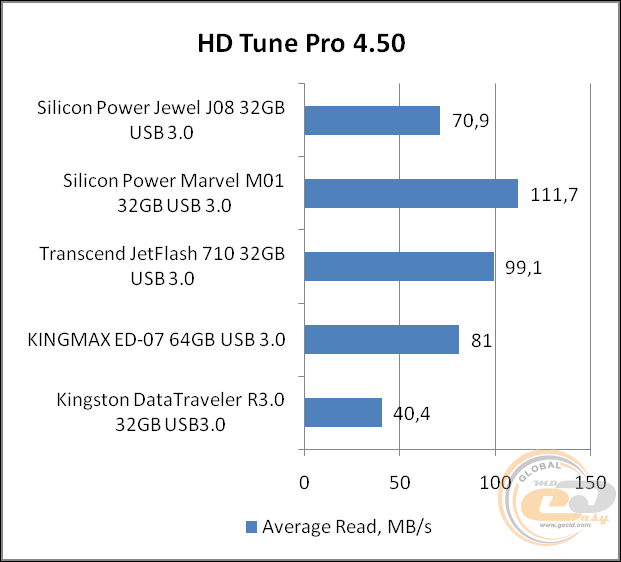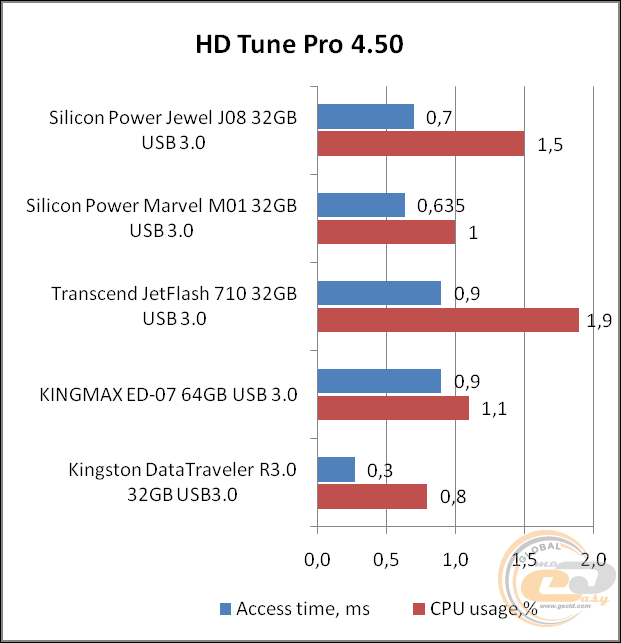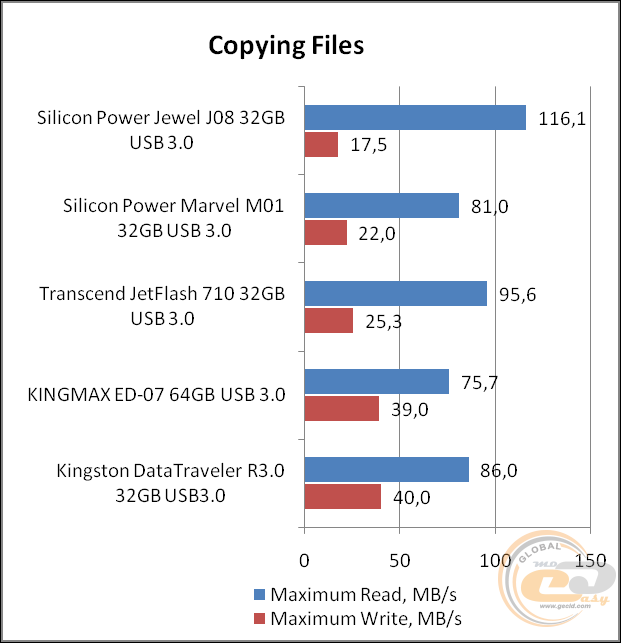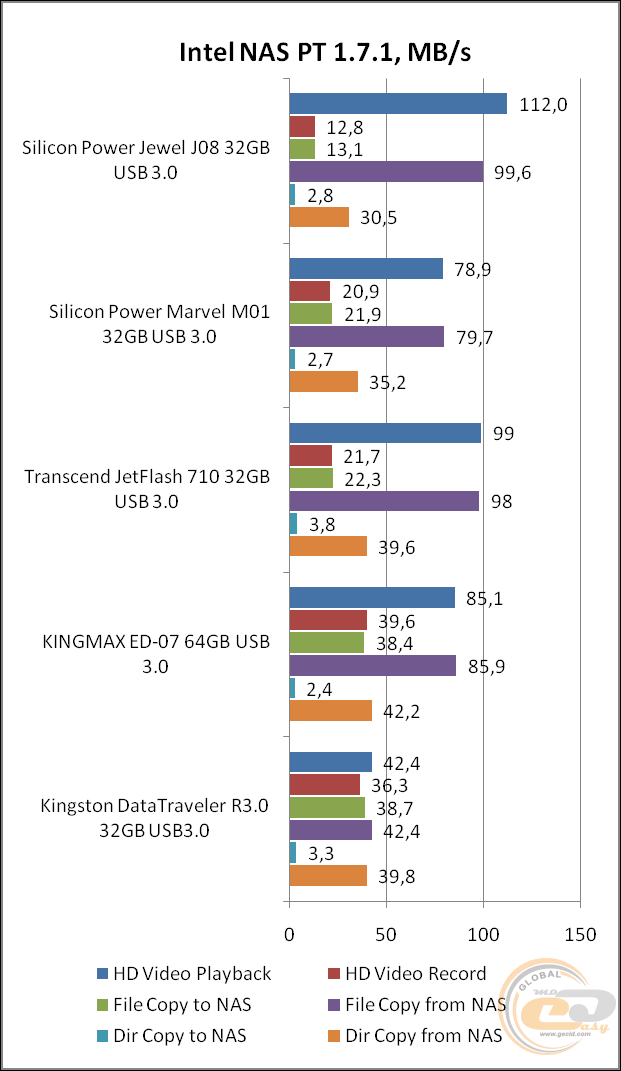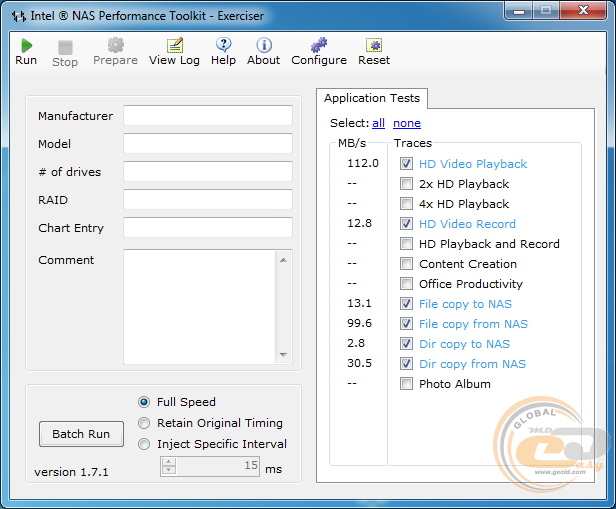 It's time to check out how a miniature of flash drive Silicon Power Jewel J08 reflected in its high-speed performance.
Read speed is at a high level, which was made possible through the use of interface USB 3.0. Thus, the maximum obtained value was 128.3 MB/s. Similar results are obtained with a linear reading and playing video - 112-116 MB/s. But indicators of utility HD Tune Pro are slightly lower – the average read speed was 70.9 MB/s.
Information record is carried out at speeds up to 17.5 MB/s, which is typical for many low-cost solutions with the same interface. But do not forget that there are also slower drives, so the resulting figure is quite acceptable, given the positioning of new product in the first place as an interesting design solution.
Indicators of memory access time and CPU usage level are comparable to other similar solutions.
The filling the capacity of new item in 32GB will require at least 30 minutes and reading of this volume takes about 5 minutes. Of course, these values vary depending on the type of content transported, but when copying films and image files it is possible to rely on the above cited figures.
Социальные комментарии Cackle