Transcend microSDXC Class 10 UHS-I U3 Ultimate 633x (64 GB) memory card: review and testing
In this review we will examine the flagship microSD memory card produced by Transcend, which corresponds to the maximum efficient standard for SD and microSD. We are talking about specifications of Ultra High Speed Class 3 (UHS-I (U3)), which provides a minimum write speed at a level of 30 MB/s.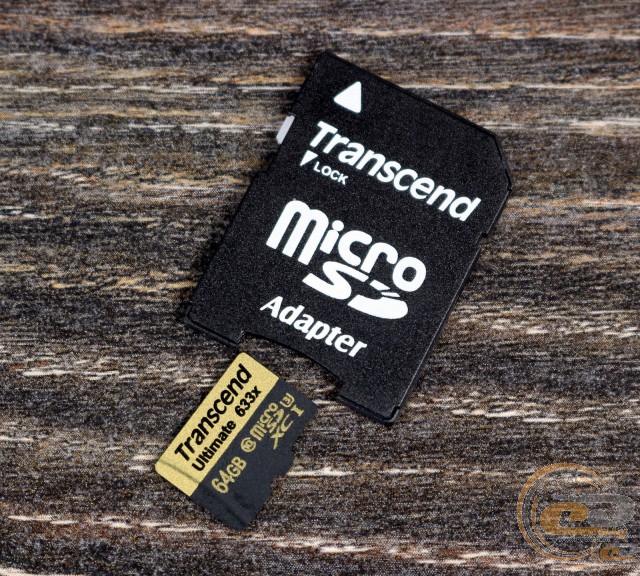 In fact, Transcend microSDXC Class 10 UHS-I U3 Ultimate 633x (TS64GUSDU3) has high speeds, namely 95 MB/s read and 85 MB/s write. Of course, these indicators should be sufficient for comfortable work with high-quality content in the format of 4K Ultra HD. A particular advantage of the test card is high use of flash memory type MLC NAND, which is durable and reliable, so they are well suited to work even under extreme conditions.
As additional protection, the new product complies with standard JIS IPX7 (can withstand immersion in water to a depth of 1 m for 30 minutes), EMC IEC61000-4-2 (ESD protection) and ISO7816-1 (protection against X-ray radiation). Also note increased impact resistance, vibration resistance, and high body rigidity in bending and torsion.
As you can see, the manufacturer has paid sufficient attention to protection of own product. An indirect confirmation of this is a lifetime warranty on the memory card. Let's take a look at the details of its features:
Producer and model

Transcend microSDXC Class 10 UHS-I U3 Ultimate 633x

(TS64GUSDU3)

Form-factor

microSD

Speed class

UHS Speed Class 3 (U3)

Stated speed of sequential read/write, MB/s

95 / 85

Capacity, GB

64 (TS64GUSDU3)
32 (TS32GUSDU3)

Operation temperature range, °C

-25…+85

Voltage, V

2,7 – 3,6

Producer's warranty

Lifetime

Durability, installation cycles/ extraction

10 000

Dimensions, mm

15 х 11 х 1

Weight, g

0,4

Producer website
The model is available only in two versions, which differ only in volume (32 and 64 GB).
Design and package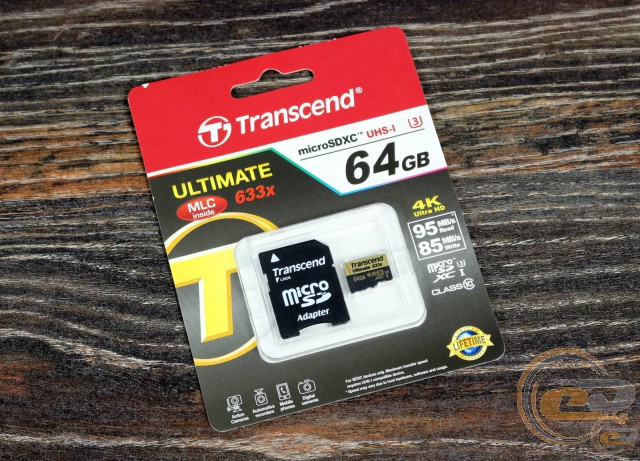 The memory card is shipped in the traditional format of the blister transparent pack, which allows to evaluate the appearance of the product before buying. On the front side you can notice the indication of the manufacturer, model, and memory. Here is information about the use of flash memory chips MLC NAND type and lifetime warranty. Also here you can find the values of the sequential read and write at a level of 95 and 85 MB/s respectively.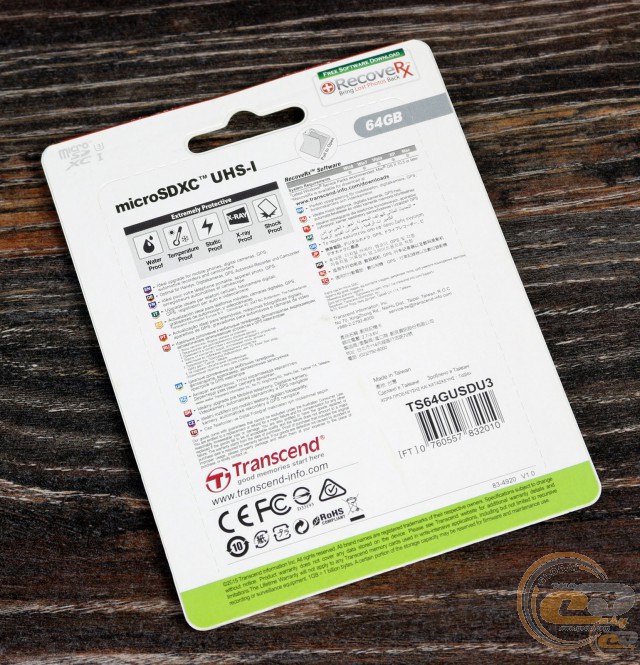 The reverse side in several languages contains a small description of the product advertising, and increased level of protection against moisture, static electricity, X-rays, high temperatures and drops.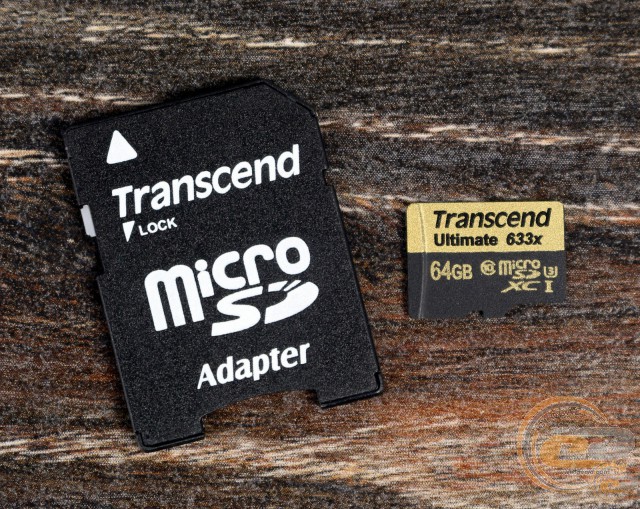 Model Transcend TS64GUSDU3 is made of black plastic with a small strip of golden color on the front side. Its dimensions are absolutely standard and fully comply with the format microSD (15 x 11 x 1 mm). The front side of the device features name of the device, its scope, as well as compliance with technology Ultra High Speed Class 3 (UHS-I (U3)).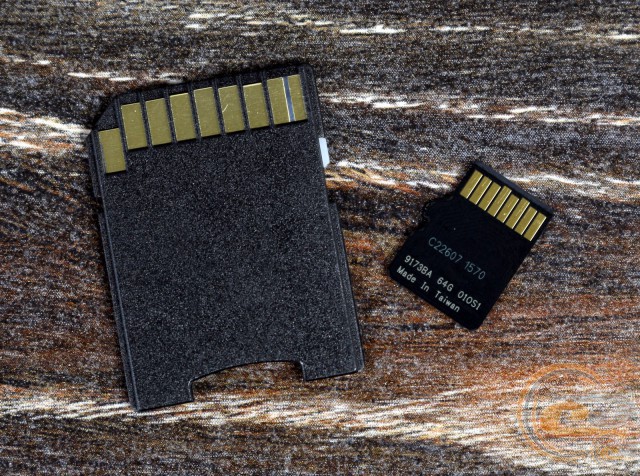 The reverse side contains eight standard pads, marking and an indication of the country of production (Taiwan).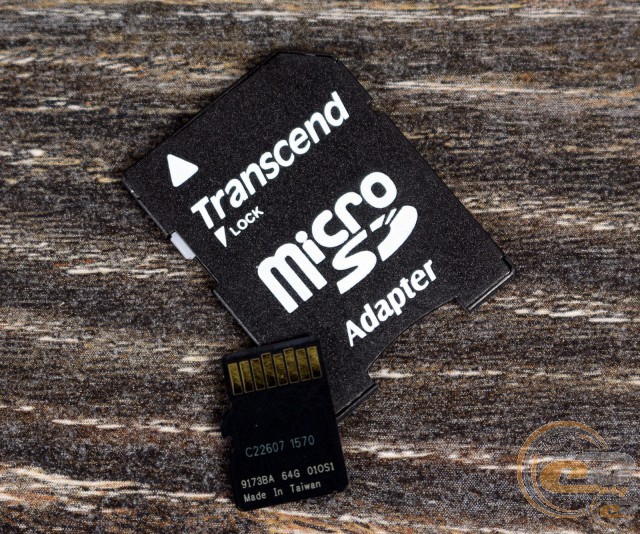 Also we would like note the presence of adapter from microSD to SD, which is still widespread in the photographic and video equipment.
File system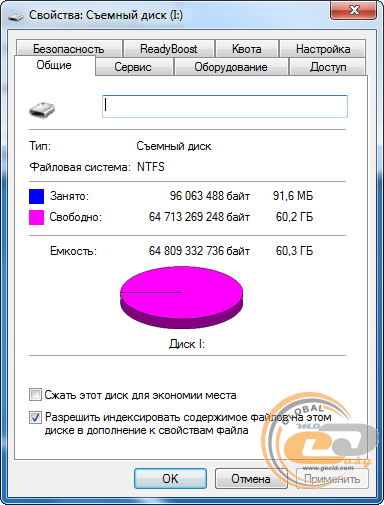 By default, the memory card is formatted for NTFS. Moreover, its effective capacity is 64 GB.
Testing
We used the following test configuration to test Transcend microSDXC Class 10 UHS-I U3 Ultimate 633x:
Motherboard

ASUS P9X79 PRO (Intel X79, Socket LGA2011, DDR3, ATX)

ASRock Fatal1ty Z97X Killer (Intel Z97, Socket LGA1150, DDR3, ATX)

CPU

Intel Core i7-3930K (Socket LGA2011, 3,2 GHz, 12 МB L3)

Intel Core i7-4770K (Socket LGA1150, 3,5 GHz, 8 МB L3)

Cooler

ZALMAN CNPS12X

RAM

2 x DDR3-1333 1024 MB Kingston PC3-10600

Video card

AMD Radeon HD 6970 (2 GB GDDR5)

Hard disk

Seagate Barracuda 7200.12 ST3500418AS (500 GB, SATA 3 Gb/s, NCQ)

Optical drive

ASUS DRW-1814BLT SATA

PSU

Seasonic X-660 Gold (SS-660KM Active PF), 650 W, 120-mm Fan

OS

Microsoft Windows 7 64-bit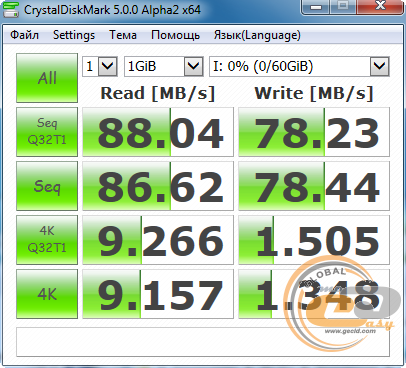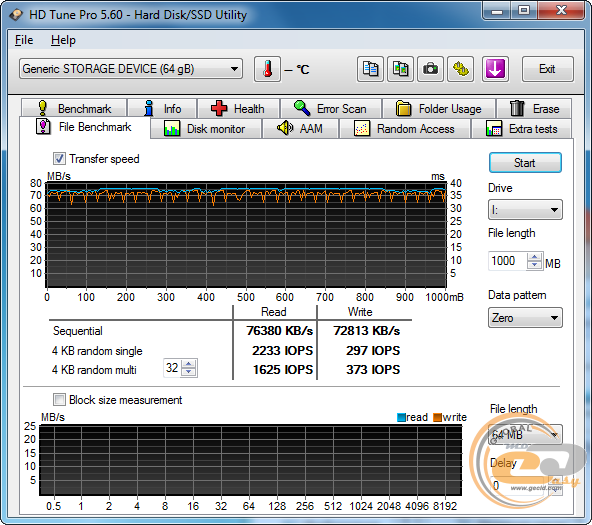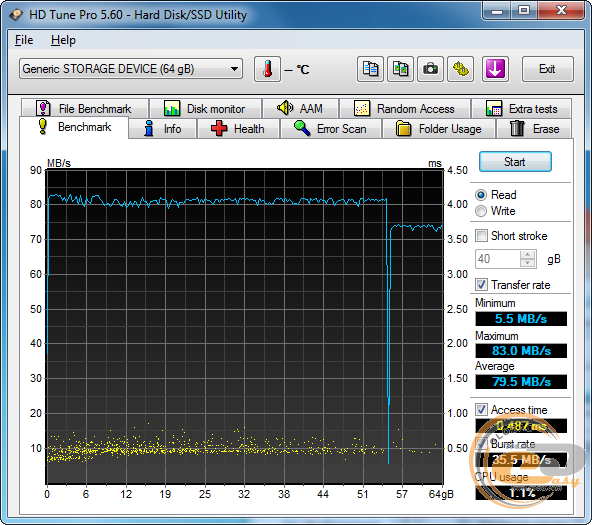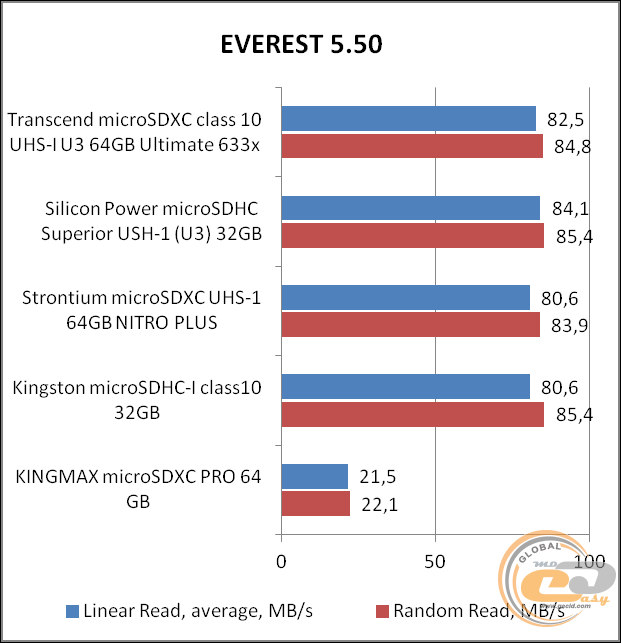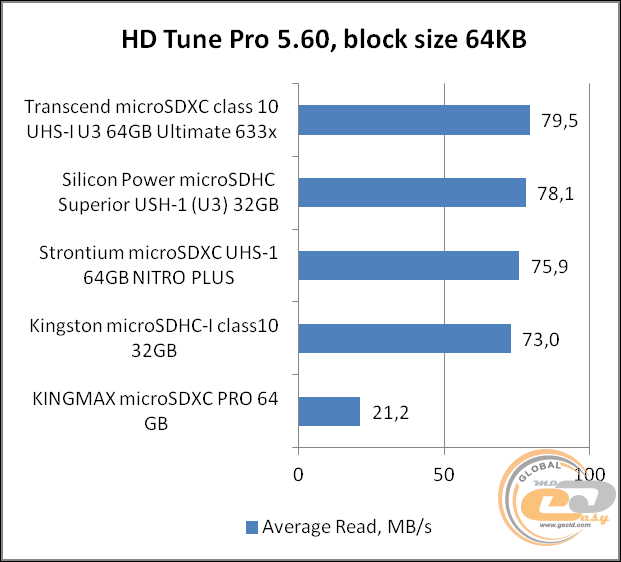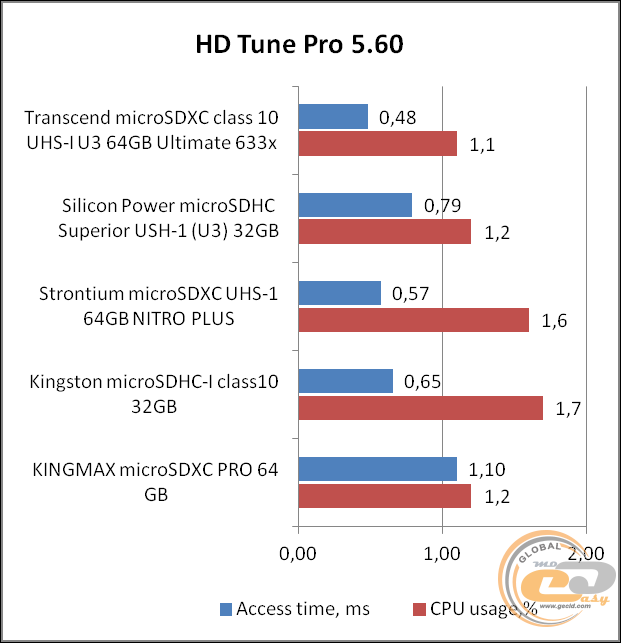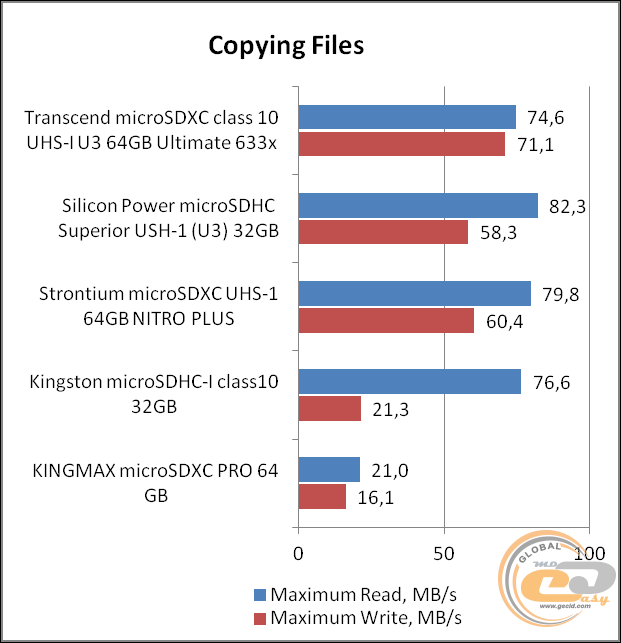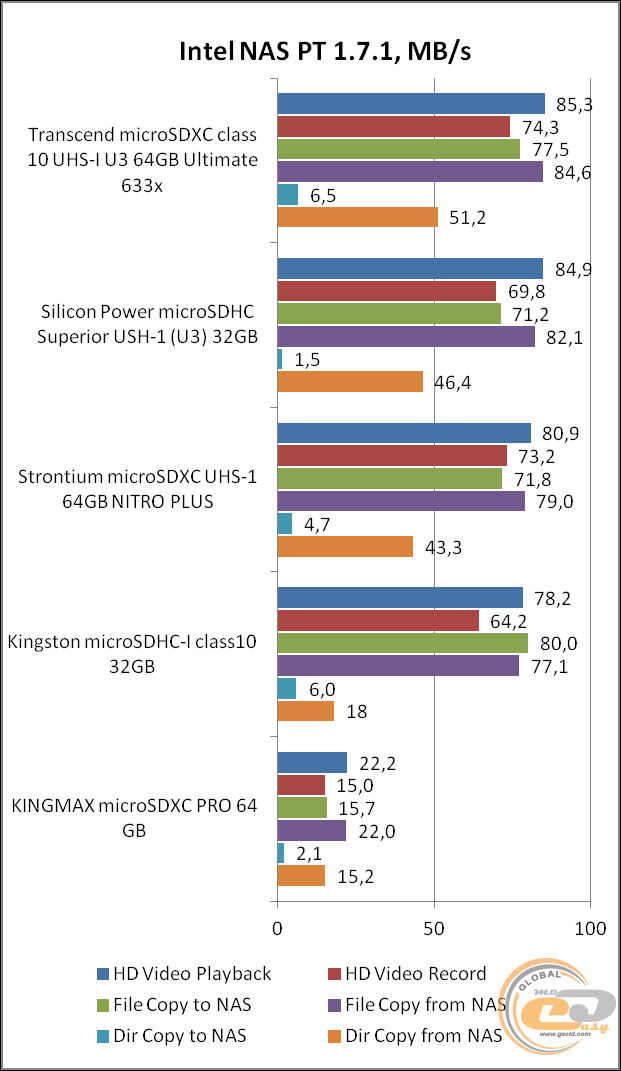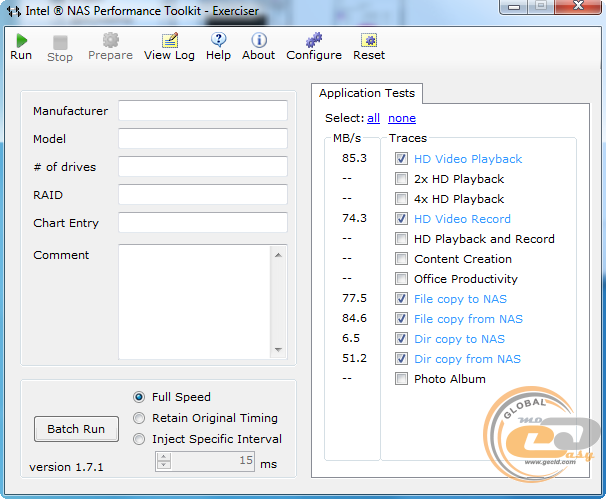 During testing the drive Transcend TS64GUSDU3 demonstrated a high level of performance: read speed reaches 88 MB/s, and write - 78 MB/s. It is slightly lower than the declared 95 and 85 MB/s respectively, but the manufacturer indicates that the level of performance is dependent on the goals, so it may vary in a small range. The main thing is that such indicators are more than enough even for a high-quality 4K-material.
As for the comparison with competitors, the novelty confidently holds the leading position, demonstrating similar performance with Strontium microSDXC Nitro Plus UHS-1 U3, which is not surprising, as both memory cards compliant with Ultra High Speed Class 3 (UHS-I (U3)) . Also we would like to note that Transcend microSDXC Class 10 UHS-I U3 Ultimate 633x showed the smallest access time, as well as the lowest CPU load during operation, which is an advantage.
Социальные комментарии Cackle