Video card ASUS GeForce GTX 960 STRIX DirectCU II OC (STRIX-GTX960-DC2OC-4GD5): review and testing
A few months ago many manufacturers have expanded their video cards range of the popular series NVIDIA GeForce GTX 960 models with 4 GB of memory. And the company ASUS did the same. It has released a version ASUS GeForce GTX 960 STRIX DirectCU II OC (STRIX-GTX960-DC2OC-4GD5), which boasts of a number of other advantages.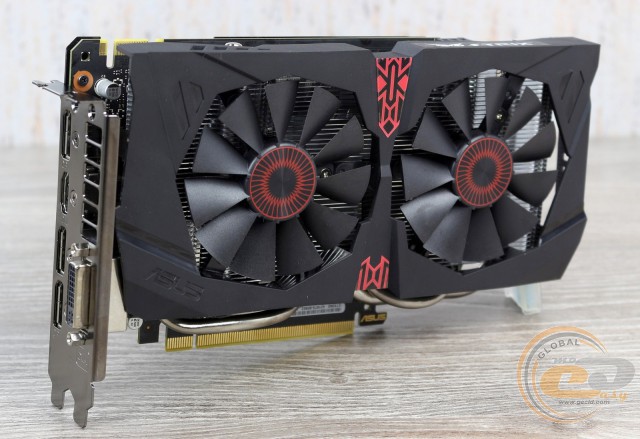 First of all they include significant factory overclocking, productive proprietary cooling system DirectCU II with support for passive mode «0dB FAN» and qualitative element base. Also it has a good set of interface panel connectors and support for efficient software.
The specs:
Model

ASUS GeForce GTX 960 STRIX DirectCU II OC (STRIX-GTX960-DC2OC-4GD5)

Graphics core

NVIDIA GM206 (Maxwell)

Manufacturing process, nm

28

Q-ty of shader processors (CUDA-cores)

1024

Supported API and technologies

DirectX 12, OpenGL 4.4, NVIDIA GPU Boost 2.0, NVIDIA TXAA, NVIDIA FXAA, NVIDIA MFAA, NVIDIA Adaptive Vertical Sync, NVIDIA Surround, NVIDIA PhysX, NVIDIA 3D Vision, NVIDIA SLI, NVIDIA CUDA, NVIDIA GameWorks, NVIDIA GameStream

Nominal/dynamic GPU frequency, MHz

«Gaming»

1228 / 1291

«OC»

1253 / 1317

Memory capacity, GB

4

Memory type

GDDR5

Nominal / effective video memory capacity, MHz

1753 / 7010

Memory bus, bit

128

Memory carrying capacity, GB/s

112,2

Internal interface

PCI Express 3.0 x16

Screening interfaces

1 х HDMI 2.0

3 x DisplayPort

1 х DVI-I

Minimal PSU capacity, W

400

Dimensions taken from official website (according measurements in own test lab) , mm

215 x 121 x 41 (227 x 122)

Drivers

Website
Package and content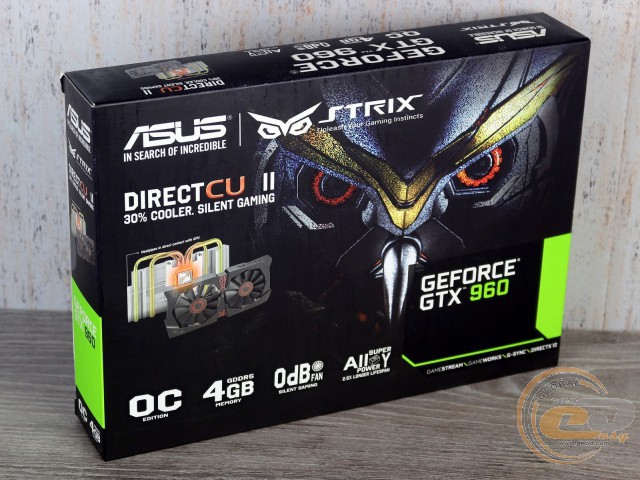 The card comes in a cardboard box with high-quality color printing. Its front side contains the logo of the manufacturer and the series ASUS STRIX. Below you can find an image of a proprietary cooling system DirectCU II, which is 30% more efficient in comparison with the reference model, according to signs. Also here is the mark of a factory overclocking and the capacity of video memory.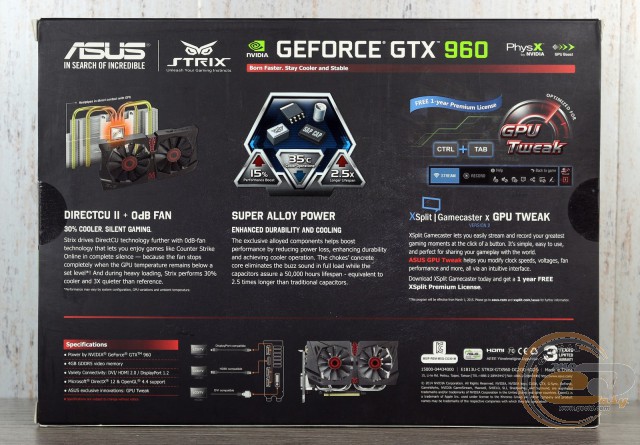 The reverse side of the package has a layout of the interface panel connectors and a more detailed description of ASUS STRIX-GTX960-DC2OC-4GD5features:
cooling system supports passive mode «0dB FAN», which allows it to be absolutely silent at light load;
element base corresponds to the branded concept Super Alloy Power and includes solid capacitors with increased 2.5 times lifetime, with ferrite core chokes, and improved field-effect transistors;
proprietary software for overclocking and monitoring (GPU Tweak) and free software license for game broadcasts XSplit Gamecaster for 1 year.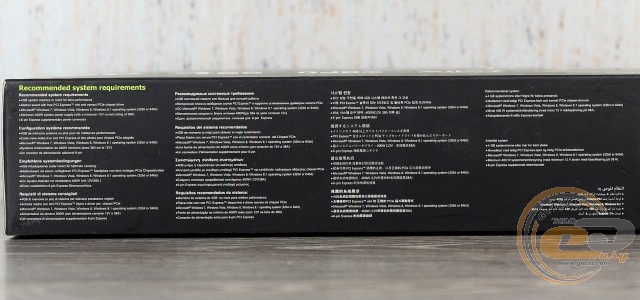 On the side face you can find the minimum system requirements required for the complete the work for the graphics card. Thus, the minimal capacity of power supply is 400 W, and the load capacity of the rail +12V must be 38 A or higher. It is also desirable to have at least one 6-pin PCIe.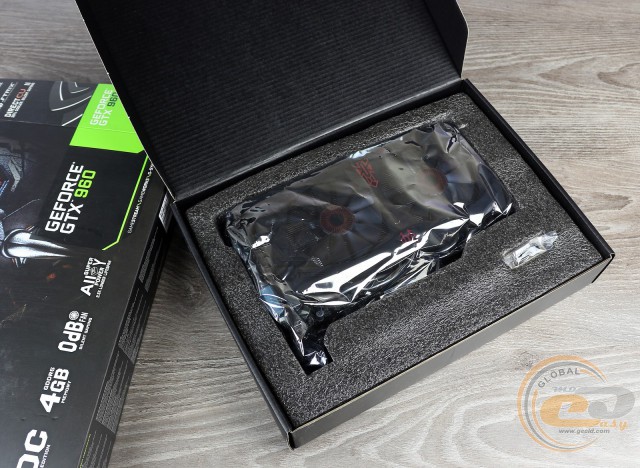 Inside the box a graphics accelerator is securely fixed using foam shapes and antistatic bag. This design will allow to protect the fragile electronics from damage during transportation.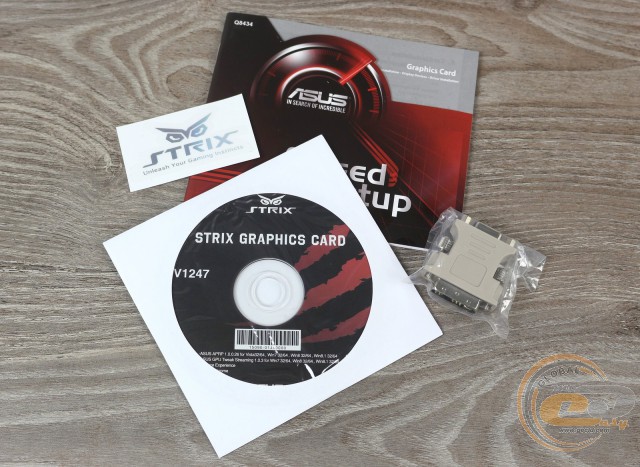 Package of ASUS GeForce GTX 960 STRIX DirectCU II OC consists of:
adapter DVI-I ↔ D-Sub;
software and drivers CD;
stickers on the computer;
quick start guide.
Adapter DVI-I ↔ D-Sub is a nice bonus. It allows to connect an analog monitor.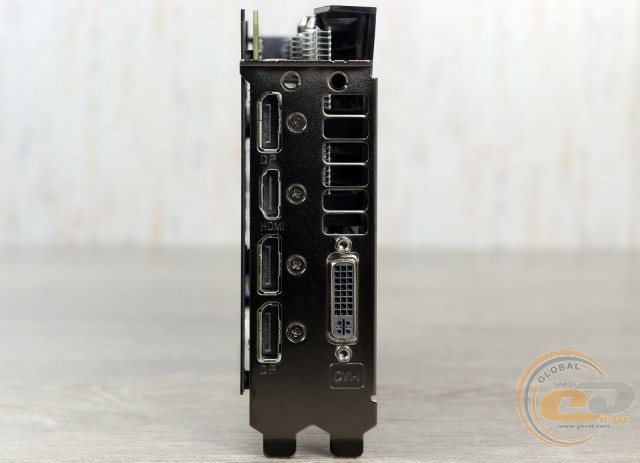 Interface panel includes the following set of connectors:
1 x HDMI 2.0;
3 x DisplayPort;
1 x DVI-I.
The following resolutions are supported:
Digital up to 4096 x 2160;
Dial up to 2048 x 1536.
Design and circuitry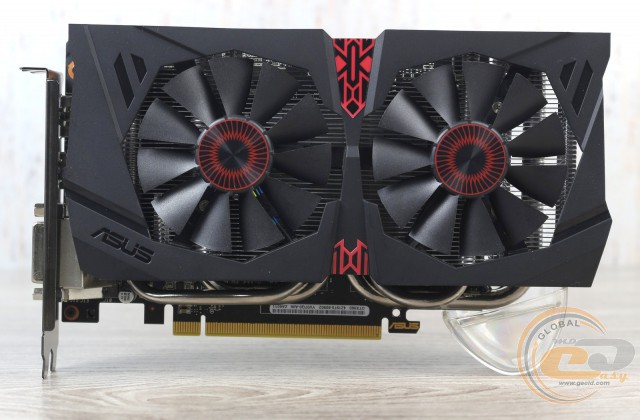 ASUS STRIX-GTX960-DC2OC-4GD5 is made on a compact circuit board. The total length of the graphics accelerator is only 227 mm, which will allow to place it even in small cases.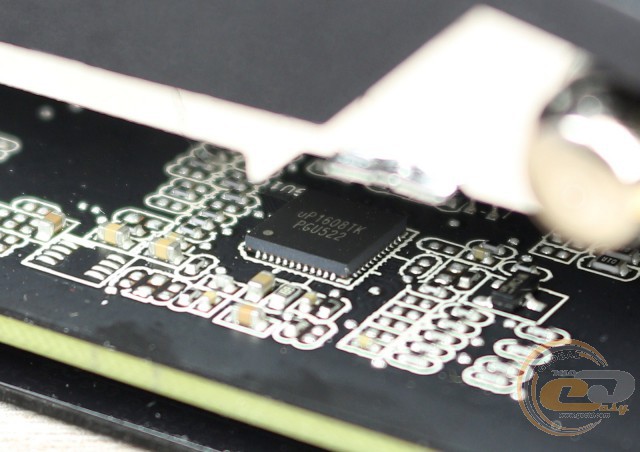 The power subsystem uses a 5-phase design: four phases are reserved for the GPU and one is for the memory chips. PWM controller is a chip uP1608TK from the company uPI Semiconductor.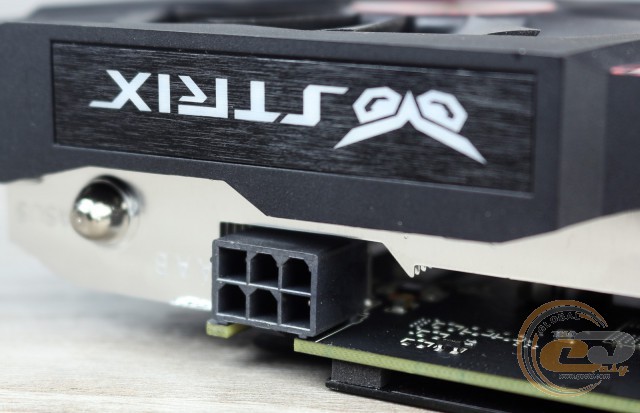 The proper operation of the graphics accelerator is provided by slot PCI Express 3.0 x16 and one additional 6-pin PCIe. The PCB has a special projection for connector snap.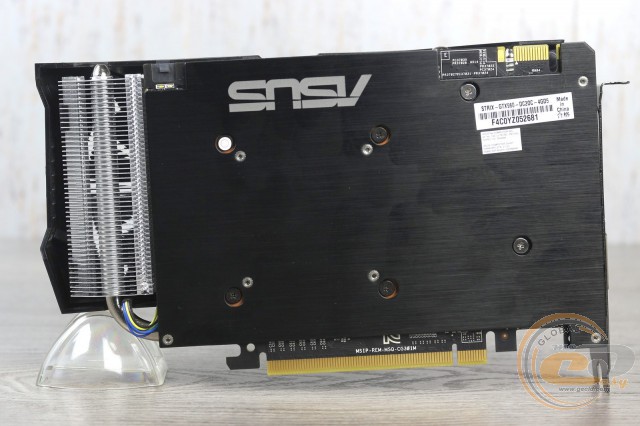 On the reverse side of the printed circuit board there is a metal plate which not only protects the PCB from damage, but also participates in the heat removal process. Also note that one of the four screws of the cooling system has a protective seal. This means that the dismantling of cooling system is not desirable and will void the warranty.
In the upper right corner you can see the connector for the bridge NVIDIA SLI. It allows you to connect the processing power of two GPUs for the co-processing of the graphics.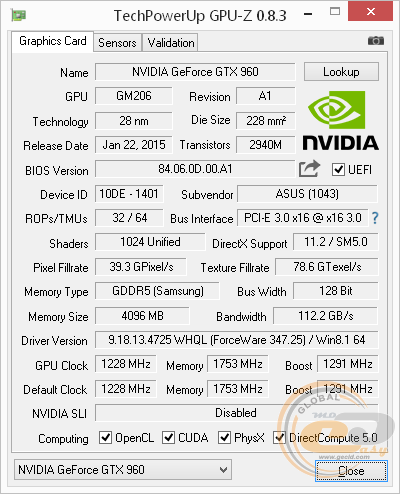 Video card ASUS STRIX-GTX960-DC2OC-4GD5 is based on 28-nm GPU NVIDIA GM206-300-A1 (Maxwell). It consists of the 1024 unified shader processors, 64 texture units and 32 ROP units.
The graphics core has two modes. In the first case (mode «Gaming») its nominal frequency is 1228 MHz, and dynamic is 1291 MHz. When you activate the profile «OC» data values will be 1253 and 1317 MHz respectively.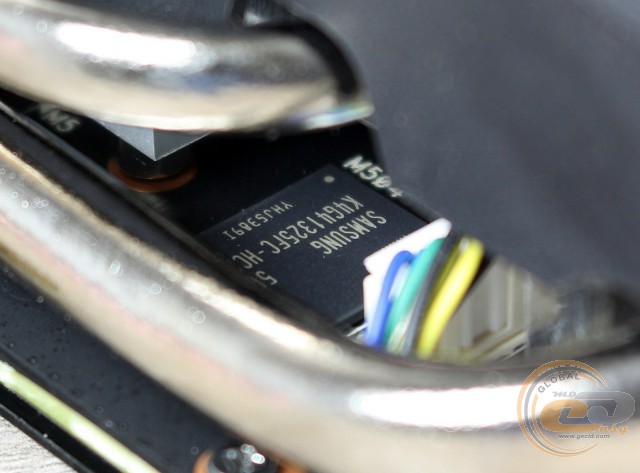 Total memory is 4 GB and it is provided by using 8 chips Samsung K4G41325FC-HC28 with capacity 4 GB each. They work on the effective frequency 7010 MHz, and to exchange data with a graphics core use 128-bit bus with a capacity of 112.2 GB/s.
Cooling system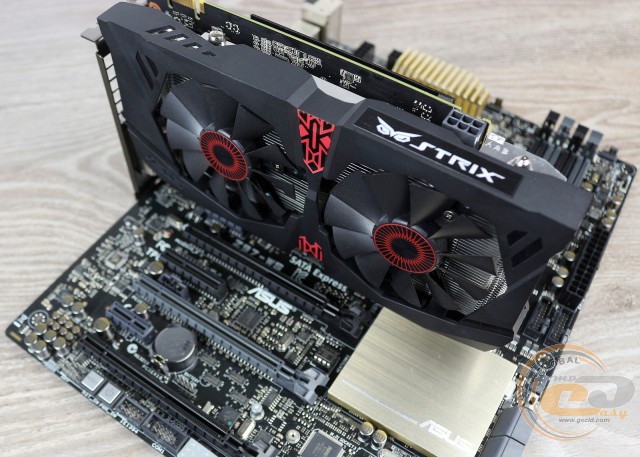 The card is equipped with a proprietary cooling system, which occupies two slots for expansion cards. The outer part is covered by a plastic cover, decorated with original printing.

Four nickel-plated heat pipes are used to remove heat from the GPU. Two of them have a diameter of 8 mm, and two 6 mm. They are characterized by direct contact with the surface of the GPU to improve heat dissipation.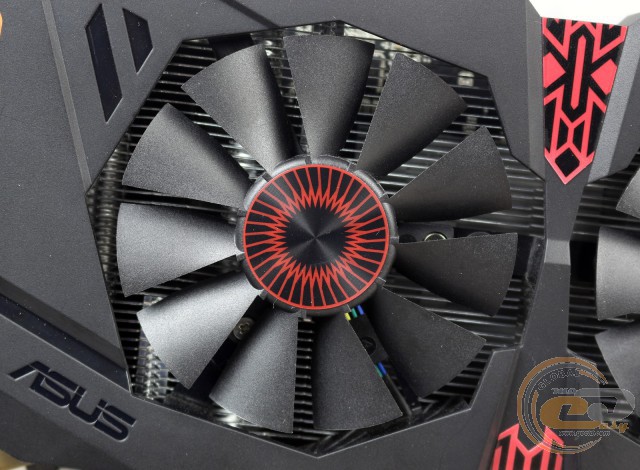 Two axial blowing fans FirstDo FD7010H12S (12; 0.35 A) with 75mm diameter blade are applied. They are based on slider bearings.

Now let's examine the effectiveness of branded cooler under load. In automatic mode of the cooling system the GPU temperature did not exceed 70°C at maximum load. Fans were very quiet (the first rotated at 1730 rpm, and the second at 1700 rpm) and were virtually indistinguishable on the background of the other components.

After running at maximum speed (first rotated with a frequency of 3300 rpm, and the second - 3280 rpm), GPU temperature dropped to 59°C. Even in this mode, the noise was average and was comfortable enough for long term use.

In idle mode the GPU temperature dropped to 42°C and the cooler was switched to passive mode. And this is a principle of the technology "0 dB FAN»: silent cooler under low loads.
Социальные комментарии Cackle