Video cardASUS STRIX R9 380 (STRIX-R9380-DC2OC-2GD5-GAMING) on AMD Radeon R9 380: review and testing
Continuing familiarity with the lineup of graphics cards AMD Radeon Rx 300, after talk about the AMD Radeon R9 390, which is a kind of modification of the AMD Radeon R9 290, we will move to a more affordable solution, namely, the AMD Radeon R9 380.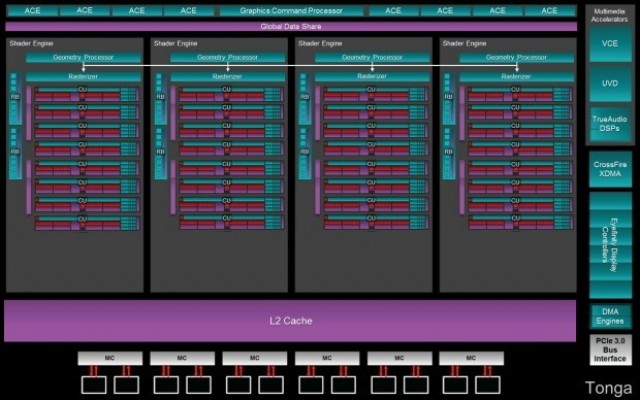 By analogy with the previous model, the novelty was renamed and slightly modified graphics core from last year's adapter AMD Radeon R9 285, which has received a new name AMD Antigua PRO instead of AMD Tonga PRO. At the same time there were any significant structural changes: the chip also includes a 1792 stream processors, 112 texture units and 32 units rasterization. As for the video memory subsystem, there are two versions of the video card: one with 2 GB of working on the effective frequency 5500 MHz, and the second with 4 GB and frequency of 5700 MHz.
AMD

Radeon R9 380

Code name

Grenada PRO

Hawaii PRO

Antigua PRO

Tonga PRO

Quantity of data-flow processors

2560

2560

1792

1792

Texture units

160

160

112

112

ROP

64

64

32

32

Graphics processor frequency, MHz

1000

947

970

918

Video memory effective frequency, MHz

6000

5000

5500 / 5700

5500

Video memory capacity, GB

8

4

2 / 4

2

Video memory interface, bit

512

512

256

256
As you can see, another difference of AMD Radeon R9 380 from its predecessor AMD Radeon R9 285 is the increased frequency of the graphics core from 918 to 970 MHz. For the rest, any critical differences in performance between them are absence. Separately, we note that AMD declares the GPU energy optimization achieved by improving the manufacturing process. This allowed further increase the frequency of the cores.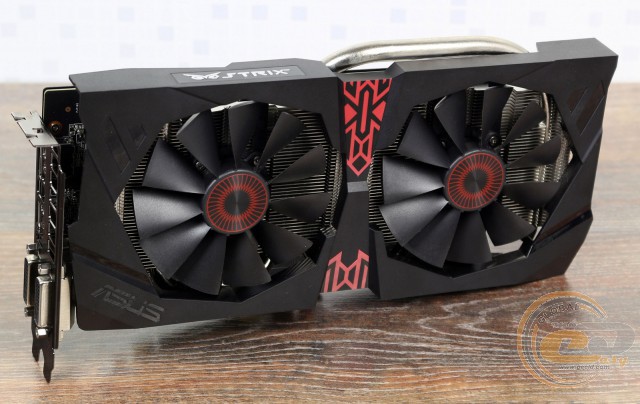 Let's turn to a more detailed examination of the product on the example of the video card ASUS STRIX R9 380 (STRIX-R9380-DC2OC-2GD5-GAMING).
Model

ASUS STRIX R9 380 (STRIX-R9380-DC2OC-2GD5-GAMING)

Graphics core

AMD Radeon R9 380 (Antigua PRO)

Quantity of shader processors

1792

Supported API and technologies

DirectX 12, OpenGL 4.5, AMD Mantle, AMD Eyefinity, AMD App Acceleration, AMD HD3D, AMD CrossFireX, AMD PowerPlay, AMD PowerTune, AMD ZeroCore, AMD TrueAudio, AMD Virtual Super Resolution, AMD Frame Rate Target Control, Vulcan, AMD FreeSync, OpenCL 2.0, AMD LiquidVR

GPU frequency, MHz

«OC»

1010

«Gaming»

990

Memory frequency (effective), MHz

1375 (5500)

Memory capacity, GB

2

Memory type

GDDR5

Memory bus, bit

256

Memory carrying capacity, GB/s

176,6

Bus

PCI Express 3.0 x16

Max resolution

4096 x 2160

Screening interfaces

1 х DVI-D

1 х DVI-I

1 х HDMI

1 х DisplayPort

HDCP support and HD-video decoding

Yes

Minimal PSU capacity, W

500

Dimensions from the official site (measured in our lab), mm

271 x 139 x 42 (284 х 139)

Drivers

Producer website
Like all video card in series ASUS STRIX, the novelty has received quite a large list of modifications compared to the reference specifications. So, in addition to the original PCB, proprietary cooling system and improved element base, there is a factory overclocking. In mode «OC» the graphics core (used for testing) operates at 1010 MHz (increase of 4% compared to the recommended 970 MHz). Video memory operates at speed of 5500 MHz recommended for version of 2GB.
Package and content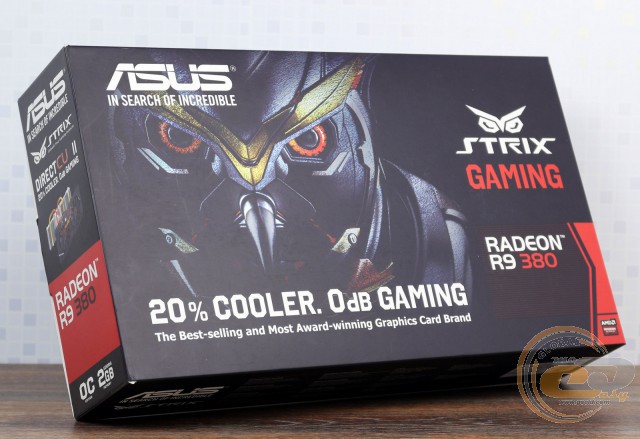 Graphics card ASUS STRIX R9 380 (STRIX-R9380-DC2OC-2GD5-GAMING) is shipped in a quite large cardboard box decorated with original and stylish printing with logo of lineup ASUS STRIX. In addition to manufacturer and model of the device here you can find information about the use of proprietary cooling system DirectCU II with technology 0dB FAN which provides 20% lower temperature compared to the reference cooler and radial type in passive mode at low loads.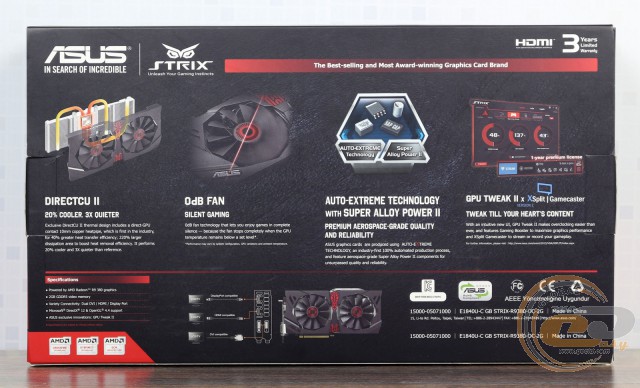 The reverse side of the box is traditionally reserved for the slightly more detailed description of the advantages of new item. Also there is a schematic diagram of the interface panel, and the mention of the features of proprietary utility GPU Tweak II with features of Online Streaming, and switch between the modes «Gaming» and «OC».
As for the advantages, they include:
ASUS Auto Extreme with Super Alloy Power II - model ASUS STRIX-R9390-DC3OC-8GD5-GAMING is one of the world's first graphics card built in a fully automated line, which guarantees consistently high quality and ensures the rejection of aggressive chemicals in the production process. In addition, it is based on using high-quality electronic components (Super Alloy Power II), allowing further improves the reliability of the new item.
0db FAN provides silent operation of video at low loads.

A list of system requirements for the computer is located on one side of the box. Based on the recommendations, the power supply in such a system must have a capacity at least 500 W and provide at least 24 A on +12 V line. Also tested model requires the connection of one 8-pin cable PCIe.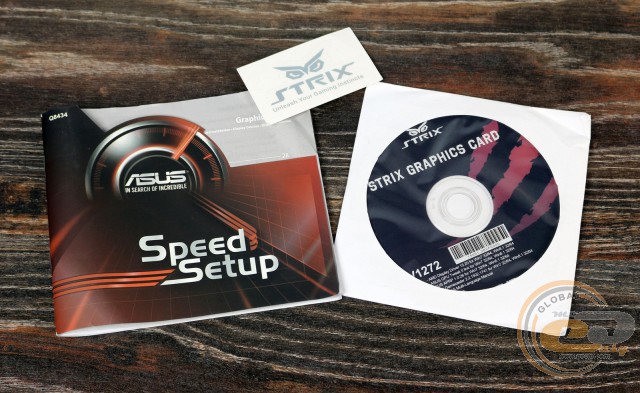 The delivery set of the graphics card ASUS STRIX-R9380-DC2OC-2GD5-GAMING contains standard documentation and software CD.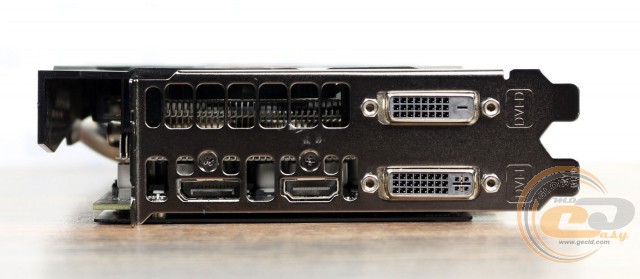 To display the image the next set of interfaces is provided:
1 x DVI-D;
1 x DVI-I;
1 x HDMI;
1 x DisplayPort.
Design and circuitry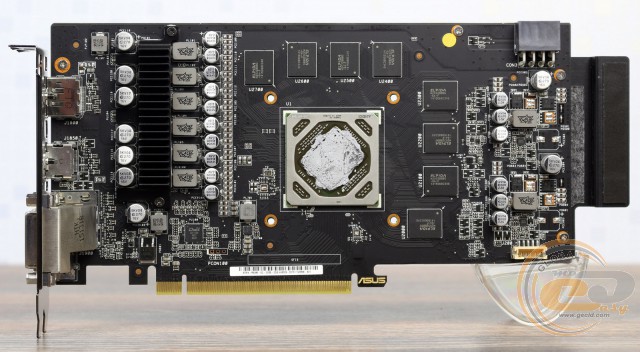 Model ASUS STRIX R9 380 (STRIX-R9380-DC2OC-2GD5-GAMING) is realized on the original circuit board painted in black color, with a standard arrangement principle. Used electronic components correspond to the concept Super Alloy Power II and includes only high-quality components: solid state capacitors, advanced MOSFETs and ferrite core chokes. This increases the stability and reliability of the graphics in general, and also prolongs its life.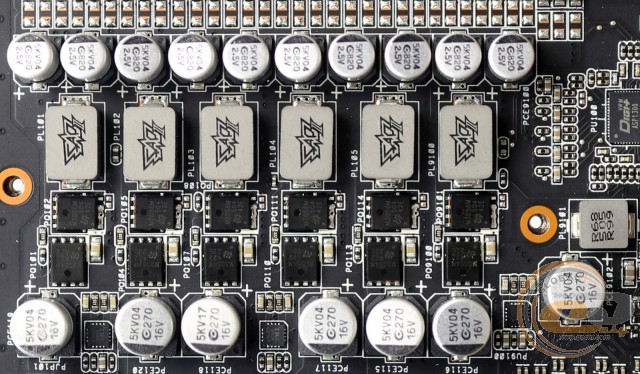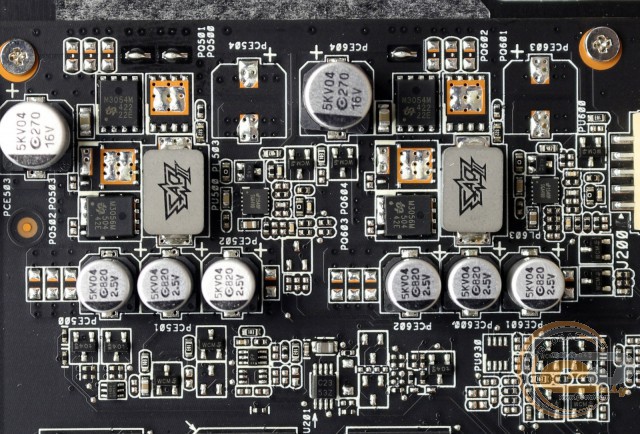 Power is realized according to reinforced 6+2-phase scheme where six phases are responsible for the power of the graphics core and 2 are designed for video memory subsystem.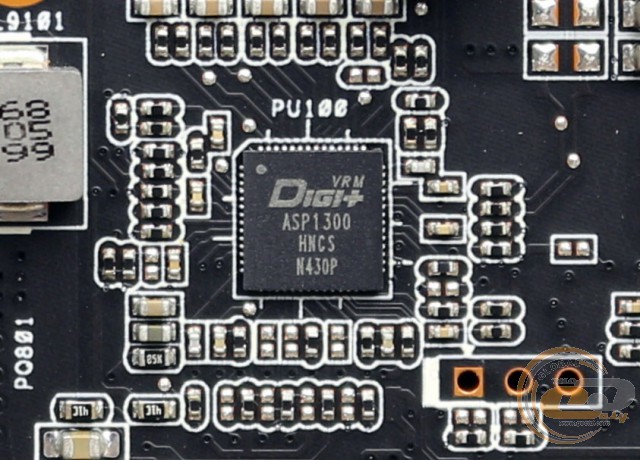 PWM controller of power subsystem is carried by chip ASP1300.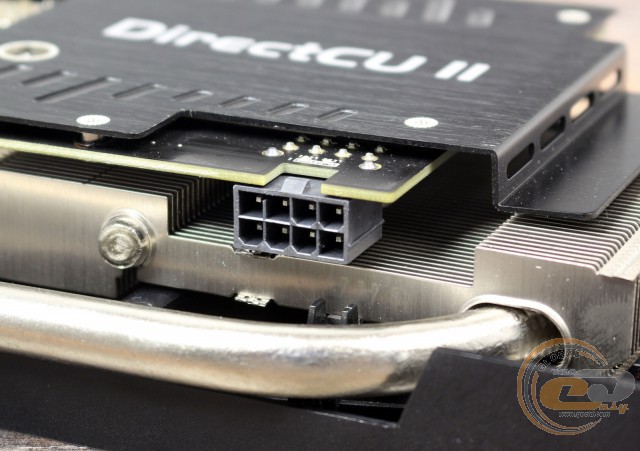 In order to provide the power supply the test product includes PCI Express x16 slot and one 8-pin PCIe, located on the side of the board. Note that the cooler slightly complicates the disconnection of the cable PCIe.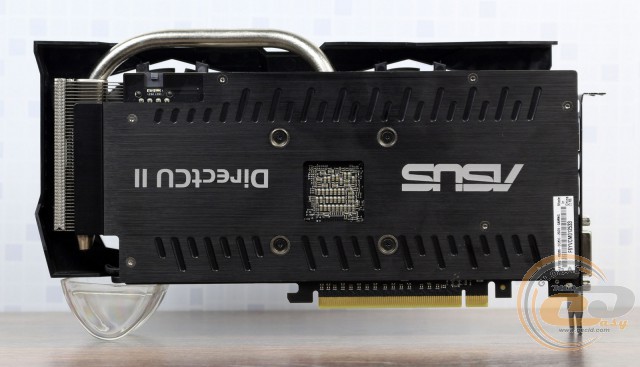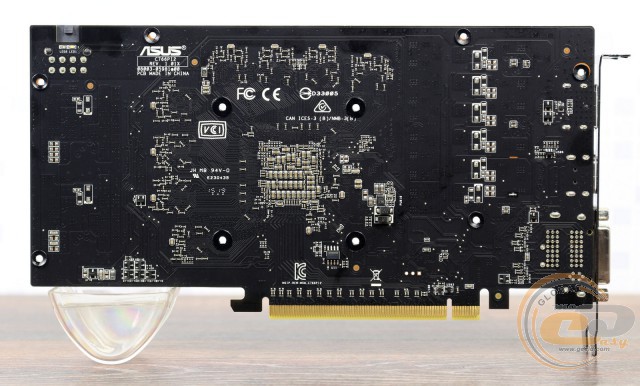 The reverse side of the printed circuit board, originally protected by a massive base plate, doesn't contain significant elements. We should also note the complete absence of connectors for bridges AMD CrossFireX, as this technology is implemented at the software level.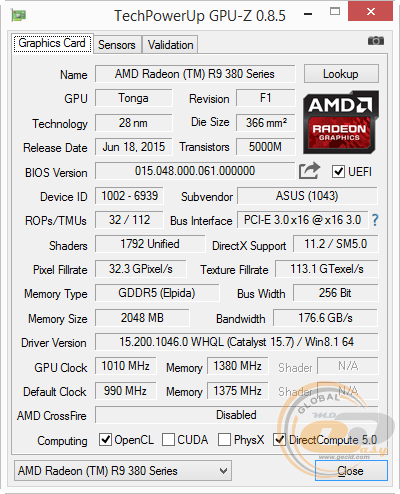 The base of ASUS STRIX-R9380-DC2OC-2GD5-GAMING is a graphics chip AMD Antigua PRO, which is determined by the utility GPU-Z 0.8.5 as the AMD Tonga. It is produced by the norms of 28-nm manufacturing process and consists of 1792 unified shader pipelines, 32 ROP units and 112 texture units. The GPU operating frequency was increased to 1010 MHz with respect to the recommended 970 MHz.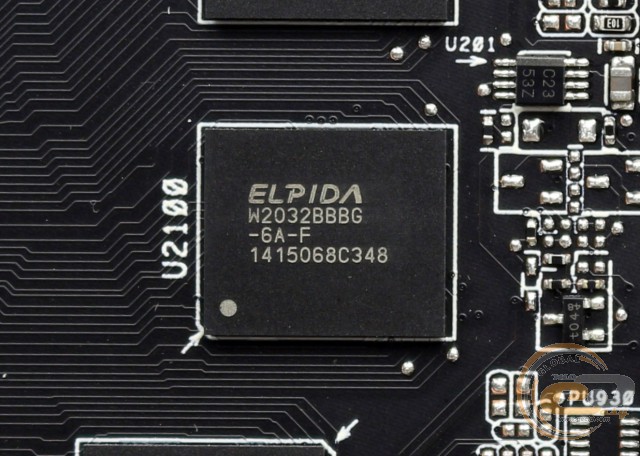 Memory of model ASUS STRIX R9 380 (total 2 GB), is realized by 8 chips Elpida W2032BBBG-6A-F with capacity of 2 GB each, which run on the recommended effective frequency 5500 MHz. Communication between the graphics processor and memory is realized through a 256-bit bus, which is capable of flowing 176.6 GB of information per second.
Cooling system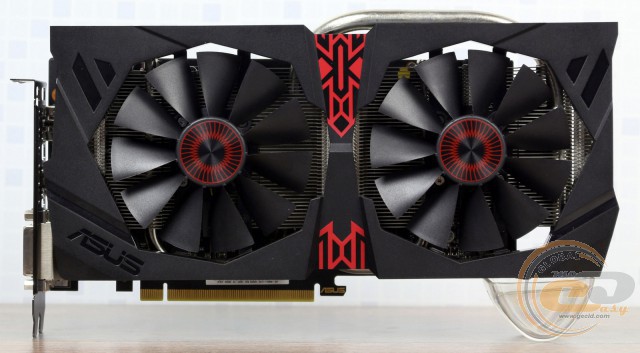 The video card including installed cooling system ASUS DirectCU II takes two expansion slots and has a total length of 271 mm according to the official website (284 mm as measured in our lab).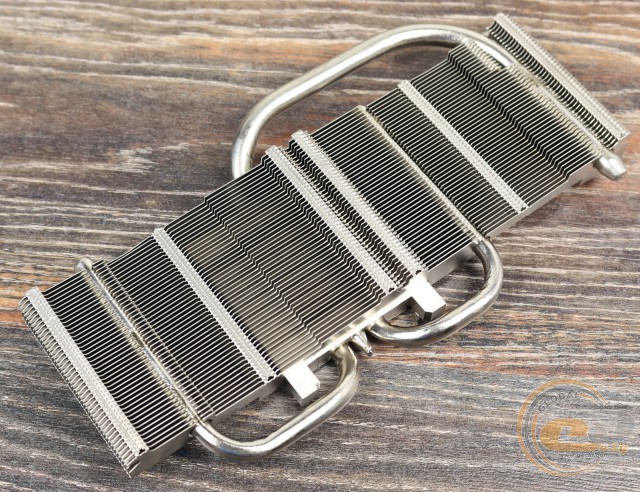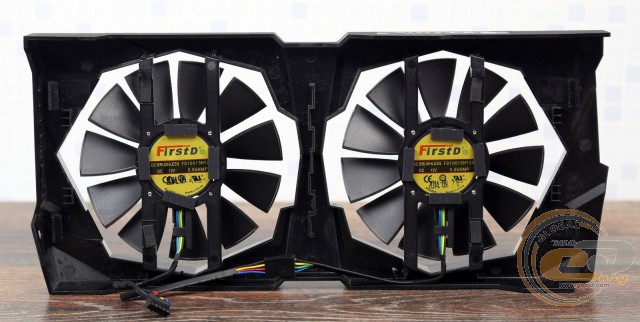 The cooler consists of a massive heat sink, which uses 45 longitudinally spaced aluminum fins and two 95 mm axial fans mounted on plastic case.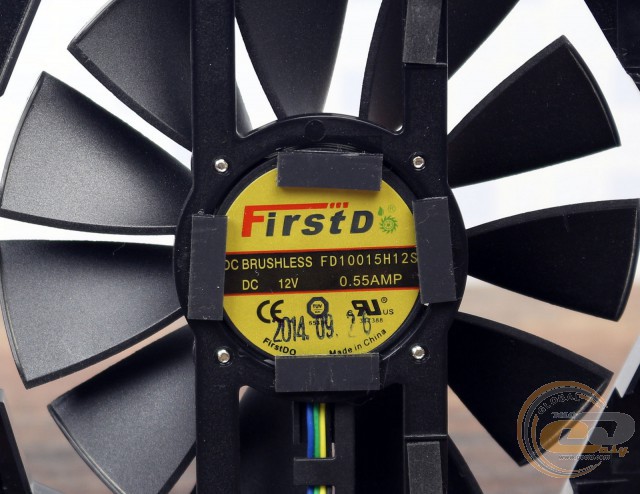 The fans are produced by company FirstDO and are labeled as «FD10015H12S». Rated voltage of operation is 12 V, and the current is 0.55 A, which gives the final output of 6.6 W.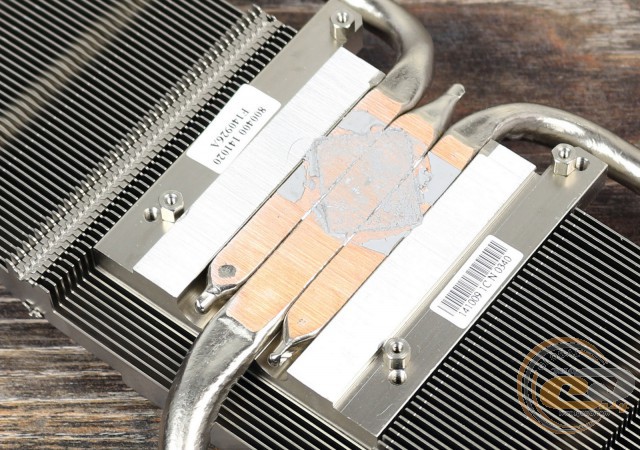 Three copper heat pipes of different diameter are used for uniform distribution of heat over the whole area of the radiator. Two of them are 8 mm and one 10 mm. Fins and heat pipes are covered with a layer of nickel, which is designed to reduce the drop in the efficiency of cooling system during the operation, due to the oxidation of metals. The scheme of direct contact of heat pipes to the surface of the GPU through a small layer of thermal paste to accelerate removal of excess heat is applied.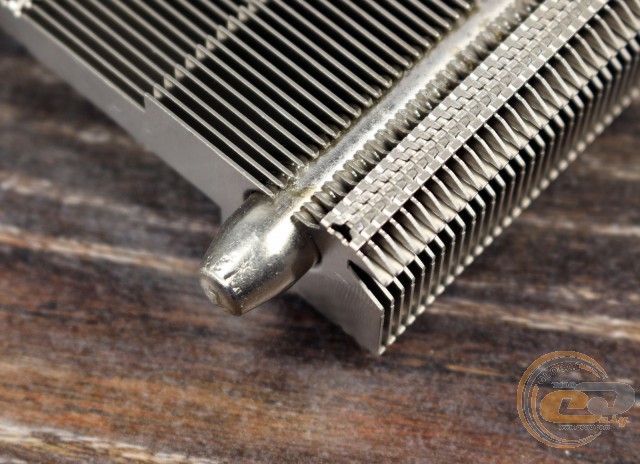 To improve the efficiency of heat transfer the pipes are securely soldered to the edges of the aluminum radiator and copper base.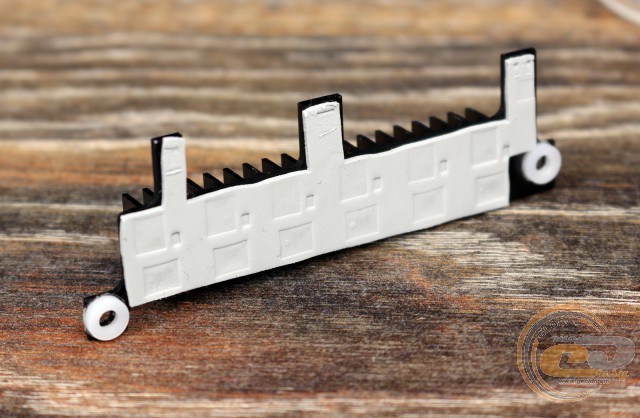 A separate low-profile heatsink with thermal interface is used to cool the power elements of the power subsystem. But memory chips are devoid of any additional cooling.

In case of the automatic speed control fan blades at maximum load, the graphics core is heated to 76°C, and cooler operates at 44% of its maximum capacity. Noise was quiet and comfortable for everyday use.

Under the maximum speed fan blades GPU temperature dropped to 72°C. This noise exceeded the average level and became uncomfortable for continuous operation near the PC.

In case of load absence the frequencies of the GPU and memory are automatically lowered, allowing them to reduce power consumption and heat release. In this mode, the GPU temperature did not exceed 54°C because the fans stopped to rotate and cooling system operates in a completely passive mode. The above-mentioned technology 0dB FAN is activated, providing silent operation of video at low loads.
Социальные комментарии Cackle