Video cardSAPPHIRE NITRO R9 390 8G D5: review and testing
Company SAPPHIRE Technology, widely known as one of the largest manufacturers of video cards and one of the main partners of AMD, of course could not stay away from the announcement of a new lineup of graphics cards AMD Radeon R9 300, and has present own versions.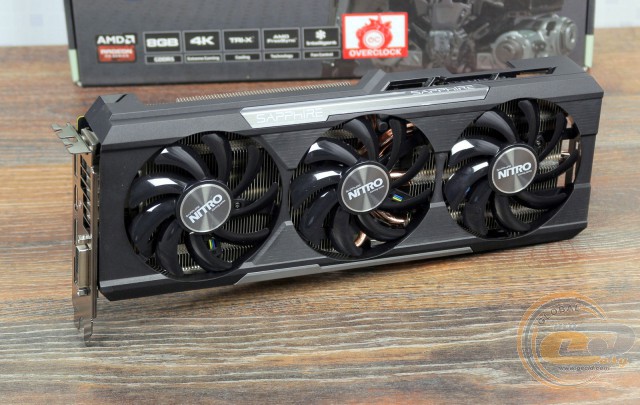 One of them is SAPPHIRE NITRO R9 390 8G D5, which in comparison with the reference AMD Radeon R9 390 used proprietary cooler Tri-X, provided factory overclocking up to 1010 MHz, and the qualitative element base and a number of other improvements, which will be discussed in this review. Let's start from detailed performance characteristics of new item:
Model

SAPPHIRE NITRO R9 390 8G D5 (11244-00)

Graphics core

AMD Radeon R9 390 (Grenada PRO)

Quantity of shader processors

2560

Supported API and technologies

DirectX 12, OpenGL 4.5, AMD Mantle, AMD Eyefinity, AMD App Acceleration, AMD HD3D, AMD CrossFireX, AMD PowerPlay, AMD PowerTune, AMD ZeroCore, AMD TrueAudio, AMD Virtual Super Resolution, AMD Frame Rate Target Control, Vulcan, AMD FreeSync, OpenCL 2.0, AMD LiquidVR

Graphics core frequency, MHz

1010

Memory frequency (effective), MHz

1500 (6000)

Memory capacity, GB

8

Memory type

GDDR5

Memory bus, bit

512

Memory carrying capacity, GB/s

384

Bus

PCI Express 3.0 x16

Max resolution

4096 x 2160

Screening interfaces

1 х DVI-D

1 х HDMI

3 х DisplayPort

HDCP support and HD-video decoding

Yes

Minimal PSU capacity, W

750

Dimensions from the official site (measured in our lab), mm

308 x 127 x 42,3 (315 х 125)

Drivers

Producer website
As you can see, the actual overclocking of the graphics core is only 10MHz compared to reference 1000 MHz, so you should not expect for a significant increase in performance compared with the reference version. The key advantages of the new product are an original cooling system and updated electronic components.
Package and content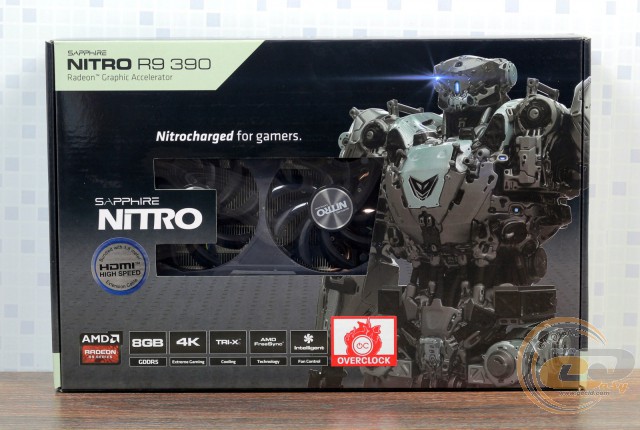 Graphics card SAPPHIRE NITRO R9 390 8G D5 comes in a large cardboard box decorated with original and stylish printing. In addition to a small viewing opening on the front side you may note names of the manufacturer and model of the device, the volume and type of installed video memory, support for proprietary cooling system Tri-X, as well as the presence of factory overclocking.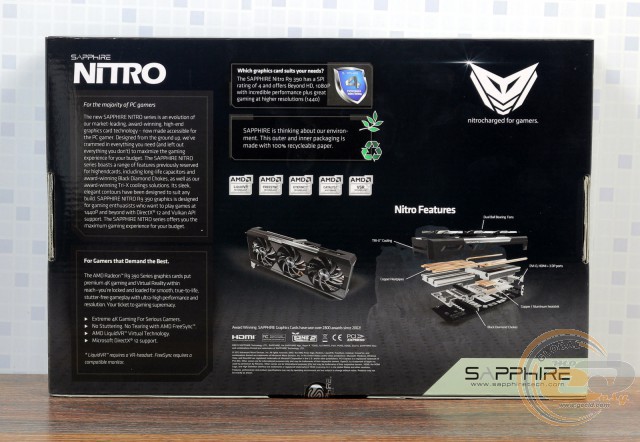 The reverse side contains a small schematic representation of the graphics card, as well as a list of its benefits:
Tri-X – a proprietary cooling system, with three axial fans form air flow directed to the key components of a video card, which promotes more effective cooling.
Dual Ball Bearing Fans - fans with double ball bearings have a greater smoothness and an increased service life.
Cooper Heatpipes - five copper heat pipes of different diameters for better heat dissipation are the base of the heatsink.
Copper/Aluminum heatsink - the radiator is made of aluminum with a copper base.
Black Diamond Chokes - chokes feature 10% lower temperature during operation and 25% higher efficiency.
DVI-D, HDMI + 3 DP ports - a set of external interfaces includes a large number of various digital ports.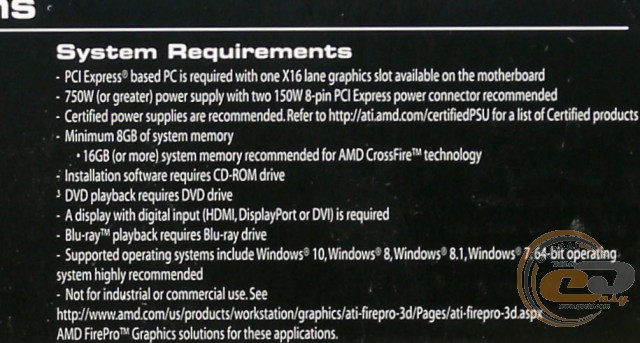 A list of system requirements is located on one side of the box. Based on the recommendations, the power supply in such a system should have a capacity at least of 750 W and two 8-pin PCIe.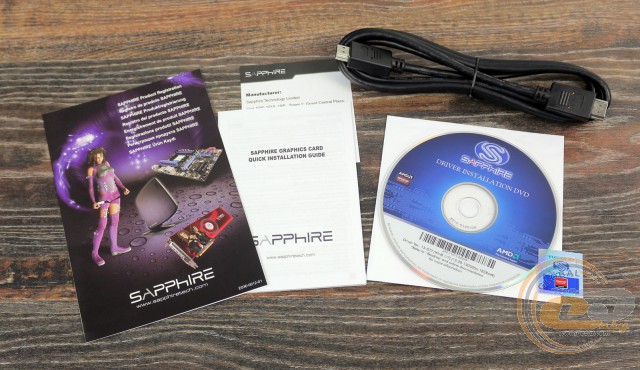 The delivery set of the graphics card SAPPHIRE NITRO R9 390 8G D5 contains the standard documentation, CD with software and a nice bonus in the form of cable HDMI.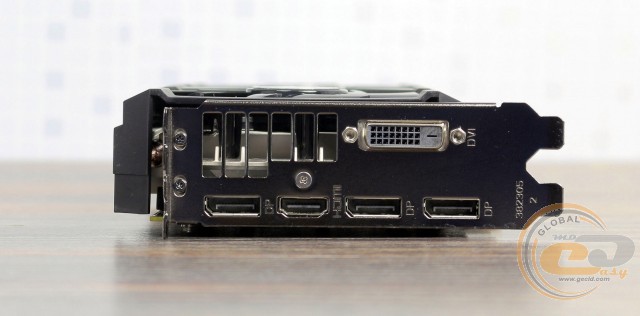 To display the image on the test Powered by the next set of interfaces:
1 x DVI-D;
1 x HDMI;
3 x DisplayPort.
Design and circuitry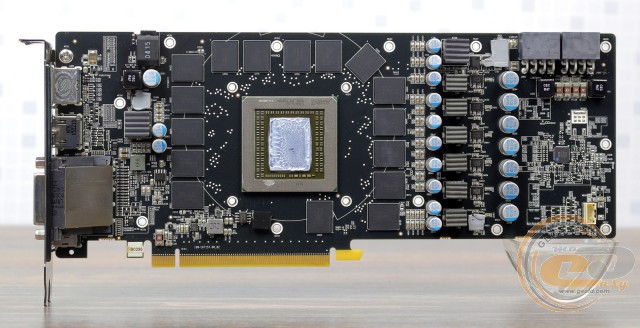 Model SAPPHIRE NITRO R9 390 8G D5 is realized on the original black circuit board with a standard arrangement principle. Applied circuitry includes extremely high quality components: solid capacitors with extended service, advanced chip IR3553 and effective chokes Black Diamond Chokes. This increases the stability and reliability of the graphics and also prolongs its life.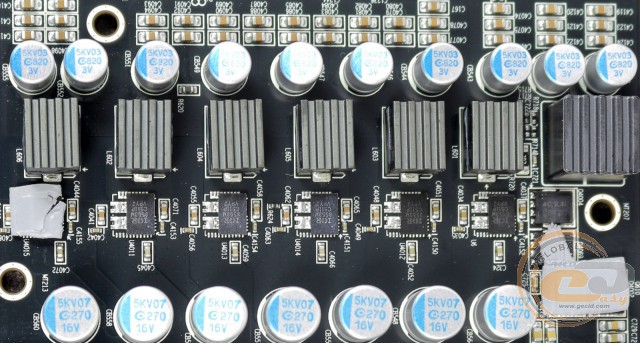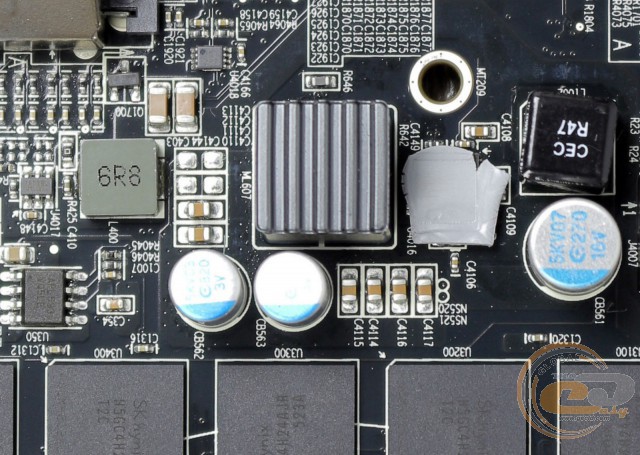 Powering of the product is realized via reliable 8-phase scheme: 6 phases are responsible for the power of the graphics core and 2 are designed for video memory subsystem.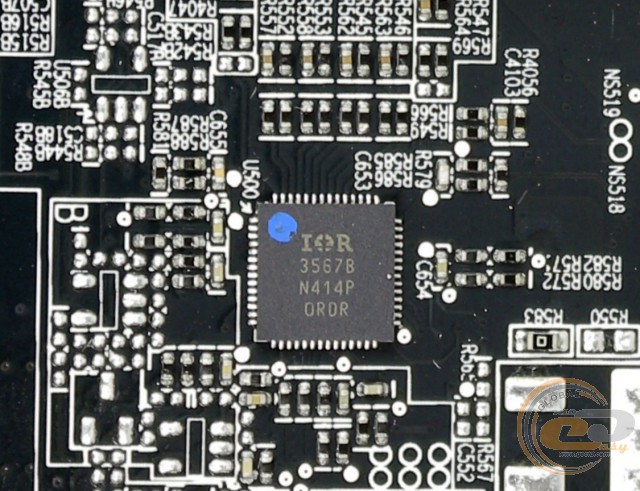 Chip IR3567B is used as a digital PWM controller of power subsystem.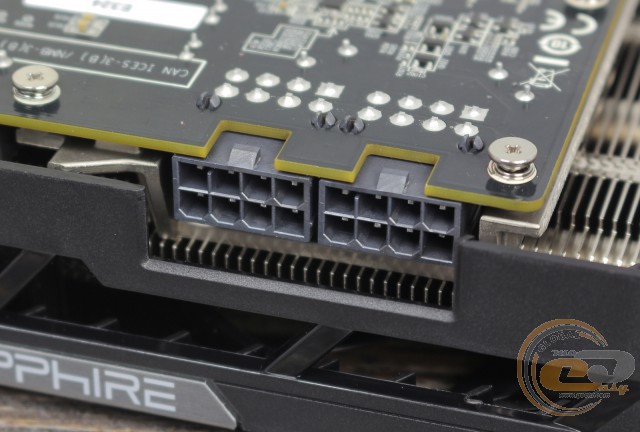 In order to power the graphics card there is a PCI Express x16 slot and two 8-pin PCIe, located on the side of the board. Note that the cooler doesn't complicate the disconnection or connection of the cable PCIe.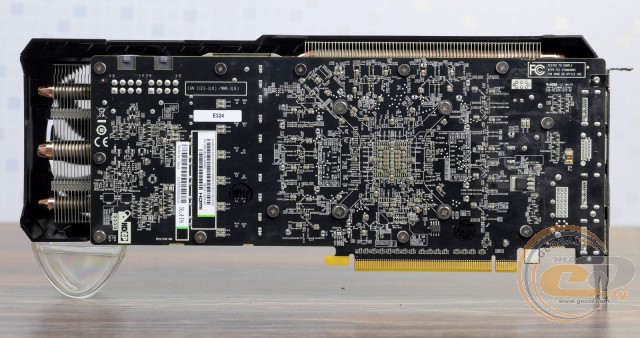 The reverse side of the PCB doesn't contain significant elements. We should also note the complete absence of connectors for bridges AMD CrossFireX, as this technology is implemented at the software level. Also do not forget that starting from the version of the driver AMD Catalyst 15.7 WHQL, you will be able to combine a bunch of novelty with the AMD Radeon R9 290.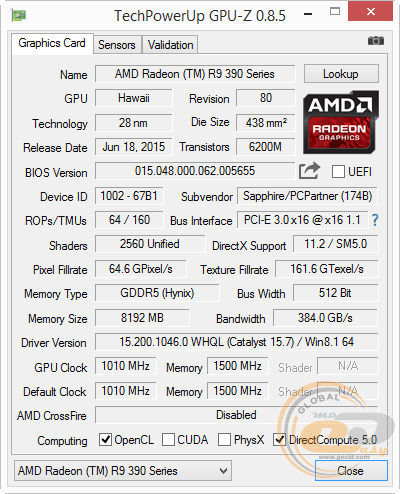 The basis of SAPPHIRE NITRO R9 390 8G D5 is a graphics chip AMD Grenada PRO, which is determined by the utility GPU-Z 0.8.5 as the AMD Hawaii. It is produced by the norms of 28-nm manufacturing process and consists of 2560 unified shader pipelines, 64 ROP units and 160 texture units. The GPU operating frequency was increased to 1010 MHz with respect to the recommended 1000 MHz.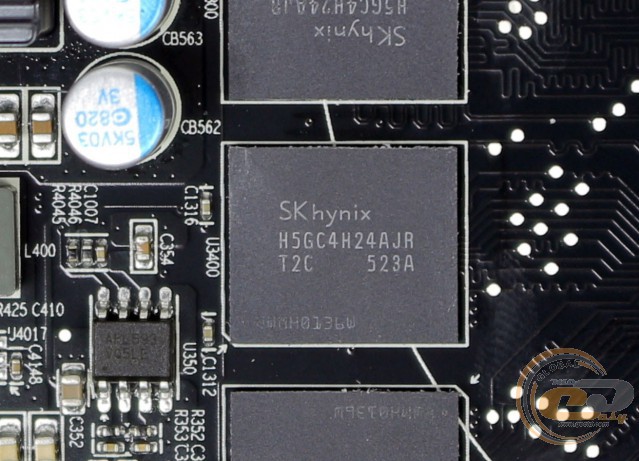 Memory of model SAPPHIRE NITRO R9 390 8G D5 (total 8 GB) is realized with the help of 16 chips SK hynix H5GC4H24AJR-T2C with capacity of 4 GB each, which run on the recommended effective frequency 6000 MHz. Communication between the graphics processor and memory is realized through a 512-bit bus, which is able to pass 384 GB of information per second.
Cooling system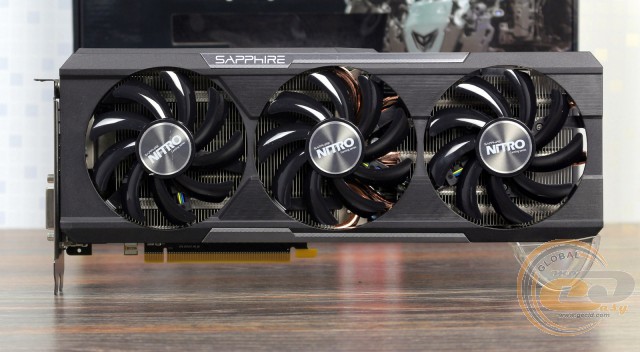 The video card including installed cooling system Tri-X occupies two expansion slots and has a total length of 308 mm according to the official website (315 mm measured in our lab).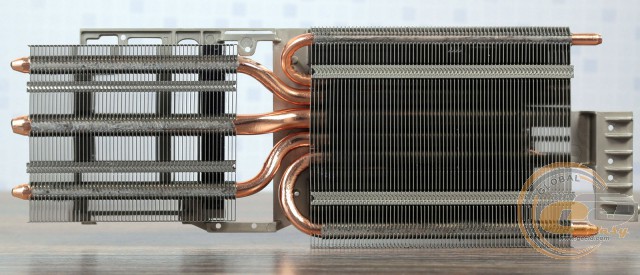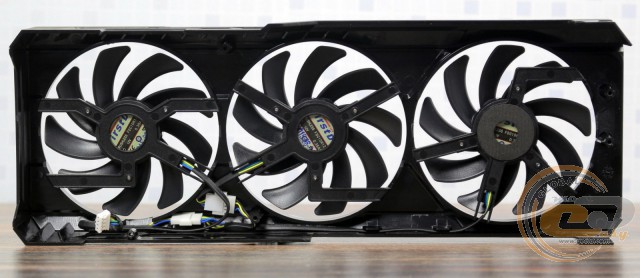 A cooler consists of a massive two-section heatsink with 55 and 70 aluminum plates transversely arranged and three 86 mm axial fans mounted on the plastic case.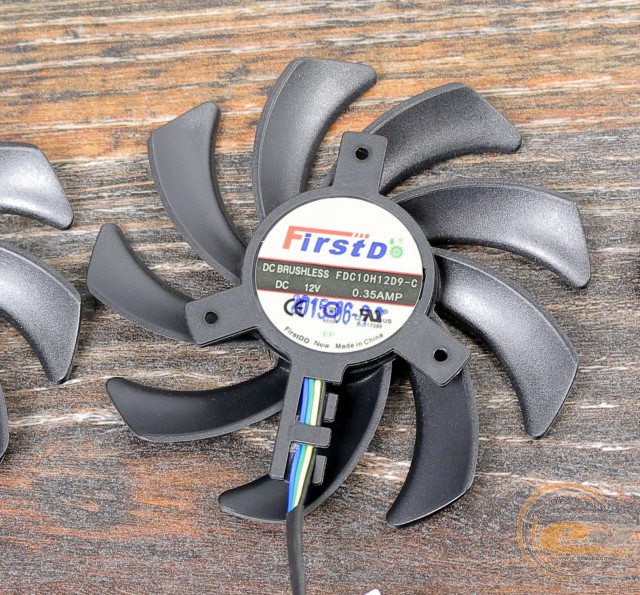 The fans are produced by company FirstDO and are labeled as «FDC10H12D9-C». Rated voltage of operation is 12 V and the current strength is 0.35 A, which gives the final output of 4.2 W.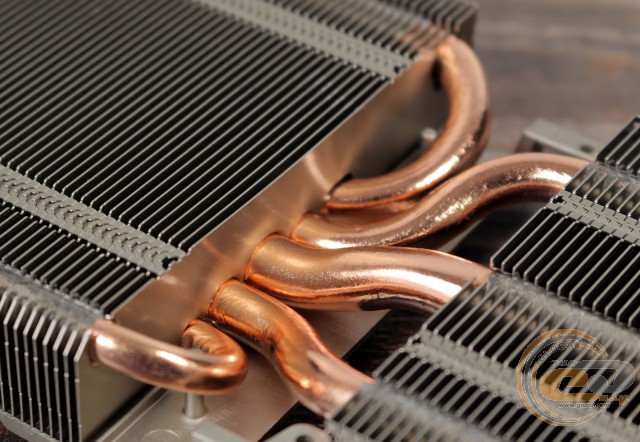 The uniform distribution of heat over the whole area of the radiator is provided by five copper heat pipes of different diameter: one 10 mm and two 8 mm and two 6 mm. Note that the heat pipes are not covered by a layer of nickel, which is designed to reduce the drop in the efficiency of cooling system during the operation, due to the oxidation of metals.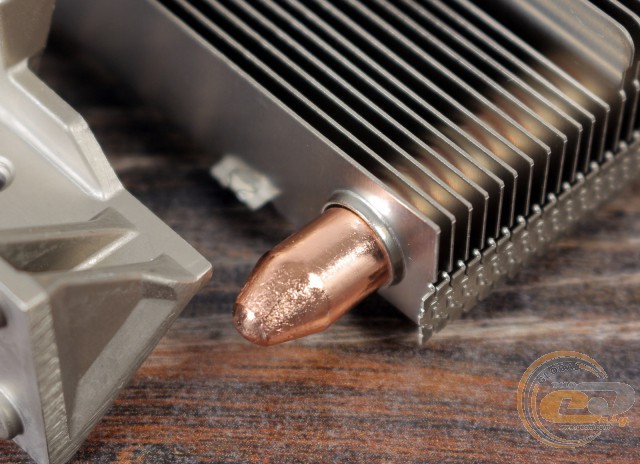 They are secured by solder and tight fit between the fins of the radiator.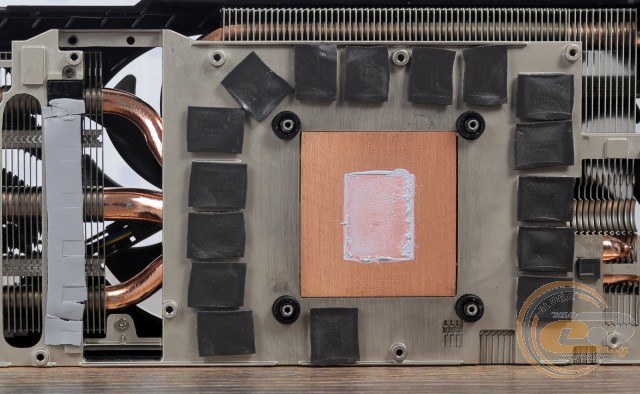 The main cooling system is directly in contact with the power elements of the power subsystem and video memory chips using thermal interface, which should positively affect the overclocking potential.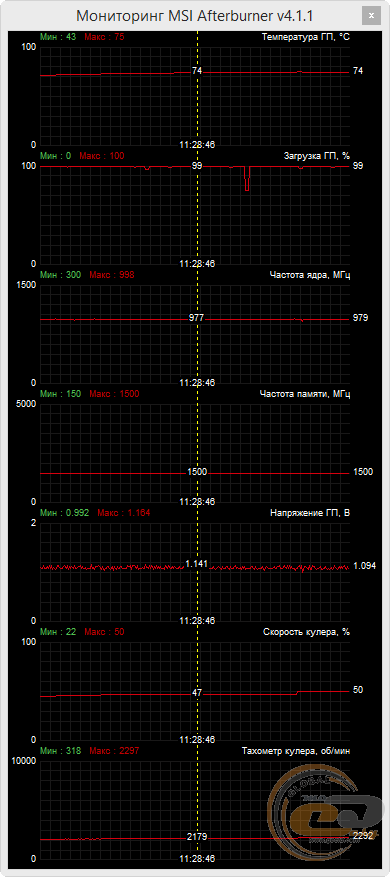 In case of the automatic speed control of fan blades under the maximum load, the graphics core is heated to 74°C, and cooler, as indicated by the monitoring works at 50% of its maximum capacity. Noise was very quiet.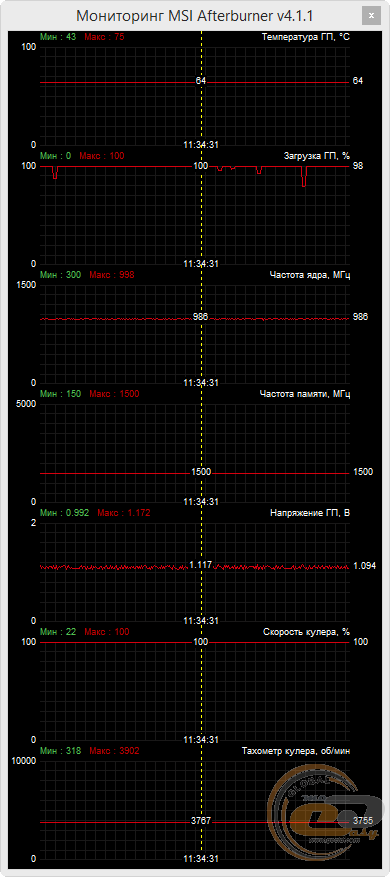 Under the maximum speed of fan blades the GPU temperature dropped to 64°C. In this case the noise has exceeded the average level and became uncomfortable for continuous operation near the PC.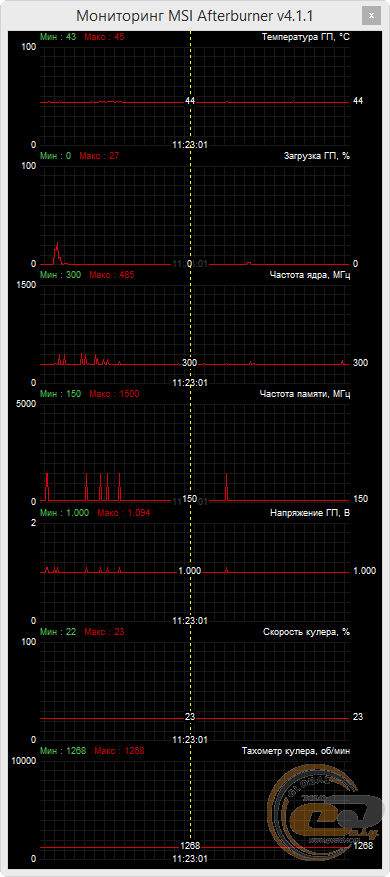 In case of load absence the frequencies of the GPU and memory are automatically reduced. As a result they allow to reduce the power consumption and heat release. In this mode the GPU temperature did not exceed 44°C because the fans stopped to rotate and cooling system operates in a completely passive mode.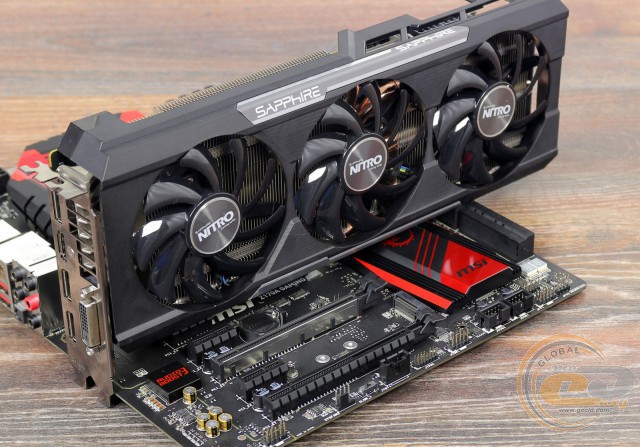 Социальные комментарии Cackle