Mini PC ECS LIVA X2: review and testing
Regular readers of our portal had the opportunity to meet with the products of the well-known Taiwanese company ECS (Elitegroup Computer Systems), which for several decades is an active participant in the market of computer accessories.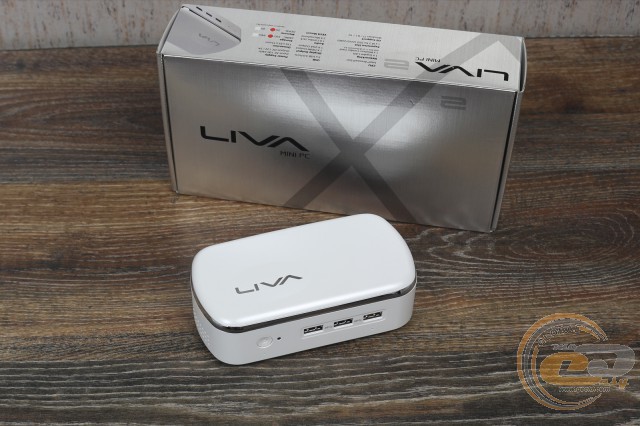 Now we have another representative of interesting and innovative lineup of portable mini-computer Nettop ECS LIVFA X2, which in addition to the updated processor and an improved cooling system has a new attractive design. Let's start our review from a detailed review of the technical characteristics.
The specs:
Producer and model

ECS LIVA X2

CPU

Intel Celeron N3050: dual-core, 2 threads, 1600 − 2166 MHz, L2 – 2 МB, TDP – 6 W

Chipset

Intel Celeron N3050 (Intel Braswell SoC)

RAM

2 GB DDR3L-1600 MHz

GPU

Intel HD Graphics: core frequency 320 – 600 MHz; video memory is dynamically allocated by the RAM

Disk subsystem

Toshiba eMMC 032GE4 32 GB

Drive bays

1 х M.2 SSD (up to 1 TB)

Optical drive

–

Card reader

–

Expansions slots

1 х mini-PCIe (installed wireless module)

Interfaces

3 x USB 3.0

1 х combined audio jack

1 х HDMI

1 х D-Sub

1 x RJ45

1 x power socket

1 х lock Kensington

Multimedia

Speaker

–

Sound processing

Realtek ALC283

Microphone

Стерео

Connectivity

LAN

(Realtek RTL8111H)

Wi-Fi

802.11ac (Realtek RTL8821AE)

Bluetooth

4.0 (Realtek RTL8821AE)

PSU

Output: 12 V DC, 3 A, 36 W

Input: 100~240 V AC at 50/60 Hz

Other

Possibility to mount the monitor on a wall or using the included mounting VESA 75/100 mm

Case dimensions

156 x 83 x 51 mm

Weight

558 g

Color

White

OS

Windows 8.1 (free updating up to Windows 10)

Warranty

–

Producer website

Product page
Package and content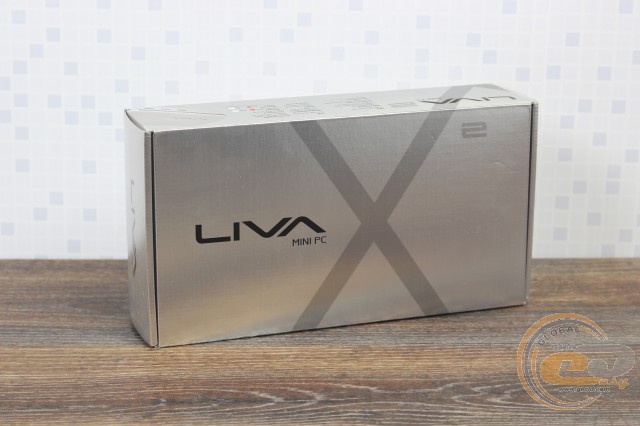 Nettop ECS LIVA X2 comes in a relatively small, but attractive box which is made of a dense and high-quality cardboard, painted in a stylish silver color.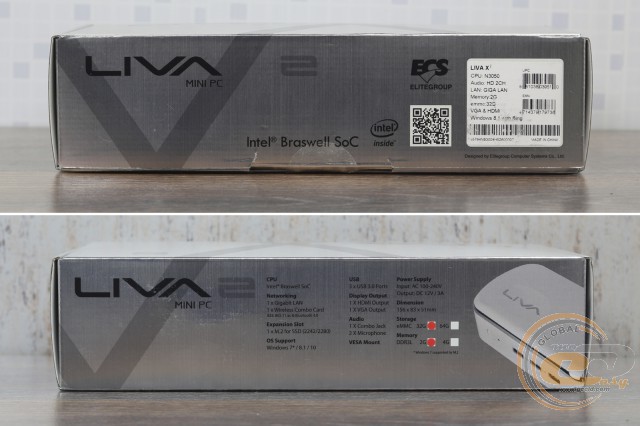 In addition to a nice design, it features a good informative content and can offer all the necessary technical data information (model name, serial number, specifications, country of origin).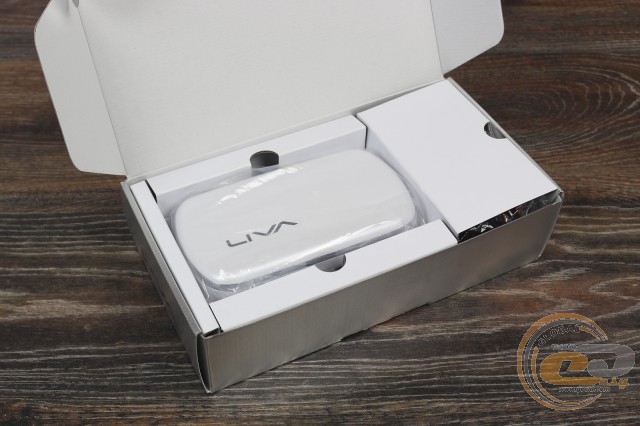 Inside the package the device is securely fixed by a cardboard shape that protects it during transportation and at the same time helps to keep all the accessories.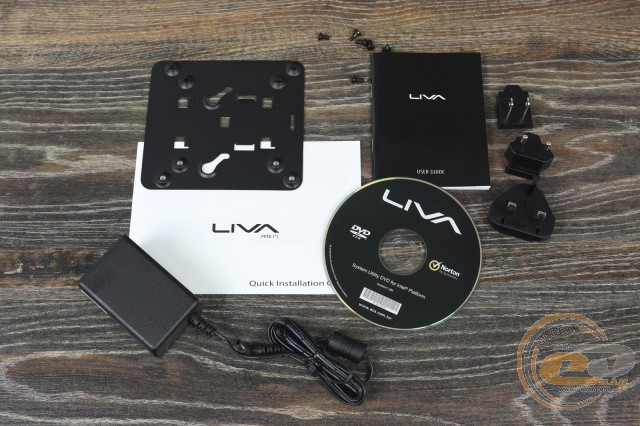 Delivery set of ECS LIVA X2 will please due to its content, because it includes a number of useful elements: power supply with capacity of 36 W (12 V, 3 A), three removable plugs for outlets of different types (American, British and European), VESA mount with the necessary set of screws, a disk with software and drivers, as well as a quick start guide.
Appearance and elements arrangement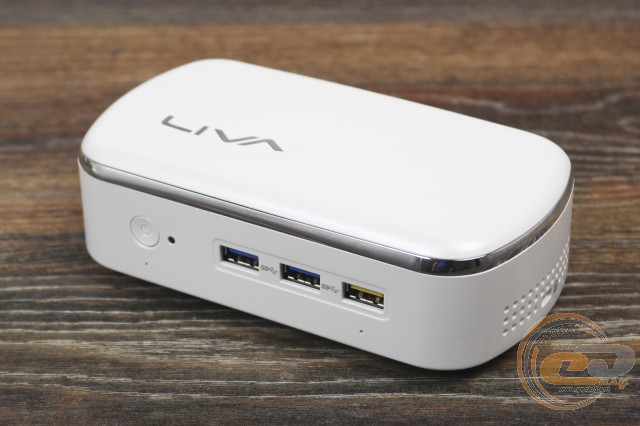 The appearance of new product stands out even against the background of other nettops produced by ECS. Unlike the counterparts, which are characterized by practical and reasonable design (rectangular cut faces and classic black color), ECS LIVA X2 has brighter and elegant appearance (smooth rounded lines and a snow-white color), which makes the device really stylish and interesting. Unchanged are only compact dimensions (156 x 83 x 51mm) and modest weight (558 g), which, however, is a distinctive feature of lineup.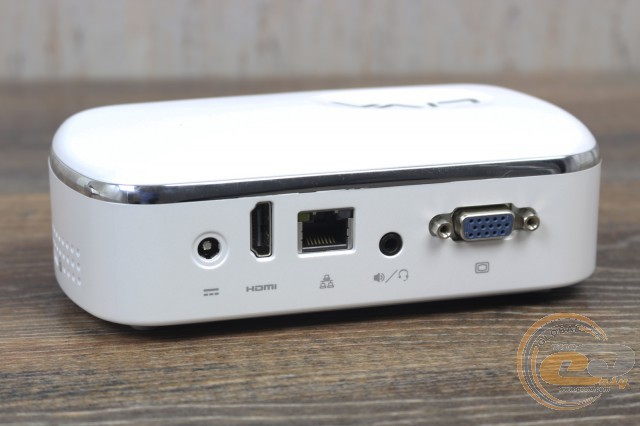 The case of ECS LIVA X2 features two materials high-quality matte plastic and durable metal. The first allows to create a stylish design (upper lid and sides), and the other serves as an excellent basis for the construction of the chassis and gives the device a good stiffness. The build quality is at the highest level.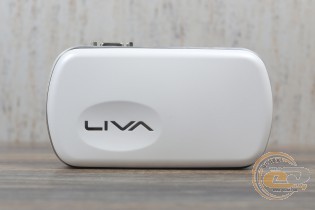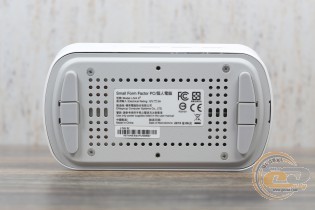 On top of the case contains a small recess with the company's logo. At the same time the bottom side is equipped with air vents and a small sticker with the standard technical information.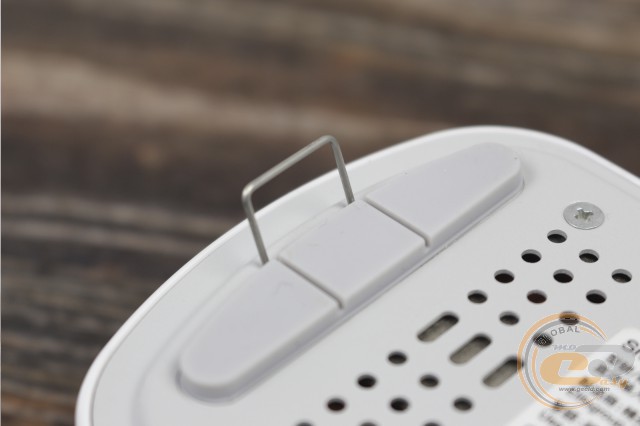 In addition, there are two folding legs, which lift the device above the surface, and there are two holes for mounting the included VESA.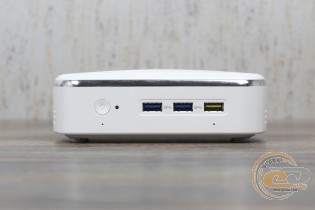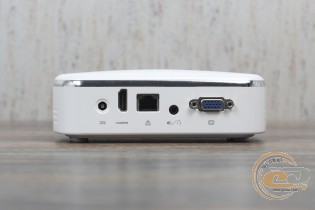 The front face of the mini-PC includes a power button, two small holes of stereo microphones and right side contains three ports USB 3.0 (connector with yellow substrate supports ECS EZ Charger for fast charging of connected devices), while the back houses jack adapter, port HDMI, Network plug RJ45, combined audio jack and port D-Sub.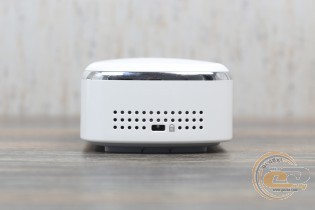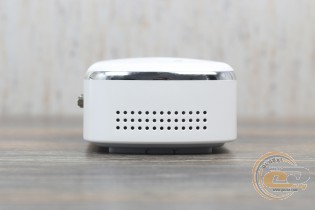 In addition to a Kensington lock on the right side, sidewalls of nettop are sported with vents. They perfectly fit into the overall design of the device and do not spoil it visual style.
In general appearance of ECS LIVA X2 and layout of functional elements deserves only positive reviews. Due to the convenient placement of ports and connectors, as well as quite an attractive design, nettop would look good on your desktop as well as near the TV in the living room, providing a quick connection of peripherals.
Internal components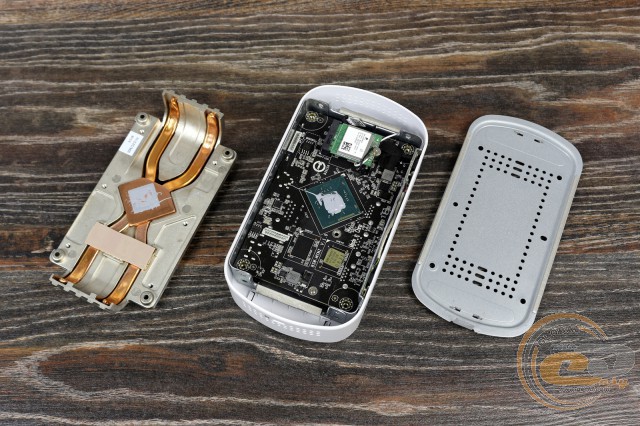 After removing the top cover and a large aluminum radiator of cooling system, we have access to the front of the motherboard.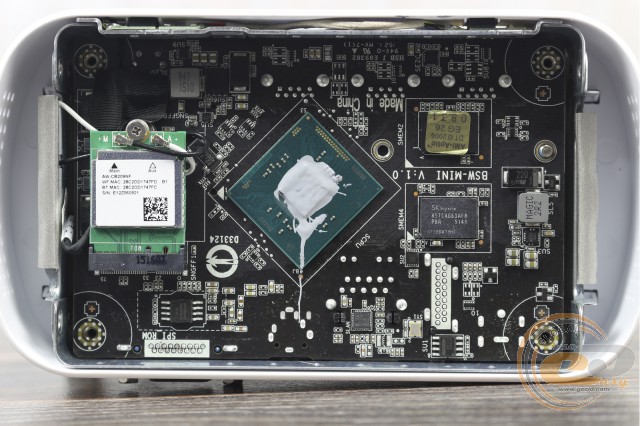 It sports two RAM chips, processor and combined removable wireless module.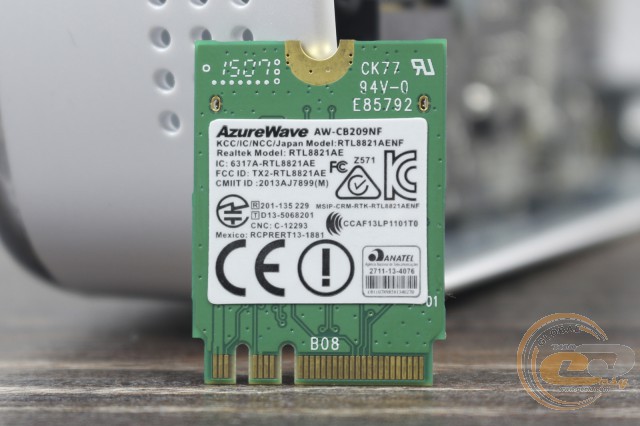 In our case the manufacturer has realized controller Realtek RTL8821AE that supports for Wi-Fi 802.11ac and Bluetooth 4.0.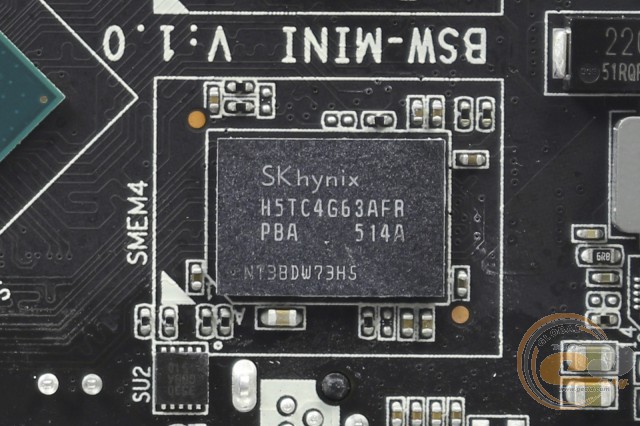 Memory is represented by four chips DDR3L-1600 MHz SK Hynix H5TC4G63AFR with capacity 4 GB each. The total amount of memory is 16 Gbor 2 GB.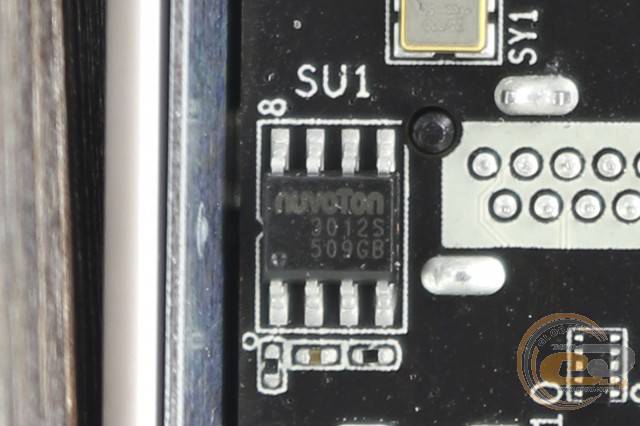 The power system of internal components running under controller Nuvoton NCT3012S.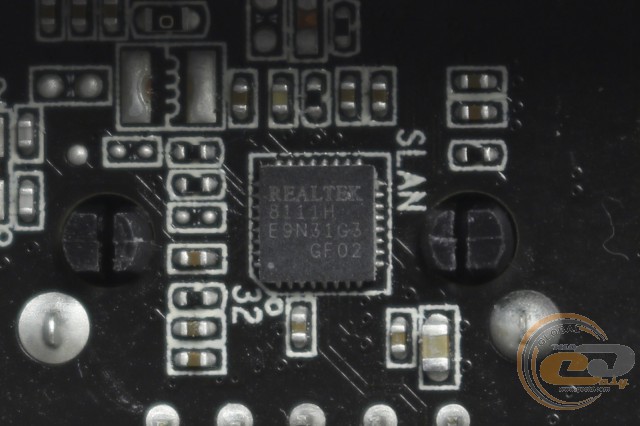 Network connections are provided by Gigabit LAN-controller Realtek RTL8111H.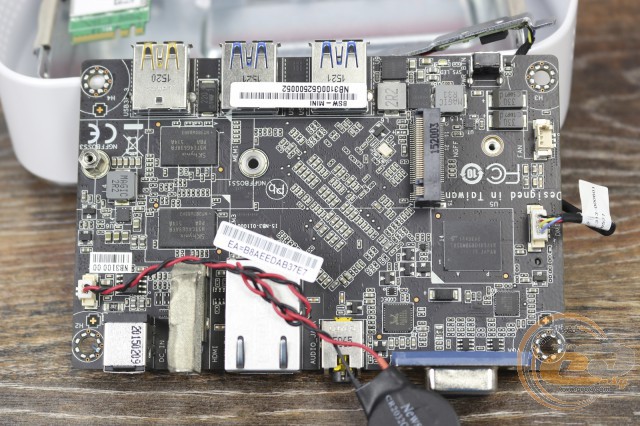 The back side of the motherboard features flash drive Toshiba eMMC 032GE4 with capacity of 32GB, and one expansion slot for an optional M.2 SSD-drive.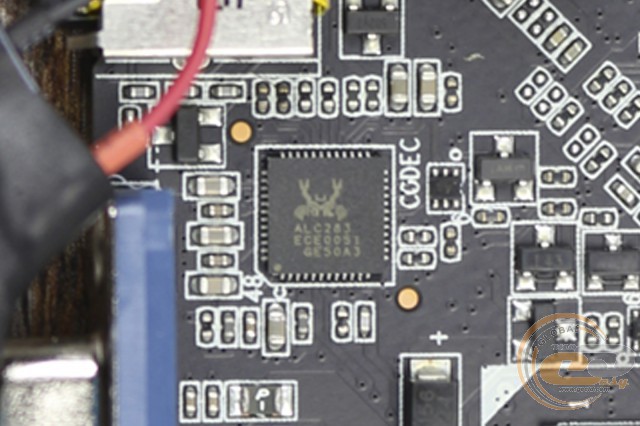 Sound system is provided by audio codec Realtek ALC283, which provides the combined audio jack for headphones and microphone.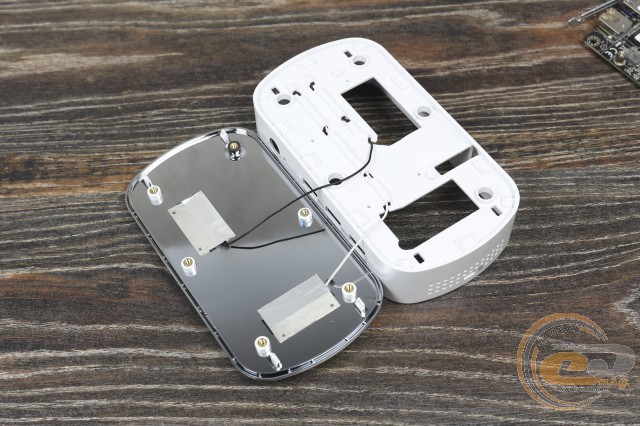 The metal base of mini PC case is presented by the antenna of the wireless module. Its size and the area are sufficient to realize a smooth, high-quality signal transmission. However in order to provide optimum communication layer it is important not to cover the device's case by materials that can cause interference.
BIOS
Nettop ECS LIVA X2 is equipped with a boot chip BIOS Aptio produced by American company Megatrends Inc, which allows you to configure some internal system components. Its graphical skin has a classic interface.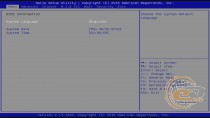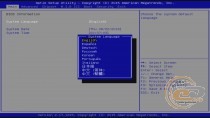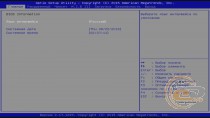 So, using the features of tab «Main», the user can set the date and time, and choose the display language.
Section «Advanced» contains most tools for fine tuning the basic parameters of the device. It allows changing the circuit operation of the CPU, adjusting the operation of the interfaces SATA and USB, enabling or disabling the wireless module, as well as getting a summary of system status.
As for the tab «Chipset», here you can specify the capacity of memory that will be used for the operational needs of the graphics subsystem, and there are a number of tabs that allow you to customize the audio controller operation.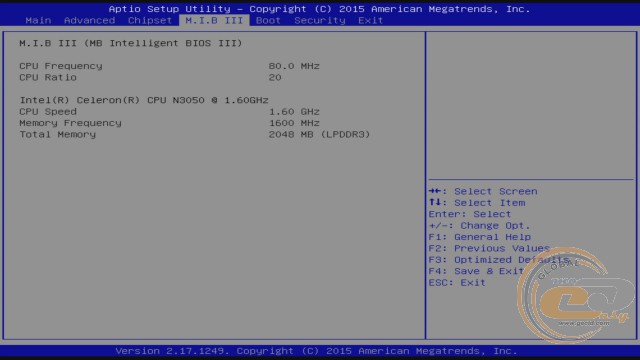 Section with the unusual title «M.I.B. III» contains information about the CPU of nettop and frequency values.
Tab «Boot» allows you to set the parameters of the primary device's boot, depending on the used components (eMMC-drive, SSD-drive, external flash drive) and the operating system.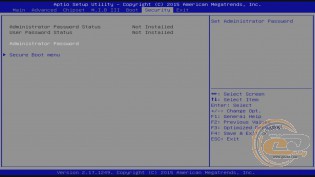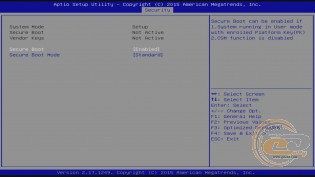 Section «Security» is responsible for the security of user's information. It is possible to set an administrator's password and activate protected download mode of BIOS.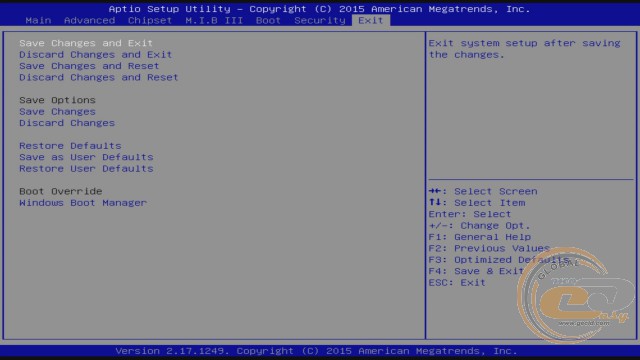 The last menu item «Exit» allows you to save your changes and if necessary reset the BIOS configuration to the factory settings.
Социальные комментарии Cackle