PSU Seasonic G-650: review and testing
Series Seasonic G on a par with Seasonic M12II Bronze Evo Edition is one of the most balanced lineups of power supplies on the current market. This is especially true for solutions with capacity of 550 W and 650 W, which are the most popular among users. In this review we will talk about the second option, the model Seasonic G-650 (Seasonic SSR-650RM), which was transferred to a new revision. In addition to modifications in hardware, the product also got a lower price tag that is pretty important.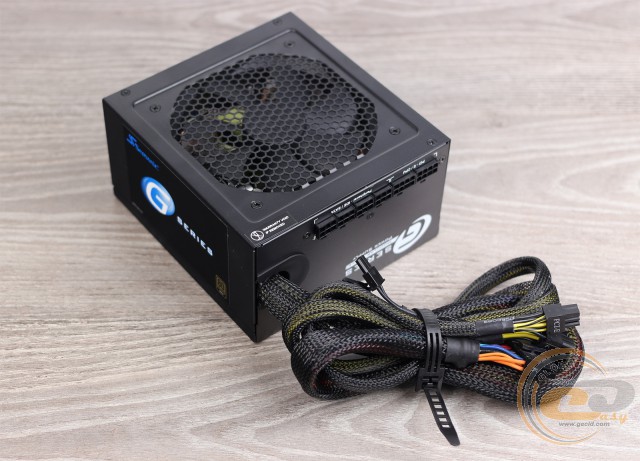 The specs:
Model

Seasonic G-650

(Seasonic SSR-650RM)

Type

ATX12V / EPS12V

Rated capacity, W

650

Rail 12V capacity, W

648

Rails +3,3V and +5V capacity, W

100

Quantity of rails +12V

1

Outputs, А

+3,3V

20

+5V

20

+12V

54

-12V

0,3

+5Vsb (stand-by power line)

2,5

PCIe-sockets

4 (6+2-pin)

Modular

Yes

Efficiency, %

> 88

Certifies 80 PLUS

Gold

Power factor (PF), %

99

Method of Power Factor balancing

Active

Input voltage, V

100 − 240

Frequency, Hz

50 − 60

Input current, А

4,5 − 9

Fan dimensions, mm

120 х 120 х 25

Fan speed controller

Yes (S2FC)

Noise level, dB

−

Support for energy saving states C6 / C7(Intel Haswell Ready)

Yes

Correspondence to environmental standards, electromagnetic safety and compatibility (EMI/EMC)

CB, CCC, TUV, GOST-R, BSMI, CE, FCC, RCM, RoHS, WEEE, ErP Lot 6 2013

Protections

OVP, UVP, OPP, SCP, OCP, OTP

Dimension, mm

160 х 150 х 86

Packaging

Power cord, installation screws, modular cables, cable holders, straps with adhesive tape, manual, logo and bag with sticker

Warranty, years

5

Producer website
Package and content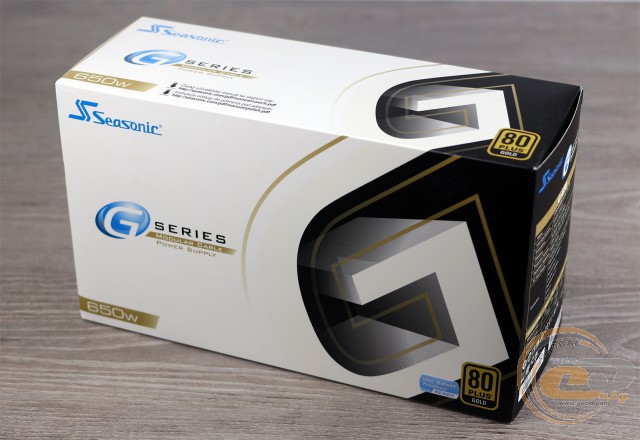 Model Seasonic G-650 is hipped in a cardboard box of medium size, which protects the device from damage during transportation.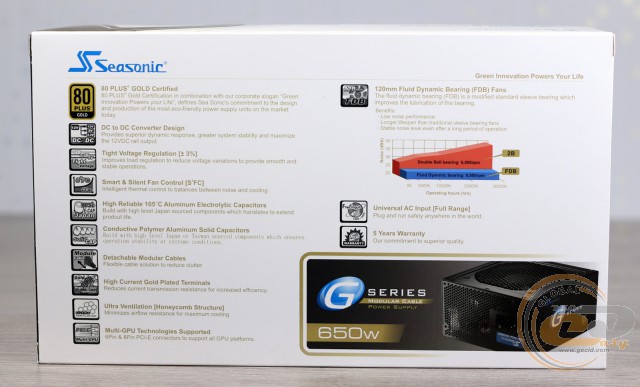 As usual, the manufacturer has paid great attention to design of box, providing a detailed description of product features. They will be described in the course of the review. Note that Seasonic G-650 belongs to the "gold" series Seasonic G, so it uses a lot of advanced technologies typical of the top-level solutions.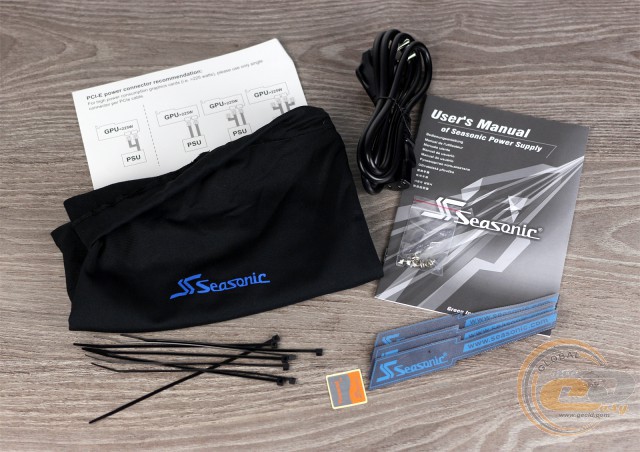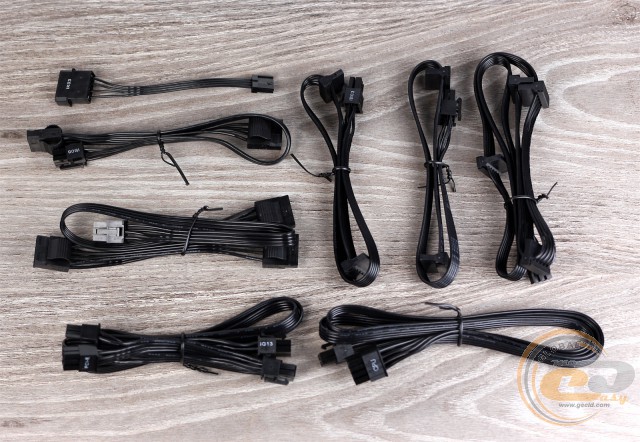 In addition to the traditional components, in the box we found additional holders and reusable straps with adhesive tape that are useful for accurate arrangement of cables in the computer chassis. The delivery set is as follows:
power cord;
installation screws;
modular cables;
holders and reusable straps with adhesive tape fix the cables;
sticker with the company logo;
manual;
cable bag.
Design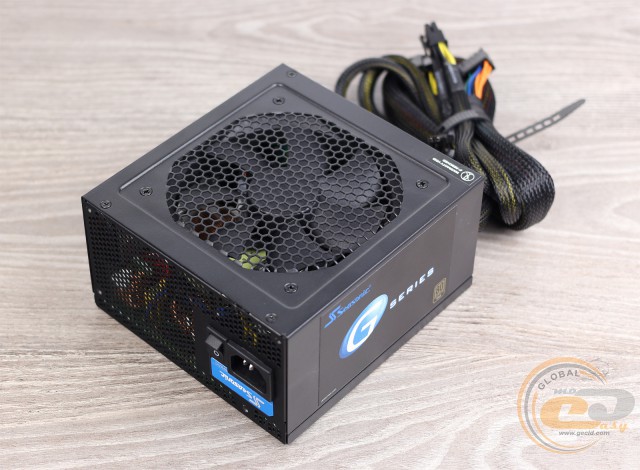 Model Seasonic G-650 has standard sizes of the case (160 x 150 x 86 mm), painted in stylish black color. The build quality is at a very high level: all panels are perfectly processed and fit tightly to each other. As for the layout of the case, everything is standard. Special attention is given to cover of the power supply unit, to clear, its fan grille mesh provided in the form of a honeycomb. Such an arrangement should theoretically reduce the resistance to air flow and positively affect the acoustic features of the power supply.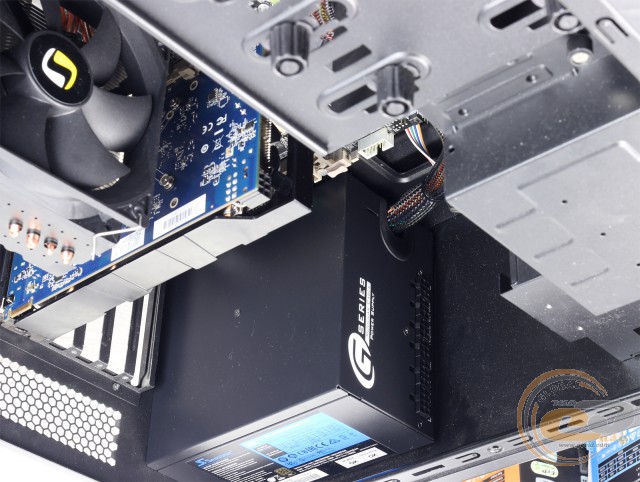 Seasonic SSR-650Rmis partially equipped with modular cables: basic cable are led directly out the device (to power the motherboard, processor, and in this case the video card), the rest are detachable. As a result, the assembly process and hidden cable management is greatly simplified.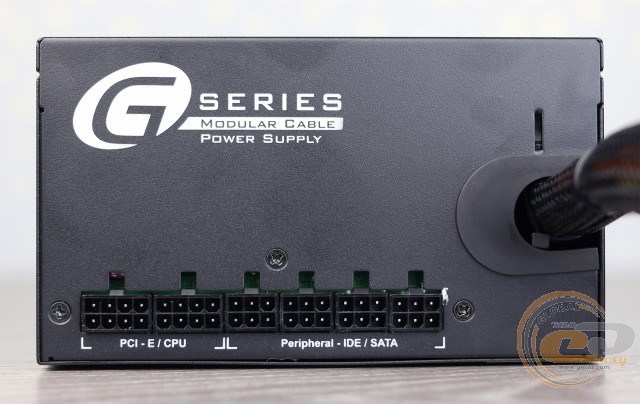 The rear panel contains six connectors, which have the following purposes:
four 6-pin («Peripheral IDE / SATA») - to supply the periphery;
two 8-pin («CPU / PCI-E») - for additional power of processor and video card.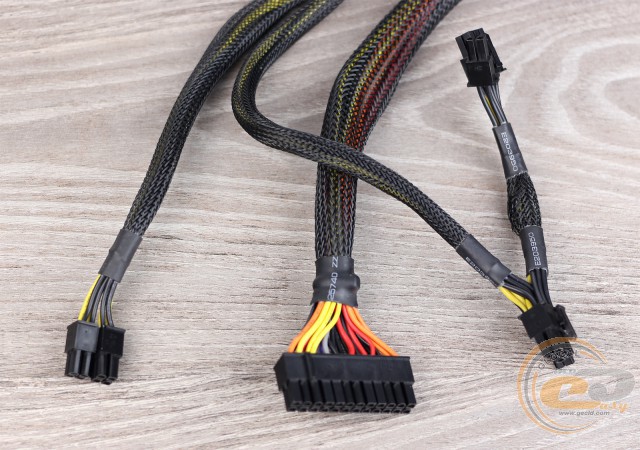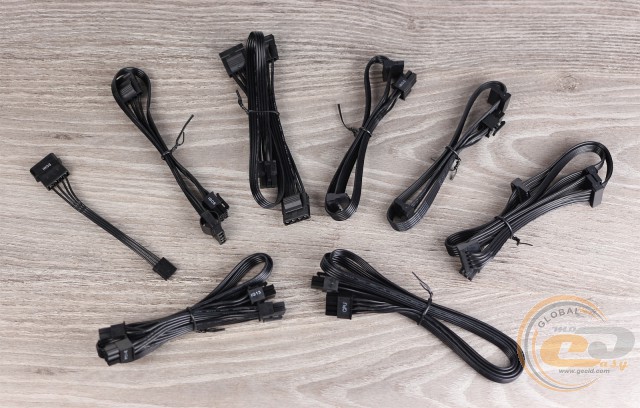 The cables coming from the power supply have a nylon braid and are tighten by thermocontracting. For wiring with modular connectors manufacturer used a more practical option in the form of flexible cables.
Main power connectors have a standard configuration: 20+4-pin ATX and 4+4-pin ATX12V. If Seasonic G-650 is planned to be operated as part of dual-processor systems for these purposes there is one 8-pin ATX12V connector, but on the detachable cable. Seasonic SSR-650RM is also suitable for the gaming PC: using four 6+2-pin PCIe connectors you can connect two top-end graphics cards. And don't forget that we are talking about the solution with capacity of 650 W.
Also the configuration of cable to power peripheral is at high level. Available PATA and SATA connectors are enough to connect all the drives, fans and other devices of this kind.
Socket

Quantity

Cable length to socket (connectors), cm

Length from PSU

20+4-pin ATX connector

1

55

4+4-pin ATX12V connector

1

55

two 6+2-pin PCIe connectors

1

55-65

Modular (detachable) cables

two 6+2-pin PCIe

1

55-65

8-pin ATX12V

1

65

two PATA

1

30-40

three PATA

1

40-50-65

four SATA

1

40-50-65-75

two SATA

2

30-40

adapter PATA-FDD

1

10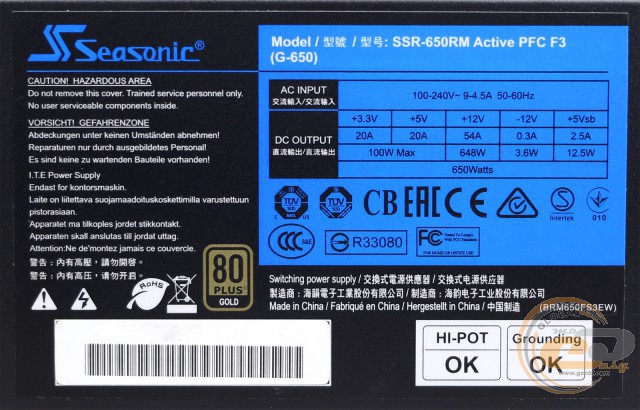 Now let's take a closer look at the technical features of the model Seasonic G-650. Its rated capacity is 650 W, while the +12V rail is designed for the same value of 648 W. Since the modern "voracious" components (processor and graphics card) consume power on the +12V rail, the more load it can be used, the better. It is made in the form of a dedicated channel, whichis the ideal option when connecting the productive component.
Rails +3.3V and +5V have a maximum total power of 100 W. In addition, each of them able to withstand current up to 20 A.
Model Seasonic SSR-650RM is compliant with standard 80 PLUS Gold. According to its requirements, the efficiency of the power supply under loads of 20%, 50% and 100% of the nominal power must not fall below 88%, 92% and 88%, respectively (for supply voltage of 230 V). And we will check such value during testing.
Also note a wide input voltage range (100 – 240 V), which eliminates the external voltage regulators in case of unstable power supply.
Internal device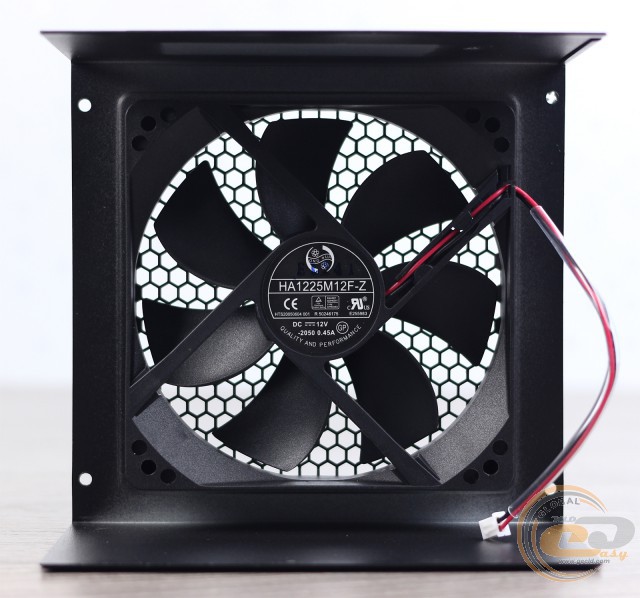 120mm 7-blade fan Hong Hua HA1225M12F-Z is used to cool the internal components. It is based on hydrodynamic bearing (FDB). According to the acoustic properties such solutions are not inferior to the sleeve counterparts, but they are superior in performance, especially when it comes to an extended period of time.
Unfortunately, we could not find the complete specifications of the fan. However, according to the design capacity (5.4 W), it should provide a large air flow and cope with immediate tasks without problems.
| | |
| --- | --- |
| Fan | Hong Hua HA1225M12F-Z |
| Bearing | Hydrodynamic (FDB) |
| Supply voltage, V | 12 |
| Current, А | 0,45 |
| Capacity, W | 5,4 |
| Max rotation speed, rpm | 2050 |
| Air flow, CFM | − |
| Noise level, dB | − |
| Dimensions, mm | 120 х 120 х 25 |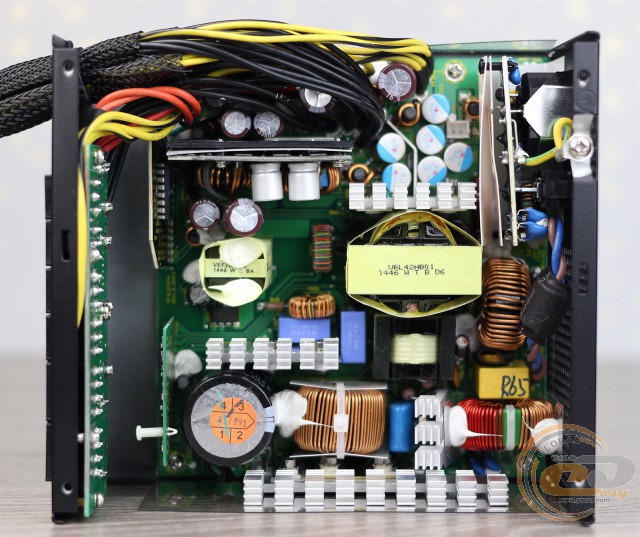 The heart of Seasonic G-650 is the same platform used for flagship model in the series Seasonic G (Seasonic G-750). After remembering excellent results during its testing, we can say with certainty that the manufacturer has made the right decision when choosing circuitry for the hero of this review. Of course much still depends on the configuration of the nodes and the quality of the installed components. Let's explore this aspect in more detail.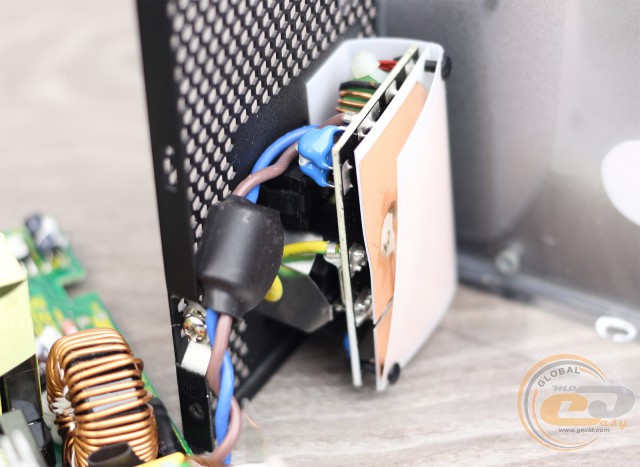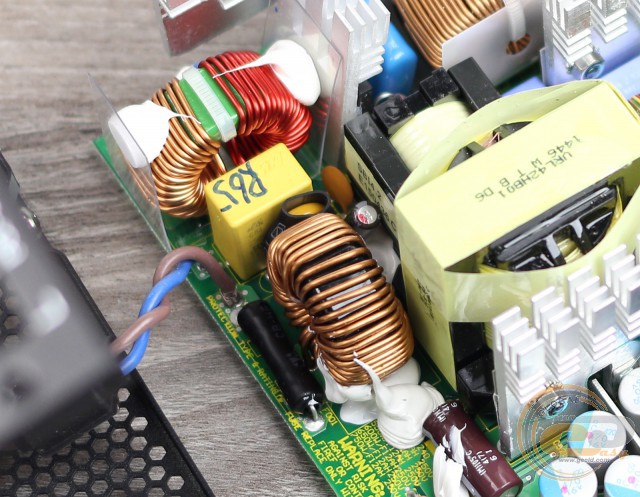 EMI-filter is installed in the input. It is responsible for smoothing high-frequency noise emitted by power supply into network. Also it bears the function of lightning protection. Traditionally for Sea Sonic Electronics products it is divided into two parts. One group of elements which includes the coil, one X and four Y capacitors located near to the power source and separated by a screen from other kind of nodes. The second (two large chocks, varistor, one X and two Y capacitors) is located directly on the main circuit board.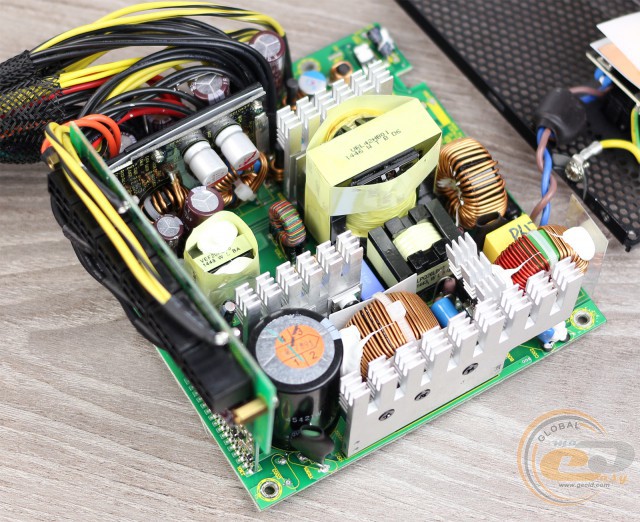 There is a powerful 10-voltage diode assembly GBU10V08 used to rectify input voltage. It is equipped with own radiator. By the way, the cooling system of other power elements is also at the highest level. Even transistors involved in the formation of low-voltage +3.3V and +5V rails are covered by aluminum plate.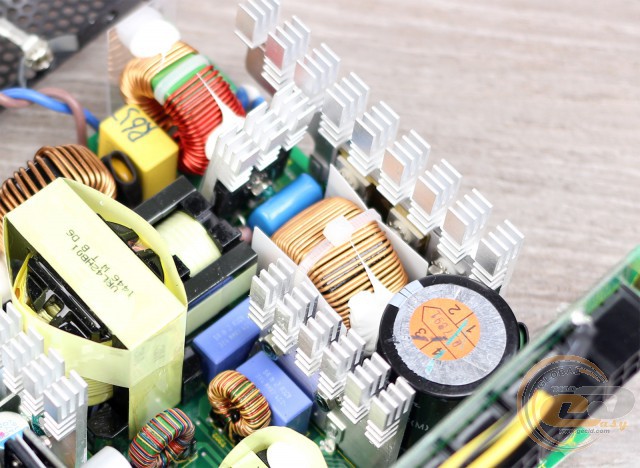 Naturally, the product has active Power Factor Correction module (APFC). On the picture you can see its big choke, but we could not identify the marking of power switches. We can only say that they are controller by chip Infineon ICE3PCS01.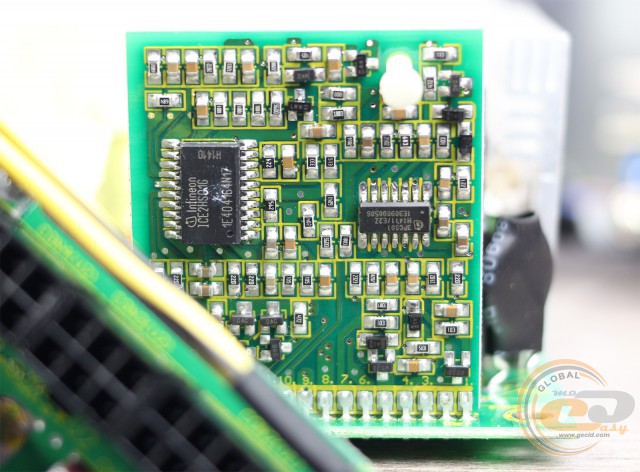 The second PWM controller, Infineon ICE2HS01G, is responsible for the correct operation of the main converter, which is made on a highly resonant circuit.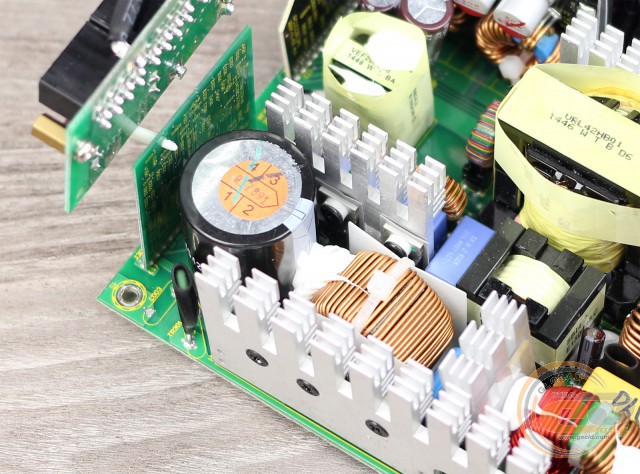 It power keys are a couple of transistors Infineon 5R250P, placed on a separate radiator. Near you can find a high-voltage circuit capacitor, produced by well-known Japanese company Rubycon. So its quality is at the highest level.
It is important to note that the remaining nodes also have Japanese capacitors: Rubycon, Nippon Chemi-Con and FPCAPS. As you can see, the producer did not save on the components and therefore, there is no doubt that Seasonic G-650 will serve the stated warranty (5 years), but also after its expiration will not lose main features.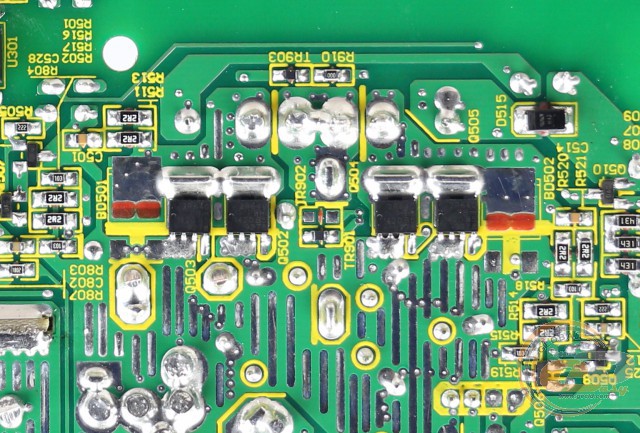 Low voltage part of the power supply is based on a synchronous rectifier. Let's briefly recall how it works: there is +12V output (in this case by four FETs PSMN2R6-40YS, soldered on the back side of the PCB), that forms voltage +3.3V and +5V. This topology is the most relevant to the productive power supply because it provides maximum power on the +12V rail. In addition, it involves the use of separate stabilization system of supply voltages that have a positive impact under heavy load.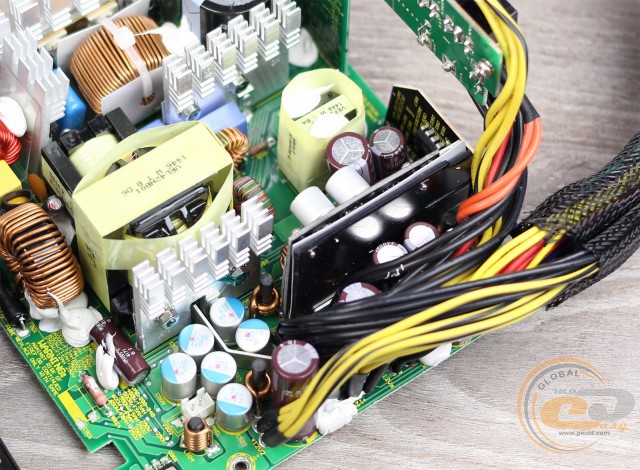 The manufacturer has applied a pretty interesting way to cool the transistors on the +12V rail: emitted heat is transferred to a huge aluminum radiator through the tracks on the board. The radiator is installed near a power transformer. After that the air is removed outside the power supply with the help of a fan.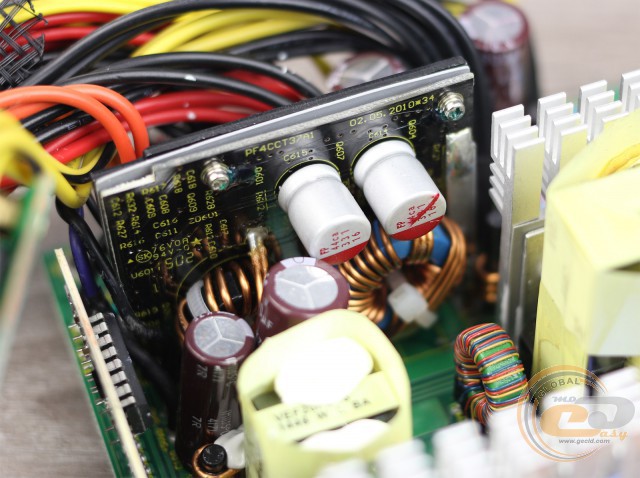 DC-DC-converters of voltages +3.3V and +5V are arranged on a separate printed circuit board. Also here you can find power end and components of LC-filters. As we expected, the Seasonic SSR-650RM used the principle of separate power supply stabilization.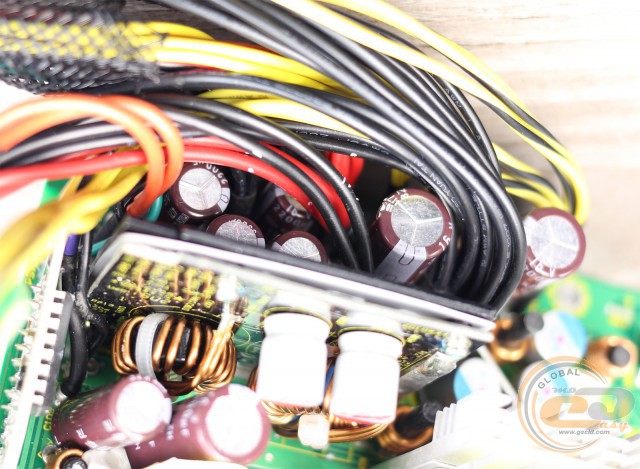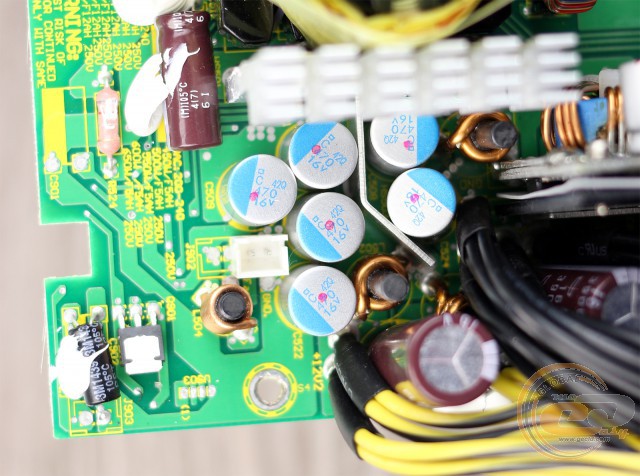 Noise filtering is performed on the outputs of the device using both solid capacitor (470 microfarads x 16, 330 x 16 uF), and elements with a liquid electrolyte (2200 uF x 16) and in fairly large quantities.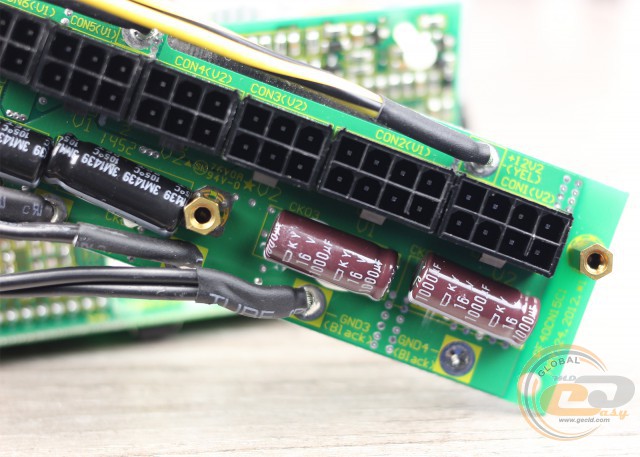 Even near the modular connectors there is a place for a few smoothing components (1000 uF x 16 V). This is precisely the main difference of Seasonic products from competitive solutions. Where other manufacturers are trying to save money, the Sea Sonic Electronics makes all maximum reliability and safety. And, as we have see, the device class does not matter.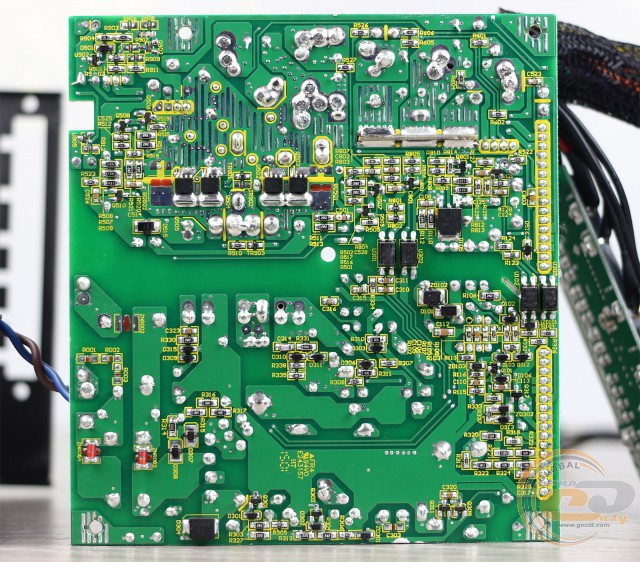 As proof of these words we offer to evaluate the quality of the soldering and assembly of components. As you can see from the pictures, everything is done at the highest level.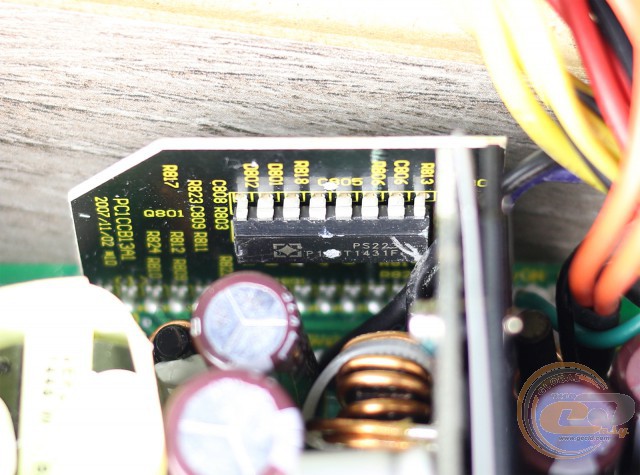 According to the technical specifications, model Seasonic G-650 has a full range of protections (OVP, UVP, OPP, SCP, OCP, and OTP), including protection against overload and overheating. The node is based on the chip SITI PS223 and implemented on a separate printed circuit board.
Социальные комментарии Cackle