PSU Seasonic M12II-850 Bronze Evo Edition: review and testing
In this review we will focus on the power supply unit Seasonic M12II-850 Bronze Evo Edition (Seasonic SS-850AM2) another model of very interesting and in some ways even a unique series Seasonic M12II Bronze Evo Edition. Not so long ago it underwent modernization, which touched not only upgrade the hardware, but also the cost of the devices. We have already examined the new revision of 520 W and 750 W models. Now it's time to take a closer look to updated version of the flagship Seasonic M12II Bronze Evo Edition, the capacity of which is at 850 W.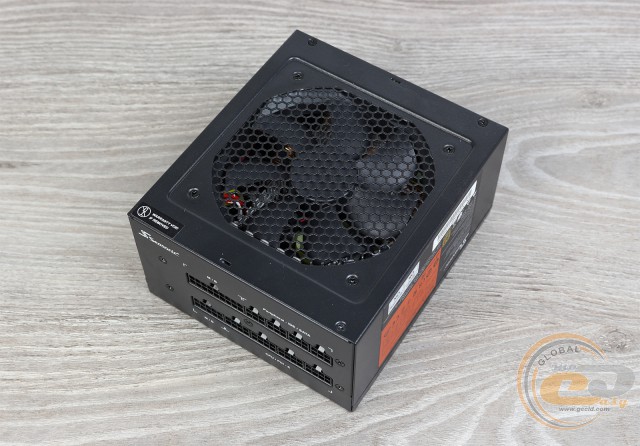 The specs:
Model

Seasonic M12II-850 Bronze Evo Edition

(Seasonic SS-850AM2)

Type

ATX12V

Rated capacity, W

850

Rail 12V capacity, W

840

Rails +3,3V and +5V capacity, W

150

Quantity of rails +12V

1

Outputs, А

+3,3V

25

+5V

25

+12V

70

-12V

0,5

+5Vsb (stand-by power line)

3

Input supply voltage, V

100 − 240

Frequency, Hz

50 − 60

Input voltage, V

6 – 12

Efficiency, %

> 81

Certified 80 PLUS

Bronze

Power factor (PF), %

99

Method of Power Factor balancing

Active

Configuration of output cables system

Completely modular

PCIe sockets

6 (6+2-pin)

Fan dimensions, mm

120 х 120 х 25

Fan speed controller

Yes (S2FC)

Noise level, dB

−

Operating time between failures, h

100 000

Support for energy saving states C6 / C7(Intel Haswell Ready)

Yes

Correspondence to environmental standards, electromagnetic safety and compatibility (EMI/EMC)

CB, CCC, TUV, cTUVus, BSMI, CE, FCC, C-tick, Gost-R, UkrTEST, Semko, RoHS, WEEE, ErP Lot 6 2013, Energy Star 5.0, REACH

Protections

OVP, UVP, OPP, SCP, OCP, OTP

Dimension, mm

170 х 150 х 86

Warranty, years

5

Producer website

Product page
Package and content
Package of Seasonic M12II-850 Bronze Evo Edition has bright and colorful graphic printing and excellent informative content. In addition to the image of the power supply, you can find a lot of useful information concerning the used circuitry, cooling system, output cables and more.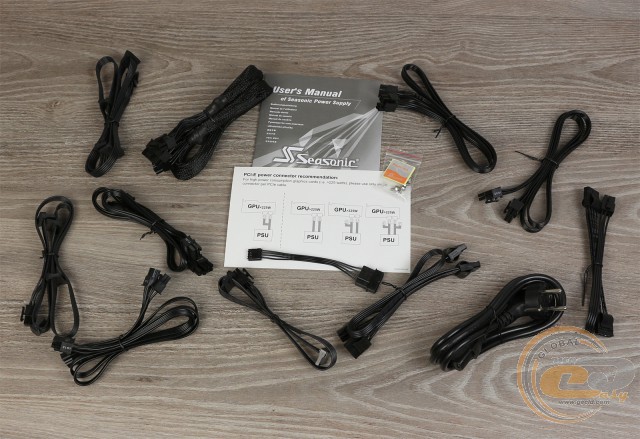 The package includes all the necessary components: the power cord, mounting screws, a set of modular cables and instructions. As a small bonus, the manufacturer put in a box sticker with the company logo and the velvet bag, which is useful for cables storing.
Design
The design of the power supply unit Seasonic M12II-850 Bronze Evo Edition is in traditional companies Sea Sonic Electronics style: strict black case with a perforated mesh instead of the fan grille. Note that in this model uses a fully modular cabling system, which makes it similar to the solutions of the top series Seasonic X and Seasonic Platinum.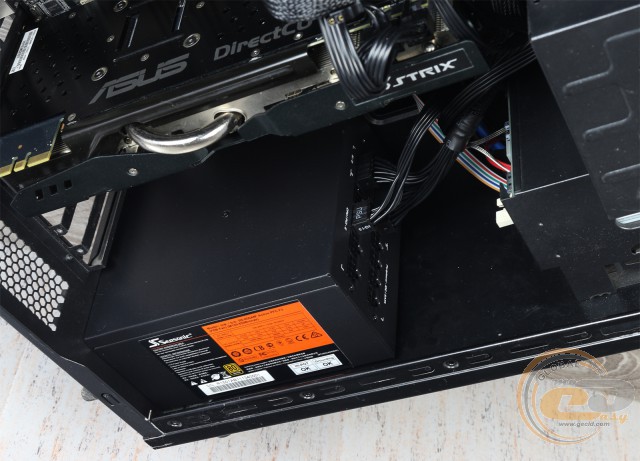 Seasonic M12II-850 Bronze Evo Edition has a slightly larger dimensions (170 x 150 x 86 mm), which, however, does not affect the ease of system building. And the detachable wires greatly simplify this process.
The rear panel contains 15 connectors, which have the following purposes:
18-pin and 10-pin («M/B») - to power the motherboard;
four 6-pin («Peripheral IDE/SATA») - to supply the periphery;
four 8-pin («CPU/PCI-E») - for additional power processor and graphics card.
For even more convenience, all the cables connecting components, except for the cable for the motherboard are made in the form of long flexible ribbons. This option is not always found on top-end devices, not to mention cheaper solutions. The additional power to the processor and graphics card is carried out by two 8-pin ATX12V connector, and six 6+2-pin PCIe respectively. This amount will make it possible to build very powerful configuration, without the help of third-party adapters.
The same can be said about the peripheral connectors. There are ten SATA connectors and five PATA. As a result, the building will be more accurate and improve airflow inside the case.
All available types of connectors and wiring length on which they are located, are given in the table below:
Socket

Quantity

Cable length to socket (connectors), cm

Modular (detachable) cables

20+4pin ATX connector

1

60

4+4-pin ATX12V connector

1

65

8-pin ATX12V connector

1

65

two 6+2-pin PCIe connectors

3

55-65

three PATA

1

40-50-65

two PATA

1

30-40

four SATA

2

40-50-65-75

two SATA

1

30-40

adapter PATA-FDD

1

10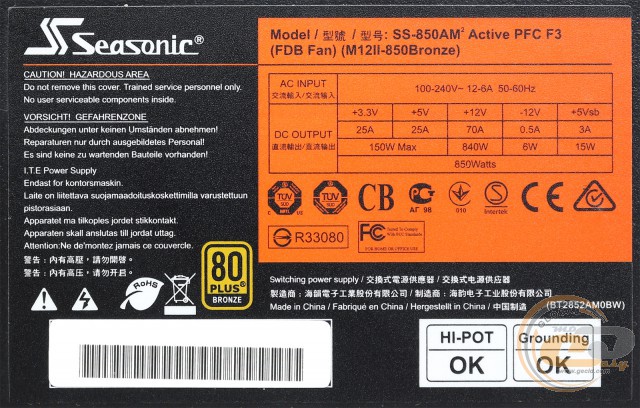 Before moving to the analysis of the hardware platform, we offer a look at the characteristics of electrical power supply specified on the label. Its nominal power is 850 W. The + 12V channel is designed to the same load - 840 W or 98.8% of the total power. Also note that it is made in the form of a dedicated line, and is not divided into several "virtual" with low current limitation. This configuration is ideal for today's components, especially if you plan to overclock them. Total power of lines +3.3V and +5V is equal to 150 W, which will also be more than enough to take stock of power to peripheral devices.
Seasonic SS-850AM2 can operate over a wide input voltage range (100 – 240 V). That is in case of unstable power supply you don't need to use external voltage regulators.
Internal device
This model is based on the platform Seasonic AM2, which is notable by the presence of synchronous rectifier to the low voltage side. Not every "bronze" power supply can boast the same technical solution.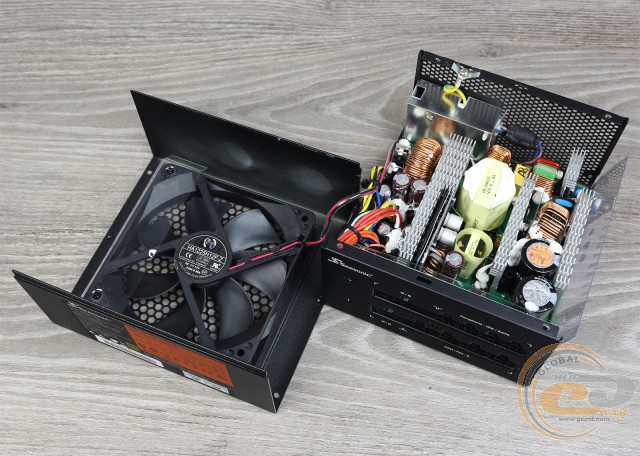 The cooling system of the hero of this review is presented by four aluminum radiators with branched tip and metal plate. The latter is set to a low voltage side and is used to remove heat from the transistor stage DC/DC-converters. The active component of the cooling system is a 120-mm fan Hong Hua HA1225H12F-Z with a rather high capacity (6.96 W, 2500 rpm). It is based on a reliable fluid dynamic bearing (FDB).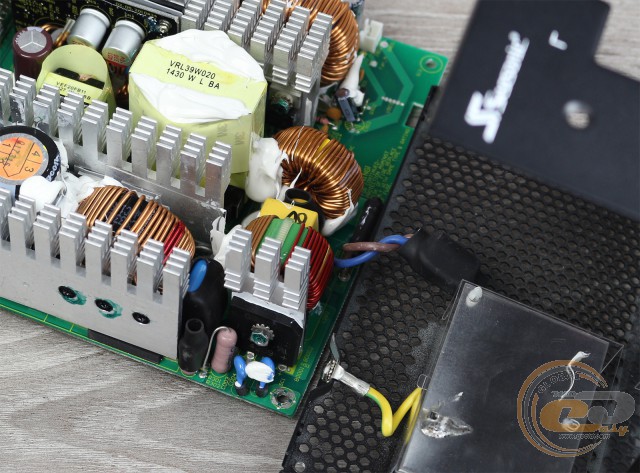 EMI filter is installed in the input of Seasonic SS-850AM2. It contains a complete list of prerequisites, six Y and three X-capacitors, three inductors and varistor. Some of them are soldered directly to the AC outlet, and hidden behind a special casing. Straighten of the input voltage is realized by two 8-ampere diode assemblies GBU806. Unfortunately, the labeling of power elements is not available. However, there is no doubt that they are also matched with a large margin of safety.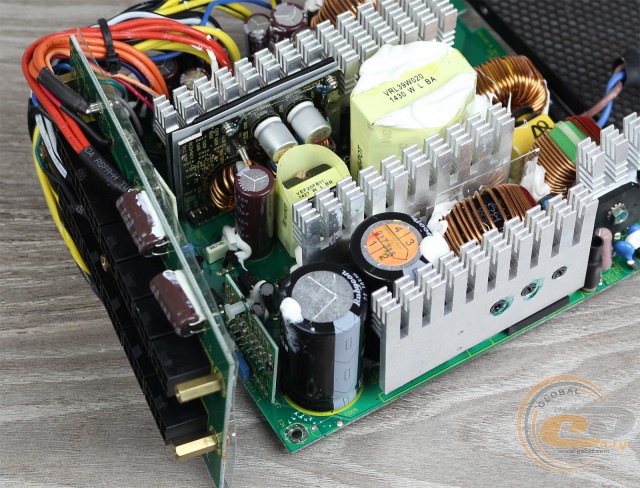 The left side of the board is traditionally reserved for the module of active Power Factor Correction (APFC), the central place is a stand-by power supply and the main transmitter. Last belongs to the type of forward half-bridge converters. It is provided by chip Champion CM6802TX. It is a part PWM controller APFC.
The manufacturer of the storage capacitors is a famous Japanese company Rubycon. The elements belong to high temperature series of (up to 105°) and have a capacity of 330 uF. Since they are connected in parallel, we have 660 uF that is a good indicator for the 850-watt device.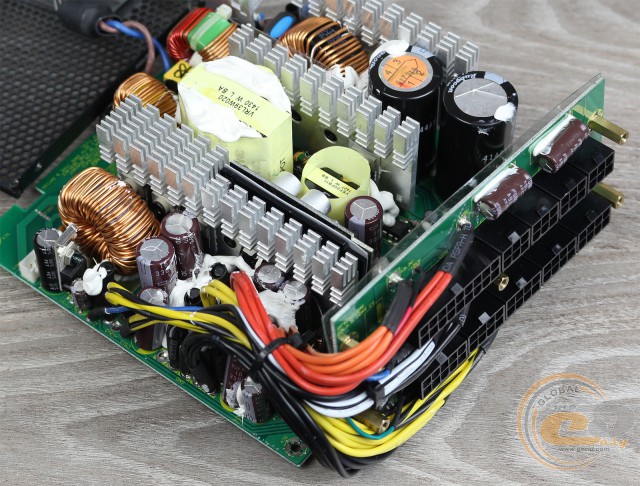 Low-voltage part of the model Seasonic M12II-850 Bronze Evo Edition is built on modern principles on the basis of the synchronous rectifier: output generates line +12V, from which the others have obtained ratings (+3.3V and +5V). Voltage regulation has a separate character.
Noise filtering at the output of the power is realized by using a large number of capacitors with liquid electrolyte and a pair of solid-state elements. In all cases, they are produced by the Japanese companies Nippon Chemi-Con and Rubycon.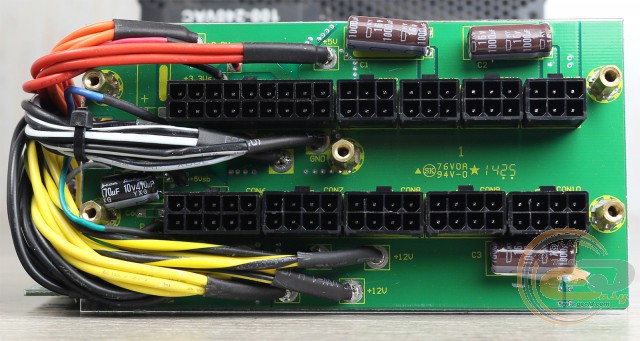 Several capacitors are located directly near the modular connectors for additional smoothing. As you can see manufacturer did not save on the element base.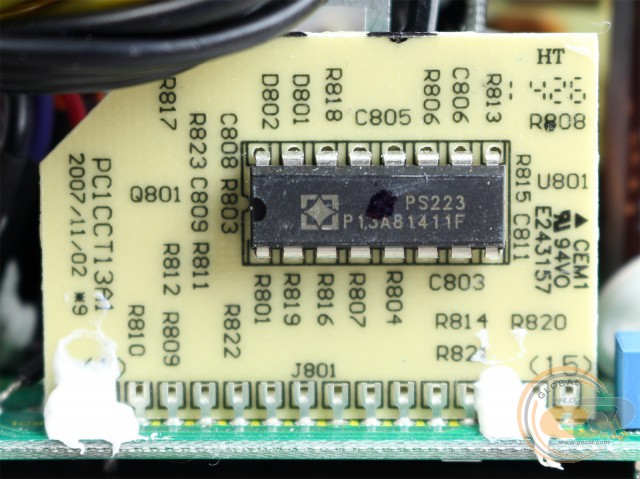 The Seasonic SS-850AM2 provided a full list of necessary protection:
overvoltage protection (OVP);
undervoltage protection (UVP);
short-circuit protection (SCP);
overload power (OPP);
protection against over-current of each channel (OCP);
overtemperature protection (OTP).
The corresponding unit is a separate unit, which operates under the control of the chip SITI PS223.
Testing
Cross loading characteristics
According to the norms of the standard ATX12V, the allowable range of voltage deviations for all supply lines is ± 5% of the nominal line.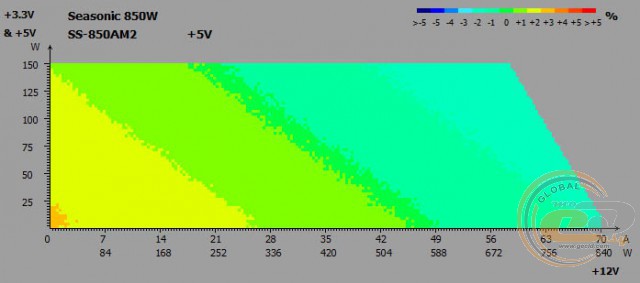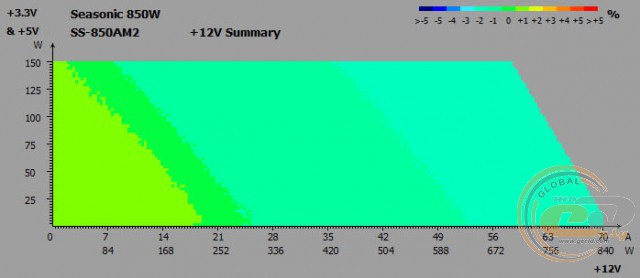 A cross loading testing showed the presence of voltage fluctuations within the following limits:
rail + 3.3V: from -4% to +1%;
rail + 5V: from -2% to +2%;
rail + 12V: from -2% to +1%.
Node voltage stabilization coped well with the task: in all cases, the voltage does not go beyond the limits of the standard ATX12V. Especially we were pleased with the state of the channel +12V where undervoltage di not exceed the mark of 2%.
Социальные комментарии Cackle