Video card ASUS GeForce GT 730 Silent (GT730-SL-2GD3-BRK): review and testing
In the spring of 2014, NVIDIA has announced another addition to the graphics cards family NVIDIA GeForce of 700th series, which was the model NVIDIA GeForce GT 730. As you might guess from its labeling, it is an entry-level solution and has a relatively affordable cost and low productivity. The standard version of this card is made in a low-profile format. This clearly alludes to its end use to build ultra-low-cost multimedia systems (HTPC).
Another curious feature of the NVIDIA GeForce GT 730 is the fact that there are several of its modifications, which differ significantly from each other. Two of the three versions are based on the graphic chip NVIDIA GK208 (Kepler), produced by 28-nm manufacturing technology. They differ in the type of video memory: DDR3 with effective clock speed of 1800 MHz or GDDR5, which operates at 5000 MHz. However, both use 64-bit data bus. "Heart" of the third version is a graphics core NVIDIA GF108 (Fermi). A video memory subsystem is built on its DDR3-chips, but with a 128-bit bus.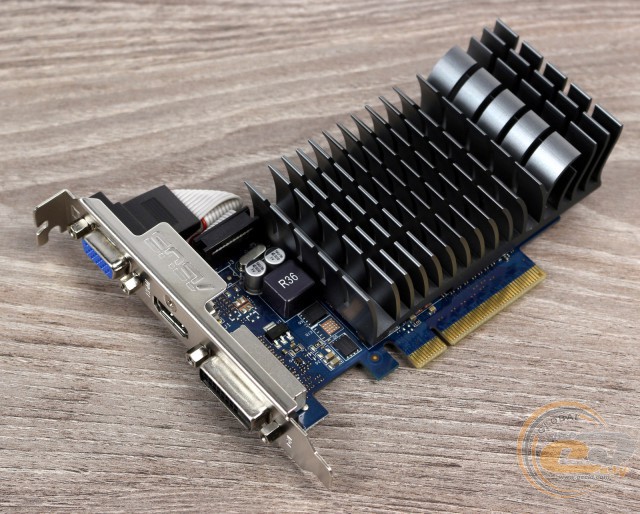 As for specific features of ASUS GeForce GT 730 Silent (GT730-SL-2GD3-BRK), it is made based on NVIDIA GK208 and is equipped with two gigabytes of graphics memory standard DDR3, as well as a passive cooling system. Let's take a look at its detailed specifications.
The specs:
Model

ASUS GeForce GT 730 Silent

(ASUS GT730-SL-2GD3-BRK)

Graphics core

NVIDIA GK208 (Kepler)

Manufacturing process, nm

28

Q-ty of shader processors (CUDA-cores)

384

Supported API and technologies

Microsoft DirectX 12, OpenGL 4.4, NVIDIA PhysX, NVIDIA FXAA, NVIDIA 3D Vision, NVIDIA Adaptive Vertical Sync, NVIDIA CUDA

Basic graphics core frequency, MHz

902

Memory frequency (effective), MHz

900 (1800)

Memory capacity, GB

2

Memory type

DDR3

Bus memory width, bit

64

Memory carrying capacity, GB/s

14,4

Bus type

PCI Express 2.0 x16

Max resolution

Digital up to 2560 x 1600

Analog up to 2048 x 1536

Screening interfaces

1 x DVI-D

1 x HDMI

1 x D-Sub

HDCP support and HD-video decoding

Yes

Minimal PSU capacity, W

300

Dimensions taken from official website (according measurements in own test lab) , mm

137 х 69 (150 x 70)

Drivers

Website
This version almost fully complies with all the NVIDIA recommendations for NVIDIA GeForce GT 730. It has an original cooling system and improved components. Operating frequencies of video card are also fully consistent with the reference to modifications with 64-bit video memory of standard DDR3.
Package and content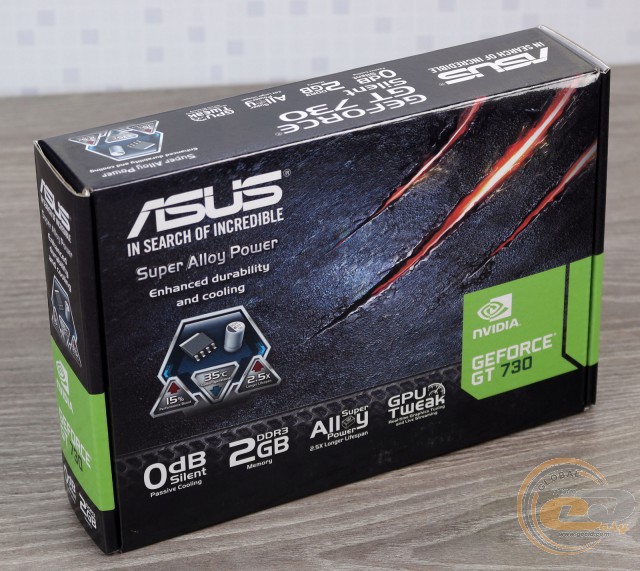 ASUS GeForce GT 730 Silent is available in the traditional box of high quality cardboard, decorated with the graphic arts industry in the corporate style. In addition to the names of the manufacturer and model, note the reference to the capacity and type of video memory, and the presence of ASUS GPU Tweak utility for monitoring and optimization of key parameters. The main advantages of this model are the passive cooling system and advanced electronic components, made according to the brand concept of Super Alloy Power. It includes solid capacitors with increased up to 50 000 hours of service life and chokes with ferrite core. Due to this you can notice a 15% increase in performance, a 35°C decrease in temperature of power cells and a 2.5 longer life of graphics adapter.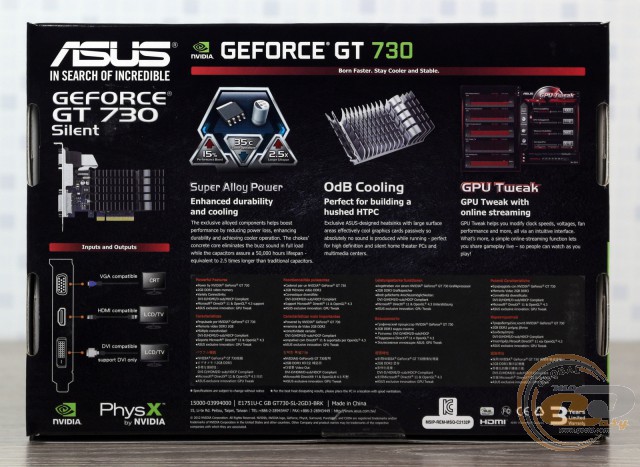 The reverse side of the box is traditionally reserved for the more detailed description of the benefits listed on the front side. Also, there is a schematic diagram of the interface panel.

A list of system requirements for the computer is located on one side of the box. Based on the recommendations, the power supply must have a capacity of not less than 300 W and provide at least 20 A on +12V power line.
In addition to standard instructions and a CD with software in the box we found two interchangeable plugs for the interface panel. One of them with holes for DVI-D and HDMI can be used instead of the standard, and the second can be installed in an adjacent slot on the interface of the PC. Such opportunities for video card configuration are possible due to the fact that the D-Sub video output is connected by a flexible loop. Therefore, it can be either completely disabled or moved to an adjacent expansion slot with one of the above-mentioned modules.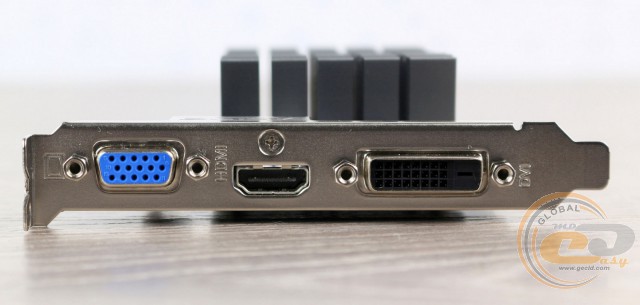 The following set of video outputs is used to display an image on the graphics adapter:
1 x DVI-D;
1 x HDMI;
1 x D-Sub.
It supports the following resolution:
Digital up to 2560 x 1600;
Analog up to 2048 x 1536.
Design and circuitry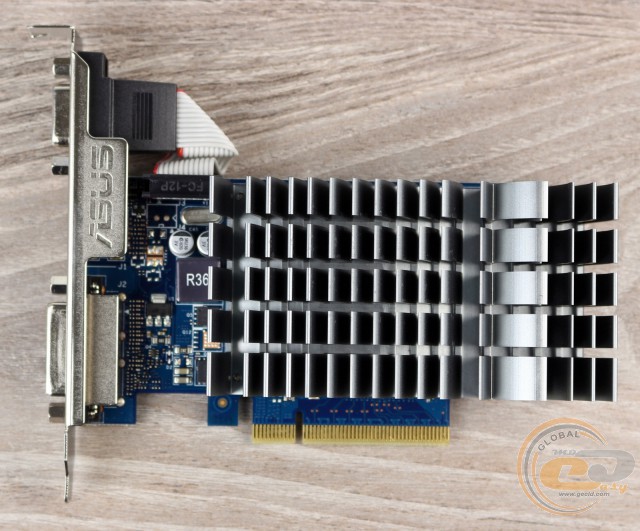 ASUS GeForce GT 730 Silent (GT730-SL-2GD3-BRK) is made on low profile PCB. In case of disabled video output D-Sub the PCB height does not exceed 70 mm, which makes the model compatible even with the small case to build HTPC.
The module of power supply stabilization is made by a two-phase system where one phase is used to power the graphics core, and the second for the video memory. It uses proprietary high quality electronic components Super Alloy Power, which includes solid capacitors and ferrite core chokes. This improves the stability and reliability of the graphics card, as well as extends its service life.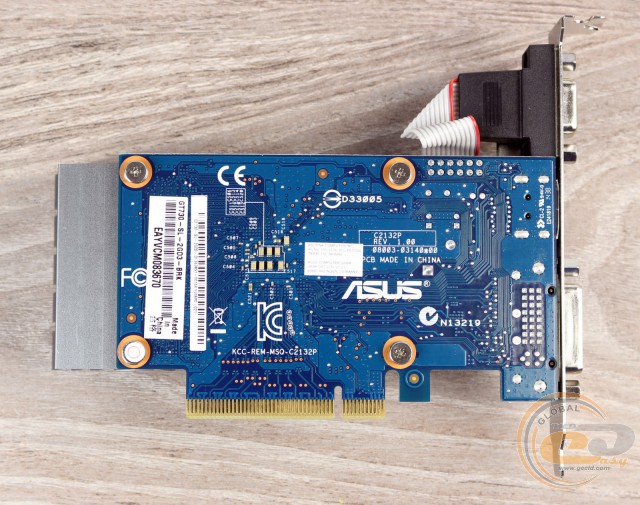 The reverse side of the video card has several elements of the power subsystem, as well as the mounting screws of the cooling system, one of which is covered with a warranty sticker.
Model ASUS GT730-SL-2GD3-BRK is not equipped with connectors for additional cabling PCIe, as it maximum power consumption does not exceed of 49 W, and the standard PCI Express x16 slot can provide up to 75 W. Also, there is no connector to bridge NVIDIA SLI, due to lack of support for this technology.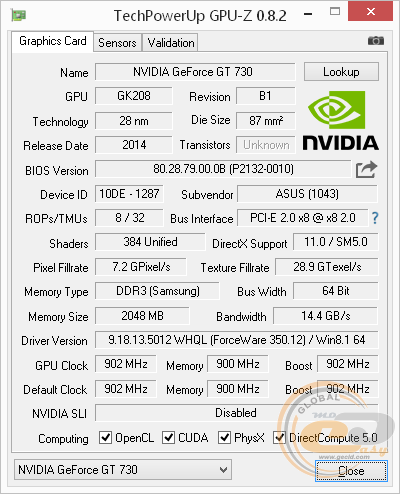 The basis of the test video is graphic chip NVIDIA GK208 (Kepler), made of 28-nm manufacturing technology. It includes 384 unified shader pipelines (CUDA-cores according to the terminology of NVIDIA), 8 ROP units and 32 texture units.
Video memory of ASUS GeForce GT 730 Silent (GT730-SL-2GD3-BRK) is realized due to using DDR3-chips of company Samsung with total capacity of 2 GB and the effective frequency of 1800 MHz. Communication between the graphics core and memory is realized through 64-bit bus, which is capable to pass 14.4 GB of information per second.
Cooling system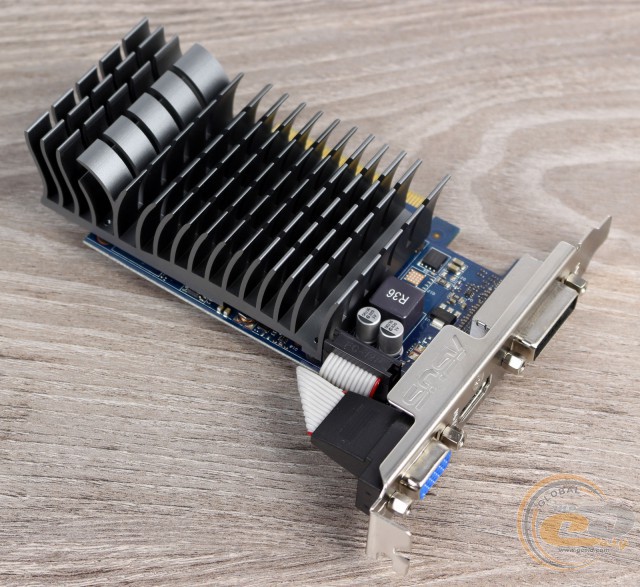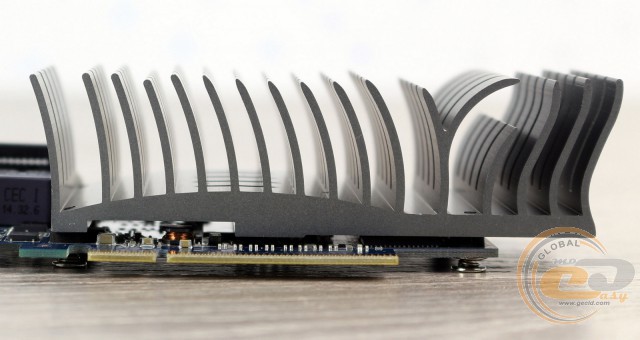 The cooling system of this adapter is quite plain and compact, which is quite logic given the low level of power consumption and heat dissipation. For the removal of excess heat from the GPU there is all-metal radiator with fins, which increases the efficiency of heat dissipation.

As you can see, in continuous maximum load graphics core is heated to 93 degrees, which is hardly a good result, because the maximum temperature declared at 98 degrees.

Социальные комментарии Cackle