HIS R7 260X iPower IceQ X2 2GB GDDR5 PCI-E DLDVI-D+DLDVI-I/DP/HDMI (H260XQM2GD) graphics card: review and testing
Let's continue the familiarity with the graphics cards HIS. Graphics accelerators of the manufacturer are proved to be reliable device with quiet and efficient cooling systems. This material is devoted to a model built on the graphics core AMD Bonaire and equipped with 2 GB of video memory standard GDDR5. According to the specs, its main advantages are the support for resolution 4K Ultra HD and an appropriate design HIS iPower, which provides good overclocking potential.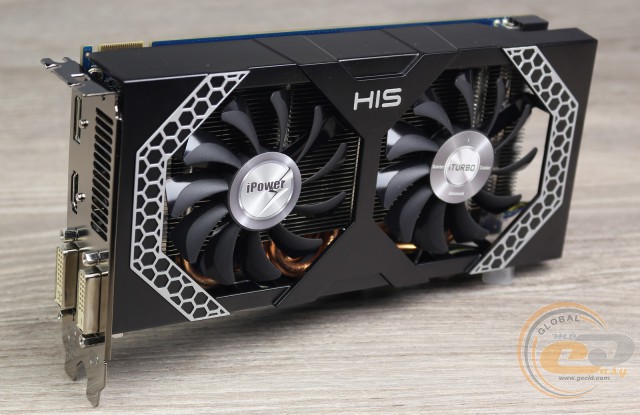 The video accelerator HIS R7 260X iPower IceQ X² 2GB GDDR5 PCI-E DLDVI-D+DLDVI-I/DP/HDMI (H260XQM2GD) has quite a long name, so for convenience we shall denote it more succinctly: HIS R7 260X iPower IceQ X² 2GB GDDR5 or или HIS H260XQM2GD.
The specs:
Model

HIS R7 260X iPower IceQ X² 2GB GDDR5 PCI-E DLDVI-D+DLDVI-I/DP/HDMI (H260XQM2GD)

Graphics core

AMD Bonaire

Manufacturing process, mm

28

Quality of shader processors

896

Support for technologies and API

DirectX 12, DirectCompute 11, OpenGL 4.3, OpenCL 1.2, AMD Eyefinity, AMD CrossFireX, AMD HD3D, AMD PowerPlay, AMD PowerTune, AMD Eyespeed, AMD ZeroCore, AMD Mantle, AMD TrueAudio

Nominal frequency of graphics cote, MHz

1000

Memory capacity, GB

2

Memory type

GDDR5

Nominal/effective video memory capacity, MHz

1500 / 6000

Memory bus, bit

128

Internal interface

PCI Express 3.0 x16

Screening interfaces

1 х HDMI

1 x DisplayPort

1 х DVI-I

1 х DVI-D

Nominal PSU capacity, W

500

Dimensions (according to our test lab), mm

220 x 112

Drivers

Producer website
Package and content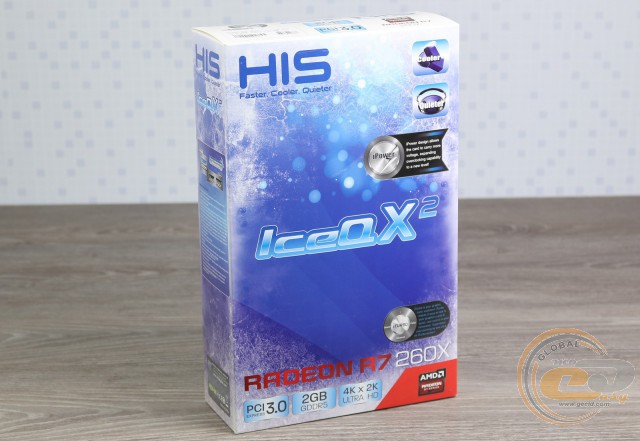 The graphics card HIS H260XQM2GD is shipped in cardboard package with familiar design from other graphics accelerator of HIS. Its face side includes some of the main advantages of the new product:
power subsystem with design HIS iPower, which provides a good overclocking potential;
proprietary software for overclocking and monitoring (HIS iTurbo);
support for resolution 4K Ultra HD.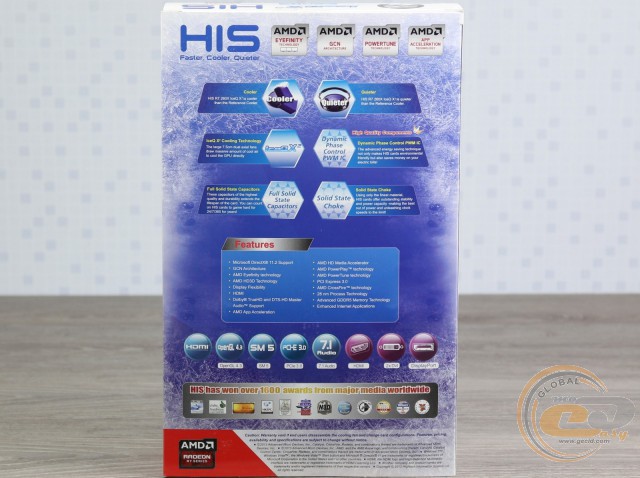 The reverse side of the box contains more detailed information about the merits of device:
quiet and efficient cooling system HIS IceQ X2;
PWM controller that supports the Dynamic Phase Control and saves energy by turning off unused power phases;
high-quality solid capacitors and inductors provide stable operation of the graphics accelerator during overclocking.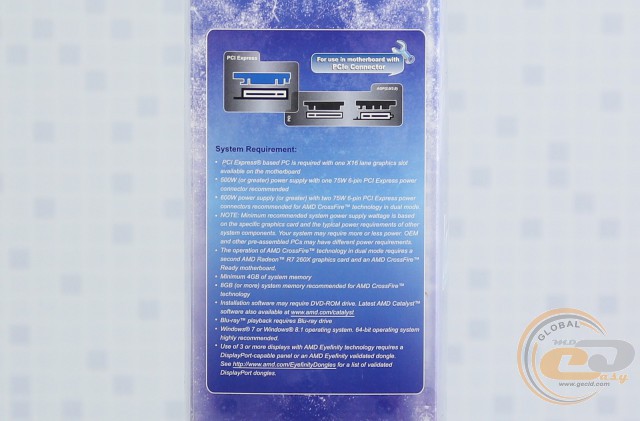 The side of the package has a list of system requirements for optimal performance of graphics accelerator. Note the indicator of the minimum of the power supply, which should not be less than 500 W. If you will install two similar video card in mode AMD CrossFireX, this requirement is increased up to 600 W. It is also desirable that the power supply has been equipped with one or two six-pin connectors PCIe.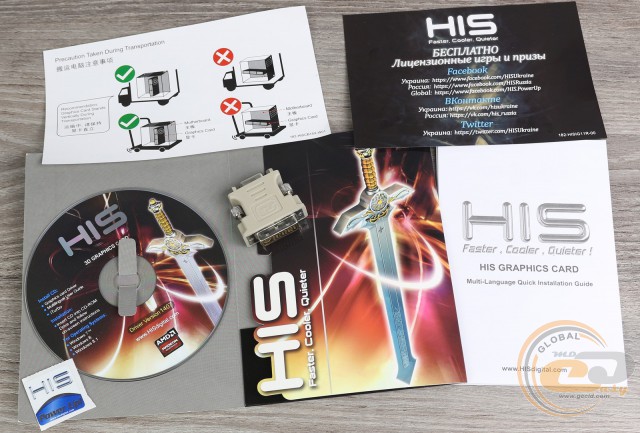 Supplied set of video card HIS H260XQM2GD consists of:
Adapter DVI-I ↔ D-Sub;
disk with software and drivers;
sticker on the computer case;
Quick Start Guide;
leaflets with a list of addresses of HIS in different social networks.
In general, this set is fairly typical and allows immediately start working with graphics accelerator. As for the adapter for additional power, it is difficult to imagine a modern power supply with recommended above capacity, which won't have at least one 6-pin PCIe.

The interface of the tested model has the following connectors:
1 x HDMI;
1 x DisplayPort;
1 x DVI-I;
1 x DVI-D.
Such set of connectors together with the supplied adapter DVI-I ↔ D-Sub will allow to connect almost any modern monitor or TV without any difficulty. The following resolutions are supported:
Digital up to 4096 x 2160;
Analog up to 2048 x 1536.
Design and circuitry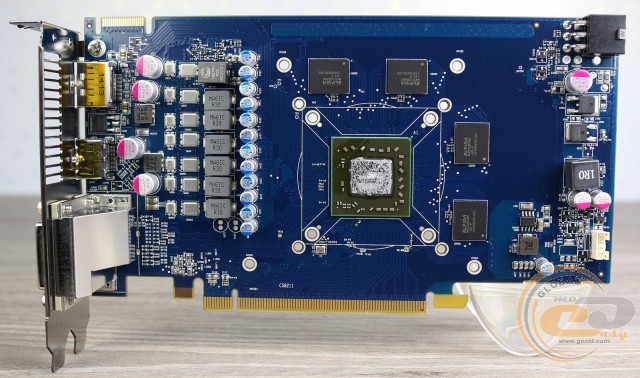 The graphics card HIS R7 260X iPower IceQ X² 2GB GDDR5 is made on a dark blue PCB. It should be noted that the graphics chip is not equipped with a protective frame, so you should be very careful to dismantle or install the cooling system.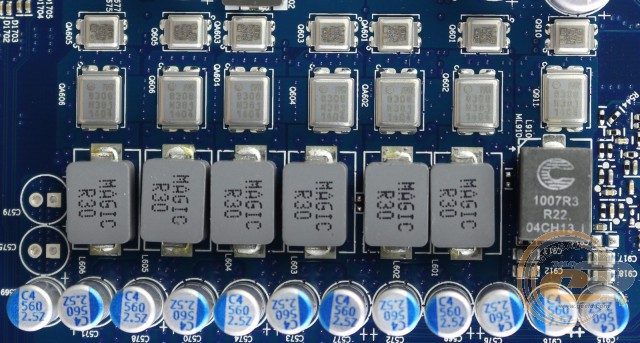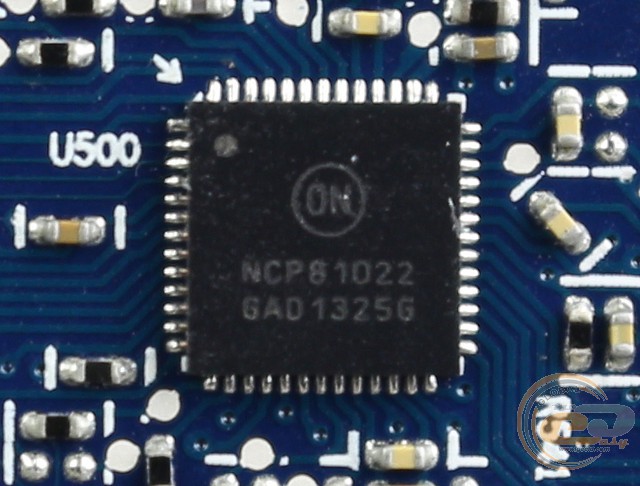 Power of GPU is performed on a 7-phase scheme. Its main advantage is the use of the highest quality components: solid capacitors and ferrite chokes. Controller ON Semiconductor NCP81022 supports management of involved phases (Dynamic Phase Control).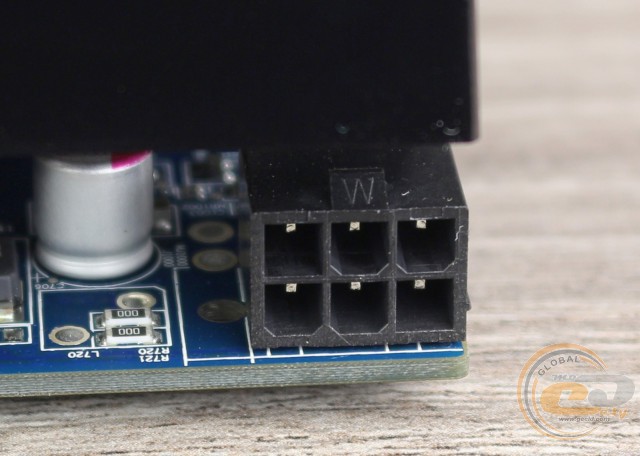 To complete the work HIS H260XQM2GD, in addition to opportunities of slot PCI Express 3.0 x16, you must connect an additional 6-pin PCIe. Its connection is slightly complicated by cooling system located near.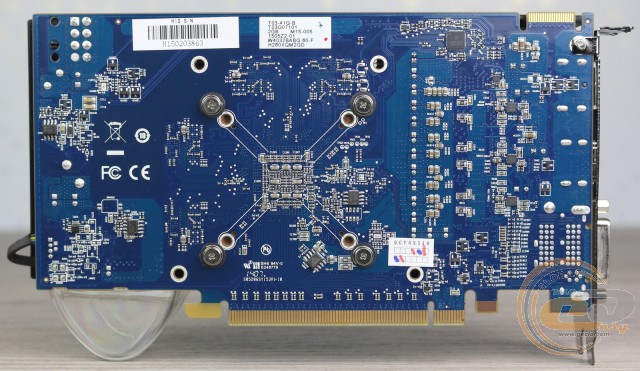 The reverse side of the PCB has several labels with technical information and the screws that secure the cooling system. In the upper right corner you can find placed above described controller power of subsystem and connector for bridge AMD CrossFireX (allows you to combine two cards for the joint processing of graphics).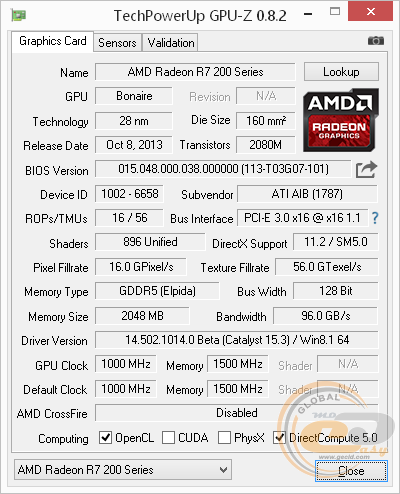 The heart of HIS R7 260X iPower IceQ X² 2GB GDDR5 graphics chip is AMD Bonaire, made on 28-nm technology. It consists of 896 unified shader pipelines, 56 texture units and 16 ROP units. The nominal clock frequency of the graphics processor is 1000 MHz.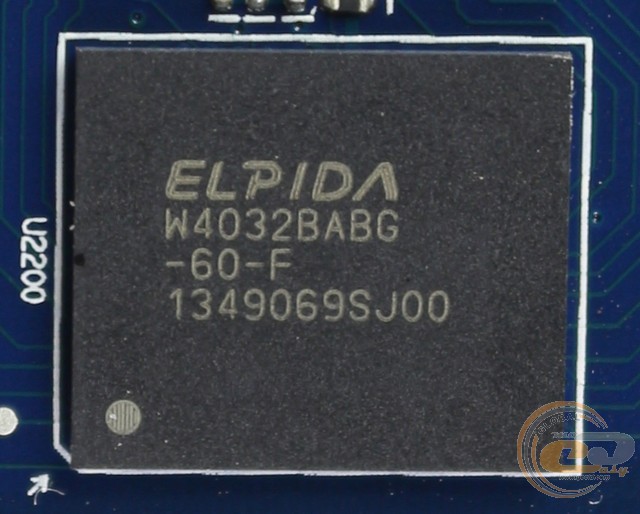 Novelty has 2 GB of video memory collected using four chips ELPIDA W4032BABG-60-F of standard GDDR5 with 512MB each. They operate efficiently at a frequency of 6000 MHz, and in order to exchange data with a graphics core there is 128-bit bus with a bandwidth of 96 GB/s.
Cooling system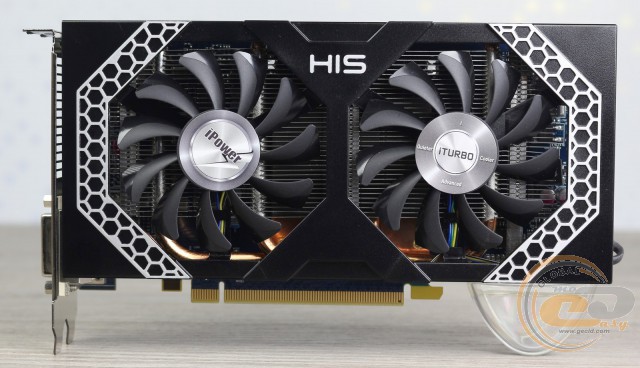 The graphics card is equipped with a dual-slot cooling system based on two axial fans. Overall dimensions of the graphics accelerator with fixed cooling system are 220 x 112 mm. The outer part of the cooler is covered by the plastic cover with decorative ornaments.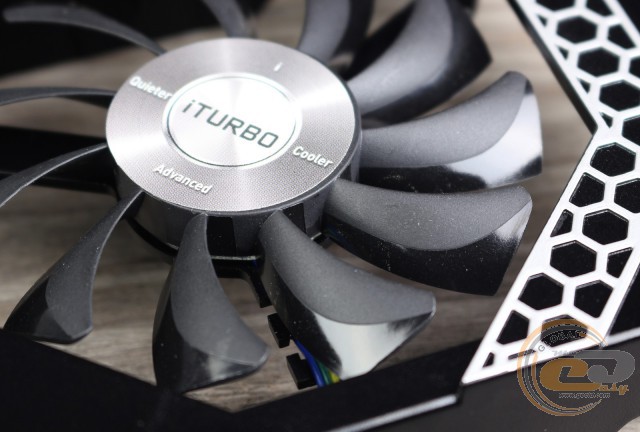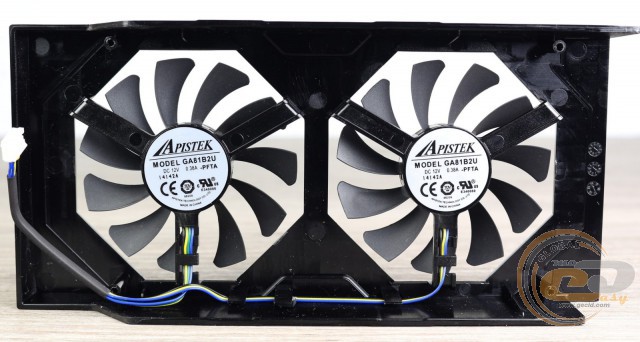 Blowing is realized by two fans Apistek GA81B2U (12; 0.38 A) of 76 mm diameter and shape of the curved blades. They are mounted directly on the plastic cover.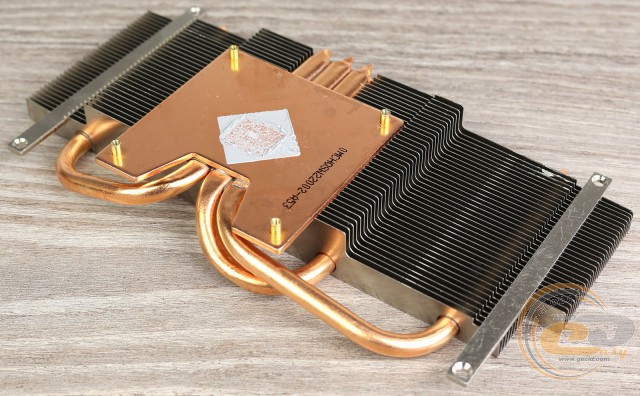 The heatsink contacts with the GPU via a copper plate and a thin layer of thermal paste. Also there are three copper heat pipes with a diameter of 6 mm each. They are not coated with a layer of nickel, so are susceptible to oxidation during use.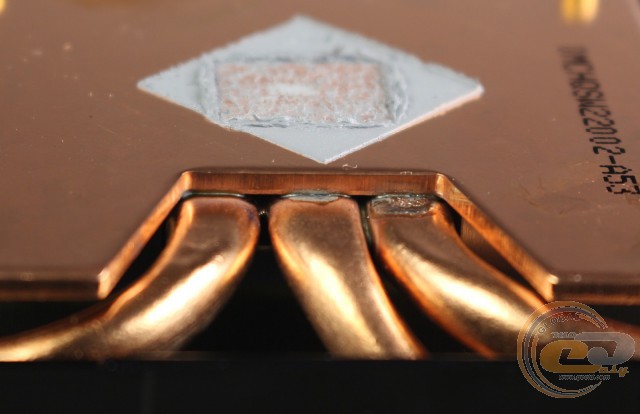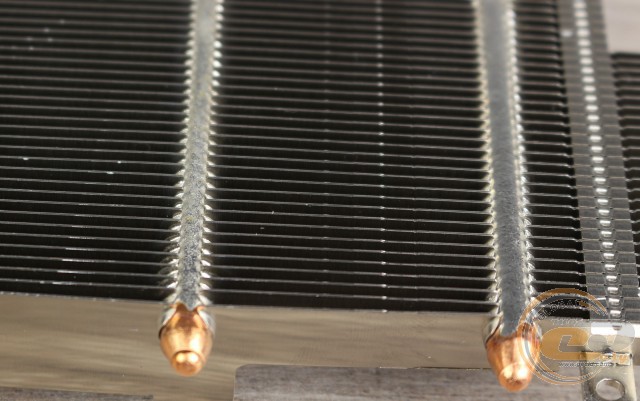 Heat pipes are firmly soldered to the edges to the radiator as well as to the copper base. This provides faster heat dissipation and improved cooling performance.

In automatic mode, the GPU temperature did not exceed 59°C at maximum load. Fans at the same time rotated at 1599 rpm, and the noise does not exceed the average level.

At maximum speed (3777 rpm) noise rose to an average level and has ceased to be comfortable for extended use. The temperature of the GPU has decreased to 48°C. This mode is suitable only for overclocking and running of load tests.

In idle mode the GPU temperature dropped to 31°C. In this mode, the cooler worked quietly (1182 rpm) and was almost indistinguishable against the background of other components.
Социальные комментарии Cackle