Graphics card HIS 6670 Fan 1GB GDDR5 PCI-E DP/DVI/HDMI (H667F1GD): review and testing
We continue to test quite relevant previous generations of graphics cards using the new method. This time we look at a graphics accelerator based on the core AMD Turks (AMD Radeon HD 6670). It was presented several years ago, so it will be interesting to compare it with the current models in the joint testing.
The graphics card HIS 6670 Fan 1GB GDDR5 PCI-E DP/DVI/HDMI, which will be discussed in this review, is equipped with a relatively fast memory GDDR5 and efficient cooling system from the company ARCTIC.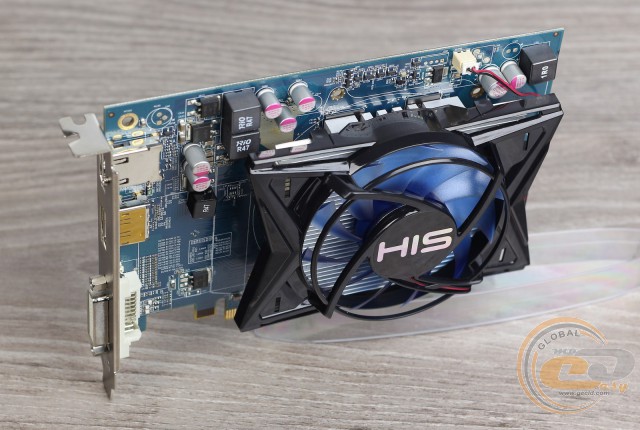 The version HIS 6670 Fan 1GB GDDR5 PCI-E DP/DVI/HDMI has quite a long name, so for convenience we would use some abbreviated versions: HIS 6670 Fan 1GB GDDR5 or HIS H667F1GD.
The specs:
Model

HIS 6670 Fan 1GB GDDR5 PCI-E DP/DVI/HDMI (H667F1GD)

Graphics core

AMD Turks

Manufacturing process, nm

40

Quantity of shader processors

480

Support for technologies and API

DirectX 11.0, DirectCompute 5.0, OpenGL 4.1, OpenCL 1.1, AMD Eyefinity, AMD CrossFireX, AMD HD3D, AMD Vision, AMD PowerPlay

Nominal frequency of graphics core, MHz

800

Memory capacity, GB

1

Memory type

GDDR5

Nominal/effective video memory frequency, MHz

1000 / 4000

Memory bus, bit

128

Internal interface

PCI Express 2.1 x16

Screening interfaces

1 х HDMI

1 x DisplayPort

1 х Dual-Link DVI-I

Minimal PSU capacity, W

400

Dimensions (according test in our test lab), mm

183 x 130 x 40 (177 x 112)

Drivers

Producer website
Package and content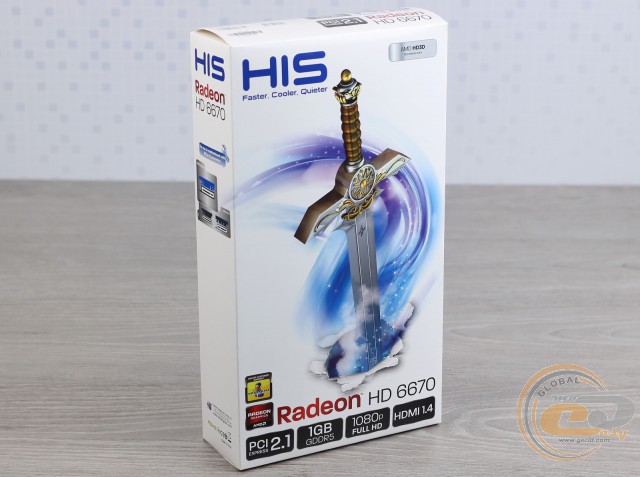 The graphics card HIS H667F1GD comes in a vertically-oriented white package. Its front side has an image of the famous sword Excalibur, the manufacturer's logo and the model name.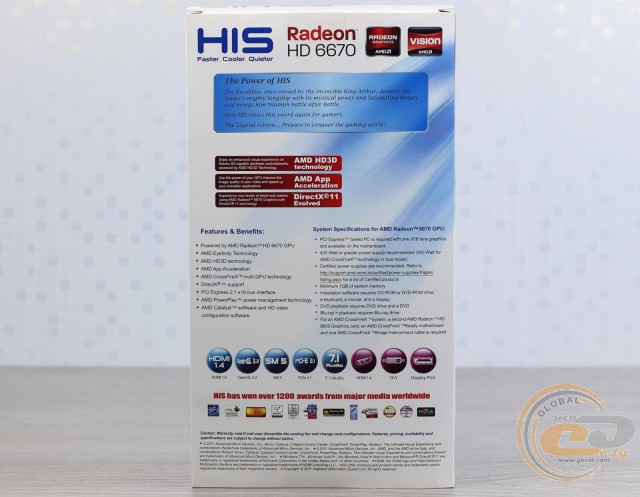 The reverse side of the package contains the minimum system requirements. The main among them is that the power supply unit with capacity at least of 400 W. If you use a combination of two graphics cards in a mode AMD CrossFireX, this requirement is increased up to 500 W.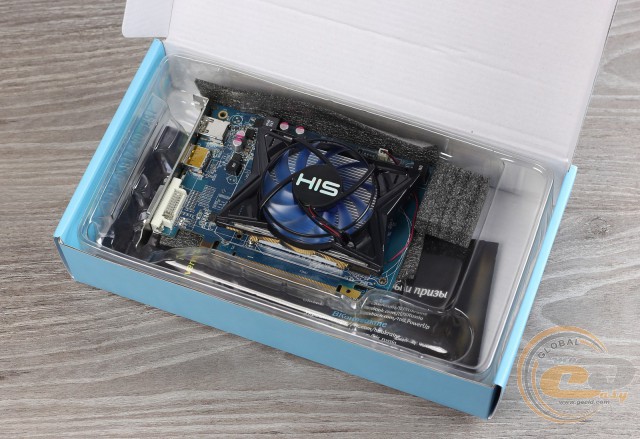 Inside the box the graphics card is securely fixed through a form of transparent plastic and foam inserts. This ensures the preservation of fragile electronics during transportation and storage.
The delivery set of model HIS 6670 Fan 1GB GDDR5 includes:
CD with software and drivers;
sticker on the computer case;
Quick Start Guide;
flyer with a list of addresses of HIS in different social networks.
Given the technical characteristics of new item, only an optional accessory that can be useful for users is an adapter DVI-I↔D-Sub. It is designed to connect the monitor with the outdated analog connector.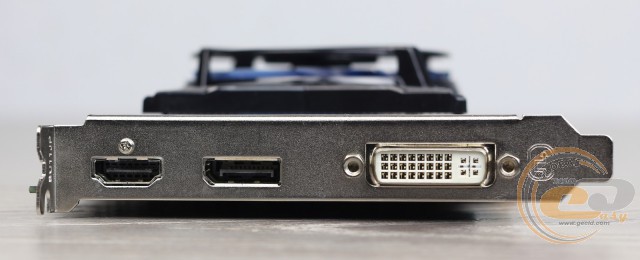 Interface panel is equipped with the following ports:
1 x HDMI;
1 x DisplayPort;
1 x Dual-Link DVI-I.
Such a set of connectors allows you to connect any modern digital monitor or TV with the help of the cables that are part of their equipment.
The following resolutions are supported:
Digital - up to 2560 x 1600;
Analog - up to 2048 x 1536.
Design and circuitry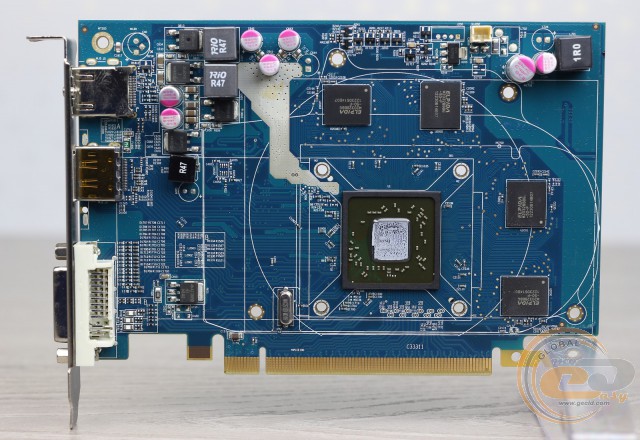 Video accelerator is produced on blue PCB with height of 112 mm. The graphics chip is equipped with a protective frame, which protects it from damage during removal and installation of the cooling system.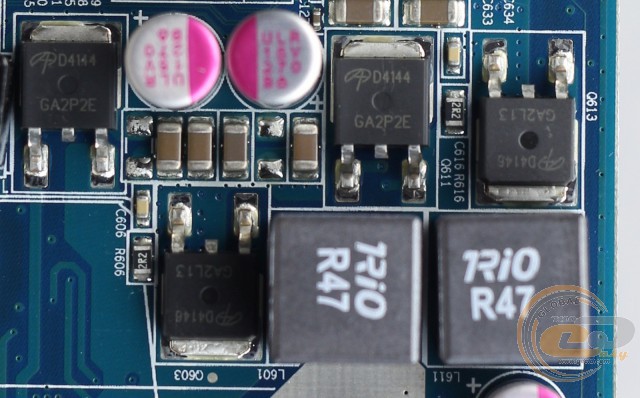 The GPU power subsystem consists of two phases. For power supply there is the slot PCI Express 2.1 x16, and the connection of additional connectors is not required at all.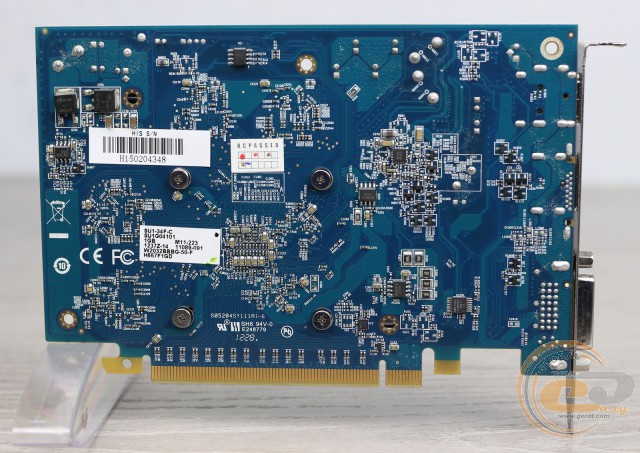 The reverse side of the printed circuit board contains a number of elements of the power subsystem. Even here you can see the screws that secure the cooling system, and a few stickers with technical information. Note that the graphics card doesn't have connectors for bridges AMD CrossFireX, as it this technology is implemented at the software level.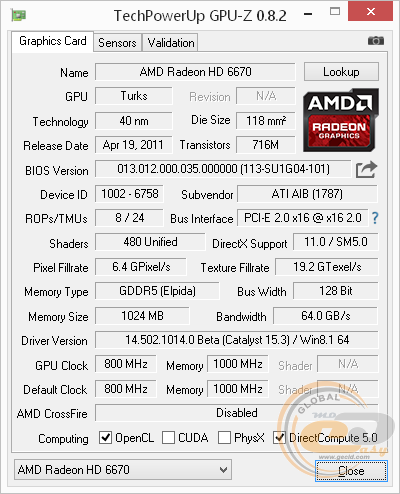 The heart of HIS H667F1GD is a graphics chip AMD Turks (AMD Radeon HD 6670), produced by 40-nm process. It consists of 480 unified shader pipelines, 24 texture units and 8 ROP units. The nominal frequency of the GPU is 800 MHz.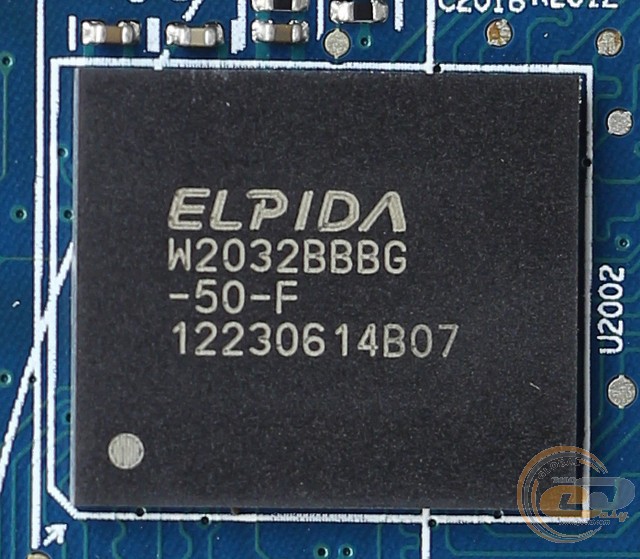 The graphics card is equipped with 1GB of memory of standard GDDR5, collected using four chips ELPIDA W2032BBBG-50-F with 256 MB each. It is operated on the effective frequency 4000 MHz and communicates with the graphics chip through a 128-bit bus with a bandwidth of 64 GB/s.
Cooling system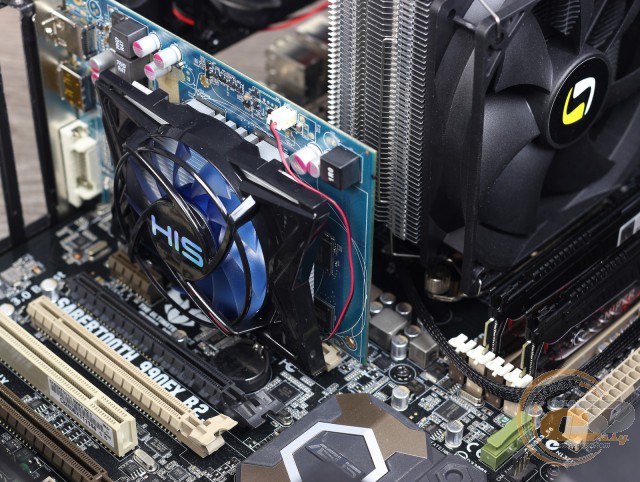 Cooling System of HIS 6670 Fan 1GB GDDR5 occupies two slots for expansion cards. The total length of the video card with installed cooling system is 177 mm, and height is 112 mm (as measured in our lab). The entire structure is covered by a black plastic casing with the original design.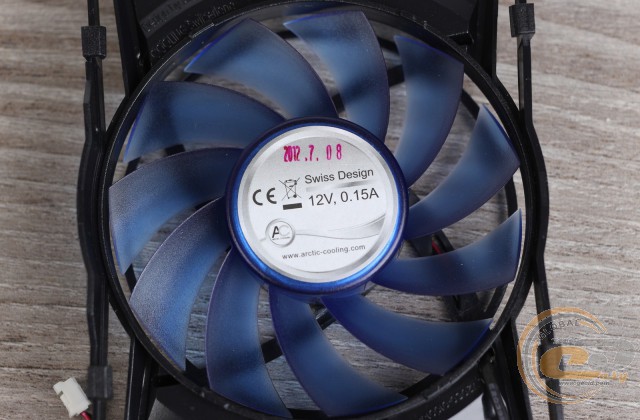 The blowing is realized by axial fan with blades of blue translucent plastic. Its diameter is 74 mm and the manufacturer is a famous company ARCTIC. Capacity of turntable is relatively small - 1.8 W (12 V, 0.15 A), but in this case, a higher rate is unlikely to be required, but the main emphasis is on the low level of generated noise.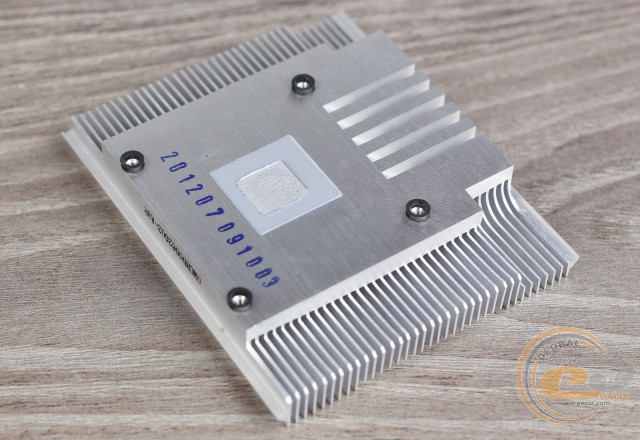 Removal and heat dissipation is performed by a simple aluminum heatsink, which is in contact with the GPU through a thin layer of thermal paste.

Now let's examine the efficiency of the cooling system. Under automatic rotation speed of the fan blades (39% of the maximum) at maximum load, the GPU temperature did not exceed 50°C. Cooler operated very quietly and did not stand out compared to other computer components.

After installing the fan speed to maximum, the temperature dropped to 42°C. Even in this mode, the noise remained below average and was comfortable for long life.

In idle mode the core temperature dropped to 28°C, and the cooling system was virtually silent.
Социальные комментарии Cackle