Video card SAPPHIRE NITRO R7 370 4G D5: review and testing
Following the graphics card SAPPHIRE NITRO R9 380 4G D5, which is representative of a more productive lineup with the support for comfortable gameplay at a resolution of 1440p, we present SAPPHIRE NITRO R7 370 4G D5 that is another graphic accelerator in this series. It features modest performance, but uses an efficient two-fan cooling system SAPPHIRE DUAL-X.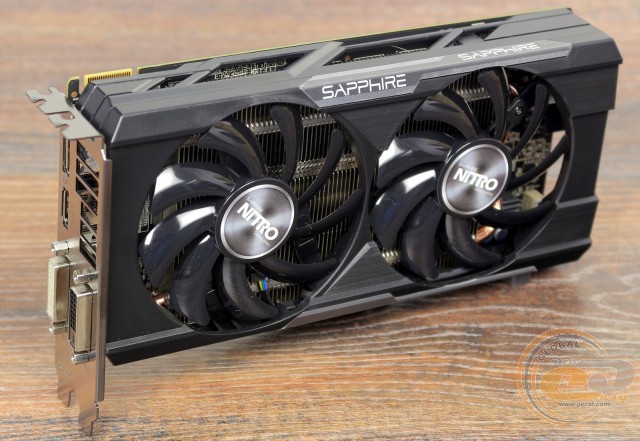 Novelty is characterized by a small factory overclocking and 4 GB of memory. Also, the advantages include the possibility of the cooling system in a passive mode under light load.
The specs:
Model

SAPPHIRE NITRO R7 370 4G D5 (11240-04-20G)

Graphics core

AMD Radeon R7 370 (Trinidad PRO)

Manufacturing process, nm

28

Quantity of shader processors

1024

Supported API and technologies

DirectX 12, OpenGL 4.5, AMD Mantle, AMD Eyefinity, AMD App Acceleration, AMD HD3D, AMD CrossFireX, AMD PowerPlay, AMD PowerTune, AMD ZeroCore, AMD Virtual Super Resolution, AMD Frame Rate Target Control, Vulcan, OpenCL 2.0

Nominal frequency of graphics core, MHz

985

Memory capacity, GB

4

Memory type

GDDR5

Nominal/effective video memory capacity, MHz

1400 / 5600

Mmeory bus, bit

256

Memory carrying capacity, GB/s

179,2

Inner interface

PCI Express 3.0 x16

Screening interfaces

1 х HDMI

1 x DisplayPort

1 х DVI-I

1 х DVI-D

Minimal PSU capacity, W

500

Dimensions from the official site (measured in our lab), mm

211,12 x 111,15 x 36 (225 x 113)

Drivers

Producer website
Package and content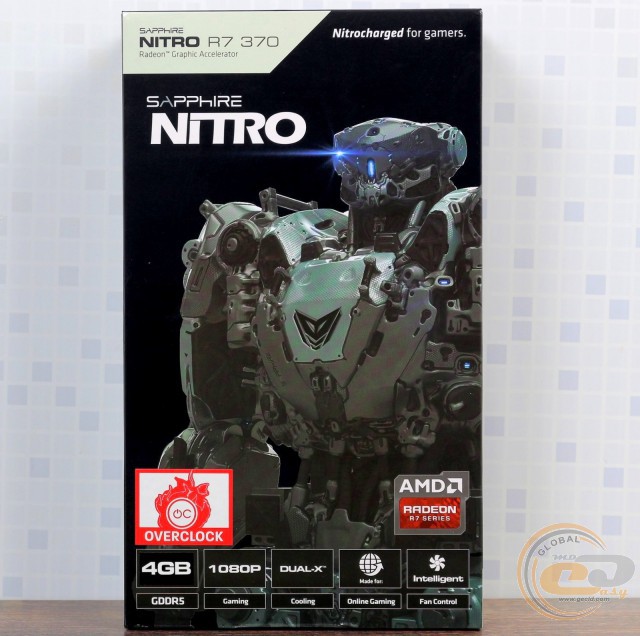 The card comes in a compact vertical-oriented package. It is performed in a black color with gray inserts. The front side sports main features of this graphics accelerator:
factory overclocking;
4 GB of memory standard GDDR5;
optimal operation of modern online games at 1080p;
two-fan cooling system SAPPHIRE DUAL-X;
intelligent control system of cooling system operation mode (Intelligent Fan Control II).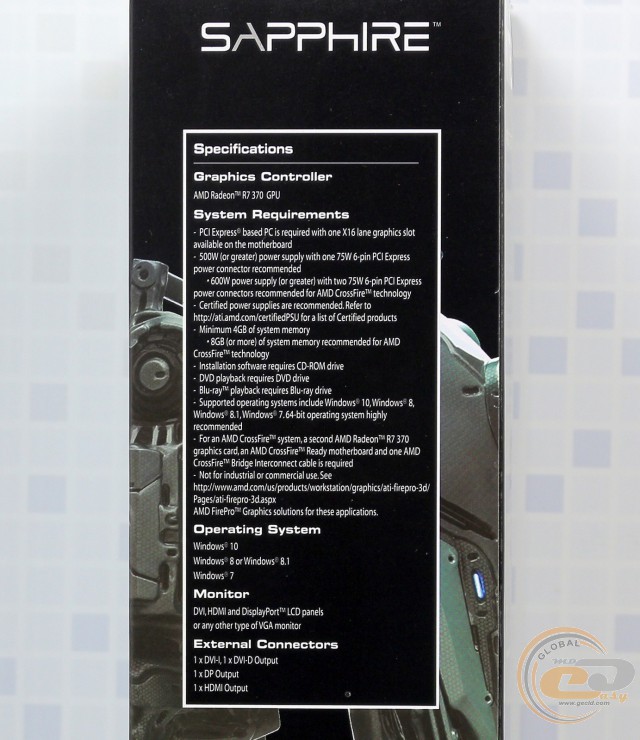 The side face of the package contains a list of the minimum system requirements. According to the manufacturer, the power of the power supply must be at least of 500 W when installing a graphics accelerator, and 600 W when using the combination of two video cards in the mode AMD CrossFireX.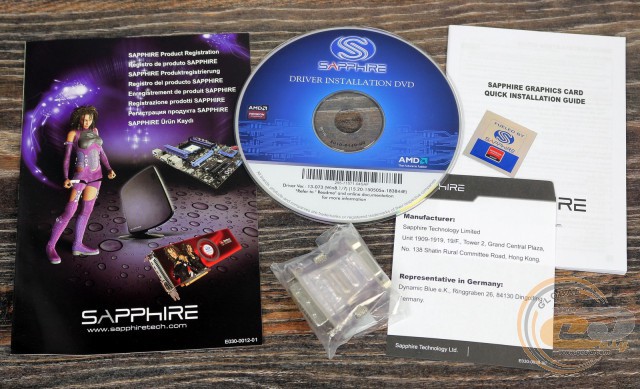 Package of SAPPHIRE NITRO R7 370 4G D5 consists of:
adapter DVI↔D-Sub;
Stickers on the computer;
ROM with software and drivers;
a set of instructions.
This set contains almost all the necessary components to install a video card on the motherboard and connect the monitor. In some cases, you may need a 6-pin PCIe-adapter to connect an optional power supply. Most users do not need it, because almost all modern power supplies are equipped with the data connector.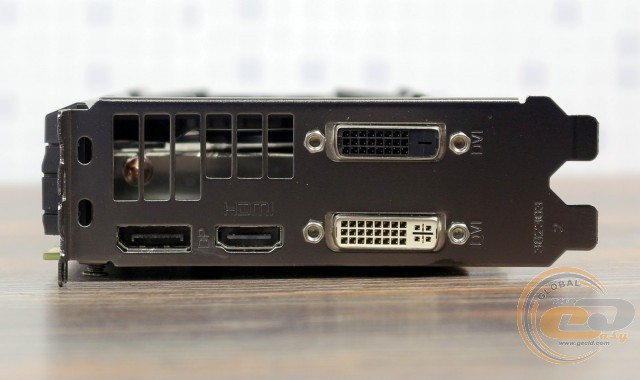 On the interface panel contains the following interfaces:
1 x DisplayPort;
1 x HDMI;
1 x DVI-D;
1 x DVI-I.
Such a set of connectors can be found on a large number of modern graphics cards, because it combines the most popular digital and analog interfaces (using the included adapter).
Design and circuitry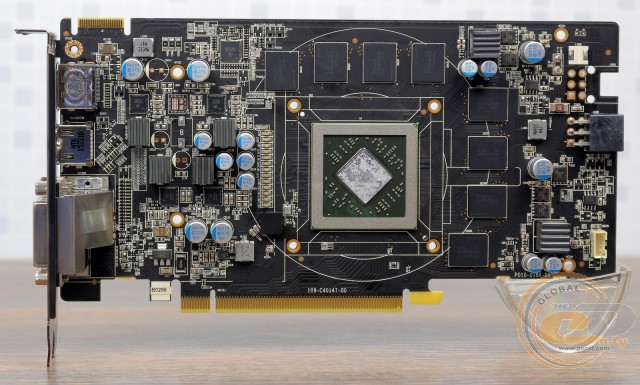 Graphics card SAPPHIRE NITRO R7 370 4G D5 is made on black PCB. Its length is 225 mm and height 112 mm (as measured in our lab). As you can see, the graphics processor is equipped with a protective metal frame which prevents it from damage when installing or removing the cooling system.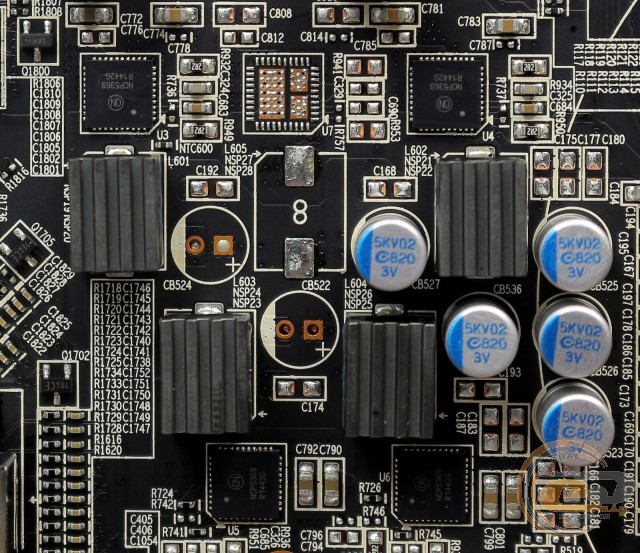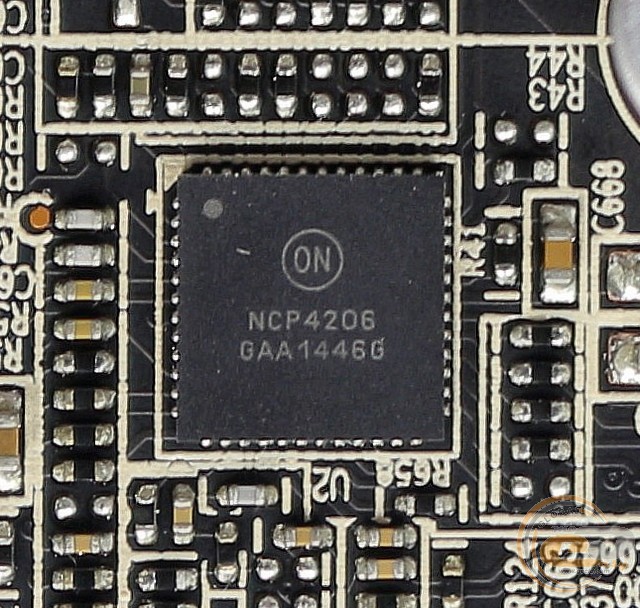 The power subsystem of the GPU is realized according to 4-phase scheme and includes qualitative components (solid capacitors and ferrite chokes). Chip NCP4206 produced by ON Semiconductor is used as a controller.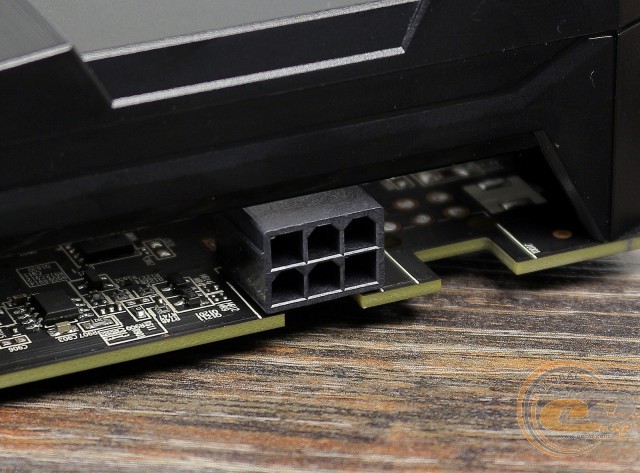 The video card powering is realized due to PCI Express x16 slots and one 6-pin PCIe. It is pretty easy to connect or disconnect it, because the cooling system does not interfere this process.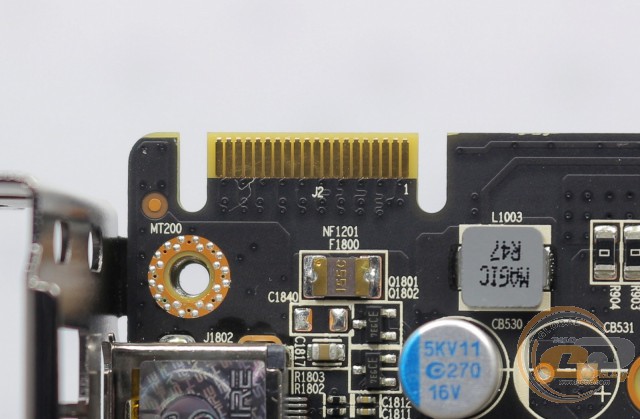 Next to the interface connector panel we found bridge AMD CrossFireX. It allows you to combine two similar video cards for co-processing of graphics.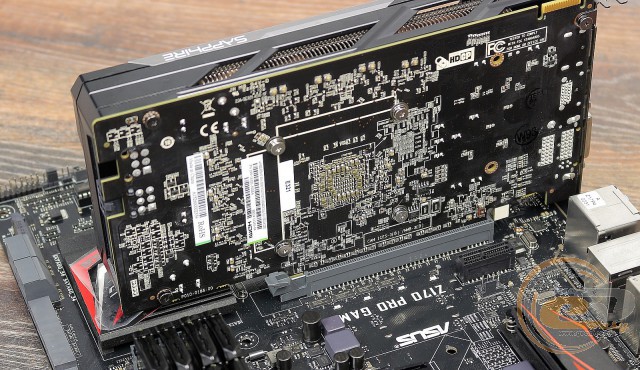 The reverse side of the PCB features a number of elements of the power subsystem and the screws that secure the cooling system and interface panel.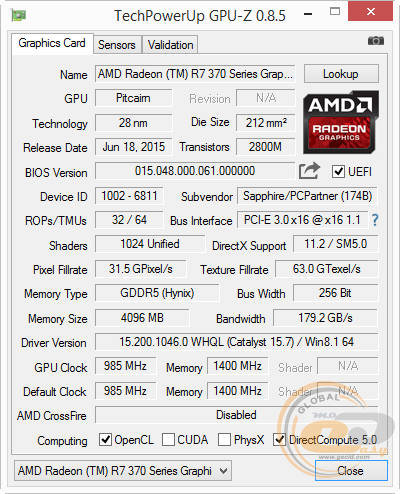 The basis of SAPPHIRE NITRO R7 370 4G D5 is a graphics chip AMD Trinidad PRO, which is determined by the utility GPU-Z 0.8.5 as the AMD Pitcairn. It is made according to 28-nm process and includes 1024 stream processors, 32 units rasterization and 64 texture units. The nominal frequency of the graphics processor in increased from 975 to 985 MHz.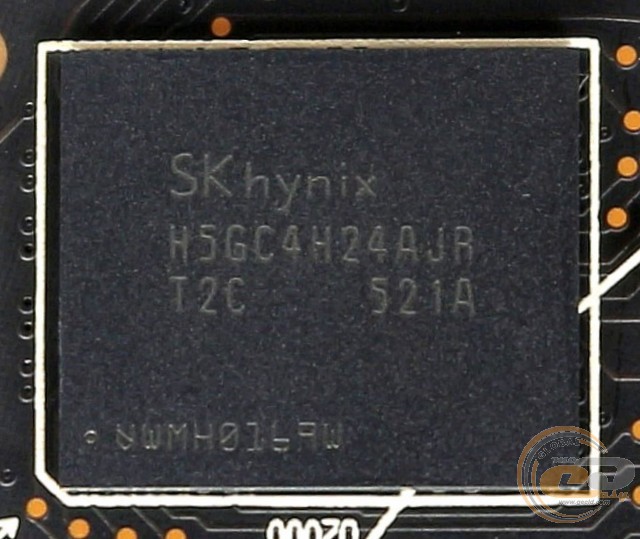 Memory of graphics accelerator (total of 4 GB) is realized with the help of 8 chips SK Hynix H5GC4H24AJR-T2C with capacity of 4 GB each. They operate on effectively frequency of 5600 MHz and exchange information with the graphics chip via a 256-bit bus with carrying capacity of 179.2 GB/s.
Cooling system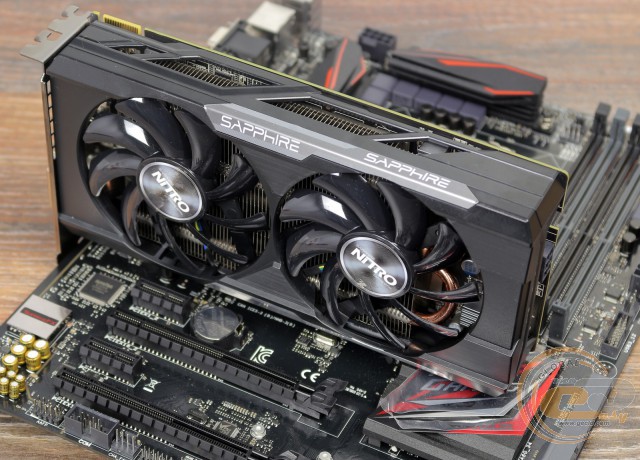 This video card is equipped with a dual-slot cooling system SAPPHIRE DUAL-X. Its two axial fans with blades diameter of 86 mm are fixed on a plastic casing that covers the radiator.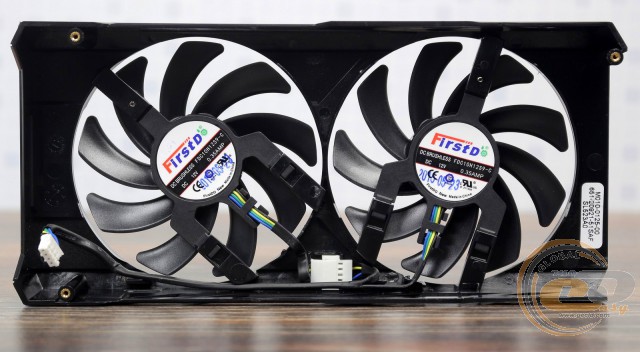 Fans FirstDo FDC10H12S9-C with the characteristics of 12 V and 0.35 A are applied. Thanks to the support of Intelligent Fan Control II they can completely stop at light load.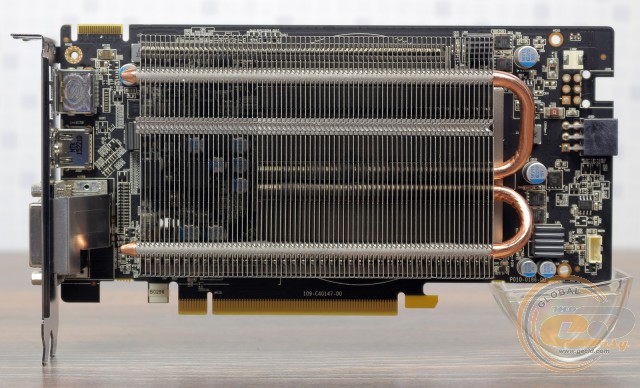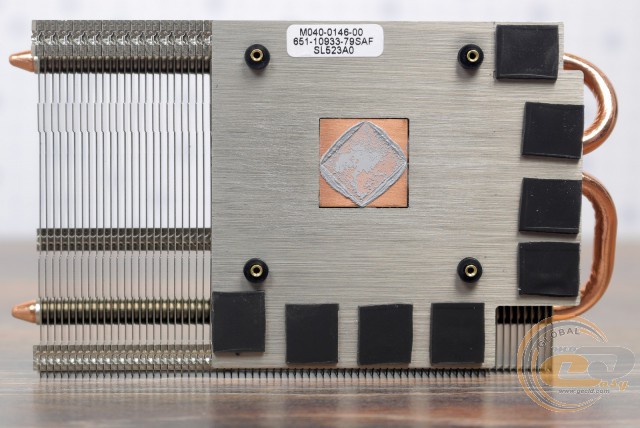 The heatsink consists of a copper base and 74 aluminum fins. Two copper heat pipes with a diameter of 6 mm are applied to accelerate the exchange of heat between these components. Special thermal pads are installed along the perimeter. They transfer the heat from the memory chips on the base of the radiator.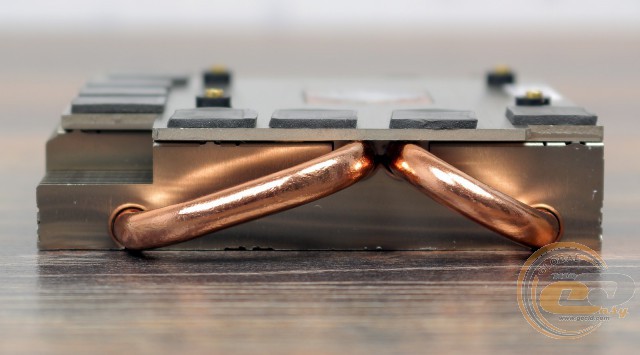 The heat pipes are in contact with the heat sink fins and the base without the use of solder, but in general their fixation is reliable.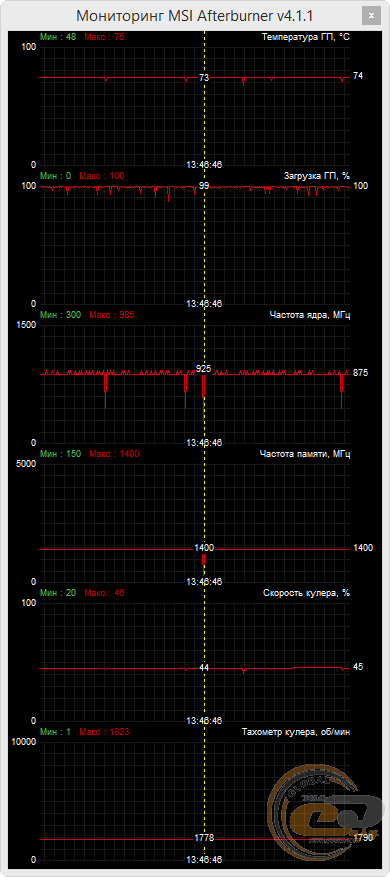 Now let's examine the efficiency of the cooling system SAPPHIRE DUAL-X. At maximum GPU load and the automatic control of fan speed the GPU was heated up to 74°C. Propellers were spinning at 45% (1790 rpm) of its maximum speed, and the noise did not stand out against other components.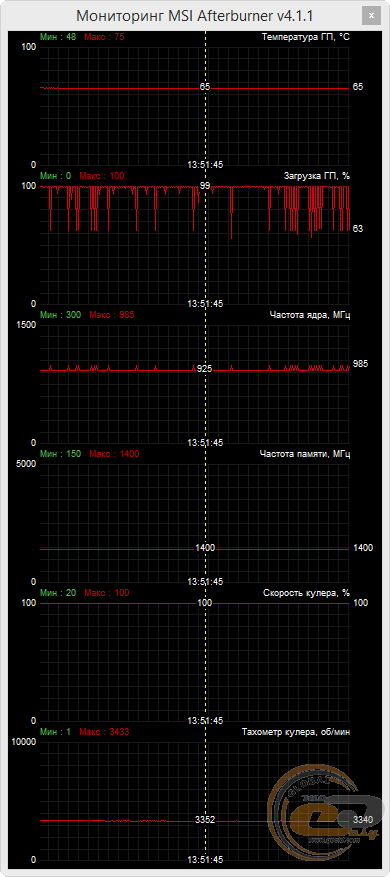 After setting the rotation speed of the fan blades to the maximum (3340 rpm), the GPU temperature dropped to 65°C, and the noise rose above average, but it was still quite acceptable under prolonged use.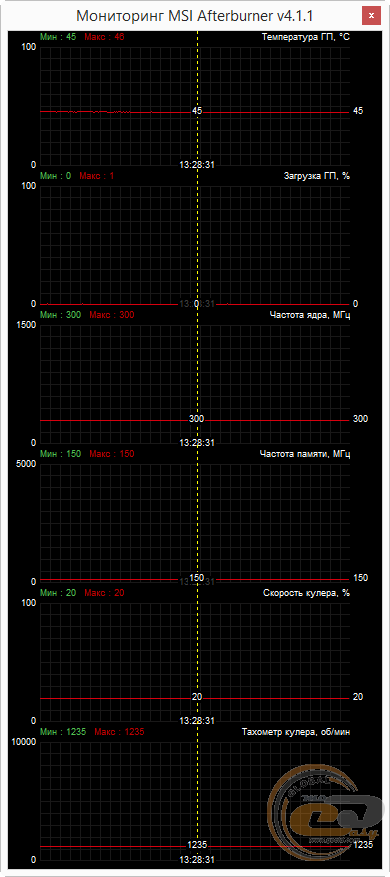 After the transition to the idle mode, the temperature of the graphics core and memory was reduced. This allowed the cooling system to go into a passive mode, thanks to technology Intelligent Fan Control II. GPU temperature did not exceed 45°C, and the card was operated in a completely silent mode.
Социальные комментарии Cackle